Lakes Environmental e-Newsletter
Climate Change - Emissions Inventory - Atmospheric Science - IT Solutions


In This Issue:
News & Events
Upcoming Courses
Modeling Tip: Comparing Wind Roses using WRPLOT View
Articles
Upcoming Conferences & Trade Shows
News & Events
WRPLOT View™ Version 6.5.1 Released!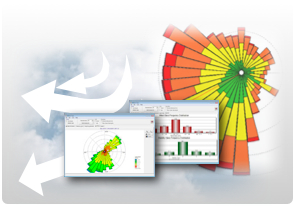 Lakes Environmental is pleased to announce the release of WRPLOT View version 6.5.1. Features available in this new version include:
User Defined Wind Rose Scaling - Set the scale as a percentage or count of hours.  Makes comparisons between wind roses easier. See this month's Modeling Tip below.



Control of Wind Rose Petal Size – This allows greater flexibility in setting the appearance of the wind rose.



Support for CALMET/CALPUFF Generic Met File Format – The CALMET/CALPUFF Generic surface data file format is now supported by WRPLOT View.
For a complete list of the changes and new features available in WRPLOT View version 6.5.1, please see our latest Release Notes.
WRPLOT View is provided by Lakes Environmental for FREE!  Download your copy today!
AERMOD & CALPUFF Courses in Toronto & Waterloo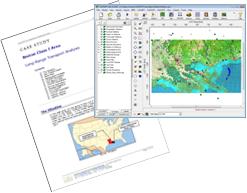 Lakes Environmental will be in Toronto to present a 2-day AERMOD course on June 7-8, 2010.  A 3-day CALPUFF course will take place immediately after (June 9-11) at our offices in Waterloo.
Attending these courses is the best way to stay current with recent regulatory and methodology changes.  Lakes Environmental uses cutting edge tools that will revolutionize the way you do air dispersion modeling!
If you haven't registered yet, it's not too late!!  Visit our website for further details and register today!


AERMOD & CALPUFF Courses in the United Kingdom
Lakes Environmental is pleased to be travelling to the United Kingdom for a week of AERMOD and CALPUFF training in London.  We are proud to be a leading provider worldwide of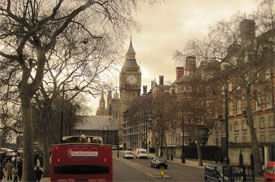 powerful training for US EPA air dispersion models, with instructors being continuously rated as "outstanding" by course attendees.
We encourage you to register soon in order to reserve your spot.  For further information including details of the course location and registration form please visit the Upcoming Courses section of our website.
Register today to take advantage of our early registration discount! 
Ontario Reg. 419 Regional Meteorological Dataset Updated on WebMET.com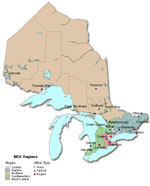 The Ontario Regional Meteorological Dataset, which is used for AERMOD modeling under the Ontario Ministry of the Environment (MOE) Regulation 419, has been updated on www.WebMET.com. 
The pre-processed surface and profile files, along with the raw surface and upper air data files, have been updated to the most recent data provided by the Ministry of the Environment. 
The latest MOE regional meteorological dataset can be accessed from our WebMET website.
Congratulations to our AERMOD View Winner!


The winner of our AERMOD View draw at the Canadian Environmental Conference & Tradeshow (CANECT 2010) is Kimberly Hawkins of Lakeside Steel Corporation in Welland, Ontario.
Congratulations Kimberly!



Lakes Environmental at A&WMA 2010 Conference & Exhibition!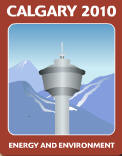 Lakes Environmental will be heading to Calgary, Alberta, from June 22-24 for the 103rd Air & Waste Management Conference and Exhibition. Drop by our booth #701 to meet our knowledgeable staff and for your chance to win a FREE copy of AERMOD View or CALPUFF View!
Visit the Conference website to register for this annual event. This year's conference offers excellent opportunities for the environmental professional.
Product Spotlight - MM5 Met Data
Lakes Environmental offers a popular service providing modeled meteorological data for use in the CALPUFF, AERMOD, and ISCST3 air dispersion models for any location worldwide. We obtain this data by running the MM5 (5th-generation Mesoscale Model) model for a specified location and site domain.
What is MM5?
MM5 (5th-generation Mesoscale Model) is a prognostic meteorology model developed by Pennsylvania
State University and the U.S. National Center for Atmospheric Research (NCAR).  The model is a limited-area, non-hydrostatic model designed to simulate or predict mesoscale and regional-scale atmospheric circulation. 
Input of Meteorological Data
MM5 uses "objective analysis" from the Global model, which incorporates meteorological data assimilated from conventional airport stations and satellite observations. Objective analysis is a process of analyzing the observed data and outputting it to a specified grid.  The meteorological field is "balanced" to account for the energy and momentum equations of the atmosphere.  These objective analyses are products of global models, which are maintained by national weather centers or federal agencies such as UKMO (United Kingdom Meteorological Office) or NCEP (National Center for Environmental Protection).
Lakes Environmental has obtained NCEP Global Reanalysis data for input to MM5, from 2000 to 2009 (and beyond as further data becomes available).  The NCEP reanalysis has a resolution of 2.5 degrees by 2.5 degrees for the entire globe, given every 6 hours. 
Why Should I Use MM5 Data?
There are several reasons why you may want to use MM5 meteorological data:
There is no station data available in your area
There is no representative station data available for your site
The available station data is out of date
The available station data is not very accurate (e.g. poor treatment of calms)

Lakes Environmental uses MM5 to produce hourly surface data files and upper air data files for clients.  Hourly surface data files are provided in SAMSON (*.sam) format and upper air data files are provided in TD-6201 (*.ua) format. 
For more information on Lakes Environmental's MM5 processed data please visit our website.
Lakes Environmental Closed For Victoria Day Holiday
Lakes Environmental will be closed on Monday, May 24, 2010 to observe Canada's Victoria Day holiday.  If you have any pressing needs during that time, please e-mail us at support@weblakes.com and we will contact you on May 25, 2010 when our offices reopen.
Upcoming Courses
Date

Course

Location

Registration

June 7-8, 2010

June 9-11, 2010

Sept. 20-21, 2010

Sept. 27-28, 2010
Sept. 29-Oct. 1, 2010

Oct. 14-15, 2010

Nov. 8-9, 2010
Nov. 10-12, 2010

Nov. 18-19, 2010

Dec. 6-7, 2010
Dec. 8-10, 2010

Hyderabad, India

Registration Coming Soon!
For more information on the above courses, including registration information, location, and course outlines, please visit our web site: https://www.weblakes.com/courses.html.
Modeling Tip
Comparing Wind Roses using WRPLOT View
It is often useful to compare two sets of meteorological data, for example two different years of data from a single station could be compared, or data from two different stations could be compared. Viewing meteorological data as a wind rose is an excellent means of visualizing and comparing data.
Wind Roses in WRPLOT View
When a met data file is loaded into WRPLOT View, the wind rose that is generated is displayed on a scale that shows the percentage of time that the wind blows in each direction. By default, this scale is automatically determined to best fit the data.
When two different wind roses are created, they may have different scales assigned to them by default.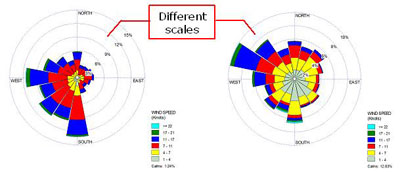 To make an accurate comparison, it is helpful to set the scales to be identical. To change the scale of a wind rose, do the following:
1. Click the Options button on the Wind Rose tab
2. Select Percentage under the Scaling option
3. Specify the desired scale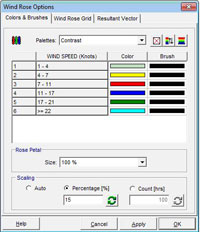 Once the scales are the same for both wind roses, a visual comparison is much easier to perform.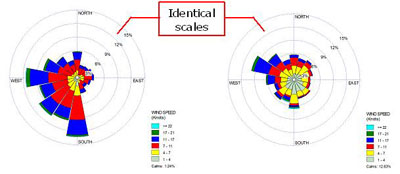 Download your free copy of WRPLOT View version 6.5.1 today!

For a complete list of the changes and new features available in WRPLOT View version 6.5.1, please see our latest Release Notes.
Submit Your Modeling Tip Today!
We are currently accepting submissions for the Monthly Modeling Tip section that appears in our newsletters. If you have a modeling tip that may benefit our readers, please send it to us at support@weblakes.com. Your name and the name of your organization will appear below the tip providing you with an opportunity for increased exposure.
Articles
EPA Sets Thresholds for Greenhouse Gas Permitting Requirements
WASHINGTON (May 13, 2010) - The U.S. Environmental Protection Agency (EPA) today announced a final rule to address greenhouse gas (GHG) emissions from the largest stationary sources, while shielding millions of small sources of GHGs from Clean Air Act permitting requirements. The phased-in, common-sense approach will address facilities like power plants and oil refineries that are responsible for 70 percent of the greenhouse gases from stationary sources that threaten American's health and welfare.
 "After extensive study, debate and hundreds of thousands of public comments, EPA has set common-sense thresholds for greenhouse gases that will spark clean technology innovation and protect small businesses and farms," said EPA Administrator Lisa P. Jackson. "There is no denying our responsibility to protect the planet for our children and grandchildren. It's long past time we unleashed our American ingenuity and started building the efficient, prosperous clean energy economy of the future."
EPA Opens Access to Chemical Information/Searchable Database on Chemical Hazard, Exposure and Toxicity Data Now Available
WASHINGTON (April 29, 2010) -The U.S. Environmental Protection Agency (EPA) is making it easier to find chemical information online. EPA is releasing a database, called ToxRefDB, which allows scientists and the interested public to search and download thousands of toxicity testing results on hundreds of chemicals. ToxRefDB captures 30 years and $2 billion of testing results.
"Tens of thousands of chemicals are in commerce and current chemical testing is expensive and time consuming. Results from chemical testing are scattered throughout different sources," said Dr. Robert Kavlock, director of EPA's National Center for Computational Toxicology. "ToxRefDB allows the public to search, find and compare available studies about chemical toxicity and potential health effects."
North America Collaborates to Reduce And Replace Potent Greenhouse Gases Canada, Mexico Work With U.S. to Strengthen Measures to Fight Climate Change
WASHINGTON (May 6, 2010) -Canada and Mexico have joined the United States in proposing to expand the scope of the Montreal Protocol on Substances that Deplete the Ozone Layer to fight climate change. The proposal would phase down hydrofluorocarbons (HFCs), which are a significant and rapidly growing contributor to climate change. The U.S. Environmental Protection Agency (EPA) led the analysis in the proposal, which demonstrates environmental benefits equal to removing greenhouse gas emissions from 59 million passenger cars each year through 2020, and 420 million cars each year through 2050. Reducing HFCs would help slow climate change and curb potential public health impacts.
Government of Alberta: Improved Environmental Data Now Available Online
EDMONTON (April 22, 2010) - A newly revamped State of the Environment website provides Albertans with accessible, accurate and detailed information about the current state of the province's land, air, water and biodiversity.
Indicators show that the overall state of Alberta's environment is good and is consistently meeting or exceeding standards. In areas of higher development, environmental data shows some levels are increasing but still well within acceptable limits.
"There is a growing focus on environmental management and awareness in Alberta and we want to ensure that Albertans and all interested partners have access to complete and up-to-date information," said Environment Minister Rob Renner. "We encourage people to get as much good information as possible and we believe this website is one of those sources. For the government, this data assists us in understanding our environmental challenges and helps to build stronger outcomes - from water management tools to limits on air emissions."
Democrats Vow Climate Push Despite Loss of GOP Ally
WASHINGTON (May 7, 2010) - The leading sponsors of a long-delayed energy and climate change bill said Friday they will press ahead despite losing the support of a crucial Republican partner.
Sens. John Kerry, D-Mass, and Joe Lieberman, I-Conn., said they plan to introduce a bill, issuing a statement just hours after Sen. Lindsey Graham, R-S.C., said it's "become impossible" to pass the legislation now because of disagreements over offshore drilling and immigration reform.
Upcoming Conferences & Trade Shows
Date

Conference

Location

May 26-28, 2010

CARBON EXPO 2010
More Info

Cologne, Germany

Jun. 22-25, 2010

A&WMA 103rd Annual Conference and Exhibition
More Info - Lakes Environmental will be at booth 701!

Calgary, AB, Canada

Aug. 10-12, 2010

6th Australia-New Zealand Climate Change & Business Conference
More Info

Sydney, Australia

Aug. 30-Sept. 2, 2010   

Power Plant Air Pollutant Control "MEGA" Symposium
More Info

Baltimore, MD, USA

Sept. 12-16, 2010

15th International Union of Air Pollution Prevention and Environmental Protection Associations' (IUAPPA) World Clean Air Congress
More Info - Lakes Environmental will be at booth 17!

Vancouver, BC, Canada

Sept. 27-30, 2010

19th International Emissions Inventory Conference
More Info - Lakes Environmental will be attending!

San Antonio, Texas, USA

Oct. 25-26, 2010

Climate Change and Impact Assessment
More Info

Aalborg, Denmark

Oct. 27-28, 2010

Carbon Forum Asia
More Info

Singapore

Nov. 2-4, 2010

Symposium on Air Quality Measurement Methods and Technology
More Info

Los Angeles, CA, USA

Nov. 7-11, 2010

SETAC North America 31st Annual Meeting
More Info

Portland, OR, USA
About this Newsletter
This newsletter contains information gleaned from various sources on the web, with complete links to the sources cited. Organizations cited are in no way affiliated with Lakes Environmental Software.
Lakes Environmental Software is a leading environmental IT company that offers a complete line of air dispersion modeling, risk assessment, emissions inventory, and emergency release software as well as training and custom software services. With satisfied users located around the globe, Lakes Environmental Software will continue to revolutionize the environmental software field.
For more information please visit our web site at: www.weblakes.com. You may also contact us by phone at (519) 746-5995 or by fax at (519) 746-0793.
All comments and suggestions are welcome. You can e-mail us at: support@weblakes.com.
Please click the link below to subscribe or unsubscribe from this newsletter:
Subscribe/Unsubscribe