Lakes Environmental e-Newsletter
Climate Change - Emissions Inventory - Atmospheric Science - IT Solutions


In this issue:
News & Events
Upcoming Courses
Modeling Tip: Finding Information on NCDC Meteorological Stations
Articles
Upcoming Conferences & Trade Shows
News & Events
AERMOD Course in Orlando, Florida - Nov 18-19, 2010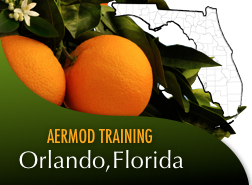 Lakes Environmental is pleased to be presenting a 2-day AERMOD course in Orlando, Florida, from November 18 to 19. Attending this course is the best way to stay current with recent regulatory and methodology changes. Lakes Environmental uses cutting edge tools that will revolutionize the way you do air dispersion modeling!
We encourage you to register soon in order to reserve your spot. Further details including course venue and registration form can be found on our website.
Lakes Environmental at 19th International Emission Inventory Conference
Lakes Environmental will be heading to San Antonio, Texas from September 27 to 30 for the 19th International Emission Inventory Conference. Drop by our booth to meet our knowledgeable staff and learn more about our state-of-the-art software applications. Our solutions can be customized for your state-wide emissions inventory and greenhouse gas tracking requirements.
Visit the conference website for further information. Online registration is now closed. If you wish to register, you can do so on-site at the conference.
US EPA Releases Beta Version of AERSCREEN
The US EPA released a beta version of the AERSCREEN model on August 17, which can be downloaded from the SCRAM website. AERSCREEN is a screening tool, based on the AERMOD model, which is designed to estimate worst-case 1-hour concentrations for a single source. Conversion factors also allow AERSCREEN to estimate 3-hour, 8-hour, 24-hour, and annual concentrations. AERSCREEN utilizes a tool called MAKEMET to generate a matrix of worst-case meteorological conditions, eliminating the need for user-provided met files.
The comment period for this beta release will end on September 17, 2010, and a final release is expected by the end of the year. Lakes Environmental is currently developing an interface for the AERSCREEN tool. Further announcements will be coming soon.
US EPA Clarification Memo on 1-Hour S02 NAAQS
On August 23, the US EPA released a clarification memo on the SCRAM website regarding "Applicability of Appendix W Modeling Guidance for the 1-hour SO2 NAAQS" has been released in conjunction with "Guidance Concerning the Implementation of the 1-hour SO2 NAAQS for the Prevention of Significant Deterioration Program".
Lakes Environmental Closed for the Canadian Thanksgiving Holiday - Oct 11, 2010
Lakes Environmental will be closed on Monday, October 11, for the Canadian Thanksgiving. If you have any needs during that time, please e-mail us at support@weblakes.com and we will contact you on October 12 when our offices reopen.
Product Spotlight - Emissions View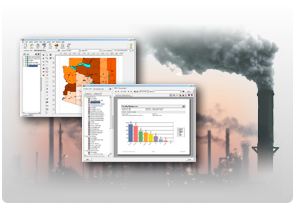 Emissions Inventory Development Made Easy
Emissions View is a powerful yet easy to use emissions inventory management system designed for use by county, state, provincial or federal regulatory agencies; to compile an accurate and comprehensive emission inventory for point, area, mobile, biogenic, and fire-related emissions sources.
This user-friendly cost-effective software solution makes developing expansive emissions inventories easier and more accurate than ever before by incorporating a comprehensive set of emission calculators, data import wizards, and GIS-based tools for inventory development, data analysis, and visualization.
One of the most powerful capabilities of Emissions View is made possible through the seamless integration of AERMOD and CALPUFF dispersion models, which provide users with the ability to not only develop and manage a complete emissions inventory, but also analyze air quality impacts on a massive scale.  Emission View is also unique in its ability to import results from popular U.S. EPA models including LandGEM, TANKS, WATER9, NONROAD, and MOBILE6.
The powerful features included in Emissions View solution are the results of working with numerous county, state, federal, and provincial agencies responsible for ensuring compliance with inventory regulations.  The system is highly scalable and can be easily customized to further address unique and site-specific needs that pertain to your particular area and regulatory prevue.
Powerful Features
Integrated modeling allows the user to create AERMOD or CALPUFF input files and import model results to compare against State and National Ambient Air Quality Standards or prioritize inspection and enforcement actions.


Confidently estimate emissions using a comprehensive set of emission calculators including the complete set of U.S. EPA AP-42 and the Emissions Inventory Improvement Program (EIIP) specifications.


Produce emissions data in NEI-compliant emissions reporting formats for quick state or federal inventory submittals, including the new xml-based EIS CERS 1.2.


Quickly select from a multitude of report ready templates or create custom user defined reports including tables, contour plots, figures, and graphs.


Visualize your domain using our integrated GIS capability.
The system architecture is flexible enough to easily accommodate upgrading new source types and locations, new calculation methods and emission factors, and new user defined reporting styles.  This flexibility enables users to manage current regulated pollutants while ensuring that additional pollutants can be added as required to meet local, regional, or federal emission inventory regulations.
For more information on this powerful solution or to schedule a web demonstration for you and your colleagues, please contact sales@weblakes.com today!
We look forward to hearing from you!
Upcoming Courses
Date

Course

Location

Registration

Oct. 18-20, 2010

Johannesburg - South Africa

Nov. 8-9, 2010
Nov. 10-12, 2010

Nov. 18-19, 2010

Dec. 6-7, 2010
Dec. 8-10, 2010

Jan. 24-25, 2011

Feb. 7-8, 2011
Feb. 9-11, 2011

Feb. 28-March 1, 2011

March 2-4, 2011

May 16-17, 2011

May 18-20, 2011

June 6-7, 2011

June 8-10, 2011
For more information on the above courses, including registration information, location, and course outlines, please visit our web site: https://www.weblakes.com/courses.html.
Modeling Tip
Finding Information on NCDC Meteorological Stations


When conducting air dispersion modeling that involves the use of meteorological data, a common concern can be the lack of complete information about the meteorological stations. The National Climatic Data Center (NCDC) has a website which makes obtaining information relatively easy.
The Web Climate Services page for locating weather observation station records allows you to search for stations by a number of different properties including station name, city, zip code, and station ID. Once a station has been identified, information is provided for the station such as the name, ID, elevation, latitude/longitude, and more. It is also possible to list stations within a specified radius of the selected station.
Using the US NCDC website can make identifying available stations a more straightforward process and simplify your air dispersion modeling project.
Submit Your Modeling Tip Today!
We are currently accepting submissions for the Monthly Modeling Tip section that appears in our newsletters. If you have a modeling tip that may benefit our readers, please send it to us at support@weblakes.com. Your name and the name of your organization will appear below the tip providing you with an opportunity for increased exposure.
Articles
In Historic Move, Canada to List BPA as 'Toxic'
(August 25, 2010) - Canada is in the process of a historic move to add bisphenol-A to its list of toxic substances, Environment Canada confirmed Wednesday. "We expect to conclude the process of having bisphenol-A added to the List of Toxic Substances in Schedule 1 of the Canadian Environmental Protection Act, 1999 in eight to 10 weeks," department spokesman Henry Lau told the Star on Wednesday.
EPA to Take Action on Chemicals Used in Dyes, Flame Retardants, and Industrial Detergents Efforts to Limit Exposure and Reduce Harm to People
WASHINGTON (August 18, 2010) - As part of Administrator Lisa P. Jackson's commitment to strengthen and reform chemical management, the U.S. Environmental Protection Agency (EPA) released action plans today to address the potential health risks of benzidine dyes, hexabromocyclododecane (HBCD) and nonylphenol (NP)/nonylphenol ethoxylates (NPEs). The chemicals are widely used in both consumer and industrial applications, including dyes, flame retardants, and industrial laundry detergents. The plans identify a range of actions the agency is considering under the Toxic Substances Control Act (TSCA).

"The action plans announced today are examples of EPA's renewed dedication to improve chemical safety to protect the health of the American people and the environment." said Steve Owens, assistant administrator for EPA's Office of Chemical Safety and Pollution Prevention. "These action plans lay out concrete steps EPA intends to take to address the risks associated with chemicals commonly used in this country."
EPA Proposes Rules on Clean Air Act Permitting for Greenhouse Gas Emissions
WASHINGTON (August 12, 2010) - The U.S. Environmental Protection Agency (EPA) is proposing two rules to ensure that businesses planning to build new, large facilities or make major expansions to existing ones will be able to obtain Clean Air Act permits that address their greenhouse gas (GHG) emissions. In the spring of 2010, EPA finalized the GHG Tailoring Rule, which specifies that beginning in 2011, projects that will increase GHG emissions substantially will require an air permit. Today's rules will help ensure that these sources will be able to get those permits regardless of where they are located.

The Tailoring Rule covers large industrial facilities like power plants and oil refineries that are responsible for 70 percent of the GHGs from stationary sources. The proposals announced today are a critical component for implementing the Tailoring Rule and would ensure that GHG emissions from these large facilities are minimized in all 50 states and that local economies can continue to grow.
EPA's New Reporting Tools for EGU, MACT, and ICR Data
(August 12, 2010) - Past participants in EPA's information collection request (ICR) programs at oil- and coal-fired power plants are used to difficult and expensive emission test programs. But the recent ICR for which the reporting deadline is approaching is particularly challenging. Not only are the test programs complex, the data reporting requirements are challenging. Many plants will find that data reporting activities require as much time as coordinating and overseeing the field work.
Data reporting challenges originate from EPA's desire to eliminate the re-entry of emission testing data from hard copy reports. To achieve this objective, EPA has developed an Electronic Reporting Tool (ERT) and spreadsheet reporting templates (SRTs) for reporting ICR data. In summary, data from emission testing reports and operating logs must be transferred into the reporting tools by the source operator. While these tools have improved since they emerged as the required method for reporting Boiler MACT/CISWI ICR program data, they remain difficult for the one-time or infrequent user.
Upcoming Conferences & Trade Shows
Date

Conference

Location

Sept. 27-30, 2010

19th International Emissions Inventory Conference
More Info - Lakes Environmental will be exhibiting!

San Antonio, TX, USA

Oct. 11-15, 2010

The 16th Annual Alaska Tribal Conference on Environmental Management (ATCEM)
More Info

Anchorage, AK, USA

Oct. 13-15, 2010

2010 NACA Annual Conference
More Info

Polokwane, South Africa

Oct. 25-26, 2010

Climate Change and Impact Assessment - IAIA Special Symposium
More Info

Aalborg, Denmark

Oct. 27-28, 2010

Carbon Forum Asia
More Info

Singapore

Nov. 2-4, 2010

Symposium on Air Quality Measurement Methods and Technology
More Info

Los Angeles, CA, USA

Nov. 7-11, 2010

SETAC North America 31st Annual Meeting
More Info

Portland, OR, USA

Nov. 30 - Dec. 3, 2010

Pollutec 2010
More Info

Lyon, France
About this Newsletter
This newsletter contains information gleaned from various sources on the web, with complete links to the sources cited. Organizations cited are in no way affiliated with Lakes Environmental Software.
Lakes Environmental Software is a leading environmental IT company that offers a complete line of air dispersion modeling, risk assessment, emissions inventory, and emergency release software as well as training and custom software services. With satisfied users located around the globe, Lakes Environmental Software will continue to revolutionize the environmental software field.
For more information please visit our web site at: www.weblakes.com. You may also contact us by phone at (519) 746-5995 or by fax at (519)746-0793.
All comments and suggestions are welcome. You can e-mail us at: support@weblakes.com.
Please click the link below to subscribe or unsubscribe from this newsletter:
Subscribe/Unsubscribe