Lakes Environmental e-Newsletter
Climate Change - Emissions Inventory - Atmospheric Science - IT Solutions


In this issue:
News & Events
Upcoming Courses
Modeling Tip: Showing File Extensions in Windows
Articles
Upcoming Conferences & Trade Shows
News & Events
AERMOD View Version 7.0 Soon to be Released!
Lakes Environmental is pleased to announce that we will be releasing AERMOD View Version 7.0 during the week of May 2nd. This latest advancement of our popular air dispersion modeling solution will be accessible to all AERMOD View users in current maintenance. If your maintenance has expired, contact us today! Special pricing is now available.
This much anticipated release of AERMOD View will include all of the latest updates and new models made available from the U.S. EPA:
AERMOD Version 11103
AERMAP Version 11103
AERMET Version 11059
AERMINUTE Version 11059
LEADPOST Version 11096
Lakes Environmental's parallel version of AERMOD, AERMOD MPI, has also been updated and will be made available as part of the release of AERMOD View Version 7.0.
US EPA Releases AERMOD, AERMET, and AERMINUTE
Lakes Environmental would like to make you aware of numerous important model updates from U.S. EPA regarding:
A timeline showing when U.S. EPA officially released public versions of these updated or new models is provided below: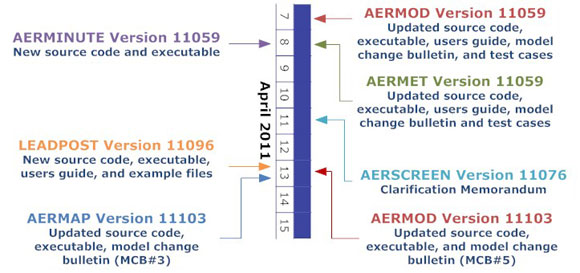 US EPA Model Update Details Available Below:

The U.S. EPA officially released AERMOD Version 11103 on April 13, 2011. This limited update to AERMOD version 11059, was issued to correct two bugs relating to 1) special processing for 24-hr PM2.5, 1-hr NO2 and 1-hr SO2 daily maximum values and 2) a Fortran formatting issue associated with hourly ozone and background concentrations. Details are available in MCB#5.

The U.S. EPA officially released AERMOD Version 11059 on April 7, 2011. In addition to an updated AERMOD Source Code and Executable, the release package also includes an updated User's Guide, Model Change Bulletin # 4, AERMET (Version 11059) and the new AERMINUTE Version 11059. The updated AERMOD includes seven bug fixes, twelve enhancements, and six miscellaneous modifications. AERMAP, AERSURFACE, and BPIPPRM were not updated by U. S. EPA in this round of updates.

The U.S. EPA officially released AERMAP Version 11103 on April 13, 2011. This update to AERMAP Version 11059 was issued to correct one bug, one miscellaneous issue, and the addition of one enhancement. Details are available in MCB#3

Updates to AERMET Version 11059 include Executable, Source Code, Test Cases, User's Guide, and Model Change Bulletin #2. The updated AERMET includes eight bug fixes, nine key enhancements, and four miscellaneous modifications.

The new AERMINUTE includes Source Code, Executable, and User's Guide. AERMINUTE processes 1-minute ASOS wind data to generate hourly wind speed and wind directions to supplement data within standard hourly ASOS data.
The U. S. EPA issued a Clarification Memorandum titled: "AERSCREEN Released as the EPA Recommended Screening Model". This memorandum, which was released on April 11, 2011, announced that AERSCREEN Version 11067 is the Official Recommended Screening Model and replacement for SCREEN3. The AERSCREEN release package, available on the U.S. EPA SCRAM website consists of the following primary elements: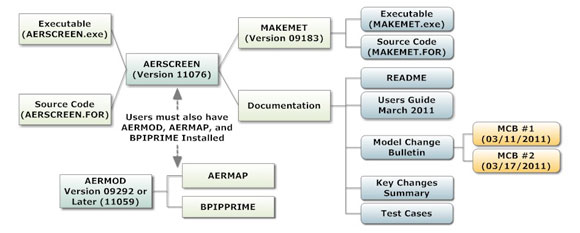 LEADPOST - is a post-process utility designed to read monthly lead concentration output from AERMOD POSTFILEs and calculate rolling 3-month averages for comparing with primary and secondary NAAQS standards.
AERMOD Course in Calgary, Alberta – Jun 6-7, 2011
Lakes Environmental is pleased to be travelling to Calgary to provide a 2-day AERMOD course from June 6-7, 2011.




We are proud to be a leading provider worldwide of powerful training for US EPA air dispersion models, with instructors being continuously rated as "outstanding" by course attendees.




For further information including details of the course location and registration form, please visit the Upcoming Courses section of our website.
Lakes Environmental at CANECT 2011!
Lakes Environmental will once again be exhibiting at the Canadian Environmental Conference & Tradeshow, CANECT 2011 in Mississauga, Ontario from May 17-18, 2011.
Come and visit us at booth 1438 for demonstrations and information about our software products, as well as your chance to win a FREE copy of our AERMOD View software! To obtain conference information, please visit the CANECT website.
Lakes Environmental Closed in Observance of Good Friday
Lakes Environmental will be closed on Friday, April 22, 2011 to observe the Good Friday holiday. If you have any needs during that time, please e-mail us at support@webLakes.com and we will contact you on April 25, 2011 when our offices reopen.
Upcoming Courses
Date

Course

Location

Registration

May 16-17, 2011

Full

May 18-20, 2011

Jun 6-7, 2011

Jul 11-13, 2011

Sep 12-13, 2011

Sep 14-16, 2011

Oct 3-4, 2011

Oct 17-18, 2011
Oct 19-21, 2011

Nov 17-18, 2011

Dec 12-13, 2011
Dec 14-16, 2011
For more information on the above courses, including registration information, location, and course outlines, please visit our web site: https://www.weblakes.com/courses.html.
Modeling Tip
Showing File Extensions in Windows
Under Microsoft Windows XP, Windows VISTA, and Windows 7 operating systems, the extension for known file types are hidden by default. For air dispersion modeling and other environmental modeling projects, modelers rely on different types of file extensions to identify a particular ASCII file format for meteorological data (*.sam, *.dat, *.akt), terrain data (*.dem, *.txt), base maps (*.bmp, *.jpg) among others.
To be able to see all file extensions, you must change this default setting in your Windows operating system by following the steps outlined below:
From your Windows desktop, open any folder such as My Computer or My Documents.


Select the menu option Tools | Folder options… or press the Organize button and select Folder and search options in case your operating system provides this option.





Under the Folder Options dialog, click the View tab. Under the Advanced settings list, make sure the box for the "Hide extensions for known file types" is unchecked as seen in image below. Click Apply or OK.





Now you can see the extension for all your modeling files, making your modeling work much easier to review and analyse.



Submit Your Modeling Tip Today!
We are currently accepting submissions for the Monthly Modeling Tip section that appears in our newsletters. If you have a modeling tip that may benefit our readers, please send it to us at support@webLakes.com. Your name and the name of your organization will appear below the tip providing you with an opportunity for increased exposure.
Articles
EPA Proposes First National Standard for Mercury Pollution From Power Plants / Mercury and Air Toxics Standards Represent One of Strongest Health Protections From Air Pollution Since Passage of Clean Air Act
WASHINGTON - March 16, 2011 - In response to a court deadline, today the U.S. Environmental Protection Agency (EPA) proposed the first-ever national standards for mercury, arsenic and other toxic air pollution from power plants. The new power plant mercury and air toxics standards – which eliminate 20 years of uncertainty across industry – would require many power plants to install widely available, proven pollution control technologies to cut harmful emissions of mercury, arsenic, chromium, nickel and acid gases, while preventing as many as 17,000 premature deaths and 11,000 heart attacks a year. The new proposed standards would also provide particular health benefits for children, preventing 120,000 cases of childhood asthma symptoms and about 11,000 fewer cases of acute bronchitis among children each year. The proposed standards would also avert more than 12,000 emergency room visits and hospital admissions and 850,000 fewer days of work missed due to illness.
This rule will provide employment for thousands, by supporting 31,000 short-term construction jobs and 9,000 long-term utility jobs.
EPA Issues Extension to Greenhouse Gas Reporting Deadline
WASHINGTON - March 17, 2011 - The U.S. Environmental Protection Agency has issued a final rule that extends the deadline for reporting 2010 data under the Greenhouse Gas (GHG) Reporting Program to September 30, 2011. The original deadline was March 31, 2011. EPA previously announced its intent to extend the deadline on March 1, 2011.
Under the GHG Reporting Program entities required to submit data must register with the electronic GHG reporting tool (e-GGRT) no later than 60 days before the reporting deadline. With this reporting deadline extension, the new deadline for registering with e-GGRT is August 1, 2011.
Following conversations with industry and others and in the interest of providing high quality data to the public this year, EPA is extending this year's reporting deadline to September 30, 2011. This extension will allow EPA to further test the system that facilities will use to submit data and give industry the opportunity to test the tool, provide feedback, and have sufficient time to become familiar with the tool prior to reporting.
EPA Updates National Air Toxics Assessment
WASHINGTON - The U.S. Environmental Protection Agency (EPA) today released the fourth update of a computer tool that helps federal, state, local governments and other stakeholders better understand the potential health risks from exposure to air toxics. The National Air Toxics Assessment (NATA) contains 2005 emissions data submitted primarily from the states for 178 pollutants. Models are used to make broad estimates of health risks for areas of the country. The tool is not designed to determine actual health risks to individuals living in these areas.
Because the data submitted varies from state to state, it is also not possible to use the data to compare risks between different areas of the country.
EU Law: Commission Acts to Ensure That European Legislation is Fully and Properly Implemented
In its monthly package of infringement decisions, the European Commission is pursuing legal action against 27 Member States for failing to comply properly with their obligations under EU law. These decisions cover many sectors. They aim at ensuring proper application of EU law for the benefit of citizens and businesses. The Commission has taken today 255 decisions, including 11 complaints taking Member States before the European Union's Court of Justice. In this package, 1 decision relates to failure to respect a previous Court ruling and might imply financial penalties.
Upcoming Conferences & Trade Shows
Date

Conference

Location

May 9-12, 2011

WasteExpo
More Info

Dallas, TX, USA

May 11-12, 2011

33rd Motorship Propulsions and Emissions Conference
More Info

Copenhagen, Denmark

May 16-18, 2011

CANECT 2011
More Info Lakes Environmental will be at booth #1438

Mississauga, ON, Canada

Jun 14-16, 2011

GLOBE Costa Rica 2011
More Info

San Jose, Costa Rica

Jun 21-24, 2011

A&WMA's 104th Annual Conference & Exhibition
More Info Lakes Environmental will be at booth #523

Orlando, FL, USA

Jul 21-22, 2011

Third International Conference on Climate Change
More Info

Rio de Janeiro, Brazil

Sep 19-21, 2011

19th International Conference on Modelling, Monitoring and Management of Air Pollution
More Info

Malta
About this Newsletter
This newsletter contains information gleaned from various sources on the web, with complete links to the sources cited. Organizations cited are in no way affiliated with Lakes Environmental Software.
Lakes Environmental Software is a leading environmental IT company that offers a complete line of air dispersion modeling, risk assessment, emissions inventory, and emergency release software as well as training and custom software services. With satisfied users located around the globe, Lakes Environmental Software will continue to revolutionize the environmental software field.
For more information please visit our web site at: www.webLakes.com. You may also contact us by phone at (519) 746-5995 or by fax at (519)746-0793.
All comments and suggestions are welcome. You can e-mail us at: support@webLakes.com.