Lakes Environmental e-Newsletter
Climate Change - Emissions Inventory - Atmospheric Science - IT Solutions


In this issue:
News & Events
Upcoming Courses
Modeling Tip: Create Project Backup with Lakes Software Products
Articles
Upcoming Conferences & Trade Shows
News & Events
CALRoads View Version 5 Soon to be Released
Lakes Environmental is pleased to announce the upcoming release of CALRoads View Version 5.




CALRoads View Version 5 includes the following new features:

Increased number of CALINE4 Links from 20 to 62
Export concentration results to a CSV file
Ability to model other inert gaseous pollutants with CAL3QHC and CAL3QHCR by specifying the molecular weight
Additional options available for the Coordinate Converter
Contact us today to purchase or update your copy of CALRoads View!
EPA Revises Policy on Development/Adoption of Interpollutant Trading Provisions for PM2.5
New guidance from the U.S. EPA resulted in changes to the policy set forth in the 2008 PM2.5 New Source Review Implementations Rule.




In specific, ratios provided in the preamble to the 2008 final rule are no longer supported for adoption in state implementation plans containing nonattainment NSR programs for PM2.5. In its place, states must provide technical demonstration that shows the net air quality benefits for any ratio involving PM2.5 precursors.




The memo provides detailed background on the issue and general guidance for developing PM2.5 precursor offset ratios.




Visit the US EPA website to read the full Memorandum.
Lakes Environmental Wins WESTAR Bid for Air Dispersion Modeling Course
Lakes Environmental was chosen by the Western States Air Resources Council (WESTAR) to deliver the Air Dispersion Modeling Course for Permit Writers in Salt Lake City, Utah from August 16 to 18, 2011. This training was highly successful and had 18 participants. This course adds to Lakes Environmental's strong reputation in the area of training all around the world.
The 3-day course combined theory with hands-on real-world case studies using Lakes Environmental's advanced graphical user interfaces, AERMOD View and CALPUFF View.
For more information on our Air Dispersion Modeling courses, please contact us at training@webLakes.com or visit the Upcoming Courses section on our website.
AERMOD Course in New York City
Lakes Environmental will be in New York City to present a 2-day AERMOD course from October 3-4, 2011.




Attending this course is the best way to stay current with recent regulatory and methodology changes such as the new 1-hour SO2, NO2 and 24-hour PM2.5 NAAQS. Lakes Environmental uses cutting edge tools that will revolutionize the way you do air dispersion modeling!




Visit our website for further details and register today! Early registration pricing is available until September 3, 2011.
Lakes Environmental Closed for the Labor Day Holiday
Lakes Environmental will be closed on Monday, September 5, 2011 to observe the Labor Day Holiday. If you have any needs during that time, please e-mail us at support@webLakes.com and we will contact you on Tuesday, September 6, 2011 when our offices reopen.
Upcoming Courses
Date

Course

Location

Registration

Sep 12-13, 2011

FULL

Sep 21-22, 2011

Oct 3-4, 2011

Oct 17-18, 2011
Oct 19-21, 2011

Nov 7-8, 2011
Nov 9-11, 2011

Nov 17-18, 2011

Dec 12-13, 2011
Dec 14-16, 2011
For more information on the above courses, including registration information, location, and course outlines, please visit our web site: https://www.weblakes.com/courses.html.
Modeling Tip
Create Project Backup with Lakes Software Products
Performing an air dispersion modeling analysis often results in the creation of many files on your computer. Besides input and output files, projects can contain numerous meteorological data, terrain data, digital basemaps, and external data files. Whether you are modeling a simple scenario with AERMOD or a complex regional study with CALPUFF, there will be many different file types to account for and manage.
While working on your project, it is often desirable to back up your work for a variety of reasons. Creating a single Backup project file provides the following benefits:
Simplifies the transfer of files between computers or across the network
Simplifies the transfer of electronic files to the client or regulatory agency
Provides peace of mind knowing you have a complete project backup if restoration is ever needed
Provides an efficient means of storing and managing projects
Provides an alternate means for managing complex projects and archiving iterative runs to document inputs and results
To make this process easy, Lakes Environmental Software products include a convenient Backup option to gather your project files into a single archive. See detailed steps below:
Step 1: To backup the files from any Lakes Environmental software product, select the menu option File | Backup | Save to ZIP. You will be prompted to specify the location where the backup file (*.zip) should be saved. The zip file can be saved locally or on a network drive.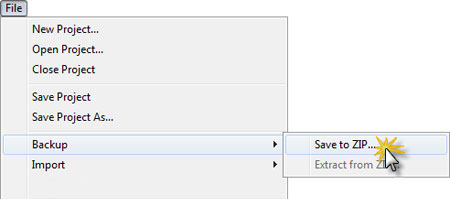 Step 2: After assigning a name to the backup file, the Backup Options dialog will appear. This dialog allows you to specify which files will be included in the archive. It is best to include as many files as possible, but you may wish to exclude large files such as terrain maps.
Step 3: You can also add additional files to your backup by pressing the Add Files or Add Folder buttons.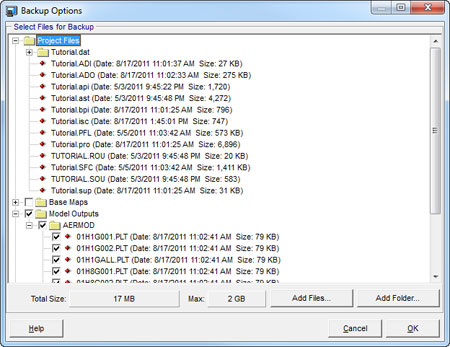 Step 4: Click OK when done.
Sending Project Files to Technical Support:
The Backup option is also extremely useful for sharing a project with our technical support team. Projects are often requested to help when troubleshooting support issues. Emailing the backup file to technical support when you first contact the team (support@webLakes.com) will save time and result in an even quicker turnaround time on support requests.
Submit Your Modeling Tip Today!
We are currently accepting submissions for the Monthly Modeling Tip section that appears in our newsletters. If you have a modeling tip that may benefit our readers, please send it to us at support@webLakes.com. Your name and the name of your organization will appear below the tip providing you with an opportunity for increased exposure.
Articles
Canada's Environment Minister Announces Integrated Plan for Oil Sands Monitoring
July 21, 2011 - Canada's Environment Minister, the Honourable Peter Kent, released an integrated, world-class monitoring plan for the oil sands region today. The Government of Canada will be working with the Province of Alberta on implementing the plan.
"The oil sands represent a significant, long-term economic advantage for the people of Alberta, and all Canadians," said Minister Kent. "We must ensure that this resource is developed in a way that protects our air, our water and biodiversity for generations to come."
The Government of Canada coordinated the development of the monitoring plan in collaboration with provincial, territorial and academic scientists. This final plan includes components for monitoring air quality, biodiversity, and the next phase of water quality monitoring in the oil sands region.
EPA Opens Public Comment on Secondary Air Standards for Nitrogen and Sulfur Oxides/ Agency Announces Pilot Field Study on Environmental Impacts
WASHINGTON - July 13, 2011 - After a careful review of the best available science, the U.S. Environmental Protection Agency (EPA) is proposing secondary air quality standards to protect the environment from nitrogen oxides (NOx) and sulfur oxides (SOx). Today's proposal builds on EPA efforts already underway to reduce NOx and SOx emissions.
EPA has made significant progress in developing a multi-pollutant standard that would protect vulnerable ecosystems, including streams and lakes. To ensure any updated standard is effective, EPA is planning to conduct a field pilot program to collect and analyze additional data and information.
Commission Proposes to Cut Sulphur Dioxide Emissions from Shipping by 90%
BRUSSELS - July 15, 2011 - Better air quality is on the way, thanks to proposals from the European Commission to lower the sulphur content of shipping fuels. The proposals should reduce sulphur dioxide emissions by up to 90 %, and fine particle emissions by up to 80 %. The benefits for public health will be between EUR 15 and 34 billion, far exceeding the expected costs, which are in the range of EUR 2.6 to 11 billion. With nearly half of Europe's population living in areas where EU air quality objectives are still not met, air pollution is one of the main environmental worries facing citizens.
"Environment Commissioner Janez Potocnik said: "Air pollution does not stop at borders. Land sources have been subject to the attentions of regulators for some time, and the time has now come for the maritime sector to deliver its fair share, all the more so as the impacts on air quality are felt far beyond coastal areas. This proposal is an important step forward in reducing air emissions from the fast-growing maritime transport sector. It will help resolve the persistent air quality problems that continue to affect millions of Europeans. It is part of a transformational agenda that will prepare the sector for the challenges of tomorrow."
Canada Working to Address Emissions from Heavy-duty Vehicles
August 9, 2011 - Today, the Honorable Peter Kent, Canada's Environment Minister, released a consultation paper on the development of proposed regulations to limit greenhouse gas emissions from new on-road heavy-duty vehicles. Canada and the United States are taking a common North American approach and Canada intends to implement regulations with the 2014 model year in alignment with the United States.
"We are moving forward with our sector by sector approach to reduce greenhouse gas emissions in coordination with the United States," said Minister Kent. "Building on our successful collaboration with the United States on the development of common North American standards for light-duty vehicles, we are also working together to do the same for heavy-duty vehicles."
This consultation paper is intended to provide another opportunity for interested parties to submit early comments prior to publishing proposed regulations in Canada Gazette Part I. Proposed regulations are targeted for publication in Canada Gazette Part I early in 2012 for a 60-day comment period.
EPA Proposes Criteria to Waive Federal Requirements for Capturing Gasoline Vapors When Refueling Vehicles/Part of Obama Administration's Initiative to Remove Burdensome Regulations
WASHINGTON - July 11, 2011 - The U.S. Environmental Protection Agency (EPA) is issuing a proposal under the Clean Air Act that would waive requirements for systems used at gas station pumps to capture potentially harmful gasoline vapors while refueling cars. The proposal is part of the Obama Administration's initiative to review outdated and redundant rules and ensure that regulations are beneficial without being unnecessarily burdensome to American businesses.
Beginning in 2013, states that meet the new criteria would have the option to do away with vapor recovery systems at the pump since an estimated 70 percent of all vehicles will be equipped by then with on-board systems that capture these vapors. The result of the proposal would be the continued protection of air quality and public health while potentially saving affected gas stations more than $3,000 annually.
Upcoming Conferences & Trade Shows
Date

Conference

Location

Sep 19-21, 2011

19th International Conference on Modelling, Monitoring and Management of Air Pollution
More Info

Malta

Sep 19-21, 2011

2nd North American Conference on Ozone and Ultraviolet Technologies
More Info

Toronto, ON, Canada

Oct 5-7, 2011

CEM 2011: International Conference and Exhibition on Emissions Monitoring
More Info

Prague, Czech Republic

Oct 18-20, 2011

Ninth Symposium on Fire and Forest Meteorology
More Info

Palm Springs, CA, USA

Nov 2-3, 2011

Carbon Forum Asia
More Info

Singapore

Nov 13-17, 2011

SETAC North America 32nd Annual Meeting
More Info

Boston, MA, USA

Nov 29- Dec 2, 2011

Pollutec Horizons 2011
More Info

Paris, France
About this Newsletter
This newsletter contains information gleaned from various sources on the web, with complete links to the sources cited. Organizations cited are in no way affiliated with Lakes Environmental Software.
Lakes Environmental Software is a leading environmental IT company that offers a complete line of air dispersion modeling, risk assessment, emissions inventory, and emergency release software as well as training and custom software services. With satisfied users located around the globe, Lakes Environmental Software will continue to revolutionize the environmental software field.
For more information please visit our web site at: www.webLakes.com. You may also contact us by phone at (519) 746-5995 or by fax at (519)746-0793.
All comments and suggestions are welcome. You can e-mail us at: support@webLakes.com.