Lakes Environmental e-Newsletter
Climate Change - Emissions Inventory - Atmospheric Science - IT Solutions


In this issue:
News & Events
Upcoming Courses
Modeling Tip: How to Change Executables in AERMOD View™
Articles
Upcoming Conferences & Trade Shows
News & Events
Happy Holidays from Lakes Environmental!

Lakes Environmental wishes you a Joyous Holiday Season and a Prosperous New Year!
Our offices will be closed for the holidays on Monday, December 26, 2011 and will reopen on Monday, January 2nd, 2012. If you have an urgent matter requiring assistance during this time please e-mail us at support@weblakes.com.
We wish to take this opportunity to specially thank you, our subscribers and customers, for reading our newsletter throughout this year. Your continued feedback and suggestions are so valuable to us. We look forward to hearing from you in 2012!
AERMOD Course in Los Angeles, California – Jan 23-24, 2012
Lakes Environmental is heading back to Los Angeles to provide a 2-day AERMOD course on January 23 to 24, 2012.




Attending this course is the best way to stay current with recent regulatory and methodology changes such as the new 1-hour SO2, NO2 and 24-hour PM2.5 NAAQS. Lakes Environmental's cutting edge software will revolutionize the way you approach air dispersion modeling projects. Benefits include:

Improved accuracy
Increased efficiency
In-depth understanding of results
Powerful results visualization and communication

For further information including details of the course location and registration form, please visit the Upcoming Courses section of our website.
Lakes Environmental chosen by US EPA Research Triangle Park for Air Dispersion Modeling Course
Lakes Environmental was chosen by the US EPA's Office of Air Quality and Planning Standards (OAQPS) to deliver an Air Dispersion Modeling and Risk Assessment Course for their scientists and engineers in Research Triangle Park, North Carolina from November 29 to 30, 2011. This training was highly successful and had 31 participants. This latest course adds to Lakes Environmental's strong reputation in the area of training all around the world.




The 2-day course combined theory with hands-on real-world case studies using Lakes Environmental's advanced graphical user interface, AERMOD View.




For information regarding our upcoming Air Dispersion Modeling courses, please contact us at training@webLakes.com or visit our website for further details.
Upcoming Courses
Date

Course

Location

Registration

Dec 12-13, 2011
Dec 14-16, 2011

Full

Jan 23-24, 2012

Feb 6-7, 2012

Toronto, ON

Feb 27-28, 2012
Feb 29-Mar 2, 2012

Dallas, TX

Registration Coming Soon

Apr 2-3, 2012

May 14-15, 2012
May 16-18, 2012

Las Vegas, NV

Registration Coming Soon

Jun 4-5, 2012
Jun 6-8, 2012

Sep 27-28, 2012

Mexico City, Mexico

Registration Coming Soon
For more information on the above courses, including registration information, location, and course outlines, please visit our web site: https://www.weblakes.com/courses.html.
Modeling Tip
How to Change Executables in AERMOD View™
Since the AERMOD model was first promulgated by the U.S. EPA as the preferred regulatory model back in 2006 (official replacement for ISCST3), numerous versions of the model executable have been released. The U.S. EPA periodically releases new versions to fix bugs, include new features, and to account for recent changes in environmental regulations. The AERMOD model is written in the FORTRAN computer language, and the EPA uses the Intel Visual Fortran Compiler for Windows to compile the code when new versions are approved and made available for release to the public. While numerous versions of AERMOD have been released, it is important to remember that only the most recent version is maintained on the EPA's SCRAM website.
There are many situations where a modeler may wish to use an older version of the AERMOD executable. For example:
Regulators in some countries may still mandate the use of an earlier version of AERMOD.
A specific version of AERMOD may be stipulated in the modeling plan and permit application, even though a newer version of the model may have become available since the project started.
There are certain situations where a custom recompiled version may be required to support specific non-regulatory options such as modeling a line or flare source or to implement advanced modeling configurations such as the ability to run in a parallel processing environment.
In addition, modelers using recent operating systems like Windows 7 or Windows Server 2008 R2 may notice that the current versions of the AERMOD model included in AERMOD View™ (09292, 11059, and 11103) will hang or freeze. This is due to a documented glitch in certain versions of the Intel Visual Fortran Compiler for Windows which the U.S. EPA uses to compile the AERMOD code. Details on the issue can be found at https://software.intel.com/en-us/articles/program-crashes-or-hangs-on-some-systems/.
With AERMOD View™, users will find it easy to change which version of the AERMOD executable they use in their analyses. Simply complete the following steps to select a specific version of AERMOD that you wish to use to generate modeling results:
Open the File menu and select Preferences. Many different program settings can be set here.



The various models available in AERMOD View are listed under the EPA Models/Limits folder. Select AERMOD.





AERMOD View™ defaults to the most recent U.S. EPA executable (currently 11103). By selecting the drop-down list, modelers can select different executables including previous U.S. EPA AERMOD releases. Additional customized versions provided by Lakes Environmental are also available and were developed to resolve the model hanging issue noted above and also to provide you with the powerful option of running projects using the parallel MPI executable.





Furthermore, users can also select their very own recompiled version of AERMOD by selecting the User-Specified radio button. Use the Browse button to search your computer for the desired executable. This could be a much older version of the executable (e.g., 04300, 07026), beta version released by EPA, or a custom compilation.
AERMOD View also makes it easy to change other executables including AERMAP, ISCST3, and ISC-PRIME by selecting the desired model from the EPA Models/Limits list. AERMOD records which executable was used to generate each output file so you never need to worry about forgetting which version was selected for a specific run.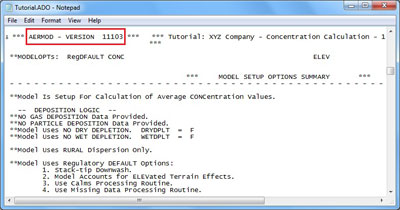 Submit Your Modeling Tip Today!
We are currently accepting submissions for the Monthly Modeling Tip section that appears in our newsletters. If you have a modeling tip that may benefit our readers, please send it to us at support@webLakes.com. Your name and the name of your organization will appear below the tip providing you with an opportunity for increased exposure.
Articles
EPA Proposes Changes to Clean Air Act Standards for Boilers and Incinerators
WASHINGTON - December 2, 2011 - The U.S. Environmental Protection Agency (EPA) is proposing changes to Clean Air Act standards for boilers and certain incinerators based on extensive analysis, review and consideration of data and input from states, environmental groups, industry, lawmakers and the public. The proposed reconsideration would achieve extensive public health protections through significant reductions in toxic air pollutants, including mercury and soot, while increasing the rule's flexibility and addressing compliance concerns raised by industry and labor groups. The changes also cut the cost of implementation by nearly 50 percent from the original 2010 proposed rule while maintaining health benefits. These standards meet important requirements laid out in the 1990 Clean Air Act Amendments.
Soot and other harmful pollutants released by boilers and incinerators can lead to adverse health effects including cancer, heart disease, aggravated asthma and premature death. In addition, toxic pollutants such as mercury and lead that will be reduced by this proposal are linked to developmental disabilities in children. These standards will avoid up to 8,100 premature deaths, prevent 5,100 heart attacks and avert 52,000 asthma attacks per year in 2015.
Industrial Air Pollution Cost Europe up to €169 Billion in 2009, EEA Reveals
November 24, 2011 - Air pollution from the 10,000 largest polluting facilities in Europe cost citizens between € 102 and 169 billion in 2009. This was one of the findings of a new report from the European Environment Agency (EEA) which analysed the costs of harm to health and the environment caused by air pollution. Half of the total damage cost (between € 51 and 85 billion) was caused by just 191 facilities.
The report, 'Revealing the costs of air pollution from industrial facilities in Europe', provides a list of the individual facilities that contribute the most harm.
"Our analysis reveals the high cost caused by pollution from power stations and other large industrial plants," Professor Jacqueline McGlade, EEA Executive Director, said.
Canada Working With the United States to Address Emissions from Passenger Cars and Light Trucks for Model Years 2017 and Beyond
November 16, 2011 - Today, the Honorable Peter Kent, Canada's Environment Minister, released a consultation document on the development of proposed regulations to limit greenhouse gas (GHG) emissions from passenger cars and light trucks for model years 2017 and beyond. These proposed regulations are an extension of the close work Canada has already completed in alignment with the U.S. government to establish common North American standards for regulating GHGs from new passenger cars and light trucks for the 2011-16 model years.
"Given that our economies are deeply integrated, alignment with the United States is a key part of Canada's overall approach to reducing greenhouse gas emissions," said Minister Kent. "This effort will also lead to greater fuel economy for consumers, innovation in the auto sector and increased economic competitiveness for Canada."
EPA Reinstates TRI Reporting Requirements for Hydrogen Sulfide
November 4, 2011 - The EPA has recently announced that it will reinstate Toxic Release Inventory (TRI) reporting requirements for hydrogen sulfide as a result of EPA Administrator Lisa Jackson's interest in offering useful information to Americans about chemicals they may encounter on a daily basis.
Since TRIs are databases that are available for public viewing, which feature information about toxic chemical releases and waste management activities reported by industries and federal facilities, they are typically reinstated to inform the general public about toxic chemical releases and to offer information to the government.
Highlights of the Exposure Factors Handbook (Final Report)
October 13, 2011 - Information in the Exposure Factors Handbook and in this Highlights document has been summarized from studies documented in the scientific literature and other publicly available sources. Studies were chosen that were seen as useful and appropriate for estimating exposure factors for both adults and children. The Handbook contains summaries of selected studies published through July 2011. Certain studies described in the Handbook are designated as "key," that is, the most up-to-date and scientifically sound for deriving recommendations for exposure factors. The recommended values for most exposure factors are based on the results of the key studies. Other studies designated as "relevant," meaning applicable or pertinent, but not necessarily the most important, are also summarized in the Handbook.
Upcoming Conferences & Trade Shows
Date

Conference

Location

Jan 16-19, 2012

World Future Energy Summit
More Info

Abu Dhabi, UAE

Jan 30- Feb 1, 2012

EUEC 2012
More Info

Phoenix, AZ, USA

Feb 13-14, 2012

EnerCan West 2012: Energy and the Environment
More Info

Regina, SK, Canada

Feb 14-16, 2012

Renewable Energy World Conference & Expo North America
More Info

Long Beach, CA, USA

Mar 14-16, 2012

GLOBE 2012
More Info

Vancouver, BC, Canada

Mar 17-18, 2012

2012 International Conference on Informatics, Environment, Energy and Applications (IEEA 2012)
More Info

Singapore

Mar 19-23, 2012

8th International Conference on Air Quality
More Info

Athens, Greece

Mar 25-27, 2012

Gulf Environment Forum 2012
More Info

Jeddah, Saudi Arabia

Apr 22-27, 2012

International Polar Year (IPY) 2012 Conference
More Info

Montréal, QC, Canada

Apr 30 - May 2, 2012

CANECT 2012
More Info

Mississauga, ON, Canada

Jun 19-22, 2012

A&WMA 105th Annual Conference and Exhibition
More Info

San Antonio, TX, USA
About this Newsletter
This newsletter contains information gleaned from various sources on the web, with complete links to the sources cited. Organizations cited are in no way affiliated with Lakes Environmental Software.
Lakes Environmental Software is a leading environmental IT company that offers a complete line of air dispersion modeling, risk assessment, emissions inventory, and emergency release software as well as training and custom software services. With satisfied users located around the globe, Lakes Environmental Software will continue to revolutionize the environmental software field.
For more information please visit our web site at: www.webLakes.com. You may also contact us by phone at (519) 746-5995 or by fax at (519)746-0793.
All comments and suggestions are welcome. You can e-mail us at: support@webLakes.com.