Lakes Environmental e-Newsletter
Climate Change - Emissions Inventory - Atmospheric Science - IT Solutions


In this issue:
News & Events
Upcoming Courses
Modeling Tip: Compatibility of Some US EPA Models with 64-Bit Operating Systems
Articles
Upcoming Conferences & Trade Shows
News & Events
AERMOD View Version 6.8 Released
Lakes Environmental is pleased to announce the release of AERMOD ViewTM 6.8 on February 15, 2011.
New features included in this release are:
Plot File Grid View - Export Results for Selected Receptors
New features for the US EPA NAAQS 1-Hour SO2, 1-Hour NO2, and 24-Hour PM2.5 tool:



Auto-generated option
Intermediate files with daily maximum by percentile and year
Contribution files by source group and year
Option to add monitoring background concentration hourly data
Option to specify a SIL value

Excel import/export capabilities for AERMOD gas and particle data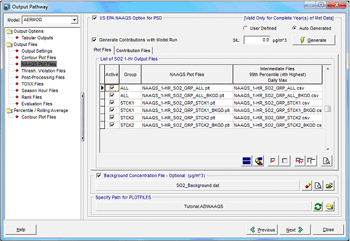 For a detailed list of new features available in Version 6.8, please check out our latest release notes.
If you are currently in maintenance for AERMOD View and did not receive an email regarding this update, please contact us at support@webLakes.com.
If you are a user of AERMOD View but are no longer in maintenance please contact LakesSoftware@webLakes.com to find out how you can begin using AERMOD View Version 6.8!
US EPA AERMOD Beta Released to US EPA Regional Offices
In December 2010, the US EPA released a beta version of the AERMOD model to US EPA Regional Offices for review. This release fully supports the new 1-hr NO2 and 24-hr PM2.5 NAAQS (National Ambient Air Quality Standards) as well as bug fixes within the Plume Volume Molar Ratio Method.




It is anticipated that this beta version will be released to the public through the EPA's SCRAM website shortly.




Lakes Environmental expects to be releasing AERMOD View Version 7.0 shortly after the US EPA releases the AERMOD model to the general public.
3-Day AERMOD Course in São Paulo, Brazil – July 11-13, 2011
Lakes Environmental and SECA (our Brazilian distributor) are pleased to announce a new course in Brazil. The 3-Day AERMOD training will be in São Paulo from July 11 to 13, 2011.

Registration options for this course are:




3-Day AERMOD Course (Includes 1-day of Advanced Instruction): July 11-13, 2011
2-Day Standard AERMOD Course: July 11-12, 2011
1-Day Advanced AERMOD Course: July 13, 2011
The presentation of the course will be in Portuguese while all course materials such as slides, course notes and case studies will be in English.
If you are interested in registering for this AERMOD course, please contact Silvio de Oliveira of SECA at silvoliv@uol.com.br.
Further details including course venue and registration form can be found on our website.
Additional 2011 Courses Announced!
Lakes Environmental has recently announced the remainder of their 2011 courses (see table below).




On-site courses are also available for any company that wishes to provide customized training for their employees. These courses can be tailored to suit the needs and skill level of your employees. For more information on on-site training or to request a quote for corporate training, please contact us at training@weblakes.com.
Upcoming Courses
Date

Course

Location

Registration

Feb 28-Mar 1, 2011

Full

Mar 2-4, 2011

Full

Mar 14-15, 2011

Hyderabad, India

Full

Apr 11-12, 2011

Apr 13-15, 2011

May 16-17, 2011
May 18-20, 2011

Jun 6-7, 2011

Jul 11-13, 2011

Oct 3-4, 2011

Oct 17-18, 2011
Oct 19-21, 2011

Barcelona - Spain

Registration Coming Soon!

Nov 17-18, 2011
For more information on the above courses, including registration information, location, and course outlines, please visit our web site: https://www.weblakes.com/courses.html.
Modeling Tip
Compatibility of Some US EPA Models with 64-Bit Operating Systems
With the introduction of 64-bit processors and operating systems, some official US EPA model executables are no longer compatible with newer versions of Windows. These incompatibilities are present if the executable was originally compiled as a 16-bit application instead of a 32-bit application.
The table below lists some of the US EPA air dispersion models and their compatibility with 64-bit operating systems:
Submit Your Modeling Tip Today!
We are currently accepting submissions for the Monthly Modeling Tip section that appears in our newsletters. If you have a modeling tip that may benefit our readers, please send it to us at support@weblakes.com. Your name and the name of your organization will appear below the tip providing you with an opportunity for increased exposure.
Articles
B.C., Washington State Sign Climate Action Partnerships
WASHINGTON - February 2, 2011 - A pair of climate action agreements between B.C. and Washington state will strengthen cross-border efforts to reduce carbon pollution while advancing the low- carbon economy.
B.C. Minister of State for Climate Action John Yap and Washington Department of Ecology Director Ted Sturdevant signed agreements on limiting carbon emissions from government operations and promoting awareness of the impacts of sea level rise on coastal areas.
EPA Proposes to Retain National Air Quality Standards for Carbon Monoxide / Air Monitoring Revisions Would Ensure People are Protected
WASHINGTON - January 31, 2011 - After a careful review of the best available science, the U.S. Environmental Protection Agency (EPA) is proposing to keep the current national air quality standards for carbon monoxide (CO), while taking steps to gather additional data through more focused monitoring. The science shows that the current standards will protect people, especially those susceptible to health problems associated with breathing CO from the outdoor air. CO can cause harmful health effects by reducing oxygen delivery to the body's organs (like the heart and brain) and tissues. At extremely high levels, CO can cause death.
Experts Selected to Lead Oil Sands Monitoring
EDMONTON - January 27, 2011 - Twelve independent experts from across North America have been chosen to help create a world-class environmental monitoring system for Alberta's oil sands.
"I am committed to ensuring we have a robust, credible, and transparent environmental monitoring, evaluation and reporting system in the province, beginning with the oil sands region," said Rob Renner, Minister of Environment. "This extremely accomplished group of individuals, who have significant experience and wide-ranging expertise, will deliver on this important initiative."
Leading the panel as co-chairs are Hal Kvisle and Howard Tennant. Both have extensive leadership experience. Kvisle is the former president and CEO of TransCanada Corporation, and Tennant is the former president and vice-chancellor of the University of Lethbridge. The remaining panel members represent a broad range of expertise from the scientific, academic, public administration, regulatory, and health fields.
Governments Work Together to Address Climate Change
January 7, 2011 - The governments of Canada and Ontario are addressing climate change together through the announcement of joint funding for the Ontario Regional Adaptation Collaborative (Ontario RAC), a series of projects to help communities adapt to climate change. The three-year initiative is aimed at helping decision-makers in Ontario better prepare for extreme weather impacts.
The Honourable Christian Paradis, Minister of Natural Resources stated that Natural Resources Canada provided $3.3 million of the $6.8 million in funding for the Ontario RAC. One goal of the collaborative is to help municipalities apply climate change considerations to decisions about water supplies or infrastructure, for example, in building code standards and water engineering practices.
Upcoming Conferences & Trade Shows
Date

Conference

Location

Mar 8-10, 2011

Renewable Energy World Conference & Expo North America
More Info

Tampa, FL, USA

Mar 14-19, 2011

Conference on Air Quality and Climate 2011
More Info

Kona, HI, USA

Mar 22-24, 2011

AMERICANA 2011
More Info

Montreal, QC, Canada

May 11-12, 2011

33rd Motorship Propulsions and Emissions Conference
More Info

Copenhagen, Denmark

May 16-18, 2011

CANECT 2011
More Info Lakes Environmental will be at booth #1438

Toronto, ON, Canada

May 29-31, 2011

Gulf Environment Forum 2011
More Info

Jeddah, Saudi Arabia

Jun 14-16, 2011

GLOBE Costa Rica 2011
More Info

San Jose, Costa Rica

Jun 21-24, 2011

A&WMA's 104th Annual Conference & Exhibition
More Info Lakes Environmental will be at booth #523

Orlando, FL, USA

Sep 19-21, 2011

19th International Conference on Modelling, Monitoring and Management of Air Pollution
More Info

Malta
About this Newsletter
This newsletter contains information gleaned from various sources on the web, with complete links to the sources cited. Organizations cited are in no way affiliated with Lakes Environmental Software.
Lakes Environmental Software is a leading environmental IT company that offers a complete line of air dispersion modeling, risk assessment, emissions inventory, and emergency release software as well as training and custom software services. With satisfied users located around the globe, Lakes Environmental Software will continue to revolutionize the environmental software field.
For more information please visit our web site at: www.weblakes.com. You may also contact us by phone at (519) 746-5995 or by fax at (519)746-0793.
All comments and suggestions are welcome. You can e-mail us at: support@weblakes.com.