Lakes Environmental e-Newsletter
Climate Change - Emissions Inventory - Atmospheric Science - IT Solutions


In this issue:
News & Events
Upcoming Courses
Modeling Tip: Run AERMINUTE Using AERMET View
Articles
Upcoming Conferences & Trade Shows
News & Events
Lakes Environmental at A&WMA 2011 Conference & Exhibition
Lakes Environmental would like to thank everyone who stopped by our booth or visited us during our AERMOD View software presentation in sunny Orlando at A&WMA's 104th Annual Conference and Exhibition from June 21 to 23.




We hope you enjoyed your time at this year's conference and look forward to assisting you in your endeavors through the coming year. See you in 2012 at A&WMA's conference in San Antonio, Texas!




Visitors to our booth had the chance to participate in a draw for a free copy of our AERMOD View or CALPUFF View software packages.




We would like to take this opportunity to offer our congratulations to our software winners:
AERMOD View
- Darryl Chartrand of CH2M HILL
CALPUFF View
- Zaher Hashisho of the University of Alberta

Proposal to Amend Ontario Regulation 419/05
On June 22, 2011 the Ontario Ministry of the Environment (MOE) posted a "Proposal to Amend Ontario Regulation 419-05: Air Pollution – Local Air Quality, made under the Environmental Protection Act, to include Ontario Air Standards for Nine (9) Contaminants" to the Environmental Registry.
For more information on these proposed changes please visit the Government of Ontario's Environmental Registry.
New Addition to the Lakes Environmental Team
Lakes Environmental is pleased to announce the addition of a new team member, Michael Hammer. Michael started working at our Dallas office on July 11, 2011, where he is now leading our Technical Support Team as Senior Product Specialist.




He brings with him working knowledge of AERMOD, CALPUFF, and has an extensive history in meteorological data processing and statistical analysis. Mr. Hammer also has substantial experience in air quality and dispersion modeling and is well known for his exceptional customer care.




Please join us in welcoming Michael to our team!
AERMOD Course in Mexico City – Sep 21-22, 2011
Lakes Environmental is pleased to be travelling to Mexico for two days of AERMOD training in Mexico City from September 21-22, 2011.




This course will be hosted by our Mexican distributor, Modelos Ambientales. Presentation of the course will be in English and translated into Spanish while all course materials (presentation slides, course notes, etc) will be in English only.




We encourage you to register soon in order to reserve your spot. If you are interested in registering for this AERMOD course, please contact Anastasio Carranza of Modelos Ambientales at contacto@modelosambientales.com.
Further details including course venue and registration form can be found on our website.
AERMOD & CALPUFF Courses in Barcelona - Oct 17-21, 2011
Lakes Environmental will be presenting a full week of AERMOD and CALPUFF training in Barcelona from October 17-21, 2011. This course will be hosted by our Spanish distributor, Addlink Software Cientifico.




Attending our AERMOD and CALPUFF courses is the best way to stay current with recent regulatory and methodology changes. Lakes Environmental uses cutting edge tools that will revolutionize the way you do air dispersion modeling!




Register before July 31, 2011 to take advantage of our early registration discounts! If you are interested in registering for the AERMOD and CALPUFF course, please contact Addlink Software Cientifico at info@addlink.es.
Further details including course venue and registration form can be found on Addlink's website.
Lakes Environmental Closed for the August Civic Holiday
Lakes Environmental's Waterloo office will be closed on Monday, August 1, 2011 to observe the Ontario Civic holiday. Out Dallas office will remain open on this day. If you have any needs during that time, please e-mail us at support@webLakes.com and we will respond to your inquiry as soon as possible.
Upcoming Courses
Date

Course

Location

Registration

Sep 12-13, 2011

Sep 21 -22, 2011

Oct 3-4, 2011

Oct 17-18, 2011
Oct 19-21, 2011

Nov 7-8, 2011
Nov 9-11, 2011

Registration Coming Soon

Nov 17-18, 2011

Dec 12-13, 2011
Dec 14-16, 2011
For more information on the above courses, including registration information, location, and course outlines, please visit our web site: https://www.weblakes.com/courses.html.
Modeling Tip
Run AERMINUTE Using AERMET View
One of the model updates made by the U.S. EPA earlier this year was the release of the new AERMINUTE executable. AERMINUTE processes 1-minute ASOS wind data to generate hourly wind speed and wind direction averages to supplement data within standard hourly surface data files. Meteorological stations throughout the United States have gradually replaced manned observations with Automated Surface Observing Stations (ASOS). This led to a marked increase in missing or calm hours in the hourly observations which degrades the quality of air dispersion modeling analyses. AERMINUTE provides much higher wind data quality by processing the raw 1-minute data logged by the automated station.
The input to AERMINUTE is limited to a data format from the U.S. National Climatic Data Center (NCDC) known as DS-6405. Presently, these data files are only available for ASOS stations in the U.S.
When processing data for U.S. projects, AERMINUTE can be run easily in AERMET View Version 7. Follow these simple steps:
Step 1: Start a new project in AERMET View. Select the ASOS 1-Minute tab from the Surface display. Select Yes to include a 1-Minute ASOS Wind Data File. Press the AERMINUTE button on the right side of the window.

Step 2: AERMINUTE uses 1-minute ASOS wind data in TD-6405 format from the NCDC. AERMET View includes a link to NCDC's data archive to retrieve the necessary files. Press the Download Files button to open the link to NCDC's FTP site.

Step 3: Download the files needed for your project. Folders are named based on the year of data (e.g., "6405-2010" for data from 2010) and files are named by station callsign, 4-digit year, and 2-digit month. This example uses data from Pittsburgh, PA (KPIT) for the full year 2000 (200001 – 200012).
Step 4: After downloading the files, select the Specify File button to locate and add the files to your project.

Step 5: AERMINUTE can compare its calculated hourly wind averages to those identified in TD-3505 hourly surface data. If your project will run TD-3505 data, select the Copy Hourly Surface File button.

Step 6: You're ready to run! Click Process to run AERMINUTE.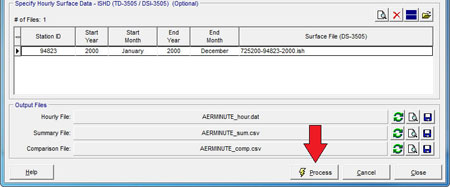 Submit Your Modeling Tip Today!
We are currently accepting submissions for the Monthly Modeling Tip section that appears in our newsletters. If you have a modeling tip that may benefit our readers, please send it to us at support@webLakes.com. Your name and the name of your organization will appear below the tip providing you with an opportunity for increased exposure.
Articles
Carbon-neutral B.C.: A First for North America
VICTORIA, BC - June 30, 2011 - B.C.'s public sector is officially carbon neutral, a first for any province or state in North America and an achievement that places British Columbia on the leading edge of climate action and growth in the clean-energy and clean-technology sectors.
To kick-start carbon-neutral efforts, B.C. launched a $75-million public-sector energy conservation capital fund in 2008. It has funded 247 energy projects in schools, hospitals, colleges, universities and other government buildings across the province. Once complete, those projects are expected to reduce carbon output by 36,500 tonnes, create 500 jobs and save organizations about $12.6 million in annual energy costs.
Canada's Environment Minister Announces Start Date for Biodiesel Requirement
SASKATOON, SK - June 29, 2011 - Canada's Environment Minister, the Honourable Peter Kent, today announced that the Government is moving ahead with the 2 percent renewable content requirement in diesel fuel and heating oil.
"Our Government will continue to ensure that protecting our environment, while balancing economic growth and prosperity remains our priority", said Minister Kent. "The steps we are taking on renewable fuels, combined with those of the provinces, will ensure a volume of renewable fuel that will reduce annual greenhouse gas emissions by about four megatonnes a year--the equivalent of removing one million vehicles from the road."
EPA, Coast Guard Announce Agreement to Enforce Air Pollution Requirements for Vessels Operating in U.S. Waters
WASHINGTON - June 27, 2011 - The U.S. Environmental Protection Agency (EPA) and the U.S. Coast Guard (USCG) today announced an agreement to jointly enforce U.S. and international air pollution requirements for vessels operating in U.S. waters. The requirements establish limits on nitrogen oxides (NOx) emissions and require the use of fuel with lower sulfur content, protecting people's health and the environment by reducing ozone-producing pollution, which can cause smog and aggravate asthma. The most stringent requirements apply to ships operating within 200 nautical miles of the coast of North America.
"Today's agreement forges a strong partnership between EPA and the U.S. Coast Guard, advancing our shared commitment to enforce air emissions standards for ships operating in U.S. waters," said Cynthia Giles, assistant administrator for EPA's Office of Enforcement and Compliance Assurance. "Reducing harmful air pollution is a priority for EPA and by working with the Coast Guard we will ensure that the ships moving through our waters meet their environmental obligations, protecting our nation's air quality and the health of our coastal communities."
EPA Announces Timeline for Reconsideration of Air Toxics Standards for Boilers and Certain Incinerators / Open and transparent process will strengthen the basis for the protective, cost-effective and achievable standards
WASHINGTON - June 24, 2011 - WASHINGTON – As part of a filing with the US Court of Appeals for the DC Circuit, the U.S. Environmental Protection Agency (EPA) has set a schedule for issuing updated air toxics standards for boilers and certain solid waste incinerators. To ensure that the agency's standards are based on the best available data and the public is given ample opportunity to provide additional input and information, the agency will propose standards to be reconsidered by the end of October 2011 and issue final standards by the end of April 2012. This is the best approach to put in place technically and legally sound standards that will bring significant health benefits to the American public.
Environment: New maps give Europeans close-up picture of air pollution from diffuse sources
May 26, 2011 - Environment Commissioner Janez Potocnik said: "Knowledge is crucial to make our actions credible. It also provides our citizens with important information. These maps show a genuine commitment to increase everyone's understanding of where air pollution is coming from."
Professor Jacqueline McGlade, Executive Director of the European Environment Agency, added: "Air pollution is a serious health threat, especially to risk-prone groups such as children and people with respiratory diseases. By informing citizens about air pollution from transport, households and other sources where they live, these maps empower them to take action and urge authorities to make improvements."
The E-PRTR, launched in 2009 to improve access to environmental information, contains already data reported by individual industrial facilities (point sources) and, as of today, information on emissions from road transport, shipping, aviation, heating of buildings, agriculture and small businesses (diffuse sources).
Upcoming Conferences & Trade Shows
Date

Conference

Location

Jul 31-Aug 3, 2011

Energy and Water 2011: Efficiency, Generation, Management, and Climate Impacts
More Info

Chicago, IL, USA

Aug 1-2, 2011

7th Australia-New Zealand Climate Change & Business Conference
More Info

Wellington, New Zealand

Sep 19-21, 2011

19th International Conference on Modelling, Monitoring and Management of Air Pollution
More Info

Malta

Sep 19-21, 2011

2nd North American Conference on Ozone and Ultraviolet Technologies
More Info

Toronto, ON, Canada

Oct 5-7, 2011

CEM 2011: International Conference and Exhibition on Emissions Monitoring
More Info

Prague, Czech Republic

Oct 18-20, 2011

Ninth Symposium on Fire and Forest Meteorology
More Info

Palm Springs, CA, USA

Nov 2-3, 2011

Carbon Forum Asia
More Info

Singapore

Nov 13-17, 2011

SETAC North America 32nd Annual Meeting
More Info

Boston, MA, USA
About this Newsletter
This newsletter contains information gleaned from various sources on the web, with complete links to the sources cited. Organizations cited are in no way affiliated with Lakes Environmental Software.
Lakes Environmental Software is a leading environmental IT company that offers a complete line of air dispersion modeling, risk assessment, emissions inventory, and emergency release software as well as training and custom software services. With satisfied users located around the globe, Lakes Environmental Software will continue to revolutionize the environmental software field.
For more information please visit our web site at: www.webLakes.com. You may also contact us by phone at (519) 746-5995 or by fax at (519)746-0793.
All comments and suggestions are welcome. You can e-mail us at: support@webLakes.com.