Lakes Environmental e-Newsletter
Climate Change - Emissions Inventory - Atmospheric Science - IT Solutions


In this issue:
News & Events
Upcoming Courses
Modeling Tip: Using AERMOD View to Model 1-Hour NO2 NAAQS
Articles
Upcoming Conferences & Trade Shows
News & Events
AERMOD View Version 6.8.6 Released
Lakes Environmental is proud to announce the release of AERMOD ViewTM 6.8.6 on March 8, 2011.

AERMOD View Version 6.8.6 includes the following updates:

Installation improvements to resolve issues with HASP Drivers and Crystal Reports


Auto generation of File Units for projects with a large number of plotfiles/postfiles



If you are currently in maintenance for AERMOD View and did not receive an email regarding this update, please contact us at support@webLakes.com.
If you are a user of AERMOD View but are no longer in maintenance please contact LakesSoftware@webLakes.com to find out how you can begin using AERMOD View Version 6.8.6!
US EPA Upcoming Release of AERMOD, AERMET, and AERMINUTE
The US EPA is in the final stages of releasing a major update to AERMOD and AERMET (most likely dated 11059) . Draft users guide addendums for AERMOD, AERMET, and AERMINUTE were released on March 4, 2011. An updated version of AERMOD View will be made available to users in current maintenance shortly after US EPA's official release. The following provides a summary of key changes and new features associated with each of these updates:
New Options for the AERMOD Model:
NAAQS Updates - Numerous enhancements to processing options have been implemented to support demonstration of compliance with recent NAAQS updates including 24-hour PM2.5 and 1-hour NO2 and SO2. These enhancements are consistent with recent clarification memorandums and focus mainly on implementing specific averaging and ranking methods.


Ranks up to 999th - Revisions to support user-specified "ranks" up to the 999th highest values have been implemented to better support significant contribution analysis. Previous versions were limited to the 10th highest value and restricted the rank for the 24-hour PM2.5 to the 8th highest value.


Background Concentration - A new powerful option to specify uniform or temporally varying background concentrations to estimate cumulative ambient air quality impacts.


Default equilibrium ratio of 0.90 - A default equilibrium ratio of 0.90 for the conversion of NO2 to NOx has now been incorporated under the OLM option. This option was previously only associated with PVMRM. The capability also exists for defining a user-specified non-default equilibrium ratio.


Urban Option - A modification to the urban option to resolve previously documented issues associated with the transition from the nighttime urban boundary layer to the daytime convective boundary layer has also been implemented.


PVMRM and Other Fixes - Several corrections related to the PVMRM algorithm and modifications to the DEBUGOPT keyword have been made to better manage the creation of unwanted large files. Finally, an option was added to suppress generation of file headers for formatted output files.
New Options for the AERMET Model:
Station Elevation - Additional enhancements were made to specify surface station elevations to facilitate the substitution of missing station pressure.


Upper Air Soundings Options - Several welcome enhancements were implemented to facilitate the use of AERMOD outside the U.S. Changes include flexibility to select upper air soundings outside the U.S., including an option to select the most appropriate sounding based on local sunrise.


1-Min ASOS Met Data - Another highly anticipated enhancement includes support for use of hourly averaged winds derived from 1-minute ASOS wind data (TD-6405). This capability is intended to address known limitations associated with the potential for high incidences of calms and variable wind conditions reported from the Automated Surface Observing Stations (ASOS). Additional information is provided below under the AERMINUTE section.


Onsite Met Data Option - Multiple error handling and reporting enhancements for processing ONSITE data have been made An option has been added to implement the requirement for specifying a secondary set of surface characteristics for use when NWS winds are substituted for missing on-site winds. Further enhancements have also been made to support utilization of on-site precipitation and relative humidity data.
The New AERMINUTE Program:
AERMINUTE was developed by the US EPA as a solution to reduce the high incidence of calms and missing or variable wind conditions reported in ASOS data. A high incidence of calms and missing wind creates a significant problem since AERMOD cannot currently simulate dispersion under calm or missing wind conditions. Using AERMINUTE, it is now possible to reduce the number of calms and missing winds by generating hourly averaged winds derived from archived 1-minute ASOS data. AERMET View will be updated to take full advantage of the capabilities available in AERMINUTE.
Additional detailed information is available on the USEPA SCRAM Website. Convenient links for each updated are available below:
US EPA AERSCREEN Version 11076 Released
The USEPA officially released AERSCREEN Version 11076 on March 17, 2011. This recent release of AERSCREEN includes the following significant updates:
AERSCREEN Code and Executables
MAKEMET Code and Executables (Version 09183)
User's Guide
Model Change Bulletins # 1 and # 2
Summary of changes since beta-releases on Aug. 17, 2010
Supporting Test Cases
AERSCREEN is intended for use as a screening level air quality model to represent worst case impacts. AERSCREEN is based on AERMOD and consists of two primary programs:
1) MAKEMET - used to generate a non-sequential meteorological data file that represents a matrix of met conditions which ensures worst case impacts are estimated.
2) AERSCREEN - used to estimate worst case impacts. AERSCREEN forces AERMOD to represent calculations for the plume centerline, irrespective of wind direction, source location, and receptor orientation. This screening program supports point, rectangular area, circular area, volume, capped stack, horizontal stack, and flare source types and can generate 1-hour, 3-hour, 8-hour, 24-hour, and annual average worst case impacts. AERSCREEN also interfaces with AERMAP and BPIPPRM to automate the processing of terrain and building.
Additional details are available on the USEPA SCRAM Website: https://www.epa.gov/ttn/scram/dispersion_screening.htm#aerscreen.
AERMOD & CALPUFF Courses in Las Vegas, Nevada – May 16-20, 2011
Lakes Environmental is pleased to be presenting a full week of AERMOD and CALPUFF training in Las Vegas, Nevada from May 16 to 20, 2011. Attending these courses is the best way to stay current with recent regulatory and methodology changes. Lakes Environmental uses cutting edge tools that will revolutionize the way you do air dispersion modeling!

Spaces are filling up fast! Register soon in order to reserve your spot. Further details including course venue and registration form can be found on our website.
Upcoming Courses
Date

Course

Location

Registration

Apr 11-12, 2011

FULL

Apr 13-15, 2011

May 16-17, 2011
May 18-20, 2011

Jun 6-7, 2011

Jul 11-13, 2011

Sep 12-13, 2011

Sep 14-16, 2011

Oct 3-4, 2011

Oct 17-18, 2011
Oct 19-21, 2011

Nov 17-18, 2011
For more information on the above courses, including registration information, location, and course outlines, please visit our web site: https://www.weblakes.com/courses.html.
Modeling Tip
Using AERMOD View to Model 1-Hour NO2 NAAQS
Lakes Environmental's AERMOD View Version 6.8.6 has an integrated post-processor that can perform the necessary calculations and present the results in a standard plot file format for all the new US EPA NAAQS 1-hour SO2, 1-hour NO2, and 24-hour PM2.5.
The steps are easy. The user simply needs to select the option in the Control Pathway, specify the desired Source Groups, run the AERMOD model, and get all the results necessary for the analysis, including contributions from each source group.
The video below shows you how straight forward it is to set up your AERMOD View project for modeling 1-hour NO2 NAAQS according to the latest US EPA guidelines.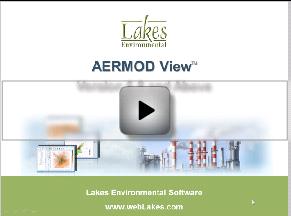 Submit Your Modeling Tip Today!
We are currently accepting submissions for the Monthly Modeling Tip section that appears in our newsletters. If you have a modeling tip that may benefit our readers, please send it to us at support@weblakes.com. Your name and the name of your organization will appear below the tip providing you with an opportunity for increased exposure.
Articles
EPA Updates Database on Health and Environmental Impacts of Electricity Generation/ User Friendly Web Tool Allows Americans to Search for Power Providers by Zip Code
WASHINGTON - March 8, 2011 - The U.S. Environmental Protection Agency updated its database that helps Americans understand the health and environmental impacts of electricity generation. EPA's Emissions and Generation Integrated Resource Database (eGRID) and Power Profiler now include data from 2007, an update from 2005.
eGRID is a comprehensive database of emissions from almost all electric power generated in the United States. The data are widely used to show the impacts of electricity generation as well as the benefits from reduced electricity demand. eGRID contains emissions information for nitrogen oxides (NOx) and sulfur dioxide (SO2) which contribute to unhealthy air quality and acid rain in many parts of the country. eGRID also contains emissions information for carbon dioxide (CO2), methane (CH4), and nitrous oxide (N2O), which are greenhouse gases that contribute to climate change.
EPA Announces Next Steps for Greenhouse Gas Emissions Reporting Program
WASHINGTON - March 1, 2011 - WASHINGTON – The U.S. Environmental Protection Agency is announcing that its Greenhouse Gas (GHG) Reporting Program has recently completed extensive work to develop GHG data reporting requirements for a wide range of different industries in response to Congressional mandates. This program will provide Congress, stakeholder groups and the public with information about these emissions while helping businesses identify cost effective ways to reduce emissions in the future.
To ensure that the requirements are practical and understandable to the thousands of companies already registered to report under the program, the agency is in the process of finalizing a user friendly online electronic reporting platform.
Government of Canada Begins Regulation of Products Containing Mercury
OTTAWA - February 28, 2011 - OTTAWA, Ont. -- February 28, 2011 -- The Honourable Peter Kent, Minister of the Environment, and the Honourable Leona Aglukkaq, Minister of Health, today announced the start of a regulatory process to prohibit the manufacture, import, and sale of most mercury-containing products in Canada.
"These proposed regulations would eliminate about four and a half tonnes of mercury in products currently entering the Canadian marketplace each year. It is the first time that the Government of Canada is broadly regulating mercury found in manufactured products," said Minister Kent.
"Mercury is a neurotoxin. Ingesting methylmercury can affect the neuro-development and learning ability of small children. Keeping products that contain mercury out of the marketplace helps to protect the health of Canadians," added Minister Aglukkaq.
Chemicals/REACH: Six Dangerous Substances to be Phased Out by the EU
February 17, 2011 - Six substances of very high concern will be banned within the next three to five years unless an authorisation has been granted to individual companies for their use. These substances are carcinogenic, toxic for reproduction or persist in the environment and accumulate in living organisms. Operators wishing to sell or use these substances will need to demonstrate that the required safety measures have been taken to adequately control the risks, or that the benefits for the economy and society outweigh the risks. Where feasible alternative substances or techniques exist, a timetable for substitution will also have to be submitted. Today's Commission decision follows the successful first phase of registration and notification of chemicals (see IP/10/1632, IP/11/2). It is part of REACH, Europe's initiative to make the use of chemicals safer.
Harper Government Moves Forward With Regulations for Renewable Fuel Content in Diesel Fuel and Heating Oil
HAMILTON - February 10, 2011 - The Harper Government today announced that it is moving forward with the requirement for an average 2 per cent renewable content in diesel fuel and heating oil.
"When we announced our Renewable Fuels Strategy, we were clear that the 2 per cent requirement would be implemented subject to technical feasibility," said the Honourable Peter Kent, Minister of the Environment. "After positive results, we are moving forward with this requirement which will result in further reductions in greenhouse gas emissions and ultimately in cleaner air for all Canadians.''
"We are meeting the commitments we have made to farmers, rural communities and industry to regulate the use of renewable fuels," said Agriculture Minister Gerry Ritz. "The new renewable fuel content in biodiesel and heating oil will give our farmers another market for their crops and demonstrates how agriculture can contribute to reducing Canada's environmental footprint."
Upcoming Conferences & Trade Shows
Date

Conference

Location

Mar 22-24, 2011

AMERICANA 2011
More Info

Montreal, QC, Canada

May 9-12, 2011

WasteExpo
More Info

Dallas, TX, USA

May 11-12, 2011

33rd Motorship Propulsions and Emissions Conference
More Info

Copenhagen, Denmark

May 16-18, 2011

CANECT 2011
More Info Lakes Environmental will be at booth #1438

Mississauga, ON, Canada

May 29-31, 2011

Gulf Environment Forum 2011
More Info

Jeddah, Saudi Arabia

Jun 14-16, 2011

GLOBE Costa Rica 2011
More Info

San Jose, Costa Rica

Jun 21-24, 2011

A&WMA's 104th Annual Conference & Exhibition
More Info Lakes Environmental will be at booth #523

Orlando, FL, USA

Jul 21-22, 2011

Third International Conference on Climate Change
More Info

Rio de Janeiro, Brazil

Sep 19-21, 2011

19th International Conference on Modelling, Monitoring and Management of Air Pollution
More Info

Malta
About this Newsletter
This newsletter contains information gleaned from various sources on the web, with complete links to the sources cited. Organizations cited are in no way affiliated with Lakes Environmental Software.
Lakes Environmental Software is a leading environmental IT company that offers a complete line of air dispersion modeling, risk assessment, emissions inventory, and emergency release software as well as training and custom software services. With satisfied users located around the globe, Lakes Environmental Software will continue to revolutionize the environmental software field.
For more information please visit our web site at: www.weblakes.com. You may also contact us by phone at (519) 746-5995 or by fax at (519)746-0793.
All comments and suggestions are welcome. You can e-mail us at: support@weblakes.com.