Lakes Environmental e-Newsletter
Climate Change - Emissions Inventory - Atmospheric Science - IT Solutions


In this issue:
News & Events
Upcoming Courses
Modeling Tip: Visualize Windroses in Google Earth Using WRPLOT View
Articles
Upcoming Conferences & Trade Shows
News & Events
Latest AERMOD View™ Software Releases
Lakes Environmental's popular air dispersion modeling software, AERMOD View, just keeps getting better! On May 10, 2011 Lakes Environmental released AERMOD View Version 7.0. This much awaited release of AERMOD View includes all of the latest updates and new models made available from the U.S. EPA:
AERMOD Version 11103
AERMAP Version 11103
AERMET Version 11059
AERMINUTE Version 11059
LEADPOST Version 11096

For a complete list of updates and enhancements available in this version, please see the AERMOD View 7.0 Release Notes.




Shortly thereafter on May 31, 2011 Version 7.1 of AERMOD View was released. This version included a number of miscellaneous modifications and fixes.
If you are currently in maintenance and did not receive an e-mail regarding these updates, please contact us at support@weblakes.com. If you are a user of AERMOD View but are no longer in maintenance, contact our Sales Team for pricing at sales@weblakes.com.
WRPLOT ViewTM - Freeware Version 7.0 Released!
Lakes Environmental is pleased to announce the release of WRPLOT View - Freeware Version 7.0 and Screen View - Freeware Version 3.5. Features available in these new versions include:
WRPLOT View - Freeware Version 7.0
Export Wind Rose to Google Earth - Now you can export the wind rose from WRPLOT View into Google Earth by pressing the Export button available under the Wind Rose tab. See this month's Modeling Tip below for further details.


Import Surface Data from Excel Utility – With this released version, a floating value will be automatically rounded and converted into an integer value when conversion to SAMSON format is performed.
For a complete list of the changes and new features available in WRPLOT View - Freeware Version 7.0, please see our latest Release Notes.
Screen View - Freeware Version 3.5
Microsoft® Windows 7® and 64-Bit OS Installation Compatible - Screen View - Freeware Version 3.5 is now fully compatible with the Windows 7 operating system and 64-bit Windows operating systems.
WRPLOT View and Screen View are provided by Lakes Environmental for FREE! Download your copy today!
2011 US EPA Regional, State, and Local Dispersion Modeling Workshop
The 2011 U.S. EPA Regional, State, and Local Modelers Workshop is scheduled to be held in Atlanta, Georgia from June 6-9. This annual Workshop is intended to provide a forum where federal, state, and local levels of the air modeling community have the opportunity to discuss various technical aspects and convey lessons learned regarding local-scale air quality modeling.




Topics to be discussed include recent updates to the AERMOD and CALPUFF modeling systems, Model Clearinghouse, as well as numerous important workgroup updates from AERMIC, AWIG, OAQPS, IWAQM, NPS, and FLM.
This year is unique in that the U.S. EPA Workshop has traditionally only been open to EPA Personnel, State, local, and tribal agency modelers. However, this year for the first time, on Thursday June 9, a technical session with industry and private sector modelers will be held to exchange important information regarding regulatory permit modeling issues such as NO2, SO2, and PM2.5. Additional agenda items include: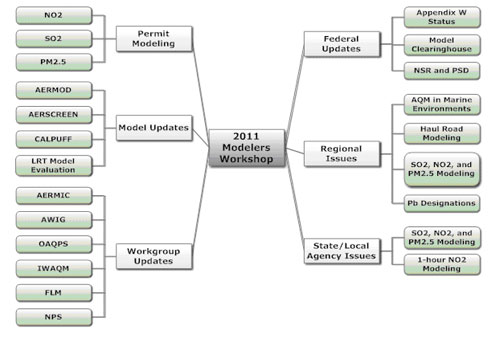 The complete agenda is available on the following link: https://www.cleanairinfo.com/regionalstatelocalmodelingworkshop/archive/2011/agenda.htm
Lakes Environmental at A&WMA Conference and Exhibition
Lakes Environmental will be heading to beautiful Orlando, Florida, from June 21-24 for the 104th Annual Air & Waste Management Conference and Exhibition. Drop by booth #523 to meet our knowledgeable staff and for your chance to win a FREE copy of our AERMOD View or CALPUFF View air dispersion modeling software!




Visit the Conference website to register for this annual event. This year's conference offers excellent opportunities for the environmental professional.
AERMOD & CALPUFF Courses in Barcelona - Oct 17-21, 2011
Lakes Environmental is pleased to be returning to Spain for a week of AERMOD and CALPUFF training in Barcelona from October 17-21, 2011. This course will be hosted by our Spanish distributor, Addlink Software Cientifico.




Presentation of the course and all course materials (presentation slides, course notes, etc) will be provided in English.




We encourage you to register soon in order to reserve your spot. If you are interested in registering for the AERMOD and/or CALPUFF course, please contact Addlink Software Cientifico at info@addlink.es.
Further details including course venue and registration form can be found on our website.
Register today to take advantage of our early registration discounts!
Congratulations to our AERMOD View Winner!
The winner of our AERMOD View draw at the Canadian Environmental Conference & Tradeshow (CANECT 2011) is Tarek Ayache of Department of Earth and Environmental Sciences at the University of Waterloo .
Congratulations Tarek!
Lakes Environmental Closed in Observance of Canada Day
Lakes Environmental will be closed on Friday, July 1, 2011 to observe the Canada Day holiday. If you have any needs during that time, please e-mail us at support@webLakes.com and we will contact you on July 4, 2011 when our offices reopen.
Upcoming Courses
Date

Course

Location

Registration

Jun 6-7, 2011

Full

Jul 11 -12, 2011

Jul 13, 2011

1-day Advanced
Full


Sep 12-13, 2011

Sep 14-16, 2011

Oct 3-4, 2011

Oct 17-18, 2011
Oct 19-21, 2011

Nov 17-18, 2011

Dec 12-13, 2011
Dec 14-16, 2011
For more information on the above courses, including registration information, location, and course outlines, please visit our web site: https://www.weblakes.com/courses.html.
Modeling Tip
Visualize Windroses in Google Earth Using WRPLOT View TM
You can now export your windroses to Google Earth using WRPLOT ViewTM Freeware Version 7, from Lakes Environmental Software.
The Export Windrose to Google Earth option has been available to users of AERMOD View since version 6.8 and for users of AUSTAL View since version 7.
Follow the simple steps outlined below:
Step 1: Start WRPLOT View and specify the met data file that you want to use. Press the Wind Rose tab. The wind rose for your current data is automatically generated. Press the Export button located on the right side of the window.
Step 2: The Export to Google Earth dialog is displayed. From the navigation tree located on the left, select the Location option.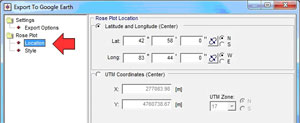 Step 3: If your meteorological data file is in SAMSON format, then the Latitude and Longitude of your met station will be automatically read from the header of the file. If the location of the met station cannot be found, then you must specify it under the Location page.
You can specify the location in two ways:
Latitude and Longitude or
X and Y UTM Coordinates and UTM Zone
Step 4: After you specify the met station location, select the Style option from the navigation tree on the left. From the Rose Plot Style page, you will be able to specify the following options:
Opacity: set to 70%
Border Thickness: set to 2 pixels
Rose Plot Size: set to Extruded and height to 20 m
Step 5: After your selections, press the Export button. The windrose will be automatically displayed in Google Earth with the colors and styles you selected in WRPLOT View.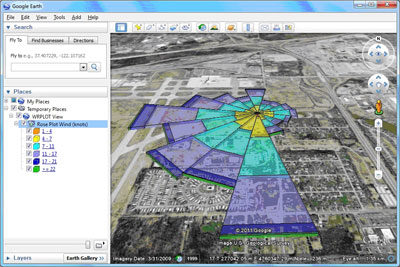 Submit Your Modeling Tip Today!
We are currently accepting submissions for the Monthly Modeling Tip section that appears in our newsletters. If you have a modeling tip that may benefit our readers, please send it to us at support@webLakes.com. Your name and the name of your organization will appear below the tip providing you with an opportunity for increased exposure.
Articles
EPA to Hold Three Public Hearings on National Standard for Mercury Pollution from Power Plants
WASHINGTON - May 3, 2011 - The U.S. Environmental Protection Agency (EPA) will hold three public hearings in May on the proposed mercury and air toxics standards. The new power plant mercury and air toxics standards would require many power plants to install widely available, proven pollution control technologies to cut harmful emissions of mercury, arsenic, chromium, nickel and acid gases, while preventing as many as 17,000 premature deaths and 11,000 heart attacks a year.
EPA Publishes National U.S. Greenhouse Gas Inventory
WASHINGTON - April 18, 2011 - The U.S. Environmental Protection Agency has released the 16th annual U.S. greenhouse gas inventory. The final report shows overall emissions during 2009 decreased by 6.1 percent from the previous year. This downward trend was attributed to a decrease in fuel and electricity consumption across all U.S. economic sectors.
Total emissions of the six main greenhouse gases in 2009 were equivalent to 6,633 million metric tons of carbon dioxide. These gases include carbon dioxide, methane, nitrous oxide, hydrofluorocarbons, perfluorocarbons and sulfur hexafluoride. The report indicates that overall emissions have grown by more than 7.3 percent from 1990 to 2009. Emissions in 2009 represent the lowest total U.S. annual GHG emissions since 1995. These numbers reflect the most up to date data at the time of publication.
Following conversations with industry and others and in the interest of providing high quality data to the public this year, EPA is extending this year's reporting deadline to September 30, 2011. This extension will allow EPA to further test the system that facilities will use to submit data and give industry the opportunity to test the tool, provide feedback, and have sufficient time to become familiar with the tool prior to reporting.
Upcoming Conferences & Trade Shows
Date

Conference

Location

Jun 14-16, 2011

GLOBE Costa Rica 2011
More Info

San Jose, Costa Rica

Jun 21-24, 2011

A&WMA's 104th Annual Conference & Exhibition
More Info Lakes Environmental will be at booth #523

Orlando, FL, USA

Jul 21-22, 2011

Third International Conference on Climate Change
More Info

Rio de Janeiro, Brazil

Jul 31-Aug 3, 2011

Energy and Water 2011: Efficiency, Generation, Management, and Climate Impacts
More Info

Chicago, IL, USA

Aug 1-2, 2011

7th Australia-New Zealand Climate Change & Business Conference
More Info

Wellington, New Zealand

Sep 19-21, 2011

19th International Conference on Modelling, Monitoring and Management of Air Pollution
More Info

Malta

Sep 19-21, 2011

2nd North American Conference on Ozone and Ultraviolet Technologies
More Info

Toronto, ON, Canada

Oct 5-7, 2011

CEM 2011: 10th International Conference and Exhibition on Emissions Monitoring
More Info

Prague, Czech Republic

Nov 2-3, 2011

Carbon Forum Asia
More Info

Singapore

Nov 13-17, 2011

SETAC North America 32nd Annual Meeting
More Info

Boston, MA, USA
About this Newsletter
This newsletter contains information gleaned from various sources on the web, with complete links to the sources cited. Organizations cited are in no way affiliated with Lakes Environmental Software.
Lakes Environmental Software is a leading environmental IT company that offers a complete line of air dispersion modeling, risk assessment, emissions inventory, and emergency release software as well as training and custom software services. With satisfied users located around the globe, Lakes Environmental Software will continue to revolutionize the environmental software field.
For more information please visit our web site at: www.webLakes.com. You may also contact us by phone at (519) 746-5995 or by fax at (519)746-0793.
All comments and suggestions are welcome. You can e-mail us at: support@webLakes.com.