Lakes Environmental e-Newsletter
Emissions Inventory - Atmospheric Science - IT Solutions


In this issue:
News & Events
Upcoming Courses
Modeling Tip: Running Lakes AERMOD MPI on a Second Computer
Articles
Upcoming Conferences & Trade Shows
News & Events
AERMOD View Version 7.6 and 7.6.1 Released
Lakes Environmental is pleased to announce the release of AERMOD View™ Version 7.6 on March 28, 2012 and Version 7.6.1 on April 2, 2012.
Please find below a list of the main features implemented in these releases:
Support for the latest US EPA AERMOD Model 12060 released on Mar 2, 2012
AERMOD MPI Parallel Version for AERMOD Model 12060
Line Sources using Adjacent Volume Sources Configuration
Haul Roads Calculator for Line Sources
Multi-Chemical support for Line Area Sources

For a detailed list of new features available in AERMOD View, please check out our latest release notes.
If you are currently in maintenance for AERMOD View and did not receive an email regarding this update, please contact us at support@webLakes.com.
If you are a user of AERMOD View but are no longer in maintenance please contact sales@webLakes.com to find out how you can begin using the latest version of AERMOD View!
Upcoming Air Dispersion Modeling Courses with Lakes Environmental
Lakes Environmental will be presenting AERMOD and CALPUFF training in various locations across the globe throughout the next few months. A detailed listing of these locations can be found below.




| | | |
| --- | --- | --- |
| May 14-18 | | |
| May 28-30 | | |
| June 4-8 | | |
| July 19-20 | | |




Spaces are filling up fast! Register soon in order to reserve your spot. Further details including course venues and registration forms can be found on our website.
Lakes Environmental Closed for Victoria Day Holiday
Lakes Environmental's Waterloo office will be closed on Monday, May 21st, 2012 to observe the Victoria Day holiday. Our Dallas office will remain open on this day. If you have any needs during that time, please e-mail us at support@webLakes.com and we will respond to your inquiry as soon as possible.
Upcoming Courses
Date

Course

Location

Registration

May 14-15, 2012
May 16-18, 2012

May 28-30, 2012

Jun 4-5, 2012
Jun 6-8, 2012

Jul 19-20, 2012

Sep 27-28, 2012

Mexico City, Mexico

Registration Coming Soon

Oct 15-16, 2012
Oct 17-18, 2012

AERMOD
CALPUFF *

London, UK

Nov 5-6, 2012
Nov 7-9, 2012

Brazil

Registration Coming Soon
* 2-day Introductory CALPUFF Course
For more information on the above courses, including registration information, location, and course outlines, please visit our web site: https://www.weblakes.com/courses.html.
Modeling Tip
Running Lakes AERMOD MPI on a Second Computer
AERMOD MPI is a parallel version of the AERMOD model developed by Lakes Environmental. AERMOD MPI Version 12060 is the parallel version for the US EPA AERMOD model dated 12060 released by the US EPA on March 2, 2012. AERMOD View users with current maintenance also have access to AERMOD MPI versions 11353, 11103, and 09292.
With the release of AERMOD View Version 7.6, each single seat license includes an additional Web License activation for the AERMOD MPI executable. This additional license allows users to install AERMOD View on a separate computer from the full product license and run the AERMOD MPI executable using the Batcher program on the second computer.
While the AERMOD View license can only be activated on one computer, the MPI-specific activation allows you to run projects using Batcher and the AERMOD MPI executable to reduce runtimes from projects that may take many hours or days to complete. This will allow you to work separately with the AERMOD View interface for other projects. This method also allows users to run two instances of AERMOD MPI simultaneously: one through AERMOD View and one through Batcher on the second computer.
How to Activate the AERMOD MPI License in a Second Computer:
Step 1: Download and install AERMOD View and MPICH2 on the computer where you want to run AERMOD MPI.
Step 2: Open Batcher and select the menu option File | License Admin – AERMOD MPI.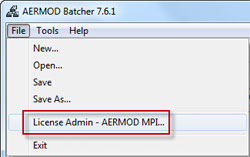 Step 3: The License Admin -AERMOD MPI dialog is displayed. Press the Activate Web License button. The Web License Administration dialog is displayed. Specify the Serial # and the Activation Key for AERMOD MPI you received by email and press the Activate button.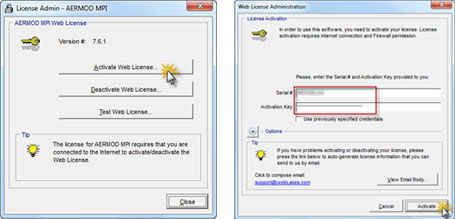 Step 4: A message is displayed stating that the license was successfully activated. Press OK and close the dialog.
Note: You do not have to activate the AERMOD MPI license in the computer where you already have AERMOD View activated (either via HASP key or Web License). The AERMOD MPI Web License is a second activation for another server or computer to run the AERMOD MPI executable using Batcher.
How to Run AERMOD MPI in Batcher:
Step 1: Start Batcher either from within AERMOD View (Run | Batcher menu option) or from the Windows Start menu.
Step 2: Select the AERMOD MPI executable (e.g., AERMOD_MPI_Lakes_12060.exe) from the drop-down list box or by pressing the

button.
Note: The AERMOD_MPI_Lakes.exe will run the most recent AERMOD model version.
Step 3: Press the Add Input Files button and select which AERMOD input files you would like to add to the queue.
Step 4: From the # MPI Processes drop-down list, select the number of processors to be used by AERMOD MPI.

Step 5: When you are ready to start the AERMOD run, select the Run button.
Submit Your Modeling Tip Today!
We are currently accepting submissions for the Monthly Modeling Tip section that appears in our newsletters. If you have a modeling tip that may benefit our readers, please send it to us at support@webLakes.com. Your name and the name of your organization will appear below the tip providing you with an opportunity for increased exposure.
Articles
EPA to Allow 15 Percent Renewable Fuel in Gasoline
Washington- April 2, 2012 - The U.S. Environmental Protection Agency (EPA) approved the first applications for registration of ethanol for use in making gasoline that contains up to 15 percent ethanol – known as E15. Ethanol is a renewable fuel that can be mixed with gasoline. For over 30 years ethanol has been blended into gasoline, but the law limited it to 10 percent by volume for use in gasoline-fueled vehicles. Registration of ethanol to make E15 is a significant step toward its production, sale, and use in model year 2001 and newer gasoline-fueled cars and light trucks.
To enable widespread use of E15, the Obama Administration has set a goal to help fueling station owners install 10,000 blender pumps over the next 5 years. In addition, both through the Recovery Act and the 2008 Farm Bill, the U.S. Department of Energy (DOE) and U.S. Department of Agriculture have provided grants, loans and loan guarantees to spur American ingenuity on the next generation of biofuels.
EPA Proposes First Carbon Pollution Standard for Future Power Plants
Washington - March 27, 2012 - Following a 2007 Supreme Court ruling, the U.S. Environmental Protection Agency (EPA) today proposed the first Clean Air Act standard for carbon pollution from new power plants. EPA's proposed standard reflects the ongoing trend in the power sector to build cleaner plants that take advantage of American-made technologies, including new, clean-burning, efficient natural gas generation, which is already the technology of choice for new and planned power plants. At the same time, the rule creates a path forward for new technologies to be deployed at future facilities that will allow companies to burn coal, while emitting less carbon pollution. The rulemaking proposed today only concerns new generating units that will be built in the future, and does not apply to existing units already operating or units that will start construction over the next 12 months.
Canada and Nova Scotia Working Together to Reduce Greenhouse Gas Emissions
Halifax, N.S. - March 19, 2012 - Canada's Environment Minister, the Honourable Peter Kent, and Nova Scotia Minister of the Environment, the Honourable Sterling Belliveau, announced today that they are working towards an equivalency agreement on coal-fired electricity greenhouse gas regulations.
Both governments wish to avoid duplication of effort to control greenhouse gas emissions, and are working together to ensure that industry does not face two sets of regulations. An equivalency agreement would see the federal regulations stand down in favour of a provincial regulation, as long as the provincial regulation achieves an equivalent environmental outcome.
"More than two years ago, our governments signed an Agreement in Principle on efforts to address climate change," said Minister Kent. "We remain focused on our mutual goal of reducing green house gas emissions, but we believe in ensuring the Province of Nova Scotia has the flexibility to choose an approach that best suits them."
Canadian Environmental Assessment Act Review Report
March 13, 2012 - On March 13, 2012, the federal Standing Committee on Environment and Sustainable Development released its Report in the statutory review of the Canadian Environmental Assessment Act (CEAA).
This Report recommends a variety of meaningful changes to the CEAA that would have significant implications for resource developers in Canada. Given the federal government's express commitments to regulatory reform, it is likely that many of these recommendations will be implemented by the federal government before the next federal election.
Upcoming Conferences & Trade Shows
Date

Conference

Location

Apr 22-27, 2012

International Polar Year (IPY) 2012 Conference
More Info

Montréal, QC, Canada

Apr 30 - May 2, 2012

CANECT 2012
More Info

Mississauga, ON, Canada

May 16-18, 2012

Air Pollution 2012
More Info

Corunna, Spain

May 23-24, 2012

34th Motorship Propulsions and Emissions Conference
More Info

Hamburg, Germany

May 30-Jun 1, 2012

Carbon Expo 2012
More Info

Cologne, Germany

Jun 12-13, 2012

Emissions 2012
More Info

Ypsilanti, MI, USA

Jun 19-22, 2012

A&WMA 105th Annual Conference and Exhibition
More Info

San Antonio, TX, USA

Jun 25-29, 2012

The 6th International Conference on Environmental Science and Technology
More Info

Houston, TX, USA

Jul 12-13, 2012

4th International Conference on Climate Change
More Info

Seattle, WA, USA
About this Newsletter
This newsletter contains information gleaned from various sources on the web, with complete links to the sources cited. Organizations cited are in no way affiliated with Lakes Environmental Software.
Lakes Environmental Software is a leading environmental IT company that offers a complete line of air dispersion modeling, risk assessment, emissions inventory, and emergency release software as well as training and custom software services. With satisfied users located around the globe, Lakes Environmental Software will continue to revolutionize the environmental software field.
For more information please visit our web site at: www.webLakes.com. You may also contact us by phone at (519) 746-5995 or by fax at (519)746-0793.
All comments and suggestions are welcome. You can e-mail us at: support@webLakes.com.