Lakes Environmental e-Newsletter
Emissions Inventory - Atmospheric Science - IT Solutions


In this issue:
News & Events
Upcoming Courses
Modeling Tip: Reviewing AERMOD Warnings & Errors with a Text Editor
Articles
Upcoming Conferences & Trade Shows
News & Events
Happy Holidays from Lakes Environmental!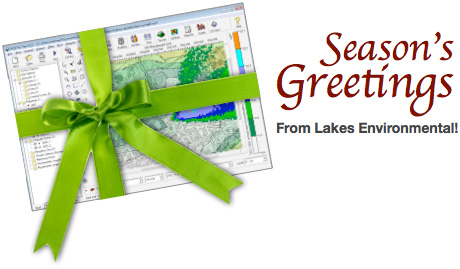 Lakes Environmental wishes you a Joyous Holiday Season and a Prosperous New Year!
We wish to take this opportunity to specially thank you, our subscribers and customers, for reading our newsletter throughout this year. Your continued feedback and suggestions are so valuable to us. We look forward to hearing from you in 2013!
Please find below the holiday schedule for Lakes Environmental's offices:
| | | | |
| --- | --- | --- | --- |
| December 24: | Closed | December 28: | Open |
| December 25: | Closed | December 31: | Closed |
| December 26: | Closed | January 1: | Closed |
| December 27: | Open | January 2: | Open |
If you have an urgent matter requiring assistance during the holidays please e-mail us at support@weblakes.com.
AERMOD Course in Toronto, Ontario – Jan 28-29, 2013
AERMOD and CALPUFF Courses in Dallas, Texas – Feb 25-Mar 1, 2013
Lakes Environmental will be in Dallas, Texas, to present a week of AERMOD and CALPUFF training from February 25 to March 1, 2013.




CALPUFF course students will have the opportunity to complete a Do It Yourself Case Study using MM5 processed data for a location of their choice making this course of great benefit to their modeling work.




Register today to take advantage of our early registration discount!

Early Registration Discount Ends: January 25, 2013

Course: AERMOD (February 25-26, 2013)
Course: CALPUFF (February 27-March 1, 2013)
Location: Dallas, Texas
Contact: training@weblakes.com
Info: Registration Form

Social Media Contest AERSCREEN View Winners!
Last month Lakes Environmental completed its first ever social media contest! Those who visited our Facebook page and "liked" us or shared the contest details on their Facebook or Twitter pages had a chance to win 1 of 4 copies of our AERSCREEN View software.
We would like to take this opportunity to offer our congratulations to our AERSCREEN View winners.

Cynthia Isley of Pacific Environment Limited, Australia
Dr. Claudio Gonzalez of the Universidad de Tarapacá, Chile
Melisa Del Punta of Aluar Aluminio Argentino S.A.I.C, Argentina
I.C. from Romania
Upcoming Courses
Date

Course

Location

Registration

Jan 28-29, 2013

Feb 25-26, 2013
Feb 27- Mar 1, 2013

Apr 29-30, 2013
May 1-3, 2013

May 13-14, 2013
May 15-16, 2013

AERMOD
CALPUFF
For more information on the above courses, including registration information, location, and course outlines, please visit our web site: https://www.weblakes.com/courses.html.
Modeling Tip
Reviewing AERMOD Warnings & Errors with a Text Editor
The AERMOD model produces a series of messages which document fatal errors, warnings, and other information messages about a model run. A modeler who knows how to read and interpret the messages can quickly diagnose problems or analyze results.
The image below shows the message summary from an AERMOD Output File.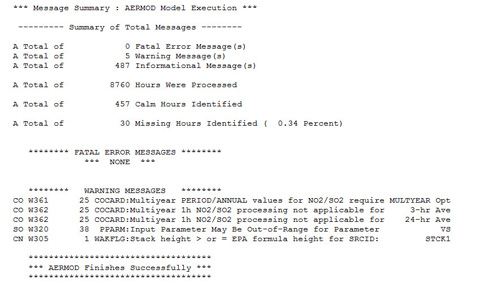 Messages are grouped into five categories, and the format is the same regardless of the category.

Pathway ID
The input file section where the error/warning occurred. Options include: Control (CO), Source (SO), Receptor (RE), Meteorology (ME), or Output (OU).
Message Code
This consists of a category identifier (E for fatal errors, W for warnings, I for information messages) and a number.
Line Number
The line number in the input file containing the problematic parameter.
NOTE: You can view line numbers in the Windows text editor, Notepad. Disable Word Wrap (from the Format menu) and enabling the Status Bar (in the View menu).

Detailed Message
The first six characters are the subroutine from the model code which tells the model to print the message.
Hints
These may include a keyword or parameter which caused the error (e.g., source ID, group ID, etc.)
In AERMOD View, if you select the Output | AERMOD Output File menu option, the AERMOD output file (*.ADO), will be opened in the default text editor on your computer. Scroll to the very bottom of the file to see the messages and use the parameters to identify the meaning of the error or warning.
Submit Your Modeling Tip Today!
We are currently accepting submissions for the Monthly Modeling Tip section that appears in our newsletters. If you have a modeling tip that may benefit our readers, please send it to us at support@webLakes.com. Your name and the name of your organization will appear below the tip providing you with an opportunity for increased exposure.
Articles
Canada Takes Action to Improve Fuel Efficiency and Reduce Greenhouse Gas Emissions from Heavy-Duty Vehicles
DOHA, Qatar - December 4, 2012 - The Government of Canada has initiated proposed regulations that will improve fuel efficiency and help reduce greenhouse gas (GHG) emissions from 2018 model year heavy-duty vehicles by up to 23% from those sold in 2010.
"This Government is committed to improving fuel efficiency and reducing GHG emissions from new on-road heavy-duty vehicles, and from the transportation sector in general," said Canada's Environment Minister, the Honourable Peter Kent. "At today's gas prices, a truck operator driving a model year 2018 vehicle would save up to $9,600 per year in fuel compared to driving a 2010 model year vehicle."
Declining Air Pollution Levels Continue to Improve Life Expectancy in U.S.
Boston, MA - December 3, 2012 - A new study led by researchers at Harvard School of Public Health (HSPH) has found an association between reductions in fine particulate matter and improved life expectancy in 545 counties in the U.S. from 2000 to 2007. It is the largest study to date to find beneficial effects to public health of continuing to reduce air pollution levels in the U.S.
The study appears in the December 3, 2012 online edition of the journal Epidemiology.
CO2 Output Hits Record High
December 3, 2012 - For 2012, according to new projections by the Global Carbon Project, there is likely to be a 2.6 percent rise in global CO2 emissions from the burning of fossil fuels compared to the year before. That puts emissions of the gas at 58 percent higher than 1990 levels.
In 2011, China was the biggest producer of CO2, accounting for 28 percent of global emissions, researchers report in the journals Nature Climate Change and Earth System Science Data Discussions. The United States followed with 16 percent, the European Union with 11 percent and India with seven percent.
Administration Says No to EU Carbon Tax on Airline Flights to Europe
November 28, 2012 - President Barack Obama signed a bill on Tuesday shielding US airlines from paying for the carbon their planes flying into and out of Europe emit, despite a recent move by Europe to suspend its proposed measure for one year.
The carbon fee bill was the first piece of legislation debated on the House floor after Congress returned from recess on November 13, and had been cleared by the Senate in September in a rare unanimous vote.
EPA Proposes to Update the Mercury and Air Toxics Standards for New Power Plants
November 16, 2012 - The Environmental Protection Agency (EPA) proposed to update emission limits for new power plants under the Mercury and Air Toxics Standards (MATS). The updates would only apply to future power plants; would not change the types of state-of-the-art pollution controls that they are expected to install; and would not significantly change costs or public health benefits of the rule. The public will have the opportunity to comment for 30 days after publication in the Federal Register and at a public hearing in Washington DC if one is requested.
Upcoming Conferences & Trade Shows
Date

Conference

Location

Jan 15-17, 2013

World Future Energy Summit
More Info

Abu Dhabi, UAE

Jan 28-30, 2013

EUEC 2013
More Info

Phoenix, AZ, USA

Mar 4-8, 2013

International Conference on Environmental Pollution, Restoration and Management
More Info

Hanoi, Vietnam

Mar 13-14, 2013

The Air Quality and Emissions Show (AQE 2013)
More Info

Telford, England, UK

Mar 19-21, 2013

AMERICANA 2013
More Info

Montreal, QC, Canada

Mar 19-21, 2013

Guideline On Air Quality Models: The Path Forward
More Info

Raleigh, NC, USA

Mar 24-29, 2013

37th Stationary Source Sampling & Analysis for Air Pollutants Conference
More Info

Hilton Head, SC, USA

Apr 29 - May 1, 2013

CANECT 2013
More Info

Mississauga, ON, Canada

Jun 3-5, 2013

21st International Conference on Modelling, Monitoring and Management of Air Pollution
More Info

Siena, Italy

Jun 25-28, 2013

A&WMA Annual Conference and Exhibition
More Info

Chicago, IL, USA
About this Newsletter
This newsletter contains information gleaned from various sources on the web, with complete links to the sources cited. Organizations cited are in no way affiliated with Lakes Environmental Software.
Lakes Environmental Software is a leading environmental IT company that offers a complete line of air dispersion modeling, risk assessment, emissions inventory, and emergency release software as well as training and custom software services. With satisfied users located around the globe, Lakes Environmental Software will continue to revolutionize the environmental software field.
For more information please visit our web site at: www.webLakes.com. You may also contact us by phone at (519) 746-5995 or by fax at (519)746-0793.
All comments and suggestions are welcome. You can e-mail us at: support@webLakes.com.