Lakes Environmental e-Newsletter
Emissions Inventory - Atmospheric Science - IT Solutions


In this issue:
News & Events
Upcoming Courses
Modeling Tip: Modeling Haul Roads with Line Sources using AERMOD View
Articles
Upcoming Conferences & Trade Shows
News & Events
Order AERMOD-Ready Meteorological Station Data in the United States
Most modelers are aware that Lakes Environmental sells modeled MM5 meteorological data for any location worldwide for use in the CALPUFF and AERMOD air dispersion models. This data is very useful for a variety of reasons including:
Lack of representative observations (station data) in the modeling domain
Unreliable records of meteorological variables
Out of date station data
The United States has a very dense network of meteorological stations, and data from these stations is often used to generate meteorological data for AERMOD projects. However, obtaining and processing this data can be time-consuming.
Now, you can order from Lakes Environmental AERMOD-ready meteorological station data in the United States. Rest easy while our team of experts prepares your order using preferred station met data formats:
Surface Station Data: TD-3505 hourly surface data from the U.S. National Climatic Data Center (NCDC)
1-Minute Station Data: TD-6405 1-minute ASOS wind data (where applicable)
Upper Air Station Data: NOAA FSL radiosonde data
Land Use Data: NLCD 1992 GeoTIFF
You won't have to do any work – orders cover full AERMET processing including AERSURFACE and AERMINUTE (where applicable), and you'll receive the AERMOD-Ready met files as follows:
Surface met data file (*.SFC)
Profile met data file (*.PFL)
Not sure what meteorological stations are available? Use our convenient online quotation request form (see image below) to search for available nearby surface and upper air stations.
Most quotations are sent instantly, so there's no wait!
AERMOD & CALPUFF Courses in Calgary, Alberta – Jun 4-8, 2012
The AERMOD and CALPUFF courses being held in Calgary from June 4 to 8, 2012 have just a few spots available. Don't be left out! Register today! For additional information please contact us at training@weblakes.com




A Few Spots Still Available!
AERMOD & CALPUFF Courses in London, UK – Oct 15-18, 2012
Lakes Environmental is pleased to be heading to the United Kingdom for 4 days of AERMOD and CALPUFF training in London from October 15 to 18, 2012.




We encourage you to register soon in order to reserve your spot. Further details including course venue and registration form can be found on our website.




Register today to take advantage of our early registration discounts!
AERMOD & CALPUFF Courses in Singapore
Lakes Environmental is travelling to beautiful Singapore to present a 2-day AERMOD and 2-day Introductory CALPUFF course from December 3 to 6, 2012.




Attending these courses is the best way to stay current with recent regulatory and methodology changes. Lakes Environmental uses cutting edge tools that will revolutionize the way you do air dispersion modeling!




Visit our website for further details and register today! Early registration pricing is available until November 3, 2012.
Lakes Environmental Wins CenSARA Bid
Lakes Environmental was chosen by CenSARA to deliver an Air Dispersion Modeling Course for the Kansas Department of Health and Environment air pollution engineers in Topeka, Kansas from April 17 to 19, 2012. This training was highly successful. This latest course adds to Lakes Environmental's strong reputation in the area of training all across the globe.
The 3-day course combined theory with hands-on real-world case studies using Lakes Environmental's advanced graphical user interfaces, AERMOD View and CALPUFF View.
For information regarding our upcoming Air Dispersion Modeling courses, please visit the Upcoming Courses section on our website.
Lakes Environmental at A&WMA Conference and Exhibition
Lakes Environmental will be in San Antonio, Texas, from June 19-22, 2012 for the 105th Annual Air & Waste Management Conference and Exhibition.

Drop by booth #315 to meet our knowledgeable staff and for your chance to win a FREE copy of our AERMOD View or CALPUFF View air dispersion modeling software!




Visit the conference website to register for this annual event. This year's conference offers excellent opportunities for the environmental professional. Don't miss it!



Congratulations to our AERMOD View Winner!
The winner of our AERMOD View draw at the Canadian Environmental Conference & Tradeshow (CANECT 2012) is Hector Franco of Newalta, Quebec.
Congratulations Hector!
Upcoming Courses
Date

Course

Location

Registration

Jun 4-5, 2012
Jun 6-8, 2012

Jul 19-20, 2012

Sep 10-11, 2012

Sep 27-28, 2012

Oct 15-16, 2012
Oct 17-18, 2012

Oct 22-23, 2012

Nov 5-6, 2012
Nov 7-9, 2012

Brazil

Registration Coming Soon

Dec 3-4, 2012
Dec 5-6, 2012
* 2-day Introductory CALPUFF Course
For more information on the above courses, including registration information, location, and course outlines, please visit our web site: https://www.weblakes.com/courses.html.
Modeling Tip
Modeling Haul Roads with Line Sources using AERMOD View
Estimating air quality impacts from haul roads has presented many challenges to air dispersion modelers over the years. From the lack of a true line source to high degrees of variability in emissions estimates, consistent guidance was minimal and confusion was high. Previous releases of AERMOD View™ sought to reduce some of that confusion by adding tools for modelers such as the Line Volume source. While the AERMOD and ISC models do not contain true line sources, the Line Volume source allowed modelers to easily create a series of volume sources along a path. This source type made it quick and easy to add large sets of volume sources thus reducing time and effort.
On March 2, 2012, the U.S. Environmental Protection Agency Air Quality Modeling Group released a report from the Haul Road Workgroup which recommended an approach for haul road modeling. The Haul Road Workgroup Final Report outlined the advantages and disadvantages to a variety of source characterizations, and it provided details on model sensitivity analyses performed by the Workgroup.
The final recommendations from this report were analyzed by our product specialists and developers to enhance the existing line source tool in AERMOD View. The result was a layout change for the Line Source dialog and the addition of the Haul Road Source Calculator. These changes will help modelers tackle haul road modeling challenges faster than ever before!
AERMOD View Line Source Enhancements
The updated line source window gives more flexibility and adds several new features: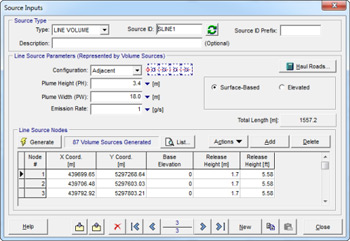 Users can now enter a Source ID Prefix (up to 4 characters long) for the volume sources generated along the line. The prefix makes it easier to identify sources when analyzing output or grouping sources.




The window now automatically calculates the Total Length of the line's path.




The Line Volume source now allows users to select from Separated or Adjacent configuration.




A new Actions menu allows users to Import or Export line source nodes to a comma-separated file (*.csv). This makes it easier than ever to transfer line sources from one project to another. The same menu allows users to manually assign release heights to each node of the line.


AERMOD View Haul Road Source Calculator
AERMOD View Version 7.6.1 also includes the brand-new calculator for modeling haul roads.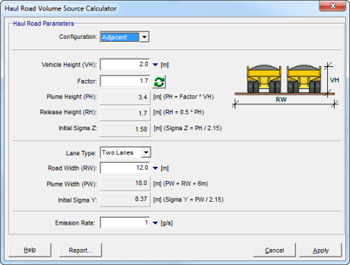 The Haul Road Calculator incorporates all recommendations from the Haul Road Workgroup final report. The user only needs to provide a few simple input values:
Vehicle height
Plume height factor (default of 1.7 per the Haul Road Workgroup report)
Lane type (single lane or two lanes)
Road width
Emission rate
The calculator uses the Haul Road Workgroup final report recommendations to apply the appropriate source inputs to each source along the line.
Submit Your Modeling Tip Today!
We are currently accepting submissions for the Monthly Modeling Tip section that appears in our newsletters. If you have a modeling tip that may benefit our readers, please send it to us at support@webLakes.com. Your name and the name of your organization will appear below the tip providing you with an opportunity for increased exposure.
Articles
EPA Takes Next Step to Implement 2008 Ozone Standards
Washington- May 1, 2012 - Working closely with states and tribes, the U.S. Environmental Protection Agency (EPA) is identifying areas that meet or do not meet the 2008 air quality standards for ground-level ozone, known as smog. The agency's approach to implementing these standards will improve air quality, protect public health, increase certainty for states and tribes, maximize flexibilities and minimize the burden on state, tribal and local governments. Breathing air containing high levels of smog can reduce lung function and increase respiratory symptoms, aggravating asthma or other respiratory conditions. Ozone exposure may also contribute to premature death, especially in people with heart and lung disease.
Air Quality in Ontario 2010 Report
April 21, 2012 - The 2010 air quality report marks 40 years of long-term reporting on the state of air quality in Ontario. This report summarizes province-wide trends for key airborne pollutants impacting Ontario's air quality.
EPA Issues Updated, Achievable Air Pollution Standards for Oil and Natural Gas
WASHINGTON- April 18, 2012 - In response to a court deadline, the U.S. Environmental Protection Agency (EPA) has finalized standards to reduce harmful air pollution associated with oil and natural gas production. The updated standards, required by the Clean Air Act, were informed by the important feedback from a range of stakeholders including the public, public health groups, states and industry. As a result, the final standards reduce implementation costs while also ensuring they are achievable and can be met by relying on proven, cost-effective technologies as well as processes already in use at approximately half of the fractured natural gas wells in the United States. These technologies will not only reduce 95 percent of the harmful emissions from these wells that contribute to smog and lead to health impacts, they will also enable companies to collect additional natural gas that can be sold. Natural gas is a key component of the nation's clean energy future and the standards released today make sure that we can continue to expand production of this important domestic resource while reducing impacts to public health, and most importantly builds on steps already being taken by industry leaders.
Ireland EPA Greenhouse Gas Emissions Projections 2011-2020
April 16, 2012 - The EPA today published greenhouse gas emissions projections for the period 2011 to 2020. The figures show the projected trends for greenhouse gases and give a picture of Ireland's ability to meet EU and international targets with respect to greenhouse gas emissions. The projections will be submitted to the EU as required. Today's projections update the previous set of national emission projections which were published in April 2011 by the EPA. Two scenarios are developed – one based on policies and measures already in existence or being implemented, and the other on existing measures plus all planned policies and measures that are currently known.
Canada's Greenhouse Gas Emissions Remain Steady While the Economy Grows
April 11, 2012 - "We are seeing good progress in our sector-by-sector approach to reduce our greenhouse gas emissions by 17 percent below 2005 levels by 2020," said Parliamentary Secretary Gourde. "Emissions have declined in almost all sectors since 2005."
The Government of Canada simultaneously released the National Inventory Report, the Greenhouse Gas Reporting Program facility-level data and related overview report, and the greenhouse gas indicators of the Canadian Environmental Sustainability Indicators program. These three reports were released together to facilitate greater consistency and to provide Canadians with a coherent picture of emission levels across the country.
Upcoming Conferences & Trade Shows
Date

Conference

Location

May 23-24, 2012

34th Motorship Propulsions and Emissions Conference
More Info

Hamburg, Germany

May 30-Jun 1, 2012

Carbon Expo 2012
More Info

Cologne, Germany

Jun 12-13, 2012

Emissions 2012
More Info

Ypsilanti, MI, USA

Jun 19-22, 2012

A&WMA 105th Annual Conference and Exhibition
More Info

San Antonio, TX, USA

Jun 25-29, 2012

The 6th International Conference on Environmental Science and Technology
More Info

Houston, TX, USA

Jul 12-13, 2012

4th International Conference on Climate Change
More Info

Seattle, WA, USA

Aug 20-23, 2012

Power Plant Air Pollutant Control "MEGA" Symposium
More Info

Baltimore, MD, USA

Aug 13- 16, 2012

2012 Annual International Emission Inventory Conference
More Info

Tampa, FL, USA

Sep 21-23, 2012

1st International Conference of Chemical, Environment & Energy
More Info

Kuala Lumpur, Malaysia
About this Newsletter
This newsletter contains information gleaned from various sources on the web, with complete links to the sources cited. Organizations cited are in no way affiliated with Lakes Environmental Software.
Lakes Environmental Software is a leading environmental IT company that offers a complete line of air dispersion modeling, risk assessment, emissions inventory, and emergency release software as well as training and custom software services. With satisfied users located around the globe, Lakes Environmental Software will continue to revolutionize the environmental software field.
For more information please visit our web site at: www.webLakes.com. You may also contact us by phone at (519) 746-5995 or by fax at (519)746-0793.
All comments and suggestions are welcome. You can e-mail us at: support@webLakes.com.