Lakes Environmental e-Newsletter
Emissions Inventory - Atmospheric Science - IT Solutions


In this issue:
News & Events
Upcoming Courses
Modeling Tip: Plot Colored Contour Lines
Articles
Upcoming Conferences & Trade Shows
News & Events
Social Media Contest AERSCREEN View Winners!
Lakes Environmental would like to thank everyone who took part in our first ever social media contest!




Those who visited our Facebook page and "liked" us or shared the contest details on their Facebook or Twitter pages had a chance to win 1 of 4 copies of our AERSCREEN View software.




AERSCREEN estimates worst-case impacts of ground level concentrations for a single source by interfacing with the screening mode of the AERMOD model.




All four winners have been drawn and will be announced in our December eNewsletter.





Like us on Facebook | Follow us on Twitter | Connect with us on LinkedIn
Dr. Jesse Thé Keynote Speaker at FIMAI
On November 6, 2012, Dr. Jesse Thé, President of Lakes Environmental, presented the keynote speech at FIMAI 2012 (International Industrial Environment and Sustainability Fair) which took place in São Paulo, Brazil at the Expo Center Norte from November 6 to 8, 2012.




Dr. Thé's speech was focused on Corporative Sustainability in the 21st Century.




FIMAI offered visitors a peek at the latest trends, technological innovations and successful practices in the environmental sector. With its wide array of international and professional exhibitors, this event is one of the most important in Latin America.
AERMOD - CALPUFF Course in Hyderabad, India – Dec 10-13, 2012
This combined AERMOD-CALPUFF air dispersion modeling course will provide attendees with all the necessary tools and information required to carry out their own AERMOD and CALPUFF modeling projects.




Course attendees will have the opportunity to complete a special case study using MM5 met data for an area of their choice making this course even more relevant to their modeling work.




A Few Spaces Still Available!

Course: AERMOD - CALPUFF
Date: December 10-13, 2012
Location: Hyderabad, India
Contact: info@lagasys.com
Info: Registration Form
AERMOD Course in Toronto, Ontario – Jan 28-29, 2013
Lakes Environmental is heading back to Toronto to provide a 2-day AERMOD course from January 28 to 29, 2013.




Attending these courses is the best way to stay current with recent regulatory and methodology changes. Lakes Environmental uses cutting edge tools that will revolutionize the way you do air dispersion modeling!




Register today to take advantage of our early registration discount by December 29, 2012!

Course: AERMOD
Date: January 28-29, 2013
Location: Toronto, Ontario
Contact: training@weblakes.com
Info: Upcoming Courses
Lakes Environmental December Holiday Schedule
Please find below the holiday schedule for Lakes Environmental's offices:
| | |
| --- | --- |
| December 24 | Closed |
| December 25 | Closed |
| December 26 | Closed |
| December 27 | Open |
| December 28 | Open |
| December 31 | Closed |
| January 1 | Closed |
| January 2 | Open |
If you have an urgent matter requiring assistance during the holidays please e-mail us at support@weblakes.com.
Upcoming Courses
Date

Course

Location

Registration

Nov 29-30, 2012

Registration Closed

Dec 10-11, 2012
Dec 12-13, 2012

Jan 28-29, 2013

Feb 25-26, 2013
Feb 27- Mar 1, 2013

Apr 29-30, 2013
May 1-3, 2013

May 13-14, 2013
May 15-16, 2013

AERMOD
CALPUFF
For more information on the above courses, including registration information, location, and course outlines, please visit our web site: https://www.weblakes.com/courses.html.
Modeling Tip
Plot Colored Contour Lines
Contour plots are an integral part of air dispersion modeling. The plots help modelers quickly identify trends and maxima from modeling projects. Having a variety of visualization options makes the modeler's job even easier because it allows them to customize their plots as necessary.
AERMOD View Version 8 contains several enhancements to the Graphical Options. One new option is the ability to use colored contour level colors. Users can now plot their contours as colored lines instead of shaded polygons, and enabling the option is very simple.
Step 1: Open the Graphical Options window by selecting the Graphical Options button from the main menu bar.

Step 2: Select Smoothing from the Contours options group.

Step 3: In the Contour Lines group, enable the check box for the "Use Contour Level Colors" option.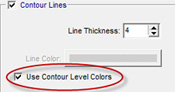 The new contour plot will match the color of the line to the color of the contour level.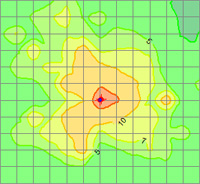 Step 4:To plot only the colored contour lines, select Levels from the Contours options group of the Graphical Options window and change the Shade Style to None.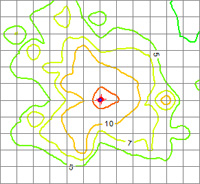 Submit Your Modeling Tip Today!
We are currently accepting submissions for the Monthly Modeling Tip section that appears in our newsletters. If you have a modeling tip that may benefit our readers, please send it to us at support@webLakes.com. Your name and the name of your organization will appear below the tip providing you with an opportunity for increased exposure.
Articles
California Air Board Says DWP Must Control Dry Lake Bed's Dust
November 20, 2012 - The California Air Resources Board has ruled that the Los Angeles Department of Water and Power is solely responsible for controlling the choking dust storms that arise from the dry Owens Lake bed.
The board said the DWP must take additional air pollution control measures on 2.9 square miles of the dry lake, which was drained to provide water to Los Angeles. The powder-fine dust arising from the bed often exceeds federal health standards.
The DWP argues that it has already reduced dust pollution 90% at a cost to ratepayers of $1.2 billion. The additional measures will cost an estimated $400 million, the utility said.
EU Greenhouse Gases in 2011: More Countries on Track to Meet Kyoto Targets, Emissions Fall 2.5 %
October 24, 2012 - Emissions of greenhouse gases in the European Union (EU) fell on average by 2.5 % from 2010 to 2011, although several countries increased emissions. Almost all European countries are individually on track towards their commitments under the Kyoto Protocol compared to last year, according to two reports published today by the European Environment Agency (EEA).
Australian Carbon Trading Scheme Commences: All Emissions Are Not Local
WASHINGTON, - October 16, 2012 - Australian carbon trading took another step forward last month when the first carbon credits under the Carbon Pollution Reduction Scheme were issued. The national carbon trading program has been in the works for six years, politically supported by a Labor-Green coalition government; the first three to five years of the program will see a government-fixed price for carbon, to transition to a market-derived price later.
New Federal-Provincial Air Quality Deal Aims to Cut Smog
October 11, 2012 - A new system to improve air quality across the country could mean fewer smog days in the future, though it's not just clear how many provinces will actually follow it.
The deal was announced Thursday by federal, provincial and territorial environment ministers meeting in Lake Louise, Alta.
They've agreed on Canada's first ever cross-country standards to reduce the harmful pollutants that cause smog and which contribute to the death of 26,000 Canadians every year.
Upcoming Conferences & Trade Shows
Date

Conference

Location

Nov 27-30, 2012

Pollutec Horizons 2012
More Info

Lyon, France

Dec 11-13, 2012

Renewable Energy World: Conference & Expo
More Info

Orlando, FL, USA

Jan 15-17, 2013

World Future Energy Summit
More Info

Abu Dhabi, UAE

Jan 28-30, 2013

EUEC 2013
More Info

Phoenix, AZ, USA

Mar 4-8, 2013

International Conference on Environmental Pollution, Restoration and Management
More Info

Hanoi, Vietnam

Mar 13-14, 2013

The Air Quality and Emissions Show (AQE 2013)
More Info

Telford, England, UK

Mar 19-21, 2013

AMERICANA 2013
More Info

Montreal, QC, Canada

Mar 19-21, 2013

Guideline On Air Quality Models: The Path Forward
More Info

Raleigh, NC, USA

Mar 24-29, 2013

37th Stationary Source Sampling & Analysis for Air Pollutants Conference
More Info

Hilton Head, SC, USA

Apr 29 - May 1, 2013

CANECT 2013
More Info

Mississauga, ON, Canada

Jun 3-5, 2013

21st International Conference on Modelling, Monitoring and Management of Air Pollution
More Info

Siena, Italy

Jun 25-28, 2013

A&WMA Annual Conference and Exhibition
More Info

Chicago, IL, USA
About this Newsletter
This newsletter contains information gleaned from various sources on the web, with complete links to the sources cited. Organizations cited are in no way affiliated with Lakes Environmental Software.
Lakes Environmental Software is a leading environmental IT company that offers a complete line of air dispersion modeling, risk assessment, emissions inventory, and emergency release software as well as training and custom software services. With satisfied users located around the globe, Lakes Environmental Software will continue to revolutionize the environmental software field.
For more information please visit our web site at: www.webLakes.com. You may also contact us by phone at (519) 746-5995 or by fax at (519)746-0793.
All comments and suggestions are welcome. You can e-mail us at: support@webLakes.com.