Lakes Environmental e-Newsletter
Emissions Inventory - Atmospheric Science - IT Solutions


In this issue:
News & Events
Upcoming Courses
Modeling Tip: Run AERMAP MPI for Faster Terrain Processing
Articles
Upcoming Conferences & Trade Shows
News & Events
AERMOD View™ Version 8.0.5 Released - October 11, 2012
Lakes Environmental released AERMOD View Version 8.0.5 on October 11, 2012 with the following updates and enhancements:
Contour lines can now be colored to match the selected contour level colors
AERMET View improvements for specifying onsite met data variables
Changes made to the automated download of NED terrain data files due to recent modifications made by the USGS in their National Map Viewer server database and download settings*
Reports are accessible again
Creation of the Exceedance Plot File has been fixed
New version of the Lakes AERMOD MPI 12060 executable (parallel version) is available

*This option is only available as long as your license is under current maintenance.




For a detailed listing of updates available in AERMOD View Version 8.0.5, please check out our latest release notes.




Users in current maintenance: Contact support@webLakes.com if you did not receive notification regarding this update.




Users no longer in maintenance: Contact sales@webLakes.com for pricing to access version 8.0.5.
Lakes Environmental on Social Media: Like Us and Win!
Lakes Environmental has gone social! Now you can connect with Lakes Environmental online through Facebook, Twitter and LinkedIn to get first hand notice of our software updates, modeling tips, and environmental news!




To celebrate, Lakes Environmental is offering you a chance to win a FREE copy of AERSCREEN View, the screening air dispersion model for AERMOD. To enter for your chance to win, just follow these 3 easy steps:

Like Us on Facebook
Get extra entry points by sharing the contest on your Facebook and Twitter pages

Like us on Facebook | Follow us on Twitter | Connect with us on LinkedIn
AERMOD & CALPUFF Course – São Paulo, Brazil – Nov 5-9, 2012
Lakes Environmental and SECA will be holding a full week of AERMOD and CALPUFF training in São Paulo, Brazil from November 5 to 9, 2012.




For more information regarding this exciting course, please contact our local distributor, Silvio de Oliveira of SECA.




Further details including course outline and registration form can be found on our website.




Register Today to Reserve your Spot!

Course: AERMOD (November 5-6, 2012)
Course: CALPUFF (November 7-9, 2012)
Location: São Paulo, Brazil
Contact: silvoliv@uol.com.br
CALPUFF Course in Santiago, Chile – Nov 21-23, 2012
Lakes Environmental will be in Chile to present a 3-day CALPUFF course in beautiful Santiago from November 21 to 23, 2012.




This course will be hosted by our Chilean distributor, EnviroModeling Ltd. We encourage you to register soon in order to reserve your spot. If you are interested in registering for this CALPUFF course, please contact Dr. Luis Matamala at luis.matamala@enviromodeling.cl.




Register Today to Reserve your Spot!

Course: CALPUFF
Date: November 21-23, 2012
Location: Santiago, Chile
Contact: luis.matamala@enviromodeling.cl
AERMOD Course in Mexico City – Nov 29-30, 2012
Lakes Environmental is pleased to be traveling to Mexico for two days of AERMOD training in Mexico City from November 29 to 30, 2012.




This course will be hosted by our Mexican distributor, Modelos Ambientales. Presentation of the course will be in English with simultaneous translation into Spanish while all course materials (presentation slides, course notes, etc) will be in English only.




Register Today to Reserve your Spot!

Course: AERMOD
Date: November 29-30, 2012
Location: Mexico City, Mexico
Contact: contacto@modelosambientales.com
AERMOD and CALPUFF Course in Hyderabad, India – Dec 10-13, 2012
To meet the increasing demand, Lakes Environmental will be returning to India for a 4-day AERMOD and CALPUFF course in Hyderabad from December 10 to 13, 2012.




This course will be hosted by our distributor, LaGa Systems Pvt. Ltd. We encourage you to register soon in order to reserve your spot. If you are interested in registering for this AERMOD and CALPUFF course, please contact LaGa Systems at info@lagasys.com.




Further details including course venue and registration form can be found on our website.




Register today to take advantage of our early registration discounts!

Early Registration Discount Ends: October 19, 2012

Course: AERMOD and CALPUFF (December 10-13, 2012)
Location: Hyderabad, India
Contact: info@lagasys.com
Upcoming Courses
Date

Course

Location

Registration

Oct 15-16, 2012
Oct 17-18, 2012

Registration Closed

Oct 22-23, 2012

Nov 5-6, 2012
Nov 7-9, 2012

Nov 21-23, 2012

Nov 29-30, 2012

Dec 10-11, 2012
Dec 12-13, 2012

Jan 28-29, 2013

Feb 25-26, 2013
Feb 27- Mar 1, 2013

Mar 11-12, 2013
Mar 13-14, 2013

AERMOD
CALPUFF

Doha, Qatar

Registration Coming Soon

Apr 8-9, 2013
Apr 10-12, 2013

May 13-14, 2013
May 15-16, 2013

AERMOD
CALPUFF
For more information on the above courses, including registration information, location, and course outlines, please visit our web site: https://www.weblakes.com/courses.html.
Modeling Tip
Run AERMAP MPI for Faster Terrain Processing
Beginning with AERMOD View Version 8.0, users can dramatically decrease the time it takes to process terrain elevations by using AERMAP MPI, Lakes Environmental's parallel version of the AERMAP model. Based on the U.S. EPA AERMAP model dated 11103, this parallelized executable can reduce runtime by utilizing up to 8 processors when calculating model object elevations. Even projects using high-resolution NED GeoTIFF elevation data can be handled quickly with AERMAP MPI.
To access AERMAP MPI, users must first install AERMOD View and MPICH2 on their computer. Once the programs are installed, you can select the executable through the Preferences dialog in AERMOD View. The AERMAP MPI executable can be specified in the same way that you would specify any other AERMAP executable. See steps below:
Step 1: Open the Preferences dialog by clicking File | Preferences from the AERMOD View menu.
Step 2: In the Preferences dialog, select EPA Models/Limits | AERMAP.
Step 3: Make sure the Default radio button is selected, and select AERMAP_MPI_LAKES.EXE from the drop-down list.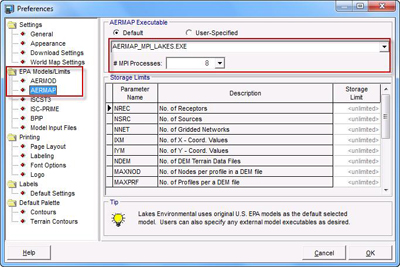 Note: The executable name, AERMAP_MPI_LAKES.EXE, will always correspond to the most recent version of the AERMAP MPI executable, in this case, version 11103.
Step 4: You can select to run the AERMAP MPI with a reduced number of cores/processes. This option is available when you specify an AERMAP MPI Executable. The # MPI Processes list box will automatically detect how many processors you have in your computer and select this option as the default. Click the OK button to save the changes and close the Preferences dialog.
Step 5: AERMOD View will automatically recognize the selected AERMAP MPI executable and the selected number of processes next time you try to run the AERMAP model within the Terrain Processor window.
Submit Your Modeling Tip Today!
We are currently accepting submissions for the Monthly Modeling Tip section that appears in our newsletters. If you have a modeling tip that may benefit our readers, please send it to us at support@webLakes.com. Your name and the name of your organization will appear below the tip providing you with an opportunity for increased exposure.
Articles
Urban Cities' Greenhouse Gasses are Mapped
October 9, 2012 - Researchers at Arizona State University (ASU) and Purdue University have announced their new software system which enables the three-dimensional visualization of greenhouse gas emissions throughout urban landscapes. It notes where, when, and how carbon emissions are occurring. The software, named "Hestia" after the greek goddess of the home, is also capable of showing the hourly dynamics of CO2 emissions across street segments, down to individual buildings.
EPA Announces New Electronic Filing System for Environmental Reviews
WASHINGTON, - October 4, 2012 - Today, the U.S. Environmental Protection Agency (EPA) announced e-NEPA, a new online system that allows federal agencies to submit environmental impact statements (EISs) electronically. Traditionally, EISs have been submitted to EPA in hard copy. e-NEPA eliminates the need to mail or deliver copies of EISs to EPA headquarters, reducing printing, shipping, and delivery costs. It also saves time through electronic filing and e-confirmation and improves transparency, allowing EPA to post EIS documents to EPA's website.
"The release of e-NEPA is an important step forward in advancing the President's commitment to streamline the federal environmental review process," said Cynthia Giles, assistant administrator for EPA's Office of Enforcement and Compliance Assurance. "Through electronic filing, we are making it easier for federal agencies to submit environmental impact statements, allowing them to save time and reduce costs, while making the process more transparent for the public."
Tougher Air Rules for Europe?
September 27, 2012 - How tight should the air pollution laws be? There is a lot of argument and concern not only over health issues but over costs and technical limits. With an overhaul of air quality laws due within a year in Europe, health advocates are calling for the European Commission to resist pressure to tone down the EU's pollution standards and instead replace them with stronger UN guidelines. The call for tougher anti-pollution measures came two days after a report by the European Environment Agency showed that nearly one-third of urban residents breathe air that is far dirtier than the law allows. The tally rises to well over 80% when the recommendations of the UN World Heath Organization are applied.
Environment: Many Europeans Still Exposed to Harmful Air Pollutants
September 24, 2012 - Almost a third of Europe's city dwellers are exposed to excessive concentrations of airborne particulate matter (PM). Particulate matter is one of the most important pollutants in terms of harm to human health as it penetrates sensitive parts of the respiratory system. The EU has made progress over the past decades to reduce the air pollutants which cause acidification, but a new report published today by the European Environment Agency (EEA) shows that many parts of Europe have persistent problems with outdoor concentrations of PM and ground level ozone.
Environment Commissioner Janez Potocnik said: "This report is a timely reminder of how important air quality is to the health of our citizens. This is why I want 2013 to be the Year of Air and why I will focus on strengthening our air quality laws to tackle the problems identified today."
EPA Sets Bio-based Diesel Volumes for 2013
WASHINGTON - September 14, 2012 - The U.S. Environmental Protection Agency (EPA) today took action to establish the amount of bio-diesel products required to be included in diesel fuel markets in 2013. Bio-based diesel products are advanced bio-fuels that are derived from sources that include vegetable oils and wastes oils from renewable sources.
"This action, which meets goals designated by Congress, is another step that strengthens America's energy security by reducing dependence on foreign oil," said EPA Administrator Lisa P. Jackson.
Upcoming Conferences & Trade Shows
Date

Conference

Location

Oct 30-31, 2012

Carbon Forum Asia
More Info

Bangkok, Thailand

Nov 7-10, 2012

Ecomondo 2012
More Info

Rimini, Italy

Nov 11-15, 2012

SETAC North America 33rd Annual Meeting
More Info

Long Beach, CA, USA

Nov 27-30, 2012

Pollutec Horizons 2012
More Info

Lyon, France

Dec 11-13, 2012

Renewable Energy World: Conference & Expo
More Info

Orlando, FL, USA

Jan 15-17, 2013

World Future Energy Summit
More Info

Abu Dhabi, UAE

Jan 28-30, 2013

EUEC 2013
More Info

Phoenix, AZ, USA

Mar 13-14, 2013

The Air Quality and Emissions Show (AQE 2013)
More Info

Telford, England, UK

Mar 19-21, 2013

AMERICANA 2013
More Info

Montreal, QC, Canada

Apr 29 - May 1, 2013

CANECT 2013
More Info

Mississauga, ON, Canada
About this Newsletter
This newsletter contains information gleaned from various sources on the web, with complete links to the sources cited. Organizations cited are in no way affiliated with Lakes Environmental Software.
Lakes Environmental Software is a leading environmental IT company that offers a complete line of air dispersion modeling, risk assessment, emissions inventory, and emergency release software as well as training and custom software services. With satisfied users located around the globe, Lakes Environmental Software will continue to revolutionize the environmental software field.
For more information please visit our web site at: www.webLakes.com. You may also contact us by phone at (519) 746-5995 or by fax at (519)746-0793.
All comments and suggestions are welcome. You can e-mail us at: support@webLakes.com.