Lakes Environmental e-Newsletter
Emissions Inventory - Atmospheric Science - IT Solutions


In this issue:
News & Events
Upcoming Courses
Modeling Tip: Export Threshold-Exceeding Receptors in AERMOD View™
Articles
Upcoming Conferences & Trade Shows
News & Events
Lakes Environmental Wins 2013 ESRI Award
Lakes Environmental is pleased to announce that our paper, "Computing Non-Crossing Smooth Contours on Triangulated Meshes" was the first place recipient of the 2013 ESRI Award for Best Scientific Paper in Geographic Information Systems. This paper was authored by Dr. Yurai Núñez-Rodríguez, Dr. Igor Raskin, Dr. Jesse Thé, and Mr. Michael A. Johnson.
The award winning article resolved an electronic mapping problem that had been investigated by international research centers for more than two decades.




The 2013 ESRI Award places us as one of the top GIS scientists worldwide and is a definite recognition of the high level of research conducted at Lakes Environmental.
"Guideline on Air Quality Models" Conference Wrap-Up
Lakes Environmental was a proud sponsor of the recent Air & Waste Management Specialty Conference"Guideline on Air Quality Models: The Path Forward" held by the A&WMA Technical Coordinate Committee for Meteorology and Air Quality Modeling Issues (AB-3). The conference was held March 19 to 21, 2013 at the Sheraton Hotel in Raleigh, North Carolina.
| | | |
| --- | --- | --- |
| Nearly 60 presentations were given with topics covering AERMOD evaluation and validation, CALPUFF topics, background concentrations, secondary pollutant formation and modeling, meteorological data issues, discussion of the guideline, and other modeling topics. The conference also featured an exclusive town hall meeting with staff from the U.S. Environmental Protection Agency and Federal Land Management offices. | | |
Our own Michael Hammer presented his paper, "Prognostic Data in AERMET: A Case Study of MMIF versus NWS Data", which analyzed the beta interface for preparing prognostic meteorological model data for use in the AERMOD model.
Missed us at this conference? Look for Lakes Environmental at other upcoming events and shows like the A&WMA Annual Conference and Exhibition taking place in Chicago from June 25 to 28, 2013.
AERMOD View™ Version 8.2 Released!
On April 18, 2013, Lakes Environmental released AERMOD View Version 8.2.




New features include:

New Report Available: Summary of results for standard runs and multi-chemical runs
New Export Option: Export receptors with concentrations above a specified threshold
NO2/NOx Ratios: Allows for the selection of Line-Area and Line-Volume Sources
New Preferences Option: Select the text editor of your choice
Check out our release notes for a complete list of the changes and new features available in AERMOD View Version 8.2.
If you are currently in maintenance for AERMOD View and did not receive an email regarding this update, please contact us at support@webLakes.com.
If you are a user of AERMOD View but are no longer in maintenance please contact LakesSoftware@webLakes.com for pricing to get up and running on version 8.2.
AERMOD and CALPUFF Courses in Calgary - May 13-16, 2013
Lakes Environmental will be holding 4-days of AERMOD and CALPUFF training in Calgary, from May 13 to 16, 2013. Further details including course outline and registration form can be found on our website.
Lakes Environmental Holds Successful CenSARA Course
Lakes Environmental was chosen by CenSARA to deliver an Air Dispersion Modeling Course for the Missouri Department of Natural Resources in Jefferson City, Missouri from March 11 to 13, 2013. This training was highly successful and adds to Lakes Environmental's strong reputation in the area of training all across the globe.
The 3-day course combined theory with hands-on real-world case studies using Lakes Environmental's advanced graphical user interfaces, AERMOD View, CALPUFF View, and AERSCREEN View.
For information regarding our upcoming Air Dispersion Modeling courses, please visit the Upcoming Courses section on our website.
Lakes Environmental at CANECT 2013
Lakes Environmental will be at the Canadian Environmental Conference & Tradeshow, CANECT 2013, in Mississauga, Ontario, from April 30 to May 1, 2013.
Visit booth 1438 for information about our software products, and drop off your business card for a chance to win a FREE copy of our AERMOD View software!
Upcoming Courses
Date

Course

Location

Registration

Apr 29-30, 2013
May 1-3, 2013

Register Now
Few Spots Left!

May 13-14, 2013
May 15-16, 2013

Sep 9-10, 2013
Sep 11-13, 2013

San Francisco, CA

Registration
Coming Soon

Sep 23-24, 2013
Sep 25-26, 2013

AERMOD
CALPUFF

Toronto, ON

Registration
Coming Soon

Nov 4-5, 2013
Nov 6-7, 2013

AERMOD
CALPUFF

São Paulo, Brazil

Registration
Coming Soon

Nov 18-19, 2013

Miami, FL

Registration
Coming Soon
For more information on the above courses, including registration information, location, and course outlines, please visit our web site: https://www.weblakes.com/courses.html.
Modeling Tip
Export Threshold-Exceeding Receptors in AERMOD View™
Complex air dispersion modeling projects may require large amounts of time to process. One way to reduce model runtimes is to reduce the number of receptors. A method by which some regulatory agencies allow modelers to reduce their receptors is through the use of significant receptors. To identify significant receptors, modelers must first complete a run using a large receptor grid. A concentration threshold is specified and receptors which exceed the threshold are extracted for further processing.
The latest release of AERMOD View™, Version 8.2, includes a brand-new feature which allows modelers to export a list of receptors by their concentration. To export these receptors, follow the steps below.
Step 1: Perform an AERMOD model run. Be sure to include Contour Plot Files in the Output Pathway options for the averaging period and source group combinations of interest.
Step 2: Following the successful completion of the model, go to the Plots Tree Menu and select the plot file you wish to view.
Step 3: Click the Export to CSV button and select the Export Range option. This will open the Export Plot to CSV Options window.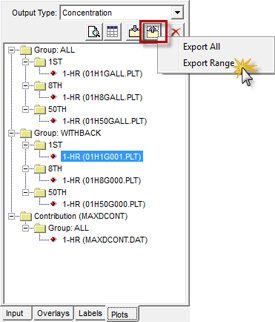 Step 4: Identify the concentration (or deposition flux) range over which receptors will be exported. In the example below, all receptors with a concentration exceeding 188 µg/m³ will be exported to the CSV file.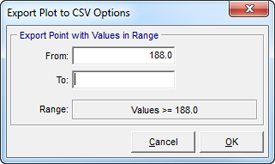 Step 5: The exported CSV file can be imported to any AERMOD View project as a series of new discrete receptors. Under the Receptor Pathway, select the Discrete Cartesian option and select Import from File from the Actions menu.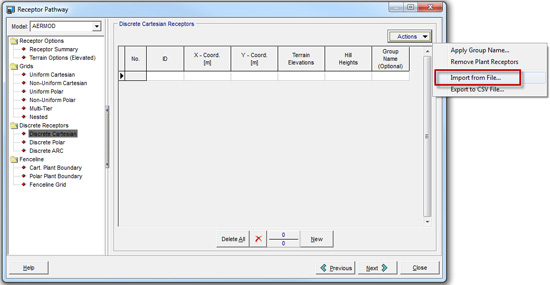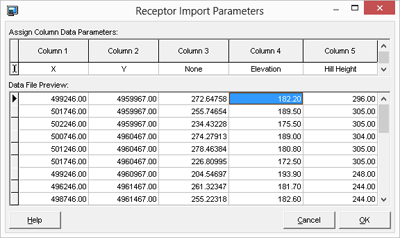 Step 6: The Receptor Import Parameters window will appear with the receptor data divided into columns. The data is ordered in an identical manner to the contour plot file.
Column 1 contains the X coordinate data
Column 2 contains the Y coordinate data
Column 3 has the measured concentration at the exported receptor
Column 4 contains the elevation
Column 5 contains the hill height
Note:
We are currently accepting submissions for the Monthly Modeling Tip section that appears in our newsletters. If you have a modeling tip that may benefit our readers, please send it to us at support@webLakes.com. Your name and the name of your organization will appear below the tip providing you with an opportunity for increased exposure.
Articles
Air Pollution-Caused Deaths Total Over One Million Per Year in China
April 5, 2013 - In January, NASA revealed satellite images showing dramatic visuals of air pollution over China. Consequently, a new analysis is reporting that more than 1 million people are dying prematurely every year from air pollution in China alone.
We reported earlier that air pollution, especially around Beijing has greatly been influenced by coal-fired power stations. However, population growth along with increasing development is causing the nation into an air pollution crisis.
"Cars are being added and trucks are being added to the streets in major cities at record numbers. Power plants burn significant amounts of very low-grade coal, and the energy consumption in China is rising dramatically," says Robert O'Keefe of the Health Effects Institute in Boston and presenter of the findings. "This is the highest toll in the world and it really reflects the very high levels of air pollution that exist in China today."
Ontario Almost Totally off Coal Generation
April 2, 2013 - Ontario is on the verge of becoming the first industrial region in North America to eliminate all coal-fired electrical generation. Here's how Canada's most populous province did it — and what the U.S. and others can learn from it.
By most measures of environmental policy and progress, Ontario, Canada ranks well. Over the last half-century, Canada's most populous province required cities and industries to treat every gallon of wastewater, dramatically reduced the level of sulfur and other pollutants that caused acid rain, and convinced the big and politically powerful pulp and paper industry to install state-of-the-art emissions control equipment.
EPA Proposes Achievable Cleaner Fuels and Cars Standard
WASHINGTON - March 29, 2013 - Based on extensive input from auto manufacturers, refiners, and states, the U.S. Environmental Protection Agency (EPA) today proposed sensible standards for cars and gasoline that will significantly reduce harmful pollution, prevent thousands of premature deaths and illnesses, while also enabling efficiency improvements in the cars and trucks we drive. These cleaner fuels and cars standards are an important component of the administration's national program for clean cars and trucks, which also include historic fuel efficiency standards that are saving new vehicle owners at the gas pump today. Once fully in place, the standards will help avoid up to 2,400 premature deaths per year and 23,000 cases of respiratory ailments in children.
Following a proven systems approach that addresses vehicles and fuels as an integrated system, today's proposal will enable the greatest pollution reductions at the lowest cost. The proposal will slash emissions of a range of harmful pollutants that can cause premature death and respiratory illnesses, including reducing smog-forming volatile organic compounds and nitrogen oxides by 80 percent, establish a 70 percent tighter particulate matter standard, and reduce fuel vapor emissions to near zero. The proposal will also reduce vehicle emissions of toxic air pollutants, such as benzene and 1,3-butadiene, by up to 40 percent.
EPA Updates Mercury and Air Toxics Standards for New Power Plants
WASHINGTON - March 29, 2013 - The U.S. Environmental Protection Agency (EPA) has issued updates to pollution limits for new power plants under the mercury and air toxics standards, based on new information and analysis that became available to the agency after the rule was finalized.
The updates are largely technical in nature and will have no impact on the sensible, achievable and cost-effective standards already set for existing power plants. The public health benefits and costs of the rule remain unchanged. EPA estimates that the standards, which will protect the health of millions of families, especially children, will prevent as many as 11,000 premature deaths and 4,700 heart attacks every year. The standards will also help America's children grow up healthier-- preventing 130,000 cases of childhood asthma symptoms and about 6,300 fewer cases of acute bronchitis among children each year.
Upcoming Conferences & Trade Shows
Date

Conference

Location

Apr 29 - May 1, 2013

CANECT 2013
More Info

Mississauga, ON, Canada

May 29-31, 2013

Carbon Expo 2013
More Info

Barcelona, Spain

Jun 3-5, 2013

21st International Conference on Modelling, Monitoring and Management of Air Pollution
More Info

Siena, Italy

Jun 18-19, 2013

Emissions 2013
More Info

Ypsilanti, MI, USA

Jun 25-28, 2013

A&WMA Annual Conference and Exhibition
More Info

Chicago, IL, USA

Jul 15-17, 2013

3rd International Conference on Environmental Pollution and Remediation (ICEPR 2013)
More Info

Toronto, ON, Canada

Sep 5-7, 2013

13th International Conference on Environmental Science and Technology
More Info

Athens, Greece

Sep 10-12, 2013

Traversing New Terrain in Meteorological Modeling, Air Quality and Dispersion
More Info

Davis, CA, USA

Sep 25-27, 2013

Clean Energy Expo Asia
More Info

Bangkok, Thailand
About this Newsletter
This newsletter contains information gleaned from various sources on the web, with complete links to the sources cited. Organizations cited are in no way affiliated with Lakes Environmental Software.
Lakes Environmental Software is a leading environmental IT company that offers a complete line of air dispersion modeling, risk assessment, emissions inventory, and emergency release software as well as training and custom software services. With satisfied users located around the globe, Lakes Environmental Software will continue to revolutionize the environmental software field.
For more information please visit our web site at: www.webLakes.com. You may also contact us by phone at (519) 746-5995 or by fax at (519)746-0793.
All comments and suggestions are welcome. You can e-mail us at: support@webLakes.com.