Lakes Environmental e-Newsletter
Emissions Inventory - Atmospheric Science - IT Solutions


In this issue:
News & Events
Upcoming Courses
Modeling Tip: Hourly Concentration Output in CAL3QHCR
Articles
Upcoming Conferences & Trade Shows
News & Events
Lakes Environmental at IUAPPA Congress 2013 in Cape Town, South Africa
Next month, Lakes Environmental will travel to Cape Town, South Africa, to take part as exhibitors at the 16th IUAPPA World Clean Air Congress 2013 from September 29 to October 4, 2013.




We invite you to stop by our booth to meet Dr. Jesse Thé and Mrs. Cristiane Thé. They would be happy to speak with you regarding our technologically advanced environmental software solutions and services.



2014 AERMOD & CALPUFF Course Schedule Announced - Registration Open!
Lakes Environmental has recently announced their 2014 Global AERMOD and CALPUFF Training Course Schedule. Course dates and locations for the first half of the year have been posted on our online course calendar. Don't miss this unique opportunity to be trained by our dedicated senior level air quality experts.




Register today for the course of your choice. Space is limited so act now before spots are gone!
AERMOD Course in Orlando, Florida – Nov 18-19, 2013
Lakes Environmental is pleased to be travelling to sunny Orlando to provide a 2-day AERMOD course from November 18 to 19, 2013.
We are proud to be a world leader providing powerful training for US EPA air dispersion models, with instructors being continuously rated as outstanding by course attendees.




Don't miss out on our early registration discounts - Register today!




Early Registration Discount Ends: Oct 18, 2013




Course: AERMOD (Nov 18-19, 2013)
Location: Orlando, Florida
Contact: training@webLakes.com
Info: Registration Form
AERMOD Course – Toronto, Ontario – Sep 16-17, 2013 - A Few Spots Still Available!
Lakes Environmental Closed for Labor Day Holiday
Lakes Environmental's Waterloo and Dallas offices will be closed on Monday, September 2, 2013 to observe the Labor Day holiday. If you have any needs during that time, please e-mail us at support@webLakes.com and we will contact you on Tuesday, September 3, 2013 when our offices reopen.
Upcoming Courses
Date

Course

Location

Registration

Sep 9-10, 2013

FULL

Sep 11-13, 2013

Sep 16-17, 2013

Oct 28-29, 2013
Oct 30-31, 2013

Nov 18-19, 2013

Feb 24-25, 2014
Feb 26-28, 2014

Dallas, TX

Mar 10-11, 2014
Mar 12-13, 2014

AERMOD
CALPUFF

Lima, Peru

Registration
Coming Soon

Apr 7-8, 2014
Apr 9-11, 2014

Las Vegas, NV

May 5-6, 2014
May 7-8, 2014

AERMOD
CALPUFF

Calgary, AB
For more information on the above courses, including registration information, location, and course outlines, please visit our web site: https://www.weblakes.com/courses.html.
Modeling Tip
Hourly Concentration Output in CAL3QHCR
CALRoads View™ includes three mobile source air dispersion models: CALINE4, CAL3QHC, and CAL3QHCR. These models are used for predicting air pollution concentrations of carbon monoxide (CO), nitrogen dioxide (NO2), particulate matter (PM), and other inert gases from idle or moving vehicles.
The CAL3QHCR model is enhanced to process up to one year of hourly meteorological data. However, the output produced by the model is coded to produce values for very specific averaging periods. The periods selected for each pollutant may not correspond to local guidelines for modelers outside the United States.
To assist these modelers, developers at Lakes Environmental enhanced the CAL3QHCR executable to produce an Hourly Concentration File. This file is generated automatically with each run performed using the Lakes Environmental CAL3QHCR executable, so there's no need to enable special options to use it.
Go to the File | Preferences menu and select the CAL3QHCR option from the EPA Models/Limits menu. The default executable is CAL3QHCR_LK.EXE.

After performing a CAL3QHCR model run, go to the Output menu and select Hourly Concentration File to open the file in a text editor. This is a CSV file so it can be opened directly in spreadsheet programs like Microsoft® Excel for data manipulation purposes (e.g., calculating non-standard averaging periods).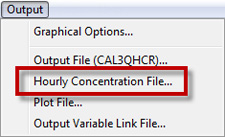 Note:
We are currently accepting submissions for the Monthly Modeling Tip section that appears in our newsletters. If you have a modeling tip that may benefit our readers, please send it to us at support@webLakes.com. Your name and the name of your organization will appear below the tip providing you with an opportunity for increased exposure.
Articles
EPA Finalizes 2013 Renewable Fuel Standards
August 6, 2013 - WASHINGTON - As part of an ongoing effort to enhance energy security and reduce carbon pollution, the U.S. Environmental Protection Agency (EPA) today finalized the 2013 percentage standards for four fuel categories that are part of the Renewable Fuel Standard (RFS) program established by Congress. Most of these fuels are produced by American farmers and growers domestically and help reduce the carbon pollution that contributes to climate change.
New Study on Permafrost - Climate link
July 29, 2013 -New research findings from the Centre for Permafrost (CENPERM) at the Department of Geosciences and Natural Resource Management, University of Copenhagen, document that permafrost during thawing may result in a substantial release of carbon dioxide into the atmosphere and that the future water content in the soil is crucial to predict the effect of permafrost thawing. The findings may lead to more accurate climate models in the future.
Air Pollution Kills Millions Each Year, Says Study
July 15 2013 - Outdoor air pollution is estimated to contribute to more than two-and-a-half million deaths each year, a study has suggested.
It calculated that, each year, 470,000 people died as a result of ozone and 2.1 million deaths were linked to fine particulate matter.
Air pollution increased respiratory and heart disease risks, with the young, elderly and infirm most vulnerable.
The findings appear in the Environmental Research Letters journal.
Global Warming Down Under
July 9, 2013 - Green spaces, trees and bodies of water are must-have design features for future development in Sydney's suburbs after researchers found that by 2050 global warming combined with Sydney's urban heat island effect could increase temperatures by up to 3.7°C.
The researchers from the ARC Centre of Excellence for Climate System Science found new urban developments, such as the multitude of new estates on Sydney edges expected to house more than 100,000 residents, were prone to the greatest temperature increases.
B.C. Carbon Neutral for Third Consecutive Year
June 28, 2013 - VICTORIA - British Columbia released its annual carbon neutral government report today - and 2012 marks the third year in a row that the provincial public sector has achieved carbon neutrality.
Carbon neutrality is about achieving net-zero greenhouse gas (GHG) emissions. Even with the best efforts to reduce GHG emissions, it is difficult - if not impossible - to get to zero emissions. To be carbon neutral, public sector organizations reduce emissions as much as possible each year, measure any remainder and purchase an equivalent amount of reductions/offsets to get to zero.
EU Meets Most International Air Pollutant Emissions Limits, Further Cuts Possible
June 26, 2013 - Many air pollutant emissions are below internationally agreed limits, except nitrogen oxides, according to a European Environment Agency report released today. Emissions of three air pollutants, including fine particulate matter, are only slightly above targets to be met in 2020.
Carbon neutrality is about achieving net-zero greenhouse gas (GHG) emissions. Even with the best efforts to reduce GHG emissions, it is difficult - if not impossible - to get to zero emissions. To be carbon neutral, public sector organizations reduce emissions as much as possible each year, measure any remainder and purchase an equivalent amount of reductions/offsets to get to zero.
Upcoming Conferences & Trade Shows
Date

Conference

Location

Aug 19-22, 2013

2013 Tribal Lands and Environment Forum
More Info

Santa Ana Pueblo, NM, USA

Sep 5-7, 2013

13th International Conference on Environmental Science and Technology
More Info

Athens, Greece

Sep 10-12, 2013

Traversing New Terrain in Meteorological Modeling, Air Quality and Dispersion
More Info

Davis, CA, USA

Sep 25-27, 2013

Clean Energy Expo Asia
More Info

Bangkok, Thailand

Sep 29 - Oct 4, 2013

16th IUAPPA World Clean Air Congress
More Info

Cape Town, South Africa

Oct 3-4, 2013

Science for the Environment Conference
More Info

Aarhus, Denmark

Oct 16-18, 2013

Remediation Technologies Symposium (RemTech) 2013
More Info

Banff, AB, Canada

Nov 6-9, 2013

Ecomondo 2013
More Info

Rimini, Italy

Nov 17-21, 2013

SETAC North America 34th Annual Meeting
More Info

Nashville, TN, USA

Dec 3-6, 2013

Pollutec Horizons 2013
More Info

Paris, France
About this Newsletter
This newsletter contains information gleaned from various sources on the web, with complete links to the sources cited. Organizations cited are in no way affiliated with Lakes Environmental Software.
Lakes Environmental Software is a leading environmental IT company that offers a complete line of air dispersion modeling, risk assessment, emissions inventory, and emergency release software as well as training and custom software services. With satisfied users located around the globe, Lakes Environmental Software will continue to revolutionize the environmental software field.
For more information please visit our web site at: www.webLakes.com. You may also contact us by phone at (519) 746-5995 or by fax at (519)746-0793.
All comments and suggestions are welcome. You can e-mail us at: support@webLakes.com.