Lakes Environmental e-Newsletter
Emissions Inventory - Atmospheric Science - IT Solutions


In this issue:
News & Events
Upcoming Courses
Modeling Tip: How to Change Executables in CALPUFF View
Articles
Upcoming Conferences & Trade Shows
News & Events
Happy Holidays from Lakes Environmental!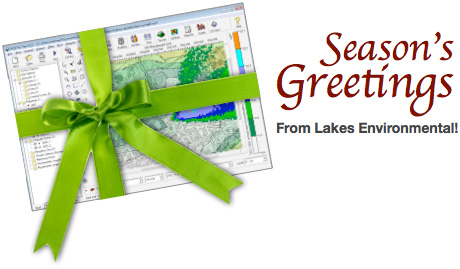 Lakes Environmental wishes you a Joyous Holiday Season and a Prosperous New Year!
With the holiday season upon us, we wish to take this opportunity to specially thank you, our subscribers and customers, for reading our newsletter throughout the year. Your continued feedback and suggestions are so valuable to us. We look forward to working with you in 2014!
Please find below the holiday schedule for Lakes Environmental's offices:
| | | | | |
| --- | --- | --- | --- | --- |
| | December 24: | Closed | December 30: | Open |
| | December 25: | Closed | December 31: | Closed |
| | December 26: | Closed | January 1: | Closed |
| | December 27: | Open | January 2: | Open |
If you have an urgent matter requiring assistance during the holidays please e-mail us at support@webLakes.com.
U.S. EPA Updates the CALPUFF Modeling System
On December 4, 2013, the U.S. EPA announced the immediate availability of updated versions of CALPUFF and CALMET (version 5.8.4, level 130731). These executables replace CALPUFF and CALMET version 5.8 (level 070623) as the "EPA-Approved" versions. This update does not affect CALPOST.
The updates include numerous bug fixes previously implemented by the model developers but never approved by the EPA. More information including a detailed report summarizing each bug fix can be found on the Support Center for Regulatory Atmospheric Modeling website.




Lakes Environmental is working on a new version of CALPUFF View that will incorporate these changes.




CALPUFF View users can refer to this month's Modeling Tip for instructions on using the new executables in their existing software.
AERMOD and CALPUFF Courses in Dallas, Texas – Feb 24-28, 2014
Lakes Environmental will be in Dallas, Texas, to present a full week of AERMOD and CALPUFF training from February 24 to 28, 2014.
CALPUFF course students will have the opportunity to complete a Do It Yourself Case Study using MM5 processed data for a location of their choice making this course of great benefit to their modeling work.
AERMOD Course in Toronto – February 10-11, 2014 (New Dates)
Lakes Environmental will be in Toronto to provide a 2-day AERMOD course from February 10 to 11, 2014.
Upcoming Courses
Date

Course

Location

Registration

Feb 10-11, 2014

Feb 24-25, 2014
Feb 26-28, 2014

Mar 20-21, 2014

Québec City*


Registration
Coming Soon

Apr 7-8, 2014
Apr 9-11, 2014

May 5-6, 2014
May 7-8, 2014

Calgary, AB

Nov 3-4, 2014
Nov 5-6, 2014

AERMOD
CALPUFF

São Paulo, Brazil

Registration
Coming Soon
*Sponsored by APCAS
For more information on the above courses, including registration information, location, and course outlines, please visit our web site: https://www.weblakes.com/courses.html.
Modeling Tip
How to Change Executables in CALPUFF View
The CALPUFF modeling system executables are distributed by the model developer, TRC. Lakes Environmental's CALPUFF View software is designed to allow users to easily install these executables. However, there may be situations where users want to use different executables. For example:
A custom recompiled version may be required to support large projects by expanding parameter limits (e.g., number of sources, larger computational grids, etc.).
A specific version of CALPUFF may be stipulated in a modeling plan or permit application.
Users may want to make their own changes to the model code for testing purposes.
As mentioned earlier in the newsletter, new versions of CALPUFF and CALMET were recently approved by the U.S. EPA. Users can insert the new executables into CALPUFF View in the interim while our developers work on a new release of CALPUFF View.
Users will find it easy to run CALPUFF View using new or customized model executables. Simply complete the following steps to change the executable being used:
Open the File menu and select Preferences. Many different program settings can be set here.
The various models available in CALPUFF View are listed under the EPA Models/Limits section. Select CALPUFF.


Select the User-Specified radio button and use the Specify File button to search your computer for the desired executable.


Specify the Parameters File for the user-specified model executable.


The below screenshot shows the new CALPUFF version 5.8.4 incorporated into CALPUFF View using the User-Specified executable. Changing other model executables follows the same process; simply select the desired model (e.g., CALMET, CALPOST) from the same Preferences menu.
Submit Your Modeling Tips Today!
We are currently accepting submissions for the Monthly Modeling Tip section that appears in our newsletters. If you have a modeling tip that may benefit our readers, please send it to us at support@webLakes.com. Your name and the name of your organization will appear below the tip providing you with an opportunity for increased exposure.
Articles
Ending Coal for Cleaner Air in Ontario
November 25, 2013 - Ontario is introducing legislation today that, if passed, would eliminate coal-fired generation as a source of electricity.
The proposed Ending Coal for Cleaner Air Act would ensure that once coal facilities stop operating by the end of 2014, coal burning generation on the electricity grid will never happen again. This would help ensure the public health and climate change benefits of ending coal-fired electricity are protected.
European Commission Welcomes the 7th Environment Action Programme Becoming Law
November 20, 2013 - Today the Council and European Parliament signed into law the Decision on a 7th EU Environment Action Programme, which will guide EU policy action on environment and climate policy for the next seven years. This brings to a successful conclusion a process that started 12 months ago when the Commission tabled its proposal.
EPA Proposes 2014 Renewable Fuel Standards
November 15, 2013 - WASHINGTON - The U.S. Environmental Protection Agency (EPA) today proposed for public comment the levels of renewable fuels to be blended into gasoline and diesel as required by Congress under the Energy Independence and Security Act of 2007. Developed with input from the U.S. Department of Energy and U.S. Department of Agriculture, the proposal seeks public input on annual volume requirements for renewable fuels in all motor vehicle gasoline and diesel produced or imported by the United States in 2014. The proposal seeks to put the Renewable Fuel Standard (RFS) program on a steady path forward – ensuring the continued long-term growth of the renewable fuel industry – while seeking input on different approaches to address the "E10 blend wall."
Europe to Open Up Free Access to Environmental Satellite Data
November 13, 2013 -The European Commission has announced it will provide free, full and open access to a wealth of important environmental data gathered by Copernicus, Europe's Earth observation system.
The new open data dissemination regime, which will come into effect next month, will support the vital task of monitoring the environment and will also help Europe's enterprises , creating new jobs and business opportunities.
New England Leaders Convene to Help Communities Prepare for Climate Change Challenges
November 8, 2013 - BOSTON – Answering the challenge presented in President Obama's Climate Action Plan, the U.S. EPA is spearheading a regional response to identify and launch actions to help New England communities become more resilient to the effects of climate change.
Along with the six New England States, the Consensus Building Institute, Johnson & Wales University and the New England Interstate Water Pollution Control Commission (NEIWPCC), EPA is holding a Climate Leaders Summit on Nov. 8, 2013 at Johnson & Wales University in Providence, R.I.
New BC Agreement Streamlines Approval Process in the Oil and Gas Sector
November 8, 2013 - VICTORIA - A new Memorandum of Understanding will streamline environmental assessments and permitting for liquefied natural gas projects by reducing duplication and improving timeliness.
The BC Oil and Gas Commission and the Environmental Assessment Office regulate many of the same projects in the oil and gas sector. By co-ordinating their work and sharing information, the two agencies will manage a single, predictable regulatory regime for LNG projects, from inception through closure.
Government of Canada Releases the 2013-2016 Federal Sustainable Development Strategy
November 4, 2013 - OTTAWA - The Honourable Leona Aglukkaq, Canada's Environment Minister, Minister of the Canadian Northern Economic Development Agency and Minister for the Arctic Council, today released the 2013-2016 Federal Sustainable Development Strategy.
Upcoming Conferences & Trade Shows
Date

Conference

Location

Jan 12-17, 2014

SPARC (Stratosphere-Troposphere Processes and their Role in Climate) 2014 General Assembly
More Info

Queenstown, New Zealand

Jan 20-22, 2014

World Future Energy Summit
More Info

Abu Dhabi, UAE

Feb 3-5, 2014

Energy, Utility & Environment Conference (EUEC) 2014
More Info

Phoenix, AZ, USA

Mar 2-7, 2014

38th Stationary Source Sampling & Analysis for Air Pollutants Conference
More Info

Point Clear, AL, USA

Mar 24-28, 2014

9th International Conference on Air Quality - Science and Application
More Info

Garmisch-Partenkirchen, Germany

Mar 26-28, 2014

GLOBE 2014
More Info

Vancouver, BC, Canada

Apr 28-30, 2014

CANECT 2014
More Info

Mississauga, ON, Canada

May 13-14, 2014

A&WMA Oil & Gas Environmental Compliance Conference – Appalachian Basin
More Info

Washington, PA, USA

Jun 24-27, 2014

A&WMA Annual Conference and Exhibition
More Info

Long Beach, CA, USA

Jul 7-9, 2014

22nd International Conference on Modelling, Monitoring and Management of Air Pollution
More Info

Opatija, Croatia
About this Newsletter
This newsletter contains information gleaned from various sources on the web, with complete links to the sources cited. Organizations cited are in no way affiliated with Lakes Environmental Software.
Lakes Environmental Software is a leading environmental IT company that offers a complete line of air dispersion modeling, risk assessment, emissions inventory, and emergency release software as well as training and custom software services. With satisfied users located around the globe, Lakes Environmental Software will continue to revolutionize the environmental software field.
For more information please visit our web site at: www.webLakes.com. You may also contact us by phone at (519) 746-5995 or by fax at (519)746-0793.
All comments and suggestions are welcome. You can e-mail us at: support@webLakes.com.