Lakes Environmental e-Newsletter
Emissions Inventory - Atmospheric Science - IT Solutions


In this issue:
News & Events
Upcoming Courses
Modeling Tip: Time Zone Adjustments in AERMET
Articles
Upcoming Conferences & Trade Shows
News & Events
US EPA Releases AERMOD and AERMET Models (Version 12345)
On December 18, 2012, the U.S. EPA posted updates to the AERMOD air dispersion model and the AERMET meteorological data preprocessor on the SCRAM website. Please visit our a website for a detailed list of changes incorporated into these two models.




The Lakes Environmental team is hard at work implementing updates to AERMOD View, AERMET View, and the AERMOD Parallel Version (AERMOD MPI) to address the new changes incorporated into AERMOD and AERMET Model Versions 12345.




Lakes Environmental plans to release the new version of AERMOD View later this week. Be on the lookout for an email from us announcing this new release.
If your AERMOD View license is no longer in maintenance, please contact our sales team at sales@webLakes.com for pricing to update your software as only users in current maintenance will be eligible to receive this new release.
U.S. EPA Releases AERSURFACE Update
On January 18, 2013, the U.S. EPA released AERSURFACE Version 13016. This update to AERSURFACE Version 08009 contains several bug fixes; internal enhancements to improve error handling and reading of GeoTIFF files; and updates to surface roughness values for multiple categories.




This update will be included in upcoming AERMET View Version 8.1 release. Users in current maintenance will be able to download this update from Lakes Environmental's Support Site upon its release.



Just Announced! AERMOD Course in Toronto – April 8-9, 2013
Lakes Environmental is pleased to announce a second Toronto AERMOD course date from April 8-9, 2013.




Spaces are filling up quickly! Contact us today to reserve your spot and take advantage of our 10% early registration discount.




Early Registration Discount Ends: March 8, 2013

Course: AERMOD
Date: April 8-9, 2013
Location: Toronto, Ontario
Contact: training@weblakes.com
Info: Registration Form

AERMOD and CALPUFF Courses in Dallas – February 25 - March 1, 2013
Lakes Environmental will be holding a week of AERMOD and CALPUFF training in Dallas, from February 25 to March 1, 2013.




Further details including course outline and registration form can be found on our website.




Register today to take advantage of our early registration discounts!

Early Registration Discount Ends: January 25, 2013

Course: AERMOD (February 25-26, 2013)
Course: CALPUFF (February 27-March 1, 2013)
Location: Dallas, Texas
Contact: training@weblakes.com
Info: Registration Form

Lakes Environmental Closed for Ontario's Family Day Holiday
Lakes Environmental's Waterloo office will be closed on Monday, February 18th, 2013 to observe Ontario's Family Day Holiday. Our Dallas office will remain open on this day. If you have any needs during that time, please e-mail us at support@webLakes.com and we will respond to your inquiry as soon as possible.
Upcoming Courses
Date

Course

Location

Registration

Jan 28-29, 2013

FULL

Feb 25-26, 2013
Feb 27- Mar 1, 2013

Apr 8-9, 2013

Apr 29-30, 2013
May 1-3, 2013

May 13-14, 2013
May 15-16, 2013

AERMOD
CALPUFF
For more information on the above courses, including registration information, location, and course outlines, please visit our web site: https://www.weblakes.com/courses.html.
Modeling Tip
Time Zone Adjustments in AERMET
AERMET is the meteorological preprocessor to the AERMOD model. The program reads hourly surface data along with twice-daily upper air soundings and produces two files to be input to AERMOD: the surface file (.SFC) and profile file (.PFL).
Users can choose from a variety of input file formats when processing meteorological data in AERMET. Each file format has unique specifications, therefore, and it is important the modelers understand the differences. One such difference is the reported time convention.
Surface Met Data
Most hourly surface met data files input to AERMET report time as Local Standard Time (LST). This means the data are reported in the local time zone for the location where the data were recorded. The exception to this convention is NCDC TD-3505 (ISHD) format which is reported in Greenwich Mean Time (GMT).
When entering TD-3505 to AERMET View, the modeler must make sure to adjust the Met Data Reported Time field: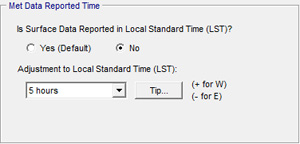 The example shown in image above is for a weather station in the Eastern Standard time zone (-5 hours). Note that the adjustment is positive for stations in the Western Hemisphere and negative for Eastern Hemisphere stations.
Onsite Met Data
Since the exact format for onsite data is specified by the user, it is important that the user know what the reported time convention is for their dataset.
Upper Air Met Data
Both formats of upper air met data accepted by AERMET use Greenwich Mean Time (GMT) as the reported time. After adding the data file, simply select adjustment from GMT to Local Time. Once again, positive adjustments indicate stations in the Western Hemisphere.

Providing the proper time zone adjustment for each input parameter is important because incorrectly identifying the adjustment can lead to significant errors in the AERMOD-ready meteorological data files (*.SFC, *.PFL).
One very common error is forgetting to adjust the upper air data to local time. If the upper air adjustment is left at 0 hours for a station in North America, AERMET will not properly identify sunrise and sunset times which can lead to 25-50% of a year being identified as missing.
The image below shows the error messages from an AERMOD run that used incorrectly shifted meteorological data: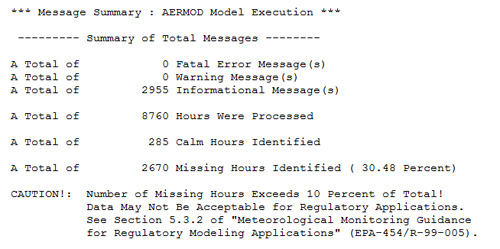 If you process your own meteorological data and receive a similar warning in your AERMOD output file, start by checking the time zone adjustments in your AERMET run.
Note:
We are currently accepting submissions for the Monthly Modeling Tip section that appears in our newsletters. If you have a modeling tip that may benefit our readers, please send it to us at support@webLakes.com. Your name and the name of your organization will appear below the tip providing you with an opportunity for increased exposure.
Articles
Update: California Carbon Caps and Market Trading
January 14, 2013 - Carbon allowances are now available for sale in California. Companies that emit more than 25,000 tons of carbon-dioxide equivalent a year (CO2e) in the power, oil, and industrial sectors will now have to turn in permits for every ton they emit this year and the years to come. Things are moving fast in California right now, so here's a primer on what's happening and what to expect for the coming months.
Researchers Reveal Strategies for Mercury Reduction in Time for Negotiations
January 9, 2013 - International negotiators will come together next week in Geneva, Switzerland for the fifth and final meeting to address global controls on mercury. Ahead of the negotiations, researchers from MIT and Harvard University are calling for aggressive emissions reductions and clear public health advice to reduce the risks of mercury.
Minister Kent to Propose a Regulatory Amendment to the Renewable Fuels Regulations
Gatineau, QC - December 31, 2012 - The Honourable Peter Kent, Minister of the Environment, today announced his intention to propose an amendment to the Renewable Fuels Regulations that would see a permanent national exemption from the 2% renewable content requirement in home heating oil, as well as a 6-month extension to the exemption from the 2% renewable content requirement for diesel fuel for Canada's Maritime Provinces.
EPA Finalizes Clean Air Standards for Industrial Boilers, Incinerators and Cement Kilns
Washington - December 21, 2012 - Today, the U.S. Environmental Protection Agency (EPA) finalized changes to Clean Air Act standards for boilers and certain incinerators that will achieve extensive public health protections by slashing toxic air pollution, including mercury and particle pollution, while at the same addressing feedback provided by industry and labor groups, increasing the rule's flexibility and dramatically reducing costs. As a result, 99 percent of the approximately 1.5 million boilers in the U.S. are not covered or can meet the new standards by conducting periodic maintenance or regular tune-ups.
The final adjustments to the standards are based on an extensive analysis of data and input from states, environmental groups, industry, lawmakers and the public. As a result of information gathered through this review, including significant dialogue and meetings with public health groups, industry, and the public, the final rule dramatically cuts the cost of implementation by individual boilers that EPA proposed in 2010. At the same time, these rules will continue to deliver significant public health benefits. EPA estimates that for every dollar spent to reduce these pollutants, the public will see $13 to $29 in health benefits, including fewer instances of asthma, heart attacks, as well as premature deaths.
EPA Announces Next Round of Clean Air Standards to Reduce Harmful Soot Pollution
Washington - December 14, 2012 - In response to a court order, the U.S. Environmental Protection Agency (EPA) today finalized an update to its national air quality standards for harmful fine particle pollution (PM2.5), including soot, setting the annual health standard at 12 micrograms per cubic meter. By 2020, ninety-nine percent of U.S. counties are projected to meet revised health standard without any additional actions.
Nepal, Bhutan to Assess Air Pollutants
December 13, 2012 - The Himalayan countries of Nepal and Bhutan will, in 2013, have two permanent air monitoring observatories set up by the International Centre for Integrated Mountain Development (ICIMOD) as part of a programme to reduce black carbon and other short-lived climate-forcing pollutants (SLCPs).
There has been increasing international attention on SLCPs — small particles and gases like black carbon, methane, and ozone — because of their warming effect on climate. Acting in decades — rather than the centuries taken by greenhouse gases like carbon di-oxide — SLCPs negatively impact human health and agricultural output.
Upcoming Conferences & Trade Shows
Date

Conference

Location

Jan 28-30, 2013

EUEC 2013
More Info

Phoenix, AZ, USA

Feb 14, 2013

EnerCan West 2013: Energy and the Environment
More Info

Winnipeg, MB, Canada

Mar 4-8, 2013

International Conference on Environmental Pollution, Restoration and Management
More Info

Hanoi, Vietnam

Mar 13-14, 2013

The Air Quality and Emissions Show (AQE 2013)
More Info

Telford, England, UK

Mar 19-21, 2013

AMERICANA 2013
More Info

Montreal, QC, Canada

Mar 19-21, 2013

Guideline on Air Quality Models: The Path Forward
More Info

Raleigh, NC, USA

Mar 24-29, 2013

37th Stationary Source Sampling & Analysis for Air Pollutants Conference
More Info

Hilton Head, SC, USA

Apr 29 - May 1, 2013

CANECT 2013
More Info

Mississauga, ON, Canada

Jun 3-5, 2013

21st International Conference on Modelling, Monitoring and Management of Air Pollution
More Info

Siena, Italy

Jun 25-28, 2013

A&WMA Annual Conference and Exhibition
More Info

Chicago, IL, USA
About this Newsletter
This newsletter contains information gleaned from various sources on the web, with complete links to the sources cited. Organizations cited are in no way affiliated with Lakes Environmental Software.
Lakes Environmental Software is a leading environmental IT company that offers a complete line of air dispersion modeling, risk assessment, emissions inventory, and emergency release software as well as training and custom software services. With satisfied users located around the globe, Lakes Environmental Software will continue to revolutionize the environmental software field.
For more information please visit our web site at: www.webLakes.com. You may also contact us by phone at (519) 746-5995 or by fax at (519)746-0793.
All comments and suggestions are welcome. You can e-mail us at: support@webLakes.com.