Lakes Environmental e-Newsletter
Emissions Inventory - Atmospheric Science - IT Solutions


In this issue:
News & Events
Upcoming Courses
Modeling Tip: Receptor Elevation Options in AERMOD View
Articles
Upcoming Conferences & Trade Shows
News & Events
Lakes Environmental 2014 Course Schedule
Lakes Environmental is currently selecting locations for their 2014 AERMOD and CALPUFF course schedule. If you are interested in attending an AERMOD or CALPUFF course near you or if you would like to suggest a course location, please contact us by e-mail at training@weblakes.com.
Since 1998, Lakes Environmental has been providing air dispersion modeling training to professionals from EPA offices, state agencies, consulting firms, and industry from across the globe and we continue to achieve outstanding results.
For more information regarding our Air Dispersion Modeling course schedule for the remainder of this year, please visit our website.
Register for one of our world class courses today!
AERMOD and CALPUFF Courses in San Francisco – Sep 9-13, 2013
AERMOD & CALPUFF Course – São Paulo, Brazil – Oct 28-31, 2013 - New Date!
Lakes Environmental has recently announced new dates and this year's location for the AERMOD and CALPUFF courses in São Paulo. Training will be taking place at the Blue Tree Towers Paulista in São Paulo from October 28 to 31, 2013. If you are interested in registering for these courses, please contact our local distributor, Silvio de Oliveira of SECA.
Lakes Environmental at A&WMA 2013 Conference & Exhibition
Lakes Environmental would like to thank everyone who stopped by our booth in Chicago at A&WMA's 106th Annual Conference and Exhibition from June 25 to 28, 2013.
We trust that you enjoyed your time at this year's conference and look forward to assisting you in your endeavors through the coming year. See you in 2014 at A&WMA's conference in Long Beach, California!
Those who visited our booth had the chance to participate in a draw for a complimentary copy of our AERMOD View, CALPUFF View or AERSCREEN View software packages.




We would like to take this opportunity to offer our congratulations to our software winners.




Congratulations to our Software Winners!




AERMOD View
Prakash Doraiswamy of RTI International




CALPUFF View
Daniel Weiss of Duke Energy Indiana




AERSCREEN View
Shanique Grant of Ohio University
Lakes Environmental Closed for Ontario Civic Holiday
Lakes Environmental's Waterloo office will be closed on Monday, August 5, 2013 to observe the Ontario Civic holiday. Though our Waterloo sales office will be closed, our Dallas support office will remain open on this day. If you have any needs during that time, please e-mail us at support@webLakes.com and we will respond to your inquiry as soon as possible.
Upcoming Courses
Date

Course

Location

Registration

Sep 9-10, 2013
Sep 11-13, 2013

Sep 16-17, 2013

Oct 28-29, 2013
Oct 30-31, 2013

Nov 18-19, 2013
For more information on the above courses, including registration information, location, and course outlines, please visit our web site: https://www.weblakes.com/courses.html.
Modeling Tip
Receptor Elevation Options in AERMOD View™
The AERMOD model can calculate ground-level concentrations in either flat or elevated terrain. AERMAP is used to calculate model object elevations, and its output can be passed to AERMOD in one of two ways:
The model object LOCATION cards written to the AERMAP output files can be copied and pasted into the AERMOD input file, or
The AERMOD input file can point to the AERMAP output files to be read as model input
The second method is more efficient for receptors than sources since external source files must also contain source parameter information. Both of these options have been incorporated into AERMOD View to make modeling easy.
This option is available in the Control Pathway under the Terrain Options heading: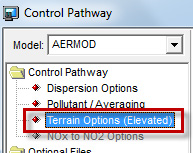 Modelers can choose between Flat, Elevated, or Flat & Elevated terrain (an option which allows you to dictate that some sources should be modeled with flat terrain algorithms while others are modeled with elevated). When modeling with Elevated terrain, AERMOD View displays options for adding receptor elevations to the project.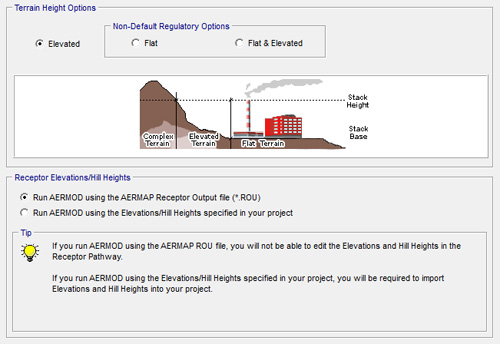 The default option is to Run AERMOD using AERMAP Receptor Output file (*.ROU). This file is created automatically by AERMOD View's Terrain Processor and contains the following information for each receptor point:
X-coordinate
Y-coordinate
Elevation
Hill Height
The other option will automatically write the elevations calculated by AERMAP to AERMOD View's Receptor Pathway tables.
The first option helps to reduce errors because the user cannot modify the receptor elevation values. The catch is that any desired changes in the receptors (e.g., moving a receptor, deleting receptors) requires the modeler to rerun AERMAP in order for the changes to be recognized by the model.
Note:
We are currently accepting submissions for the Monthly Modeling Tip section that appears in our newsletters. If you have a modeling tip that may benefit our readers, please send it to us at support@webLakes.com. Your name and the name of your organization will appear below the tip providing you with an opportunity for increased exposure.
Articles
EU Proposes to Curb Oversupply of Carbon Credits
July 8, 2013 - Carbon credits are created by emissions controls and by other manufacturing practices and they can be sold to other facilities to offset emissions that cannot be economically reduced. These are attractive when a facility cannot meet a new regulation, and is near the end of its useful life, making it uneconomic to install expensive new emissions controls. Carbon credits can also be held or eliminated to reduce available credits. This results in a loss of potential value to those who created them, but is good for the environment since this reduces total Carbon emissions. The EU is proposing to temporarily curb an oversupply in Carbon credits.
Update: UN Climate Change Talks Start Making Progress
June 15, 2013 - The United Nations climate change body said it has made concrete progress towards a new universal agreement on climate change during its latest round of talks which wrapped up this week in Germany.
"This has been an important meeting because Governments are moving faster now from the stage of exploring options to designing and implementing solutions," said Christiana Figueres, Executive Secretary of the UN Framework Convention on Climate Change (UNFCCC).
China Sets New Rules Aimed at Curbing Air Pollution
June 15 2013 - Hong Kong - China's cabinet has adopted 10 measures to improve air quality in the latest move aimed at responding to the dense smog that has repeatedly enveloped Beijing and other major Chinese cities in recent years.
Many of the measures had previously been enacted by some cities, or were the subject of national experiments that had not yet received the imprimatur of the cabinet, which is known as the State Council. The measures, adopted Friday, were announced Saturday in state-controlled news media.
Harper Government Moves to Strengthen Regulations on Air Pollution to Provide Cleaner Air to Canadians
June 7, 2013 - Canada's Environment Minister, the Honourable Peter Kent, today announced that, in order to provide cleaner air to Canadians, the Government of Canada intends to align its transportation-related air pollution emission standards with the more stringent United States proposed Tier 3 standards.
Greenhouse Gases: 2011 Emissions Lower Than Previously Estimated
May 29, 2013 - Greenhouse gases fell by 3.3 % in the EU in 2011, leading to the lowest level of emissions in reports going back to 1990. The decrease in 2011 was also the third largest over this period, according to official data compiled by the European Environment Agency (EEA) and reported by the EU to the United Nations Framework Convention on Climate Change (UNFCCC).
Upcoming Conferences & Trade Shows
Date

Conference

Location

Aug 19-22, 2013

2013 Tribal Lands and Environment Forum
More Info

Santa Ana Pueblo, NM, USA

Sep 5-7, 2013

13th International Conference on Environmental Science and Technology
More Info

Athens, Greece

Sep 10-12, 2013

Traversing New Terrain in Meteorological Modeling, Air Quality and Dispersion
More Info

Davis, CA, USA

Sep 25-27, 2013

Clean Energy Expo Asia
More Info

Bangkok, Thailand

Sep 29 - Oct 4, 2013

16th IUAPPA World Clean Air Congress
More Info

Cape Town, South Africa

Oct 3-4, 2013

Science for the Environment Conference
More Info

Aarhus, Denmark

Oct 16-18, 2013

Remediation Technologies Symposium (RemTech) 2013
More Info

Banff, AB, Canada

Dec 3-6, 2013

Pollutec Horizons 2013
More Info

Paris, France
About this Newsletter
This newsletter contains information gleaned from various sources on the web, with complete links to the sources cited. Organizations cited are in no way affiliated with Lakes Environmental Software.
Lakes Environmental Software is a leading environmental IT company that offers a complete line of air dispersion modeling, risk assessment, emissions inventory, and emergency release software as well as training and custom software services. With satisfied users located around the globe, Lakes Environmental Software will continue to revolutionize the environmental software field.
For more information please visit our web site at: www.webLakes.com. You may also contact us by phone at (519) 746-5995 or by fax at (519)746-0793.
All comments and suggestions are welcome. You can e-mail us at: support@webLakes.com.