Lakes Environmental e-Newsletter
Emissions Inventory - Atmospheric Science - IT Solutions


In this issue:
News & Events
Upcoming Courses
Modeling Tip: Puff Tracking in CALPUFF View
Articles
Upcoming Conferences & Trade Shows
News & Events
CALPUFF View™ Version 6 Released!
Lakes Environmental released CALPUFF View Version 6 to its growing base of users on March 6, 2013.
Please find below a list of the exciting new features implemented in this latest release:
Automated download of worldwide geo-referenced tile maps (satellite and street maps)*
Support for the latest EPA Approved Version of CALPOST (Version 6.221, level 080724)
New import formats for Base Maps (PNG and GIF)
Support for additional Map Projections: PS, EM, LAZA
Microsoft Windows 8 compatible, 32-bit and 64-bit

*The tile maps feature is only available to CALPUFF View users in current maintenance.
For a detailed listing of updates available in CALPUFF View Version 6, please check out our latest release notes.
If you are currently in maintenance for CALPUFF View and did not receive an email regarding this update, please contact us at support@webLakes.com.
If you are a user of CALPUFF View but are no longer in maintenance please contact sales@webLakes.com for pricing to get up and running on version 6.
Recent Updates from the U.S. EPA SCRAM Website
The U.S. EPA recently made several additions to the Support Center for Regulatory Atmospheric Modeling (SCRAM) webpage:







AERMOD & CALPUFF Courses in Las Vegas – April 29 to May 3, 2013
Lakes Environmental Announces New Custom Meteorological Data Service
The recent US EPA AERMOD model update, dated 12345, created a unique challenge for many regulatory agencies as their prescribed meteorological data sets, which are required for regulatory modeling and permitting, may now be:

Outdated
No longer compatible with the current version of AERMOD
Out of compliance with current EPA methods
Lakes Environmental is offering a special service for regulatory agencies to generate updated meteorological data sets, which can be confidently prescribed knowing they are in compliance with all recent EPA model changes.
Contact us today to learn more about our special agency pricing and how this custom meteorological service can help to ensure your prescribed data sets are fully up to date.
Lakes Environmental at CANECT 2013
Lakes Environmental will once again be exhibiting at the Canadian Environmental Conference & Tradeshow, CANECT 2013, in Mississauga, Ontario, from April 30 to May 1, 2013.
Come and visit us at booth 1438 for information about our software products, as well as your chance to win a FREE copy of our AERMOD View software! To obtain conference information, please visit the CANECT website.
Lakes Environmental Closed for Good Friday Holiday
Lakes Environmental's offices will be closed on Monday, March 29th, 2013 to observe the Good Friday Holiday. If you have any needs during that time, please e-mail us at support@webLakes.com and we will contact you on Monday April 1, 2013 when our offices reopen.
Upcoming Courses
Date

Course

Location

Registration

Apr 8-9, 2013

Full

Apr 8-9, 2013

Apr 11-12, 2013

Apr 29-30, 2013
May 1-3, 2013

May 13-14, 2013
May 15-16, 2013

Nov 4-5, 2013
Nov 6-7, 2013

AERMOD
CALPUFF

São Paulo, Brazil

Registration
Coming Soon
*This course is being organized by CASANZ (Clean Air Society of Australia and New Zealand)
For more information on the above courses, including registration information, location, and course outlines, please visit our web site: https://www.weblakes.com/courses.html.
Modeling Tip
Puff Tracking in CALPUFF View™
CALPUFF is an air dispersion model that advects 'puffs' of material emitted from modeled sources, simulating dispersion and transformation processes along the way. These puffs can be displayed graphically using debug information written to the main CALPUFF output file (CALPUFF.LST). With CALPUFF View, modelers can visualize puffs as animations in Google Earth.
NOTE: The Puff Tracking option produces a very large CALPUFF.LST file that can reach many gigabytes in size. Therefore, you should set the modeling period for this option to a small number of days in case the CALPUFF model is being run for a longer period of time.
Setting Up Puff Tracking
Step 1: Select the menu option CALPUFF | Output Options and then click on the Puff Tracking tab.
Step 2: Check the box for the Output Debug Option (DEBUG.DAT) to write puff parameters to the output file.
Step 3: Specify the number of Puffs to Track. If more puffs are emitted in the modeling period than the number tracked, the animation will stop upon reaching the highest tracking number.
Step 4: Identify the Modeling Period. You can select the date in YYYY/MM/DD HH:MM:SS format or select how many Met Periods to process. Period length depends upon the Time Step selected in the CALPUFF | Run Information options. For example, if your time step is 3600 seconds (1 hour), then each Met Period represents a single hour.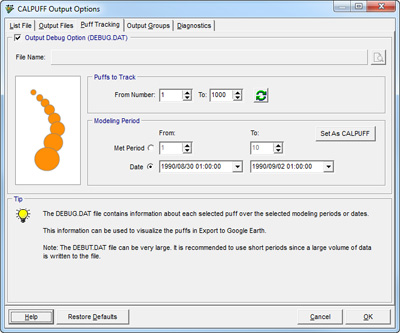 Puff Tracking Options in CALPUFF View
After successfully completing a CALPUFF model run, the puffs can be exported for animation.
Animating Puffs
Step 1: Select Export | Google Earth from the menu.
Step 2: Select the folder in which to save the KML files; by default, the folder is named .KML, and is located inside the project folder. To change this, select the Select Folder button (

) and specify a new location.
Step 3: In the Layers to Export list, make sure the Puffs Representation layer is checked. Leave checked any other layers that you wish to include in the exported KML file. Click the checkbox to uncheck any layers that you do not wish to include.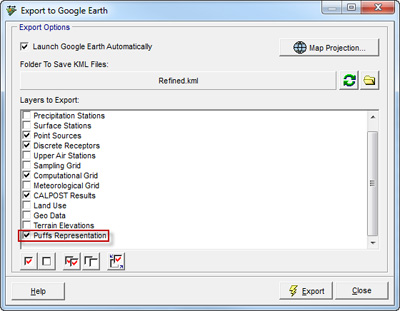 Step 4: Click the Export button. If the Launch Google Earth Automatically option is selected and Google Earth is installed on your computer, the program will begin loading.
Step 5: The Google Earth application opens displaying all the CALPUFF View layers for your project. To start the Puff Tracking animation, you need to press the

button. For animation settings, press the

button.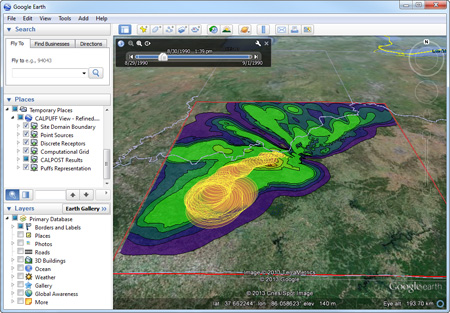 Note:
We are currently accepting submissions for the Monthly Modeling Tip section that appears in our newsletters. If you have a modeling tip that may benefit our readers, please send it to us at support@webLakes.com. Your name and the name of your organization will appear below the tip providing you with an opportunity for increased exposure.
Articles
Global Warming Being Slowed by Volcanic Eruptions
March 2, 2013 - A team led by the University of Colorado Boulder looking for clues about why Earth did not warm as much as scientists expected between 2000 and 2010 now thinks the culprits are hiding in plain sight -- dozens of volcanoes spewing sulfur dioxide.
The study results essentially exonerate Asia, including India and China, two countries that are estimated to have increased their industrial sulfur dioxide emissions by about 60 percent from 2000 to 2010 through coal burning, said lead study author Ryan Neely, who led the research as part of his CU-Boulder doctoral thesis. Small amounts of sulfur dioxide emissions from Earth's surface eventually rise 12 to 20 miles into the stratospheric aerosol layer of the atmosphere, where chemical reactions create sulfuric acid and water particles that reflect sunlight back to space, cooling the planet.
Canada Continues to Align Greenhouse Gas Emissions Measures with the United States
MISSISSAUGA, ONT - February 25, 2013 - Today the Honourable Peter Kent, Canada's Environment Minister, announced final regulations to improve fuel efficiency and reduce greenhouse gas (GHG) emissions from new on-road heavy-duty vehicles and engines. This is another step in our plan to align our environmental regulations with the United States.
"With these tough new measures, GHG emissions from 2018 model-year heavy-duty vehicles will be reduced by up to 23 per cent," said Minister Kent. "The regulations will also lead to improved fuel efficiency. For example, a semi-truck operator driving a 2018 model-year vehicle will save up to $8,000 per year in fuel."
The Regulations will establish progressively more stringent standards for 2014 to 2018 model-year heavy-duty vehicles such as full-size pick-ups, semi-trucks, garbage trucks and buses. The Regulations will remain in full effect for all subsequent model-year vehicles, which will be required to adhere to the 2018 standard, and will result in GHG reductions of 19.1 megatonnes over the lifetime of the 2014-2018 model-year vehicles.
EPA Updates Greenhouse Gas Emissions Data from Large Facilities
WASHINGTON - February 5, 2013 - Today, the Environmental Protection Agency (EPA) posted the second year of greenhouse gas (GHGs) emissions data on its website, which provides public access to emissions data by sector, by greenhouse gas, and by geographic region such as county or state.
Greenhouse gases are the primary driver of climate change, which can lead to hotter, longer heat waves that threaten the health of the sick, poor or elderly; increases in ground-level ozone pollution linked to asthma and other respiratory illnesses; as well as other threats to the health and welfare of Americans.
"Transparency ensures a better informed public, which leads to a better protected environment," said Gina McCarthy, assistant administrator for EPA's Office of Air and Radiation. "With this second data release, communities, businesses and others can track and compare facilities' greenhouse gas emissions and identify opportunities to cut pollution, minimize wasted energy, and save money."
Newly Found Health Effects of Air Pollution Call for Stronger EU Air Policies
January 31, 2013 - Long-term exposure to fine particles (PM2.5) can trigger atherosclerosis, adverse birth outcomes and childhood respiratory diseases, according to a World Health Organisation (WHO) review released today. REVIHAAP – the "Review of evidence on health aspects of air pollution" – also suggests a possible link with neurodevelopment, cognitive function and diabetes, and strengthens the causal link between PM2.5 and cardiovascular and respiratory deaths. The research was carried out at the request of the European Commission in the framework of the 2013 review of the European Union's air policy.
EU Commissioner for Environment Janez Potocnik said: "EU air policy must be based on the latest science. That is why I asked the WHO to undertake this research. The links it has found between air pollution and human health reinforce the case for scaling up our policy: it will be a key input to the 2013 air quality policy review".
"Only a few years ago in the absence of clear evidence, air pollution standards and regulations were not sufficiently targeting human health", said Zsuzsanna Jakab, WHO Regional Director for Europe. "Years of WHO-coordinated research have provided the first quantitative estimates of the burden of disease from particulate matter and have now established links between air pollutants and health outcomes. We are confident that this new knowledge will ultimately lead to more stringent air pollution control policies to protect the health of European citizens".
Environment: A Fresh Legal Approach to Improving Air Quality in Member States
January 24, 2013 - Ambient air quality is poor in many EU Member States – despite an obligation for governments to ensure good air quality for citizens. The situation is so serious that the Commission is currently taking action against 17 States with a consistent record of poor air quality.
Today, as part of a fresh approach to the problem, Bulgaria, Latvia and Slovenia are being asked to urgently address an on-going issue that kills more citizens than road traffic accidents every year.
The problem concerns tiny particles known as PM10s, which can cause respiratory problems, lung cancer and premature death. Poor air quality is a direct threat to citizens exposed to pollution from fine particles (PM10), which originates from sources such as road traffic, industrial activity and domestic heating. According to the latest research, a majority (56 %) of Europeans believe that air quality has deteriorated in the last 10 years (see IP/13/6).
In the past, the Commission has successfully taken Italy, Portugal, Slovenia and Sweden to Court for failing to ensure good air quality for citizens. But the Court rulings that resulted only covered the failure to comply with air quality limit values in the past, providing little incentive for Member States to act on future exceedances.
Upcoming Conferences & Trade Shows
Date

Conference

Location

Mar 24-29, 2013

37th Stationary Source Sampling & Analysis for Air Pollutants Conference
More Info

Hilton Head, SC, USA

Apr 29 - May 1, 2013

CANECT 2013
More Info

Mississauga, ON, Canada

May 29-31, 2013

Carbon Expo 2013
More Info

Barcelona, Spain

Jun 3-5, 2013

21st International Conference on Modelling, Monitoring and Management of Air Pollution
More Info

Siena, Italy

Jun 18-19, 2013

Emissions 2013
More Info

Ypsilanti, MI, USA

Jun 25-28, 2013

A&WMA Annual Conference and Exhibition
More Info

Chicago, IL, USA

Jul 15-17, 2013

3rd International Conference on Environmental Pollution and Remediation (ICEPR 2013)
More Info

Toronto, ON, Canada

Sep 5-7, 2013

13th International Conference on Environmental Science and Technology
More Info

Athens, Greece
About this Newsletter
This newsletter contains information gleaned from various sources on the web, with complete links to the sources cited. Organizations cited are in no way affiliated with Lakes Environmental Software.
Lakes Environmental Software is a leading environmental IT company that offers a complete line of air dispersion modeling, risk assessment, emissions inventory, and emergency release software as well as training and custom software services. With satisfied users located around the globe, Lakes Environmental Software will continue to revolutionize the environmental software field.
For more information please visit our web site at: www.webLakes.com. You may also contact us by phone at (519) 746-5995 or by fax at (519)746-0793.
All comments and suggestions are welcome. You can e-mail us at: support@webLakes.com.