Lakes Environmental e-Newsletter
Emissions Inventory - Atmospheric Science - IT Solutions


In this issue:
News & Events
Upcoming Courses
Modeling Tip: How to Model Rain-Capped Stacks in AERMOD View
Articles
Upcoming Conferences & Trade Shows
News & Events
Just Announced! Exclusive Upgrade Promotion for AERMOD View™
Lakes Environmental has recently announced exclusive promotional pricing for upgrading your AERMOD View license.
If your license has been out of maintenance for over one year, you are missing out on some exciting and powerful new features! For a detailed listing of the new features implemented in the latest version of AERMOD View, please check out our release notes.




If you did not receive our campaign e-mail and the maintenance on your AERMOD View license has been expired for over a year, contact us today.




Don't miss out on this unique offer! Exclusive pricing is only available until June 10, 2013.
AERMOD and CALPUFF Courses in San Francisco – September 9-13, 2013
Lakes Environmental is heading to San Francisco to present a full week of AERMOD and CALPUFF training from September 9 to 13, 2013.
Attending these courses is the best way to stay current with recent regulatory and methodology changes. Lakes Environmental uses cutting edge tools that will revolutionize the way you do air dispersion modeling!




Register today to take advantage of our early registration discounts!




Early Registration Discount Ends: August 9, 2013




Course: AERMOD (Sep 9-10, 2013)
Course: CALPUFF (Sep 11-13, 2013)
Location:San Francisco, California
Contact: training@webLakes.com
Info: Registration Form
Lakes Environmental at A&WMA Conference and Exhibition
Lakes Environmental will be in Chicago, Illinois from June 25-28, 2013 for the 106th Annual Air & Waste Management Conference and Exhibition.




Drop by booth #1005 to meet our knowledgeable staff and for your chance to win a FREE copy of our AERMOD View, CALPUFF View or AERSCREEN View air dispersion modeling software!




Visit the conference website to register for this annual event. This year's conference offers excellent opportunities for the environmental professional. You don't want to miss it!
Professional Development Courses at 2013 A&WMA Conference and Exhibition
As in previous years, the Air & Waste Management Association will be offering a variety of high quality professional development courses prior to the annual conference in Chicago. This year, Lakes Environmental's President, Dr. Jesse Thé, will be teaching one-day introductory courses on AERMOD and CALPUFF air dispersion modeling. Please find below a listing of these courses.
Lakes Environmental Closed for Victoria Day Holiday
Lakes Environmental's Waterloo office will be closed on Monday, May 20, 2013 to observe the Victoria Day holiday. Our Dallas office will remain open on this day. If you have any needs during that time, please e-mail us at support@webLakes.com and we will respond to your inquiry as soon as possible.
Upcoming Courses
Date

Course

Location

Registration

Sep 9-10, 2013
Sep 11-13, 2013

San Francisco, CA

Sep 23-24, 2013

Toronto, ON

Nov 4-5, 2013
Nov 6-7, 2013

AERMOD
CALPUFF

São Paulo, Brazil

Registration
Coming Soon

Nov 18-19, 2013

Miami, FL

Registration
Coming Soon
For more information on the above courses, including registration information, location, and course outlines, please visit our web site: https://www.weblakes.com/courses.html.
Modeling Tip
How to Model Rain-Capped Stacks in AERMOD View
Vertical stacks may employ a cap or covering to prevent precipitation from accumulating within the release point. In addition to blocking precipitation, the cap also inhibits the vertical momentum of the effluent. Modelers must carefully determine stack parameters for input to air dispersion models like AERMOD so that the model correctly estimates the plume rise from the stack.
There are two ways to model capped stacks in AERMOD:

Using a point source with modified source parameters, and
Specifying the BETA capped source type with actual source parameters.

Method 1
The first method is based on a U.S. EPA Model Clearinghouse Memorandum dated July 9, 1993. The memo addressed the differences in exit velocity and stack height seen in capped stacks due to the suppression of vertical momentum. The table below summarizes stack parameter changes for using Method 1.
| | | |
| --- | --- | --- |
| Source Parameters | NO Building Downwash | WITH Building Downwash |
| Gas Exit Velocity | Set to 0.001 m/s | Set to 0.001 m/s |
| Stack Inner Diameter | Adjust to maintain flow rate | Specify actual diameter |
| Stack Height | Reduce by 3 * diameter | Specify actual release height |
| Miscellaneous | Disable stack tip downwash | -- |

Method 2
Method 2 utilizes the BETA option for capped releases. This option is enabled through the Control Pathway Non-Default settings: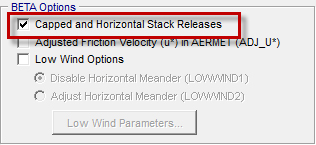 This option will add an additional option to the Source Inputs window for point sources – the Release Type.
Select "Capped" from the drop-down menu and specify the actual stack parameters. AERMOD will internally modify the source parameters to account for the cap.
Note:
We are currently accepting submissions for the Monthly Modeling Tip section that appears in our newsletters. If you have a modeling tip that may benefit our readers, please send it to us at support@webLakes.com. Your name and the name of your organization will appear below the tip providing you with an opportunity for increased exposure.
Articles
EPA Publishes 18th Annual U.S. Greenhouse Gas Inventory
WASHINGTON - April 15, 2013 - Today, the U.S. Environmental Protection Agency (EPA) released its 18th annual report of overall U.S. greenhouse gas (GHG) emissions showing a 1.6 percent decrease in 2011 from the previous year. Recent trends can be attributed to multiple factors including reduced emissions from electricity generation, improvements in fuel efficiency in vehicles with reductions in miles traveled, and year-to-year changes in the prevailing weather.
The Governments of Canada and of Alberta Launch New Online Portal for Accessing Oil Sands Environmental Monitoring Data and Information
OTTAWA - April 22, 2013 - Canada's Environment Minister, the Honourable Peter Kent, and Alberta's Environment and Sustainable Resource Development Minister, the Honourable Diana McQueen, today announced that access to federal and provincial environmental monitoring data on air, water, land and biodiversity in the oil sands is now available through an online data portal (www.JointOilSandsMonitoring.ca). The new portal represents the next stage of progress for the Joint Canada–Alberta Implementation Plan for Oil Sands Monitoring announced in February 2012.
Japan's National Greenhouse Gas Emissions in Fiscal Year 2011 (Final Figures)
April 12, 2013 - Parties to the United Nations Framework Convention on Climate Change (UNFCCC) are required to prepare national greenhouse gas (GHG) inventories and submit them to the UNFCCC secretariat under Article 4 of the UNFCCC and Article 7 of the Kyoto Protocol to the UNFCCC. Moreover, Article 7 of the Act on Promotion of Global Warming Countermeasures, which provides for domestic measures for the UNFCCC, requires the government of Japan to annually estimate and make public Japan's GHG emissions and removals.
New Zealand on track to meet Kyoto commitments
April 12, 2013 - Climate Change Minister Tim Groser today welcomed New Zealand's Greenhouse Gas Inventory and Net Position which show we are on track to meet our Kyoto commitments.
The Greenhouse Gas Inventory provides a historical snapshot of New Zealand's greenhouse gas emissions, while the Net Position forecasts by how much New Zealand's emissions will be above or below our Kyoto Protocol target.
CO2 Record Highs
April 24, 2013 - How high can the CO2 concentration in the air go? It is a bit like looking at the stock market except that the CO2 does not go down. For the first time in human history, concentrations of the greenhouse gas carbon dioxide (CO2) could rise above 400 parts per million (ppm) for sustained lengths of time throughout much of the Northern Hemisphere as soon as May 2013. To provide a resource for understanding the implications of rising CO2 levels, Scripps Institution of Oceanography at UC San Diego is providing daily updates of the Keeling Curve, the record of atmospheric CO2 measured at Hawaii's Mauna Loa.
Upcoming Conferences & Trade Shows
Date

Conference

Location

May 29-31, 2013

Carbon Expo 2013
More Info

Barcelona, Spain

Jun 3-5, 2013

21st International Conference on Modelling, Monitoring and Management of Air Pollution
More Info

Siena, Italy

Jun 18-19, 2013

Emissions 2013
More Info

Ypsilanti, MI, USA

Jun 25-28, 2013

A&WMA Annual Conference and Exhibition
More Info

Chicago, IL, USA

Jul 15-17, 2013

3rd International Conference on Environmental Pollution and Remediation (ICEPR 2013)
More Info

Toronto, ON, Canada

Aug 19-22, 2013

2013 Tribal Lands and Environment Forum
More Info

Santa Ana Pueblo, NM, USA

Sep 5-7, 2013

13th International Conference on Environmental Science and Technology
More Info

Athens, Greece

Sep 10-12, 2013

Traversing New Terrain in Meteorological Modeling, Air Quality and Dispersion
More Info

Davis, CA, USA

Sep 25-27, 2013

Clean Energy Expo Asia
More Info

Bangkok, Thailand

Oct 3-4, 2013

Science for the Environment Conference
More Info

Aarhus, Denmark

Oct 16-18, 2013

Remediation Technologies Symposium (RemTech) 2013
More Info

Banff, AB, Canada
About this Newsletter
This newsletter contains information gleaned from various sources on the web, with complete links to the sources cited. Organizations cited are in no way affiliated with Lakes Environmental Software.
Lakes Environmental Software is a leading environmental IT company that offers a complete line of air dispersion modeling, risk assessment, emissions inventory, and emergency release software as well as training and custom software services. With satisfied users located around the globe, Lakes Environmental Software will continue to revolutionize the environmental software field.
For more information please visit our web site at: www.webLakes.com. You may also contact us by phone at (519) 746-5995 or by fax at (519)746-0793.
All comments and suggestions are welcome. You can e-mail us at: support@webLakes.com.