Lakes Environmental e-Newsletter
Emissions Inventory - Atmospheric Science - IT Solutions


In this issue:
News & Events
Upcoming Courses
Modeling Tip: Using Models Check in CALPUFF View
Articles
Upcoming Conferences & Trade Shows
News & Events
NEW! Lakes Environmental Opens Online Store!
Lakes Environmental is pleased to officially announce the opening of our new online store!




Through our online store, visitors have the opportunity to purchase a wide array of our off-the-shelf air dispersion modeling software products, meteorological data and training at the click of a button.




Purchasing is fast and easy! Try it out today!




If you have any questions regarding our software products and services, or our online store, please contact our friendly and knowledgeable Sales Staff.



Lakes & NACA AERMOD & CALPUFF Courses in Johannesburg – Sep 29 - Oct 3, 2014
Lakes & CASANZ AERMOD Course in Brisbane – Oct 7-9, 2014
AERMOD & CALPUFF Courses in London – Oct 20-23, 2014
Lakes Environmental Closed for Labor Day Holiday
Lakes Environmental's Waterloo and Dallas offices will be closed on Monday, September 1, 2014 to observe the Labor Day holiday. If you have any needs during that time, please e-mail us at support@webLakes.com and we will contact you on Tuesday, September 2, 2014 when our offices reopen.
Upcoming Courses
Date

Course

Location

Registration

Sep 15-16, 2014
Sep 17-18, 2014

Sep 29-Oct 1, 2014
Oct 2-3, 2014

Johannesburg,
South Africa
Sponsored by NACA

Oct 7-9, 2014

Brisbane, Australia
Sponsored by CASANZ

Oct 20-21, 2014
Oct 22-23, 2014

Nov 3-4, 2014
Nov 5-6, 2014

Nov 17-18, 2014
Nov 19-21, 2014

Nov 26-27, 2014
Nov 28-29, 2014
Date

Course

Location

Registration

Feb 2-3, 2015
Feb 4-5, 2015

Feb 23-24, 2015
Feb 25-27, 2015

May 4-5, 2015
May 6-8, 2015

Las Vegas, NV

Registration
Coming Soon

Jun 1-2, 2015
Jun 3-4, 2015

Edmonton, AB

Registration
Coming Soon
For more information on the above courses, including registration information, location, and course outlines, please visit our web site: https://www.weblakes.com/courses.html.
Modeling Tip
Using Models Check in CALPUFF View
There are currently two major versions of the CALPUFF modeling system: the US EPA-Approved Version and Version 6.42. Each version comes with separate codes and executables for CALMET, CALPUFF, CALPOST, and related processors. When modeling with Lakes Environmental's CALPUFF View software, users must download the CALPUFF models from the CALPUFF Modeling System webpage.
CALPUFF View contains a utility to ensure the system executables are installed correctly. This utility, called Models Check, is found under the Tools menu.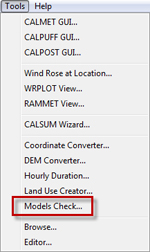 After opening the utility, choose the Model Version to verify that the correct models are installed. Models Check uses the executable name and date to ensure the correct versions are being used.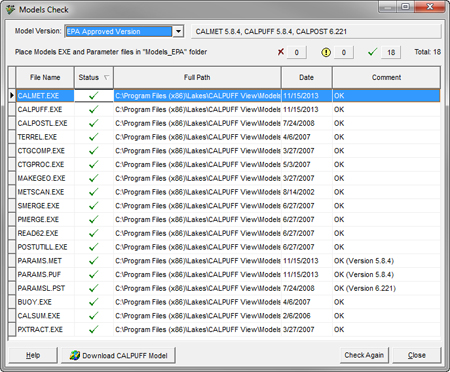 If any executable shows up as missing

or outdated

, use the direct weblink ("Download CALPUFF Model") to jump to the CALPUFF Modeling System webpage in your internet browser and download the correct executables.
By ensuring the correct models are being used, users can avoid errors associated with using model versions that are incompatible with selected interface options.
Submit Your Modeling Tips Today!
We are currently accepting submissions for the Monthly Modeling Tip section that appears in our newsletters. If you have a modeling tip that may benefit our readers, please send it to us at support@webLakes.com. Your name and the name of your organization will appear below the tip providing you with an opportunity for increased exposure.
Articles
CO2 Decrease Cause of Antarctic Ice Sheet Growth in Ice Age
July 31, 2014 – Climate modelers from the University of New Hampshire have shown that the most likely explanation for the initiation of Antarctic glaciation during a major climate shift 34 million years ago was decreased carbon dioxide (CO2) levels. The finding counters a 40-year-old theory suggesting massive rearrangements of Earth's continents caused global cooling and the abrupt formation of the Antarctic ice sheet. It will provide scientists insight into the climate change implications of current rising global CO2 levels.
Governor Brown Signs Agreement with Mexico to Reduce Dangerous Greenhouse Gases
July 28, 2014 - On the first full day of California's Trade and Investment Mission to Mexico, Governor Edmund G. Brown Jr. and Mexican environment officials today signed an agreement to help reduce greenhouse gas emissions and combat climate change.
Study Shows Kitimat Airshed Can Handle New Industrial Development
July 18, 2014 - VANCOUVER - Results from an independent science-based study show, that with proper management, Kitimat's airshed can safely accommodate new industrial growth. The Kitimat Airshed Assessment looked at the cumulative effects of industrial air emissions, primarily sulphur and nitrogen oxides, and their potential impacts on both human health and the environment from the following:
Rio Tinto Alcan's existing aluminium smelter and its planned modernization;
A proposed oil refinery;
Four proposed LNG facilities;
BC Hydro gas turbine powered electrical generation facilities; and
Predicted increased to marine shipping in Douglas Channel.
Scientists Launch Far-Ranging Campaign to Detail Front Range Air Pollution
July 17, 2014 - Scientists at the National Center for Atmospheric Research (NCAR) and partner organizations are launching a major field project across the northern Front Range of Colorado this month to track the origins of summertime ozone, an invisible but harmful pollutant.
The researchers will use specially equipped aircraft, mobile radars, balloon-mounted sensors, and sophisticated computer simulations to measure local and far-flung pollution sources. Results from the month-long study will provide needed information to officials seeking to ensure that air in the region is healthy to breathe.
EPA Proposes to Replace and Reduce Harmful Greenhouse Gases
July 10, 2014 - WASHINGTON - Today, the U. S. Environmental Protection Agency (EPA) is proposing to prohibit the use of certain chemicals that significantly contribute to climate change where safer, more climate-friendly alternatives exist. This is the agency's second action aimed at reducing emissions of hydrofluorocarbons (HFCs), a class of potent greenhouse gases, under President Obama's Climate Action Plan.
This action is estimated to reduce greenhouse gases by up to 42 million metric tons of carbon dioxide equivalent by 2020, equal to the carbon dioxide emissions from the annual electricity use of more than five million homes.
Australia – Carbon Tax Abolished
July 1, 2014 - The Australian Government has abolished the carbon tax. The carbon tax repeal legislation received the Royal Assent on Thursday, 17 July 2014 and the bills as part of this package are now law, with effect from 1 July 2014.
Abolishing the carbon tax will lower costs for Australian businesses and ease cost of living pressures for households.
Upcoming Conferences & Trade Shows
Date

Conference

Location

Aug 28- Sep 2, 2014

2014 International Aerosol Conference
More Info

Busan, Korea

Sep 17-18, 2014

International Conference on Chemistry and Environmental Sciences Research (ICCESR 2014)
More Info

Penang, Malaysia

Oct 14-16, 2014

International Petroleum Environmental Conference (IPEC)
More Info

Houston, TX, USA

Oct 15-17, 2014

Remediation Technologies Symposium 2014
More Info

Banff, AB, Canada

Oct 20-24, 2014

AAAR 33rd Annual Conference
More Info

Orlando, FL, USA

Nov 5-7, 2014

Seventh International Symposium on Non-CO2 Greenhouse Gases (NCGG7)
More Info

Amsterdam, Netherlands

Nov 9-13, 2014

SETAC North America 35th Annual Meeting
More Info

Vancouver, BC, Canada

Nov 10-14, 2014

7th International Congress on Environmental Geotechnics
More Info

Melbourne, Australia

Dec 2-5, 2014

Pollutech 2014
More Info

Lyon, France

Jan 4-8, 2015

American Meteorological Society (AMS) 95th Annual Meeting
More Info

Phoenix, AZ, USA

Feb 16-18, 2015

EUEC 2015
More Info
Lakes Environmental will be at booth #812

San Diego, CA, USA
About this Newsletter
This newsletter contains information gleaned from various sources on the web, with complete links to the sources cited. Organizations cited are in no way affiliated with Lakes Environmental Software.
Lakes Environmental Software is a leading environmental IT company that offers a complete line of air dispersion modeling, risk assessment, emissions inventory, and emergency release software as well as training and custom software services. With satisfied users located around the globe, Lakes Environmental Software will continue to revolutionize the environmental software field.
For more information please visit our web site at: www.webLakes.com. You may also contact us by phone at (519) 746-5995 or by fax at (519)746-0793.
All comments and suggestions are welcome. You can e-mail us at: support@webLakes.com.