Lakes Environmental e-Newsletter
Emissions Inventory - Atmospheric Science - IT Solutions


In this issue:
News & Events
Upcoming Courses
Modeling Tip: Copying Projects
Articles
Upcoming Conferences & Trade Shows
News & Events
Happy Holidays from Lakes Environmental!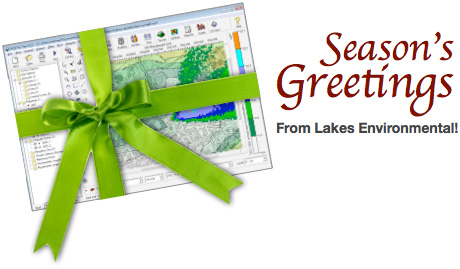 Lakes Environmental wishes you a Joyous Holiday Season and a Prosperous New Year!
With the holiday season upon us, we wish to take this opportunity to specially thank you, our subscribers and customers, for reading our newsletter throughout the year. Your continued feedback and suggestions are so valuable to us. We look forward to working with you in 2015!
Please find below the holiday schedule for Lakes Environmental's offices:
| | |
| --- | --- |
| December 24 | Closed |
| December 25 | Closed |
| December 26 | Closed |
| January 1 | Closed |
| January 2 | Closed |
If you have an urgent matter requiring assistance during the holidays, please e-mail us at support@webLakes.com.
AERMOD & CALPUFF Courses in Toronto, Ontario – Feb 2-5, 2015
Lakes Environmental will kick off the 2015 training schedule with four days of AERMOD and CALPUFF training in Toronto from February 2 to 5, 2015.
Attending these courses is the best way to stay current with recent regulatory and methodology changes. Lakes Environmental uses cutting edge tools that will revolutionize the way you do air dispersion modeling!




The AERMOD course in Toronto features a special section and case study regarding the dispersion modelling requirements of Ontario Regulation 419/05: Air Pollution - Local Air Quality. CALPUFF students will complete a special case study using WRF met data for an area of their choice.
Spots fill quickly! Register online today to take advantage of our early registration discount!
Early Registration Discount Ends January 2, 2015
Course: AERMOD (Feb 2-3, 2014)
Course: CALPUFF (Feb 4-5, 2014)
Location: Torotno, Ontario
Contact: training@webLakes.com
Registration: Online Registration
AERMOD and CALPUFF Courses in Dallas, Texas – Feb 23-27, 2015
Lakes Environmental will be in Dallas, Texas, to present a full week of AERMOD and CALPUFF training from February 23 to 27, 2015.
CALPUFF course students will have the opportunity to complete a Do It Yourself Case Study using WRF processed data for a location of their choice making this course of great benefit to their modeling work.
Lakes & APAQ AERMOD & CALPUFF Courses in Singapore– March 24-17, 2015
Lakes Environmental and Asia Pacific Air Quality Group (APAQ) invite you to participate in four days of AERMOD and CALPUFF training taking place in Singapore from March 24 to 27, 2015.
Upcoming Courses
Date

Course

Location

Registration

Feb 2-3, 2015
Feb 4-5, 2015

Feb 23-24, 2015
Feb 25-27, 2015

Mar 9-10, 2015
Mar 11-12, 2015

May 4-5, 2015
May 6-8, 2015

Las Vegas, NV

Jun 1-2, 2015
Jun 3-4, 2015

Edmonton, AB

Registration
Coming Soon
For more information on the above courses, including registration information, location, and course outlines, please visit our web site: https://www.weblakes.com/courses.html.
Modeling Tip
Copying Projects
There are many reasons why it may be necessary to create a copy of a modeling project. You may want to make edits to a scenario without overwriting previous results, or you need to re-run the project using a different set of meteorological data while maintaining the rest of the inputs.
Each of Lakes Environmental's software products contains the Save Project As wizard to make copying projects simple.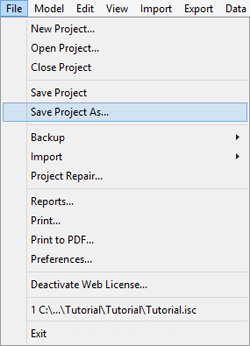 This tool will save all of the necessary project database information while simultaneously creating copies of all user-selected files. Features of the tool include:
Save Project As: Specify the name of the copied project.
Look In: Select the folder where you want to save the copied project. It can be in the same directory as the original project or anywhere else on the computer.
Create Project Folder: Saves the project in its own separate sub-folder. Unchecking this option will save the copied project files in the selected directory.
Select Files to Copy: Choose which files from the original project you want to keep. You can choose to not copy very large files to save time and space.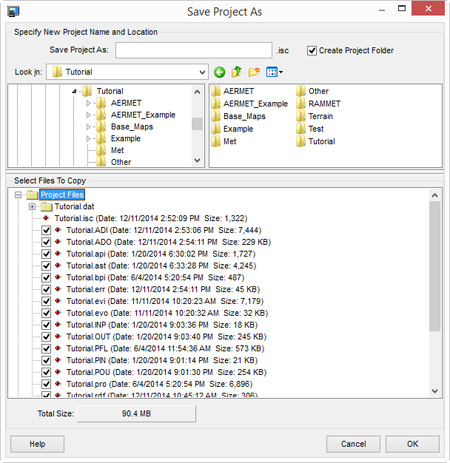 Submit Your Modeling Tips Today!
We are currently accepting submissions for the Monthly Modeling Tip section that appears in our newsletters. If you have a modeling tip that may benefit our readers, please send it to us at support@webLakes.com. Your name and the name of your organization will appear below the tip providing you with an opportunity for increased exposure.
Articles
Europe's Cities Still Suffering from Harmful Air Pollution
November 20, 2014 – Air pollution in Europe comes with a high price tag, according to a new report from the European Environment Agency (EEA). While policies have improved air quality overall, air pollution is still the main environmental health hazard, resulting in high costs for health care systems, unhealthy workers and an estimated 400 000 premature deaths in Europe in 2011.
The annual air quality report collates data from official monitoring stations across Europe. It shows that almost all city dwellers are exposed to pollutants at levels deemed unsafe by the World Health Organization (WHO). For some pollutants, more than 95 % of the urban population is exposed to unsafe levels.
EPA Proposes Smog Standards to Safeguard Americans from Air Pollution
November 26, 2014 - WASHINGTON - Based on extensive recent scientific evidence about the harmful effects of ground-level ozone, or smog, EPA is proposing to strengthen air quality standards to within a range of 65 to 70 parts per billion (ppb) to better protect Americans' health and the environment, while taking comment on a level as low as 60 ppb. The Clean Air Act requires EPA to review the standards every five years by following a set of open, transparent steps and considering the advice of a panel of independent experts. EPA last updated these standards in 2008, setting them at 75 ppb.
"Bringing ozone pollution standards in line with the latest science will clean up our air, improve access to crucial air quality information, and protect those most at-risk. It empowers the American people with updated air quality information to protect our loved ones - because whether we work or play outdoors – we deserve to know the air we breathe is safe," said EPA Administrator Gina McCarthy. "Fulfilling the promise of the Clean Air Act has always been EPA's responsibility. Our health protections have endured because they're engineered to evolve, so that's why we're using the latest science to update air quality standards – to fulfill the law's promise, and defend each and every person's right to clean air."
Study Offers New Insight into New Delhi's Air Pollution Woes
December 2, 2014 - Following a study published this year of 1,600 cities across the globe, the World Health Organization (WHO) found that New Delhi had the world's highest annual average concentration of small airborne particles – higher than major Chinese cities. The tiny floating particles, measuring 2.5 micrometres or less in diameter, are hazardous because they can penetrate deeply into the lungs and cause respiratory and cardiovascular diseases.
While Delhi authorities have disputed the WHO's findings, India's environment court, the National Green Tribunal, recently slammed the government over the capital's air pollution levels, directing all vehicles older than 15 years be taken off the city's roads and ordering that pollution checks be undertaken for all state-run buses and that air purifiers be installed at the city's busy markets.
New Study Links Carbon Emissions and Climate Warming
December 2, 2014 - Research has identified, for the first time, how global warming is related to the amount of carbon emitted.
A team of researchers from the universities of Southampton, Bristol and Liverpool have derived the first theoretical equation to demonstrate that global warming is a direct result of the build-up of carbon emissions since the late 1800s when human-made carbon emissions began. The results are in accord with previous data from climate models.
Metro Vancouver Moves to Cut Sulphur Dioxide Pollution
December 3, 2014 - Metro Vancouver plans to impose tougher standards to cut sulphur dioxide pollution across the region, saying existing measures set in the 1970s aren't stringent enough to protect asthmatics and others with respiratory problems.
A Metro staff report proposes cutting the maximum acceptable level of sulphur dioxide from 174 parts per billion (ppb) to a 75 ppb one-hour limit, the same standard adopted by the U.S. in 2010.
Upcoming Conferences & Trade Shows
Date

Conference

Location

Jan 4-8, 2015

American Meteorological Society (AMS) 95th Annual Meeting
More Info

Phoenix, AZ, USA

Jan 19-22, 2015

World Future Energy Summit
More Info

Abu Dhabi, UAE

Feb 14-15, 2015

6th International Conference on Environmental Science and Development
More Info

Amsterdam, Netherlands

Feb 16-18, 2015

EUEC 2015
More Info
Lakes Environmental will be at booth #812

San Diego, CA, USA

Mar 17-19, 2015

Americana 2015
More Info

Montréal, QC, Canada

Mar 29- Apr 3, 2015

38th Stationary Source Sampling & Analysis for Air Pollutants Conference
More Info

Tucson, AZ, USA

Apr 12-16, 2015

U.S. EPA 2015 International Emission Inventory Conference
More Info

San Diego, CA, USA

Apr 28-29, 2015

CANECT 2015
More Info
Lakes Environmental will be at booth #1438

Toronto, ON, Canada

May 4-8, 2015

ITM 2015 – 34th International Technical Meeting on Air Pollution Modelling and its Application
More Info

Montpelier, France

Jun 22-25, 2015

A&WMA 108th Annual Conference & Exhibition
More Info

Raleigh, NC, USA
About this Newsletter
This newsletter contains information gleaned from various sources on the web, with complete links to the sources cited. Organizations cited are in no way affiliated with Lakes Environmental Software.
Lakes Environmental Software is a leading environmental IT company that offers a complete line of air dispersion modeling, risk assessment, emissions inventory, and emergency release software as well as training and custom software services. With satisfied users located around the globe, Lakes Environmental Software will continue to revolutionize the environmental software field.
For more information please visit our web site at: www.webLakes.com. You may also contact us by phone at (519) 746-5995 or by fax at (519)746-0793.
All comments and suggestions are welcome. You can e-mail us at: support@webLakes.com.