Lakes Environmental e-Newsletter
Emissions Inventory - Atmospheric Science - IT Solutions


In this issue:
News & Events
Upcoming Courses
Modeling Tip: Debug Files in AERMOD
Articles
Upcoming Conferences & Trade Shows
News & Events
NEW! Order CALMET-Ready WRF Meteorological Data Online!
Lakes Environmental is pleased to announce that our automated meteorological data service has recently expanded to include CALMET-Ready WRF preprocessed modeled meteorological data for use in the CALPUFF air dispersion model for any location worldwide.
Our automated system allows you to complete a convenient online quotation request form and receive a quotation for WRF data in minutes. Data is available from 2007 to 2013 and can be processed and delivered via our secure ftp site in just 1-3 days!




Our friendly and knowledgeable Sales Staff is available to answer any questions that you might have regarding our WRF meteorological data. Complete our convenient online quotation request form to receive a formal quotation for CALMET-Ready WRF data today!



Lakes Environmental at A&WMA 2014 Conference & Exhibition
Lakes Environmental would like to thank everyone who stopped by our booth in Long Beach at A&WMA's 107th Annual Conference and Exhibition from June 24 to 27, 2014.
We trust that you enjoyed your time at this year's conference and look forward to assisting you in your endeavors through the coming year. See you in 2015 at A&WMA's conference in Raleigh, North Carolina!




Those who visited our booth had the chance to participate in a draw for a complimentary copy of our AERMOD View or CALPUFF View software packages.




We would like to take this opportunity to offer our congratulations to our software winners.



Congratulations to our Software Winners!
AERMOD View
Yevgen Nazarenko of McGill University
CALPUFF View
Rahul Thaker of the North Carolina Department of Environment and Natural Resources
Lakes & E&E Peru S.A. - AERMOD & CALPUFF Courses in Lima – Sep 15-18, 2014
Lakes Environmental and E&E Peru S.A. invite you to participate in four days of AERMOD and CALPUFF training taking place in Lima from September 15 to 18, 2014.
AERMOD & CALPUFF Courses in London, UK – Oct 20-23, 2014
Lakes Environmental is pleased to be traveling to the United Kingdom for four days of AERMOD and CALPUFF training in London from October 20-23, 2014.
We encourage you to register soon in order to reserve your spot. Further details including course venue and registration form can be found on our website.




Register today to take advantage of our early registration discounts!




Early Registration Discount Ends: September 20, 2014




Course: AERMOD (Oct 20-21, 2014)
Course: CALPUFF (Oct 22-23, 2014)
Location: London, UK
Contact: training@weblakes.com
For information regarding our upcoming Air Dispersion Modeling courses, please visit the Upcoming Courses section on our website.
Lakes Environmental Closed for Ontario Civic Holiday
Lakes Environmental will be closed on Monday, August 4, 2014 to observe the Ontario Civic holiday. Though our Waterloo sales office will be closed, our Dallas support office will remain open on this day. If you have any needs during that time, please e-mail us at support@webLakes.com and we will respond to your inquiry as soon as possible.
Upcoming Courses
Date

Course

Location

Registration

Sep 15-16, 2014
Sep 17-18, 2014

Sep 29-Oct 1, 2014
Oct 2-3, 2014

AERMOD
CALPUFF

Johannesburg,
South Africa
Sponsored by NACA

Registration
Coming Soon

Oct 7-9, 2014

Brisbane, Australia
Sponsored by CASANZ

Oct 20-21, 2014
Oct 22-23, 2014

Nov 3-4, 2014
Nov 5-6, 2014

Nov 26-27, 2014
Nov 28-29, 2014
Date

Course

Location

Registration

Feb 2-3, 2015
Feb 4-5, 2015

Feb 23-24, 2015
Feb 25-27, 2015
For more information on the above courses, including registration information, location, and course outlines, please visit our web site: https://www.weblakes.com/courses.html.
Modeling Tip
Debug Files in AERMOD
A feature of the AERMOD model is the ability to generate Debugging Output Files of intermediate calculation results. These files allow modelers to debug model output and better understand the modeled results. The Debugging Output Option is controlled by the Control Pathway using the DEBUGOPT model keyword.
There are several different Debugging Output files a modeler could potentially generate:
MODEL: This option prints intermediate calculations related to model results for each source and receptor. Dispersion parameters, plume heights, etc. are displayed in this file.
METEOROLOGY: Gridded profiles of meteorological variables for each hour of data are output here.
PRIME: Contains plume rise calculations impacted by building downwash for specific point source – wind direction combinations.
DEPOSITION: Creates two separate output files – one for gas deposition calculations (GDEP.DAT) and one for particle deposition calculations (PDEP.DAT). Includes parameters such as depositional velocity.
AREA / LINE SOURCE: This is a separate debugging output file for intermediate calculations from area, line, and open pit source types. It was introduced in the 14134 model version.
NO2: Secondary model keyword is based on the NO2 modeling option selected – PVMRM, OLM, ARM, or ARM2. For PVMRM or OLM, calculations of ozone moles in the atmosphere are presented. ARM or ARM2 files contain ratioing calculations.
In AERMOD View, Debugging Output Files are controlled by the Debug Files option of the Control Pathway window. Place a checkmark in the box of the file type you want to enable. The Save icon can be used to assign a different name to the file.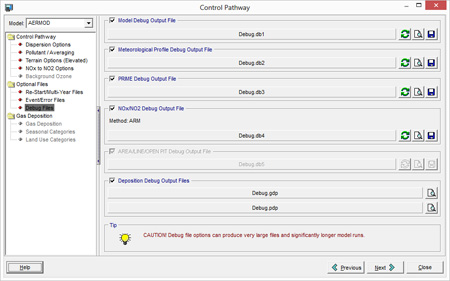 Files are stored in the project directory by default and can be opened with a text editor (e.g., WordPad, Notepad).
The most important thing to keep in mind about debug files is that they contain an extremely large amount of data. Because intermediate calculations are printed for every source-receptor combination and each hour of meteorological data, these files can grow to hundreds of gigabytes in size if they are not properly controlled.
It is recommended that the Debugging Output files be used for limited amounts of data – single source, single receptor, single hour of met data – in order to limit file sizes and make the data more pertinent.
Submit Your Modeling Tips Today!
We are currently accepting submissions for the Monthly Modeling Tip section that appears in our newsletters. If you have a modeling tip that may benefit our readers, please send it to us at support@webLakes.com. Your name and the name of your organization will appear below the tip providing you with an opportunity for increased exposure.
Articles
EPA Proposes Updates to Reduce Methane, Other Harmful Pollution from New Landfills
July 1, 2014 - WASHINGTON - As part of the President's Climate Action Plan – Strategy to Reduce Methane Emissions, the U.S. Environmental Protection Agency (EPA) is proposing updates to its air standards for new municipal solid waste (MSW) landfills. These updates would require certain landfills to capture additional landfill gas, which would reduce emissions of methane, a potent greenhouse gas, and help further reduce pollution that harms public health. The agency also is seeking broad public feedback on how and whether to update guidelines for existing landfills.
Non-hazardous waste from homes, business and institutions ends up in municipal solid waste landfills, where it decomposes and breaks down to form landfill gas, which includes carbon dioxide, a number of air toxics and methane. Methane has a global warming potential 25 times that of carbon dioxide.
EPA Proposes Approval of New Climate-Friendly Refrigerants
June 27, 2014 - WASHINGTON -In support of President Obama's Climate Action Plan, the U.S. Environmental Protection Agency (EPA) is proposing to increase the options for refrigerants in the United States that offer better climate protection without harming the ozone layer. This is the agency's first action that addresses refrigerants under the Climate Action Plan, which calls on EPA's Significant New Alternatives Policy (SNAP) Program to identify and approve additional climate-friendly chemicals.
UCLA Students Create Website to Inform on Toxic Emissions
June 17, 2014 – A team of seven UCLA environmental science students has created a website that shows how emissions from local factories are impacting air quality in Los Angeles County. Cal EcoMaps, launched this month, features an interactive map with detailed information about 172 facilities representing the top four emitting industries — petroleum, primary metals, fabricated metals and chemical production.
Lost Industry Brings Job Losses But Better Air Quality
July 3, 2014 - When it comes to air quality in Hamilton, there's good news and there's bad news. The good news? Hamilton's air quality has been dramatically improving since the mid-1990s, and continued to improve in the last year. Fewer Hamiltonians are also dying prematurely from bad air quality — 229 deaths in 2003 compared to 186 in 2012. The bad news? Some of that improvement is because the city has lost industry and manufacturing jobs.
EPA Announces Funding for Tribes to Clean Up Diesel Engines
June 6, 2014 - WASHINGTON - The Environmental Protection Agency (EPA) announced today that grant funding is available for tribal applicants to establish clean diesel projects aimed at reducing emissions from older diesel engines. Diesel engines are extremely efficient, but emit air pollutants such as nitrogen oxides (NOX) and particulate matter (PM). These pollutants are linked to serious health problems including asthma, lung and heart disease, other respiratory ailments, and premature death. This is the first time EPA is offering a separate tribal request for proposals for diesel emission reduction program (DERA) funds, and is in response to feedback from tribal communities.
Choosing the Right Path: How Air Travel Affects Climate Change
June 26, 2014 - TIt has been well documented that one negative of air travel — besides the food — is the emission of CO2 from jet engines. But what about contrails?
Dr. Emma Irvine, Professor Keith Shine, and Professor Sir Brian Hoskins, at the Department of Meteorology at the University of Reading have linked contrails to global climate change in a study published in IOP Publishing's journal Environmental Research Letters.
Upcoming Conferences & Trade Shows
Date

Conference

Location

Aug 11-13, 2014

4th International Conference on Environmental Pollution and Remediation (ICEPR 2014)
More Info

Prague, Czech Republic

Aug 16-21, 2014

The World Weather Open Science Conference
More Info

Montréal, QC, Canada

Aug 28- Sep 2, 2014

2014 International Aerosol Conference
More Info

Busan, Korea

Sep 17-18, 2014

International Conference on Chemistry and Environmental Sciences Research (ICCESR 2014)
More Info

Penang, Malaysia

Oct 14-16, 2014

International Petroleum Environmental Conference (IPEC)
More Info

Houston, TX, USA

Oct 15-17, 2014

Remediation Technologies Symposium 2014
More Info

Banff, AB, Canada

Oct 20-24, 2014

AAAR 33rd Annual Conference
More Info

Orlando, FL, USA

Nov 5-7, 2014

Seventh International Symposium on Non-CO2 Greenhouse Gases (NCGG7)
More Info

Amsterdam, Netherlands

Nov 9-13, 2014

SETAC North America 35th Annual Meeting
More Info

Vancouver, BC, Canada

Nov 10-14, 2014

7th International Congress on Environmental Geotechnics
More Info

Melbourne, Australia

Dec 2-5, 2014

Pollutech 2014
More Info

Lyon, France
About this Newsletter
This newsletter contains information gleaned from various sources on the web, with complete links to the sources cited. Organizations cited are in no way affiliated with Lakes Environmental Software.
Lakes Environmental Software is a leading environmental IT company that offers a complete line of air dispersion modeling, risk assessment, emissions inventory, and emergency release software as well as training and custom software services. With satisfied users located around the globe, Lakes Environmental Software will continue to revolutionize the environmental software field.
For more information please visit our web site at: www.webLakes.com. You may also contact us by phone at (519) 746-5995 or by fax at (519)746-0793.
All comments and suggestions are welcome. You can e-mail us at: support@webLakes.com.