Lakes Environmental e-Newsletter
Emissions Inventory - Atmospheric Science - IT Solutions


In this issue:
News & Events
Upcoming Courses
Modeling Tip: Creating Hourly Emission Rate Files in AERMOD View
Articles
Upcoming Conferences & Trade Shows
News & Events
AERMOD View™ Version 8.6 Released!
On May 8, 2014, Lakes Environmental released AERMOD View Version 8.6.
New features include:
Hourly Emission File Maker: Allows users to create a file which contains hourly emissions data for every selected source
AERMET View Land Use Creator: Easily create land use files in NLCD92 format which can be used in AERSURFACE to calculate surface roughness, albedo, and Bowen ratio for any location world-wide
Sloped Roof Buildings: New tool automatically creates intermediate tiers to approximate a sloped roof building
Import/Export Plant Boundary: Plant boundaries can now be imported/exported from/to an Excel file
Tile Maps: MapQuest Satellite and Open Street Maps updated to support changes in server
For a detailed listing of updates available in AERMOD View Version 8.6, please check out our latest release notes.
If you are currently in maintenance for AERMOD View and did not receive an email regarding this update, please contact us at support@webLakes.com.
If you are a user of AERMOD View but are no longer in maintenance please contact sales@webLakes.com for pricing to get up and running on version 8.6.
Lakes & E&E Peru S.A. - AERMOD & CALPUFF Courses in Lima – Sep 15-18, 2014
Lakes Environmental at A&WMA Conference and Exhibition
Lakes Environmental will be in Long Beach, California from June 24-27, 2014 for the 107th Annual Air & Waste Management Conference & Exhibition.




Drop by booth #208 to meet our friendly, knowledgeable staff and for your chance to win a FREE copy of our AERMOD View, CALPUFF View or AERSCREEN View air dispersion modeling software!




Visit the conference website to register for this annual event. This year's conference offers excellent opportunities for the environmental professional. You don't want to miss it!
Professional Development Courses at 2014 A&WMA Conference and Exhibition
As in previous years, the Air & Waste Management Association will be offering a variety high quality professional development courses prior to the annual conference in Long Beach.
This year, Lakes Environmental President, Dr. Jesse Thé will be teaching one-day introductory courses on AERMOD and CALPUFF air dispersion modeling. Please find below a listing of these courses.




AIR-299: AERMOD Air Dispersion Modeling – Sunday, June 22




AIR-298: An Introduction to the CALPUFF Modeling System – Monday, June 23




Advanced registration is only available until Tuesday, May 20, 2014. Don't miss this opportunity to be a part of these exciting courses!
Congratulations to our AERMOD View Winner!
The winner of our AERMOD View draw at the Canadian Environmental Conference & Tradeshow (CANECT 2014) is Aracelis Carbonell.
Congratulations Aracelis!
Lakes Environmental Closed for Victoria Day Holiday
Lakes Environmental's Waterloo office will be closed on Monday, May 19, 2014 to observe the Victoria Day holiday. Our Dallas office will remain open on this day. If you have any needs during that time, please e-mail us at support@webLakes.com and we will respond to your inquiry as soon as possible.
Upcoming Courses
Date

Course

Location

Registration

May 12-13, 2014
May 14-16, 2014

Registration Closed

May 26-27, 2014
May 28-29, 2014

Sep 15-16, 2014
Sep 17-18, 2014

Oct 6-8, 2014

AERMOD

Brisbane, Australia
Sponsored by CASANZ

Registration
Coming Soon

Oct 20-21, 2014
Oct 22-23, 2014

London, UK

Registration
Coming Soon

Nov 3-4, 2014
Nov 5-6, 2014

São Paulo, Brazil

Registration
Coming Soon
For more information on the above courses, including registration information, location, and course outlines, please visit our web site: https://www.weblakes.com/courses.html.
Modeling Tip
Creating Hourly Emission Rate Files in AERMOD View
The AERMOD model is capable of accepting source data in a variety of formats. One such format is the hourly emission rate file (keyword HOUREMIS) which allows the user to input emissions and other input data which vary at irregular intervals. To utilize this option, the hourly emission rate file must be in a specific file format defined in the U.S. EPA's AERMOD User Guide.
To aid users in the creation of hourly emission rate files, Lakes Environmental has added a new utility – the Hourly Emission File Maker – to AERMOD View Version 8.6. Users can even open their existing files in this utility to make quick updates and changes. To build a new hourly emission rate file, follow the steps below.
First, add meteorological data files to the project via the Meteorology Pathway. The hourly emission rate file must span the same dates and times defined in the meteorological data, and the File Maker will not run unless the met data has been specified.
Go to the Source Pathway | Hourly Emission File window.
Identify the sources which you want to input in the file. You can Ctrl+Click to select several sources at once and use the slider buttons to move sources from the Available list to the In File list.




After selecting the sources, click the File Maker button to open the utility.
Use the Date Filter to limit the hourly emissions to certain dates and times. You can select specific days by clicking the Specify Days button. The selected hours will be applied to each day (e.g., From 07:00 To 17:00 will only display hours 07-17 for every specified day).
Select the source from the Source List. Data entered in the input parameters table will apply to the selected source only.
The continuous input parameters for the source will appear in the table beneath the source list. You can quickly populate the hourly input parameters table by clicking the button.

Note: Check the "Show Only Emissions for AREA/VOLUME Sources" option if you only want to vary emissions for these source types. Otherwise, you can also specify hourly values of initial dispersion coefficients.
Populate the input parameters table. Missing data can be left as blank cells in the table. The table can be exported to or imported from Excel. Users can then fill in parameters using Excel's features and re-import the data to the utility.
After filling in all input data, click the Generate button to create the new hourly emission rate file.
The Hourly Emission File Maker also contains a graph option (

) which visualizes the time-varying input data as a line graph.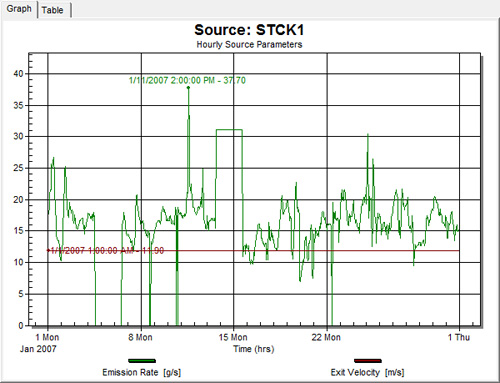 Submit Your Modeling Tips Today!
We are currently accepting submissions for the Monthly Modeling Tip section that appears in our newsletters. If you have a modeling tip that may benefit our readers, please send it to us at support@webLakes.com. Your name and the name of your organization will appear below the tip providing you with an opportunity for increased exposure.
Articles
First Standardized Global Land Cover Map Released
May 2, 2014 -The first map of detailed information on worldwide land cover collected using uniform international standards, the Global Land Cover-SHARE database, was released in March by the UN Food and Agriculture Organization (FAO). Experts say it will help to improve research into natural resources and monitor global environmental changes.
"It is more precise and accurate than any other available product," John Latham, who directs the project at the FAO, tells SciDev.Net. It is the first land cover database compliant with ISO standards on definitions and procedures related to land cover classification.
U.S. EPA Announces List of Top 100 U.S. Organizations Using Renewable Energy / Tech Sector Leads the Way
April 23, 2014 - WASHINGTON - Today, the U.S. Environmental Protection Agency (EPA)'s Green Power Partnership released an updated list of the Top 100 organizations that are choosing to use electricity from clean, renewable sources like wind and solar power.
"By using green power, these companies and organizations are showing that business can flourish while taking meaningful steps to reduce carbon pollution," said Gina McCarthy, EPA Administrator. "Making cleaner choices to power our communities, institutions and businesses reduces the pollution that contributes to climate change, protects America's health and environment, and supports continued growth in the green power sector."
Ontario Proposing Cleaner Low-Carbon Fuels
April 17, 2014 – Ontario is proposing to make it easier for large industrial facilities to use cleaner low-carbon fuels to replace dirty coal, resulting in lower greenhouse gas emissions from their operations.
Steel mills and kiln operations for lime and cement would be allowed to replace coal with low-carbon fuels made from non-recyclable, non-hazardous wastes such as wood and plastics from composting operations and fuel made from biomass such as wood pulp.
Companies would need to get approval from the Ministry of the Environment for the use of these fuels.
U.S. EPA Publishes 19th Annual U.S. Greenhouse Gas Inventory
April 15, 2014 - WASHINGTON - The U.S. Environmental Protection Agency (EPA) released its 19th annual report of overall U.S. greenhouse gas (GHG) emissions today, showing a 3.4 percent decrease in 2012 from 2011. The Inventory of U.S. Greenhouse Gas Emissions and Sinks, which is submitted annually to the Secretariat of the United Nations Framework Convention on Climate Change, presents a national-level overview of annual greenhouse gas emissions since 1990.
The major contributors to the decrease in emissions from 2011-2012 were the decrease in energy consumption across all sectors in the U.S. economy, and the decrease in carbon intensity for electricity generation due to fuel switching from coal to natural gas. Other factors included a decrease in transportation sector emissions attributed to an increase in fuel efficiency across different transportation modes and limited new demand for passenger transportation.
B.C. Joined by Mexico and France in Pricing Carbon
March 26, 2014 - VANCOUVER - Environment Minister Mary Polak today congratulated Mexico and France at GLOBE 2014 for putting a price on carbon, just as British Columbia has already done with its revenue-neutral carbon tax.
"B.C. is proud to welcome France and Mexico to the growing number of jurisdictions around the world showing leadership by pricing carbon in the interests of climate action," said Polak. "We know B.C.'s carbon tax is working. Since it was implemented, fossil fuel consumption in the province has gone down by more than the national average. Our GHG emissions levels are currently below 2007 levels, while B.C.'s economic growth, including during the recession and recovery, has matched Canada's, and B.C.'s population has grown faster. We expect France and Mexico to experience similar success."
Upcoming Conferences & Trade Shows
Date

Conference

Location

May 28-30, 2014

Carbon Expo 2014
More Info

Cologne, Germany

Jun 9-13, 2014

The Seventh International Conference on Environmental Science and Technology 2014
More Info Lakes Environmental will be at
booth #28

Houston, TX, USA

Jun 11-12, 2014

Emissions 2014
More Info

Troy, MI, USA

Jun 15-19, 2014

7th International Congress on Environmental Modelling and Software (iEMSs)
More Info

San Diego, CA, USA

Jun 24-27, 2014

A&WMA Annual Conference and Exhibition
More Info Lakes Environmental will be at
booth #208

Long Beach, CA, USA

Jul 7-9, 2014

22nd International Conference on Modelling, Monitoring and Management of Air Pollution
More Info

Opatija, Croatia

Aug 11-13, 2014

4th International Conference on Environmental Pollution and Remediation (ICEPR 2014)
More Info

Prague, Czech Republic

Aug 16-21, 2014

The World Weather Open Science Conference
More Info

Montréal, QC, Canada

Aug 28- Sep 2, 2014

2014 International Aerosol Conference
More Info

Busan, Korea

Sep 17-18, 2014

International Conference on Chemistry and Environmental Sciences Research (ICCESR 2014)
More Info

Penang, Malaysia
About this Newsletter
This newsletter contains information gleaned from various sources on the web, with complete links to the sources cited. Organizations cited are in no way affiliated with Lakes Environmental Software.
Lakes Environmental Software is a leading environmental IT company that offers a complete line of air dispersion modeling, risk assessment, emissions inventory, and emergency release software as well as training and custom software services. With satisfied users located around the globe, Lakes Environmental Software will continue to revolutionize the environmental software field.
For more information please visit our web site at: www.webLakes.com. You may also contact us by phone at (519) 746-5995 or by fax at (519)746-0793.
All comments and suggestions are welcome. You can e-mail us at: support@webLakes.com.