Lakes Environmental e-Newsletter
Emissions Inventory - Atmospheric Science - IT Solutions


In this issue:
News & Events
Upcoming Courses
Modeling Tip: AERMOD EVENT Processing
Articles
Upcoming Conferences & Trade Shows
News & Events
AERMOD View™ Version 8.8.7 Released!
On November 20, 2014, Lakes Environmental released AERMOD View Version 8.8.9.
This release includes several bug fixes to the previous Version 8.8.1 release including:
AERMOD View – Incorporates an important change to NED Terrain Downloads. Also updated to include support for non-Unicode characters in project name and other fields, fixed an error when running the EVENT model, and fixed the Multi-Chemical Run utility to read the correct met data folder.


AERMET View - Fixed the Sectors tab to allow manual editing of surface characteristics and to display the proper number of sectors in the Specify Sectors table. Also fixed the Import from Excel data utility which was not reading date and time variables with the correct number format.
If you are currently in maintenance for AERMOD View and did not receive an email regarding this update, please contact us at support@webLakes.com.
If you are a user of AERMOD View but are no longer in maintenance please contact LakesSoftware@webLakes.com for pricing to get up and running on version 8.8.9.
AERMOD & CALPUFF Courses in Toronto, Ontario – Feb 2-5, 2015
Lakes Environmental will kick off the 2015 training schedule with four days of AERMOD and CALPUFF training in Toronto from February 2-5, 2015.




Attending these courses is the best way to stay current with recent regulatory and methodology changes. Lakes Environmental uses cutting edge tools that will revolutionize the way you do air dispersion modeling!




Spots fill quickly! Register online today to take advantage of our early registration discount!




Early Registration Discount Ends January 2, 2015




Course: AERMOD (Feb 2-3, 2014)
Course: CALPUFF (Feb 4-5, 2014)
Location: Torotno, Ontario
Contact: training@webLakes.com
Lakes Environmental December Holiday Schedule
Please find below the holiday schedule for Lakes Environmental's offices:
| | |
| --- | --- |
| December 24 | Closed |
| December 25 | Closed |
| December 26 | Closed |
| January 1 | Closed |
| January 2 | Closed |
If you have an urgent matter requiring assistance during the holidays, please e-mail us at support@webLakes.com.
Upcoming Courses
Date

Course

Location

Registration

Feb 2-3, 2015
Feb 4-5, 2015

Feb 23-24, 2015
Feb 25-27, 2015

Mar 9-10, 2015
Mar 11-12, 2015

Singapore

Registration
Coming Soon

May 4-5, 2015
May 6-8, 2015

Las Vegas, NV

Jun 1-2, 2015
Jun 3-4, 2015

Edmonton, AB

Registration
Coming Soon
For more information on the above courses, including registration information, location, and course outlines, please visit our web site: https://www.weblakes.com/courses.html.
Modeling Tip
AERMOD EVENT Processing
When modeling with source groups in the AERMOD air dispersion model, it is not always obvious how much each sources contributes to a calculated concentration. To facilitate source contribution analysis, AERMOD includes routines called EVENT processing which analyze user-specified events (e.g., design concentrations, threshold violations) and print each source's contribution to the event.
To start EVENT processing, you must first have AERMOD produce an EVENT processing input file. This is done via the Control Pathway. In AERMOD View, you'll find this option under the Event/Error Files section.

There is an option to print on the source contribution output (Source Contribution) or printing the full detailed output from the EVENT processing run.
With this option enabled, AERMOD creates a list of events. By default, design concentrations (the output options defined in the Receptor Table of the Output Pathway) and any threshold violations identified in the Threshold Violation Files (OU MAXIFILE keyword) are written to the EVENT processing input file.
The image below is an example EVENT processing input file containing high-first-high and high-second-high concentrations for the 3-hour and 24-hour averaging periods in addition to a few threshold violation events.

The next step is to run AERMOD again using the EVENT processing input file. This will initialize the EVENT model run to calculate source contributions. In AERMOD View, this is done via the Run menu.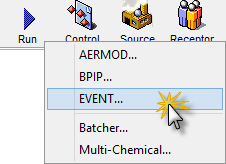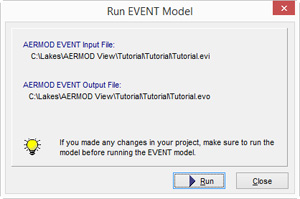 EVENT could be run without software by calling the AERMOD executable with the EVENT processing input file instead of the standard AERMOD input file.
The detailed EVENT output file will contain information such as met data conditions during the processed hour(s) and each source's hourly concentration during the time step.

Submit Your Modeling Tips Today!
We are currently accepting submissions for the Monthly Modeling Tip section that appears in our newsletters. If you have a modeling tip that may benefit our readers, please send it to us at support@webLakes.com. Your name and the name of your organization will appear below the tip providing you with an opportunity for increased exposure.
Articles
EPA Releases Climate Plans on Fifth Anniversary of President Obama's Sustainability Initiative
October 31, 2014 - WASHINGTON – Cities around Israel experienced dramatic drops in air pollution levels on Yom Kippur – the sole day in the year when traffic essentially ceases to flow – with Jerusalem and Gush Dan boasting a decrease of nitrogen oxides by a whopping 99 percent.
As World Leaders Visit, Beijing Tries to Reduce Pollution by 40%
October 22, 2014 - As Beijing finishes what might be its second-worst month of pollution this year, officials appear to be pulling out all the stops to make sure the air is breathable when major world leaders descend on the city next month.
The official Xinhua news agency reported Saturday that Chinese authorities plan to reduce air pollution in and around Beijing by as much as 40% during next month's meeting of the Asia-Pacific Economic Cooperation forum. That includes alternate-driving days for cars with even- and odd-numbered license plates, Xinhua said, citing Chai Fahe, vice president of the Chinese Research Academy of Environmental Sciences.
Heavily Polluted India Launches National Air Quality Index
October 17, 2014 - India has launched a new air quality index to help citizens understand complex pollution data and its implications for their health, the environment minister said on Friday.
A World Health Organization (WHO) study of 1,600 cities released in May found New Delhi had the world's dirtiest air with an annual average of 153 micrograms of small particulates, known as PM2.5, per cubic metre.
(Australia) Air Quality Standards 'Increase Pollution and Health Risks'
October 1, 2014 - Deadly air pollution continues to be a problem in Australia because air quality standards are being misused, say experts.
The standards governing six key outdoor pollutants are being interpreted as an acceptable upper limit of pollution, says health statistician Associate Professor Adrian Barnett of the Queensland University of Technology.
Government of Canada Takes Further Action to Reduce Greenhouse Gases (GHGs) and Air Pollution from Cars and Trucks
October 1, 2014 - Minister Leona Aglukkaq announced developments today on three new regulatory initiatives to further support Canada's efforts to curb greenhouse gas (GHG) emissions and to provide cleaner air for Canadians through lower air pollutant emissions from cars and trucks.
These vehicles and fuels regulatory initiatives are aligned with those of the United States. Given the close integration of economies between both countries, common Canada–United States standards deliver significant health and environmental benefits while supporting the competitiveness of Canadian businesses. Common standards lower the compliance costs of Canadian vehicle manufacturers and fuel refiners, which ultimately benefits consumers.
Upcoming Conferences & Trade Shows
Date

Conference

Location

Dec 2-5, 2014

Pollutech 2014
More Info

Lyon, France

Jan 4-8, 2015

American Meteorological Society (AMS) 95th Annual Meeting
More Info

Phoenix, AZ, USA

Jan 19-22, 2015

World Future Energy Summit
More Info

Abu Dhabi, UAE

Feb 14-15, 2015

6th International Conference on Environmental Science and Development
More Info

Amsterdam, Netherlands

Feb 16-18, 2015

EUEC 2015
More Info
Lakes Environmental will be at booth #812

San Diego, CA, USA

Mar 17-19, 2015

Americana 2015
More Info

Montréal, QC, Canada

Mar 29- Apr 3, 2015

38th Stationary Source Sampling & Analysis for Air Pollutants Conference
More Info

Tucson, AZ, USA

Apr 28-29, 2015

CANECT 2015
More Info
Lakes Environmental will be at booth #1438

Toronto, ON, Canada

Jun 22-25, 2015

A&WMA 108th Annual Conference & Exhibition
More Info

Raleigh, NC, USA
About this Newsletter
This newsletter contains information gleaned from various sources on the web, with complete links to the sources cited. Organizations cited are in no way affiliated with Lakes Environmental Software.
Lakes Environmental Software is a leading environmental IT company that offers a complete line of air dispersion modeling, risk assessment, emissions inventory, and emergency release software as well as training and custom software services. With satisfied users located around the globe, Lakes Environmental Software will continue to revolutionize the environmental software field.
For more information please visit our web site at: www.webLakes.com. You may also contact us by phone at (519) 746-5995 or by fax at (519)746-0793.
All comments and suggestions are welcome. You can e-mail us at: support@webLakes.com.