Lakes Environmental e-Newsletter
Emissions Inventory - Atmospheric Science - IT Solutions


In this issue:
News & Events
Upcoming Courses
Modeling Tip: Import Group Links in CALRoads View
Articles
Upcoming Conferences & Trade Shows
News & Events
U.S. EPA Releases AERMINUTE Update
On August 28, 2014, the U.S. EPA published an update to the AERMINUTE ASOS wind data preprocessor on the SCRAM website. AERMINUTE Version 14237 includes modifications to account for minor formatting changes to the 1-minute data files and to perform better quality assurance of the data.




Lakes Environmental plans to release a new version of AERMOD View later this month. Users in current maintenance will be able to download this update from Lakes Environmental's Support Site upon its release.




If your AERMOD View license is no longer in maintenance, please contact our sales team at sales@webLakes.com for pricing to update your software as only users in current maintenance will be eligible to receive this new update.



AERMOD & CALPUFF Courses in London, UK – A Few Spots Still Available!
The AERMOD and CALPUFF courses being held in London from October 20 to 23, 2014 have just a few spots available.




Register online today to take advantage of our early registration discounts!




Early Registration Discount Ends: September 20, 2014




Course: AERMOD (Oct 20-21, 2014)
Course: CALPUFF (Oct 22-23, 2014)
Location: London, UK
Contact: training@weblakes.com
AERMOD Course in Brisbane, Australia – Registration Closes Soon!
AERMOD & CALPUFF Courses in São Paulo, Brazil – Nov 3-6, 2014
Lakes Environmental Closed for Canadian Thanksgiving Holiday
Lakes Environmental's Waterloo office will be closed on Monday, October 13, 2014 to observe the Canadian Thanksgiving holiday. Our Dallas support office will remain open on this day. If you have any needs during that time, please e-mail us at support@webLakes.com and we will respond to your inquiry as soon as possible.
Upcoming Courses
Date

Course

Location

Registration

Sep 29-Oct 1, 2014
Oct 2-3, 2014

Johannesburg,
South Africa
Sponsored by NACA

Oct 7-9, 2014

Brisbane, Australia
Sponsored by CASANZ

Oct 20-21, 2014
Oct 22-23, 2014

Nov 3-4, 2014
Nov 5-6, 2014

Nov 17-18, 2014
Nov 19-21, 2014

Nov 26-27, 2014
Nov 28-29, 2014
Date

Course

Location

Registration

Jan 19-20, 2015
Jan 21-22, 2015

Singapore

Registration
Coming Soon

Feb 2-3, 2015
Feb 4-5, 2015

Feb 23-24, 2015
Feb 25-27, 2015

Mar 9-10, 2015
Mar 11-12, 2015

Hong Kong

Registration
Coming Soon

May 4-5, 2015
May 6-8, 2015

Las Vegas, NV

Registration
Coming Soon

Jun 1-2, 2015
Jun 3-4, 2015

Edmonton, AB

Registration
Coming Soon
For more information on the above courses, including registration information, location, and course outlines, please visit our web site: https://www.weblakes.com/courses.html.
Modeling Tip
Import Group Links in CALRoads View
CALRoads View makes it very easy to input links. While it's common to graphically depict links, CALRoads also allows modelers to import links using an Excel spreadsheet template. This is useful for modelers who have all of their inputs defined or those who have a lot of data to input. The template spreadsheet is found in the C:\Lakes\CALRoads View\Templates folder.
One new feature is the ability to import group links (G-Links). Column T of the spreadsheet features a Group column.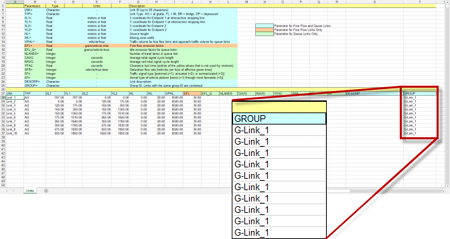 To define group links, specify a Group ID to multiple links. Use the same Group ID on all links in the group. Multiple group links can be imported by using a unique Group ID for each group link.
Submit Your Modeling Tips Today!
We are currently accepting submissions for the Monthly Modeling Tip section that appears in our newsletters. If you have a modeling tip that may benefit our readers, please send it to us at support@webLakes.com. Your name and the name of your organization will appear below the tip providing you with an opportunity for increased exposure.
Articles
EPA Says Smog Rules Should be Up to 20% Stronger
August 30, 2014 – The Environmental Protection Agency's staff has concluded that the government needs to tighten smog rules by somewhere between 7 and 20 per cent.
In its final recommendation in a 597-page report, the agency staff agrees with EPA's outside scientific advisers that the 6-year-old standard for how much smog is allowed needs to be stricter, saying it will save a significant number of lives and cut hospital visits. An earlier version of the report came to a similar conclusion.
EPA Report Shows Progress in Reducing Urban Air Toxics Across the United States
August 21, 2014 - WASHINGTON - Today, the U.S. Environmental Protection Agency (EPA) released the Second Integrated Urban Air Toxics Report to Congress - the final of two reports required under the Clean Air Act (CAA) to inform Congress of progress in reducing public health risks from urban air toxics.
"This report gives everyone fighting for clean air a lot to be proud of because for more than 40 years we have been protecting Americans – preventing illness and improving our quality of life by cutting air pollution - all while the economy has more than tripled," said EPA Administrator Gina McCarthy. "But we know our work is not done yet. At the core of EPA's mission is the pursuit of environmental justice - striving for clean air, water and healthy land for every American; and we are committed to reducing remaining pollution, especially in low-income neighborhoods."
Asia-Pacific Clean Air Partnership Launched to Fight Global Air Pollution
August 8, 2014 - SAN FRANCISCO - The Cities Clean Air Partnership, the first major clean air certification and partnership program to encourage air quality protection in cities across the Asia-Pacific region, was launched today by the U.S. Environmental Protection Agency, Taiwan Environmental Protection Administration, Clean Air Asia, and the Bay Area and South Coast Air Districts.
"The EPA, California, and cities from L.A. to Fresno have decades of experience in reducing harmful air pollution," said Jared Blumenfeld, EPA's Regional Administrator for the Pacific Southwest. "But air pollution is still causing more than 3.7 million deaths a year and costing the global economy over $3.5 trillion a year in sickness and premature deaths. This partnership is taking a huge step forward to reduce global air pollution and achieve more livable, healthier cities for all."
Europe's Climate Continues to Change
August 6, 2014 - The period from 2004-2013 was the warmest decade on record in Europe. Many other changes significant for Europe have been observed across the climate system, including warming oceans, rising sea level and shrinking snow cover, ice sheets, sea ice and glaciers.
In the last decade global near-surface average annual temperature was 0.75 - 0.81 °C warmer than the pre-industrial average. Other records have been broken in recent months – global average temperatures in May and June 2014 were the highest monthly averages ever recorded, according to the World Meteorological Organisation.
New Study Casts Light on Climate Change and Oceanic Oxygen Levels
August 10, 2014 - A commonly held belief that global warming will diminish oxygen concentrations in the ocean looks like it may not be entirely true. According to new research published in Science magazine, just the opposite is likely the case in the northern Pacific Ocean, with its anoxic zone expected to shrink in coming decades because of climate change.
Upcoming Conferences & Trade Shows
Date

Conference

Location

Oct 14-16, 2014

International Petroleum Environmental Conference (IPEC)
More Info

Houston, TX, USA

Oct 15-17, 2014

Remediation Technologies Symposium 2014
More Info

Banff, AB, Canada

Oct 20-24, 2014

AAAR 33rd Annual Conference
More Info

Orlando, FL, USA

Oct 21-22, 2014

A&WMA North American Oil and Gas Conference
More Info

Calgary, AB, Canada

Oct 29, 2014

A&WMA Inter-Mountain Oil and Gas Environmental Conference
More Info

Denver, CO, USA

Nov 5-6, 2014

A&WMA Great Lakes Oil and Gas Environmental Conference
More Info

Ann Arbor, MI, USA

Nov 5-7, 2014

Seventh International Symposium on Non-CO2 Greenhouse Gases (NCGG7)
More Info

Amsterdam, Netherlands

Nov 9-13, 2014

SETAC North America 35th Annual Meeting
More Info

Vancouver, BC, Canada

Nov 10-14, 2014

7th International Congress on Environmental Geotechnics
More Info

Melbourne, Australia

Dec 2-5, 2014

Pollutech 2014
More Info

Lyon, France

Jan 4-8, 2015

American Meteorological Society (AMS) 95th Annual Meeting
More Info

Phoenix, AZ, USA

Feb 16-18, 2015

EUEC 2015
More Info
Lakes Environmental will be at booth #812

San Diego, CA, USA
About this Newsletter
This newsletter contains information gleaned from various sources on the web, with complete links to the sources cited. Organizations cited are in no way affiliated with Lakes Environmental Software.
Lakes Environmental Software is a leading environmental IT company that offers a complete line of air dispersion modeling, risk assessment, emissions inventory, and emergency release software as well as training and custom software services. With satisfied users located around the globe, Lakes Environmental Software will continue to revolutionize the environmental software field.
For more information please visit our web site at: www.webLakes.com. You may also contact us by phone at (519) 746-5995 or by fax at (519)746-0793.
All comments and suggestions are welcome. You can e-mail us at: support@webLakes.com.