Lakes Environmental e-Newsletter
Emissions Inventory - Atmospheric Science - IT Solutions


In this issue:
News & Events
Upcoming Courses
Modeling Tip: Using Flagpole Receptors in AERMOD
Articles
Upcoming Conferences & Trade Shows
News & Events
AERMOD & CALPUFF Courses in Las Vegas – Only a Few Spots Avaliable!
AERMOD and CALPUFF Courses in Edmonton, Alberta – June 1-4, 2015
Lakes Environmental will host 4 days of AERMOD and CALPUFF training in Edmonton from June 1 to 4, 2015. Further details including course outline and registration form can be found on our website.
CALPUFF course students will have the opportunity to complete a Do It Yourself Case Study using WRF processed met data for a location of their choice.




Early Registration Discount Ends May 1, 2015




Course: AERMOD (June 1-2, 2015)
Course: CALPUFF (June 3-4, 2015)
Location: Edmonton
Contact: training@webLakes.com
Registration: Register Now
Lakes Environmental at CANECT 2015
Lakes Environmental will once again be exhibiting at the Canadian Environmental Conference & Tradeshow, CANECT 2015, in Mississauga, Ontario, from April 27 to 29, 2015.
Come and visit Dr. Jesse Thé at booth 1438 for information about our software products, as well as your chance to win a FREE copy of our AERMOD View software! To obtain conference information, please visit the CANECT website.
Upcoming Courses
Date

Course

Location

Registration

May 4-5, 2015
May 6-8, 2015

Jun 1-2, 2015
Jun 3-4, 2015

Oct 19-20, 2015
Oct 21-22, 2015

Registration
Coming Soon

Nov 9-10, 2015
Nov 11-12, 2015

Registration
Coming Soon
For more information on the above courses, including registration information, location, and course outlines, please visit our web site: https://www.weblakes.com/courses.html.
Modeling Tip
Using Flagpole Receptors in AERMOD
Air dispersion models are only capable of calculating concentration at specific locations. These locations are called receptors. In the USEPA's AERMOD air dispersion model, concentration calculations at each receptor are done at the ground level as opposed to some height above ground. Output from the AERMOD model is often referred to as GLCs for Ground Level Concentrations.
The model does have the capability of measuring concentration at some height above ground, however, through the use of Flagpole Receptor Heights. One example of using a flagpole receptor height is to calculate concentration at an average breathing height (e.g., 1.5 meters).
Follow the steps below on how to add flagpole heights to receptors in AERMOD View:
Step 1: Open the Receptor Pathway options
Step 2: In the Receptor Summary, select Yes for the Flagpole Receptors option. You can also specify a Default Height above ground for all receptors. The Default Height value is used on every receptor where a unique height is not specified.

Step 3: Select the receptor type (e.g., Uniform Cartesian, Discrete Cartesian, etc.) and apply a height.
Step 4:To add a flagpole height to a specific discrete receptor, enter the desired height in the Flagpole Heights [m] (Optional) column of the Discrete Cartesian Receptor options.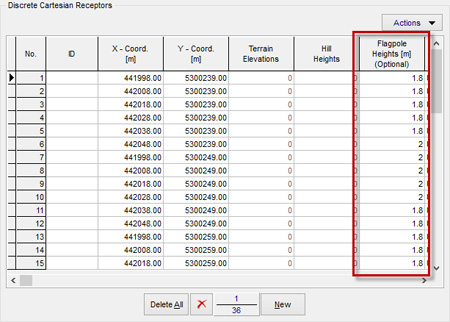 Step 5:To add a flagpole height to a receptor within a gridded network, select the grid and click the

button. Fill in the desired heights in the grid window. Entire rows can be selected using the Mark icon (

).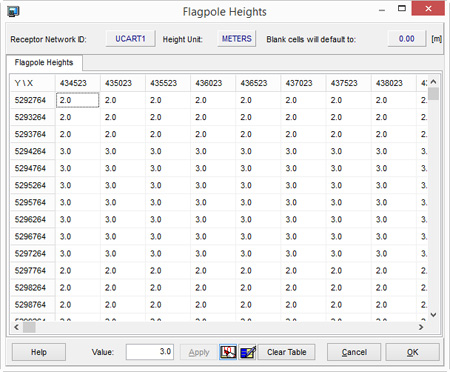 Submit Your Modeling Tips Today!
We are currently accepting submissions for the Monthly Modeling Tip section that appears in our newsletters. If you have a modeling tip that may benefit our readers, please send it to us at support@webLakes.com. Your name and the name of your organization will appear below the tip providing you with an opportunity for increased exposure.
Articles
India Measures Air Quality in World's Most Polluted Capital
April 6, 2015 India's prime minister suggested Monday the country's "age-old traditions" could be used to ease its choking smog, as he launched a new air quality index for the world's most polluted capital.
Narendra Modi proposed making every Sunday "bicycle day" and switching off street lights during a full moon, amid growing public concern over the impact of air pollution on the health of India's 1.2 billion people.
"There can be green solutions in our age-old traditions," he said in a speech at a conference of environmental policymakers in the capital New Delhi.
Climate Summit of the Americas
April 2, 2015 Ontario is hosting a Climate Summit of the Americas, ahead of the 2015 Pan Am and Parapan American Games from July 7 – 9, 2015.
The Summit will bring together Pan-American jurisdictions, as well as environmental groups and industry, to work towards common approaches to reducing greenhouse gas emissions through broader adoption of carbon pricing mechanisms, and highlight opportunities for investing in a global low-carbon economy.
EPA Report: Automakers Surpassing Light-Duty Greenhouse Gas Standards
March 26, 2015 - WASHINGTON - For the second consecutive model year, the automotive industry outperformed the national greenhouse gas (GHG) emissions standards by a wide margin. Overall industry compliance in model year 2013 was 12 grams/mile – or 1.4 miles per gallon – better than required by the 2013 standard.
These were among the top findings released today in the Environmental Protection Agency's (EPA's) second annual "Greenhouse Gas Emissions Standards for Light Duty Vehicles: Manufacturer's Performance Report." The report presents detailed information about how individual firms are complying with GHG emissions standards for cars and light trucks.
Top U.S. Court Questions EPA Emissions Rule for Power Plants
March 25, 2015 - U.S. Supreme Court justices signaled they are divided over Obama administration rules that would cut emissions from 460 coal-fired power plants in an effort to curb birth defects, heart disease and premature deaths.
During arguments Wednesday, justices questioned Environmental Protection Agency controls on mercury and acid gases from the plants owned by Southern Co., American Electric Power Co. and other utilities. Lawyers for power companies and some states said the agency didn't adequately consider costs before imposing rules estimated to cost $9.6 billion a year.
State of the European Environment 2015
March 3, 2015 - The European Environment Agency (EEA) today released its State of the Environment Report (SOER) 2015. This report provides a comprehensive assessment of the European environment's state, trends and prospects, and places it in a global context.
With its broad range of global, European, regional and country-level briefings, complemented by an overarching synthesis report and a global megatrends report, SOER 2015 will be an invaluable source of knowledge for all those interested and involved in improving Europe's environment.
Upcoming Conferences & Trade Shows
Date

Conference

Location

Apr 22-23, 2015

The Air Quality and Emissions Show 2015
More Info

Telford, United Kingdom

Apr 28-29, 2015

CANECT 2015
More Info
Lakes Environmental will be at booth #1438

Toronto, ON, Canada

May 4-8, 2015

ITM 2015 – 34th International Technical Meeting on Air Pollution Modelling and its Application
More Info

Montpelier, France

May 26-28, 2015

Carbon Expo 2015
More Info

Barcelona, Spain

Jun 1-3, 2015

23rd International Conference on Modelling, Monitoring and Management of Air Pollution
More Info

València, Spain

Jun 15-19, 2015

Asia Clean Energy Forum
More Info

Manila, Philippines

Jun 22-24, 2015

6th International Congress of Energy and Environment Engineering and Management (CIIEM15)
More Info

Paris, France

Jun 22-25, 2015

A&WMA 108th Annual Conference & Exhibition
More Info
Lakes Environmental will be at booth #506

Raleigh, NC, USA

Jun 23-24, 2015

Emissions 2015
More Info

Troy, MI, USA
About this Newsletter
This newsletter contains information gleaned from various sources on the web, with complete links to the sources cited. Organizations cited are in no way affiliated with Lakes Environmental Software.
Lakes Environmental Software is a leading environmental IT company that offers a complete line of air dispersion modeling, risk assessment, emissions inventory, and emergency release software as well as training and custom software services. With satisfied users located around the globe, Lakes Environmental Software will continue to revolutionize the environmental software field.
For more information please visit our web site at: www.webLakes.com. You may also contact us by phone at (519) 746-5995 or by fax at (519)746-0793.
All comments and suggestions are welcome. You can e-mail us at: support@webLakes.com.