Lakes Environmental e-Newsletter
Emissions Inventory - Atmospheric Science - IT Solutions


In this issue:
News & Events
Upcoming Courses
Modeling Tip: Create Plume Animations in AERMOD View
Articles
Upcoming Conferences & Trade Shows
News & Events
AERMOD View Version 9.0 Released!
On August 20, 2015, Lakes Environmental released AERMOD View Version 9.0. Main features include:
Updated Models: New U.S. EPA AERMOD, AERMET, and MAKEMET models version 15181 available (released July 2015). See the article below for a description of the major changes in the 15181 models.
Updated AERMOD MPI: New AERMOD MPI (parallel version) to support latest US EPA AERMOD Model 15181.
Plume Animation: View and record animations of hourly time series concentrations.
Graphical Options: Apply contour settings to multiple plots simultaneously and change model object color settings.
Automatically disable onsite or offsite gridded network receptors.
For a detailed listing of updates available in AERMOD View Version 9.0, please check out our latest release notes.
If you are currently in maintenance for AERMOD View and did not receive an email regarding this update, please contact us at sales@webLakes.com.
If you are a user of AERMOD View but are no longer in maintenance please contact sales@webLakes.com for pricing to get up and running on Version 9.0.
US EPA Releases AERMOD, AERMET, and MAKEMET Models Version 15181
On July 24, 2015, the U.S. EPA posted updates to the AERMOD air dispersion model, and the AERMET/MAKEMET meteorological data preprocessor on the SCRAM website. As mentioned above, these model updates have been incorporated into the AERMOD View, AERMET View, and the AERMOD MPI (parallel version) to address the new model changes.
Some of the major model changes include:




New Buoyant Line source type derived from the BLP dispersion model.
Added the beta PVMRM2 option for NOx-to-NO2 conversion. This option is an updated version of the existing PVMRM option.
Added an additional beta option for handling low wind speeds (LOWWIND3).
Annual average POSTFILEs now include results from each individual year in a model run spanning multiple years.
And more!
If you are a user of AERMOD View but are no longer in maintenance please contact sales@webLakes.com for pricing to update your software.
US EPA Releases AERSCREEN Model Version 15181
On July 24, 2015, the U.S. EPA posted an update to the AERSCREEN air dispersion model on the SCRAM website. Changes include the incorporation of shoreline fumigation and inversion break-up routines.




Lakes Environmental team is hard at work updating AERSCREEN View with the model updates. Lakes Environmental plans to release the new version of AERSCREEN View in a few weeks. Be on the lookout for an email from us announcing this new release.




If your AERSCREEN View license is no longer in maintenance, please contact sales@webLakes.com for pricing to update your software as only users in current maintenance will be eligible to receive this new release.
A Note on Upgrading to Microsoft Windows 10
With Microsoft's official release of Windows 10, many Lakes software users are upgrading. Lakes is currently testing its product line to ensure that the user experience maintains the quality that our users expect.
Current users who utilize the web-based license activation should make sure to deactivate their web license prior to upgrading the operating system. This will ensure there is no interruption in license use.
AERMOD Course in Toronto - Sep 24-25, 2015 - Only a Few Spots Left!
Lakes Environmental will hold two days of AERMOD training in Toronto from September 24-25, 2015.




Attending this courses is the best way to stay current with recent regulatory and methodology changes. Lakes Environmental uses cutting edge tools that will revolutionize the way you do air dispersion modeling!




Course: AERMOD (September 24-25, 2015)
Location: Toronto, Ontario
Contact: training@webLakes.com
Registration: Register Now
AERMOD Course in Chicago – Oct 15-16, 2015
Lakes Environmental will hold two days of AERMOD training in Chicago from October 15-16, 2015. This course will cover upcoming regulatory changes from the U.S. EPA.




Register today to take advantage of our early registration discount!




Early Registration Discount Ends: September 15, 2015




Course: AERMOD (October 15-16, 2015)
Location: Chicago, Illinois
Contact: training@webLakes.com
Registration: Register Now
AERMOD & CALPUFF Courses in London, UK – Oct 19-22, 2015
Lakes Environmental is pleased to be traveling to the United Kingdom for four days of AERMOD and CALPUFF training in London from October 19-22, 2015.
Lakes Environmental Closed on September 7th for Labor Day Holiday
Lakes Environmental's Waterloo and Dallas offices will be closed on Monday, September 7, 2015 to observe the Labor Day holiday. If you have any needs during that time, please e-mail us at support@webLakes.com and we will contact you on Tuesday, September 8, 2015 when our offices reopen
Upcoming Courses
Date

Course

Location

Registration

Sep 24-25, 2015

Oct 15-16, 2015

Oct 19-20, 2015
Oct 21-22, 2015

Nov 9-10, 2015
Nov 11-12, 2015
For more information on the above courses, including registration information, location, and course outlines, please visit our web site: https://www.weblakes.com/courses.html.
Modeling Tip
Create Plume Animations in AERMOD View
The AERMOD air dispersion model is capable of producing many different types of output files. One output file – the Post-Processing File – can produce time series data for each receptor. Lakes Environmental's brand-new AERMOD View Version 9.0 now includes a special option which uses the Post-Processing File to create hourly time series plume animations.
To use the new feature, the Plume Animation option must be enabled in the Output Pathway window. Separate animations can be made for each source group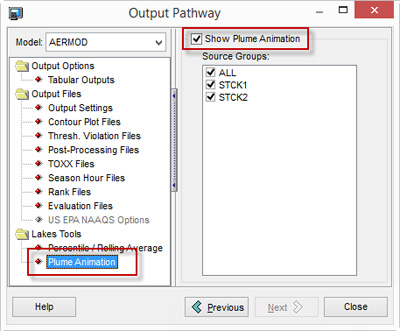 After a successful AERMOD model run, the Plume Animation tree menu will appear. Options include animation speed, looping option, source group selection, and more.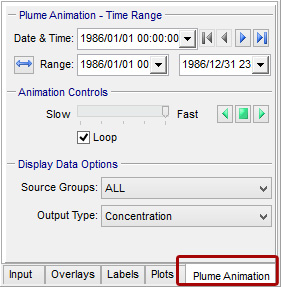 To manually jump from one time to the next, use the blue Time Range controls. The green buttons in the Animation Controls allow you to play the plume animation forwards or backwards.
To record and playback a plume animation video:
Step 1: Open the Multimedia menu and select Record Animation





The Multimedia Options dialog will appear and remain on top of all other layers in the software.
Step 2: Select the desired Frame Rate (the number of frames per second that will appear when the animation is played). Higher Frame Rates will play much faster.
Step 3: The Advanced Settings allow you to choose color depth and compression options. Modify if necessary.
Step 4: In the main display, set up the animation controls to the point where you want the recording to begin. You can also modify the Graphical Options to make changes to contour settings and more.
Step 5: When you're ready to begin, click the Begin Recording button

in the Multimedia Options dialog. You will then need to hit the Play button on the Animation Controls.
When the recording is complete, you can view the AVI file by selecting the Play button from the Multimedia Options dialog or by using the Multimedia | Play Recording menu option.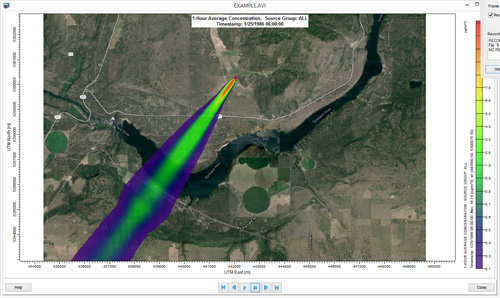 Submit Your Modeling Tips Today!
We are currently accepting submissions for the Monthly Modeling Tip section that appears in our newsletters. If you have a modeling tip that may benefit our readers, please send it to us at support@webLakes.com. Your name and the name of your organization will appear below the tip providing you with an opportunity for increased exposure.
Articles
The Final Clean Power Plan
August 3, 2015- President Obama announced EPA's historic Clean Power Plan, a first-of-its-kind step to cut the harmful carbon pollution fueling climate change from our nation's power plants. Climate change threatens our health, our economy, and our way of life with impacts like more intense heat, cold, droughts, floods, fires, and storms. And power plants are our nation's largest driver of climate change, making up a third of our carbon pollution emissions.
Compared with last year's proposal, the final Clean Power Plan cuts over 70 million more tons of carbon pollution, making it more ambitious. And based on more than two years of extensive outreach, plus the 4.3 million public comments we received, we made changes to improve the proposal, so that the final Clean Power Plan is more achievable and more affordable, too.
Battle Against Pollution: European Cities to Ban Cars from Roads for One Day
July 23, 2015 - Cities across Europe will ban cars from their roads for one day in September, as part of a campaign to promote more sustainable transport.
While major capital cities across the continent have been bringing in a raft of measures to try and tackle pollution — as recent studies have also begun to lay bare the full effects of its dangers — a scheme to encourage greener transport measures has attracted hundreds to take part in a range of initiatives, including closing roads to cars.
Canada Can't Afford Complacency on Air Pollution: CMAJ Editorial
July 20, 2015 - Canada is being called on to adjust to recently established global guidelines for air pollution.
In an editorial, the Canadian Medical Association Journal advocates following the lead of the World Health Organization, which in May updated the acceptable levels of small particulate matter, nitrogen dioxide and ground-level ozone.
The CMA is particularly concerned about the impact of air pollution on children.
France Estimates the Economic Costs of Air Pollution
July 16, 2015 - The French Senate has called for new efforts to tackle air pollution, arguing it inflates healthcare costs, reduces economic productivity and agricultural yields, and has put Paris in the EU's bad books.
A Committee of Inquiry in the French Senate has described air pollution as an "economic aberration". The committee's proposals to reduce the phenomenon, which costs France over €100 billion every year, include raising the tax on diesel and taxing emissions of the worst polluting substances.
Nearly 9,500 People Die Each Year in London because of Air Pollution – Study
July 15, 2015 - Nearly 9,500 people die early each year in London due to long-term exposure to air pollution, more than twice as many as previously thought, according to new research.
The premature deaths are due to two key pollutants, fine particulates known as PM2.5s and the toxic gas nitrogen dioxide (NO2), according to a study carried out by researchers at King's College London.
Sulfur Regulations Improving Air Quality in Hong Kong
July 10, 2015 - Air quality levels in Hong Kong have improved in the first half of 2015 compared to the same time last year, a change which has been attributed to the recent implementation of low-sulfur regulations on berthed ocean-going vessels (OGV), according to industry group Clean Air Network.
Upcoming Conferences & Trade Shows
Date

Conference

Location

Sep 03-05, 2015

14th International Conference on Environmental Science and Technology
More Info

Rhodes, Greece

Sep 14-16, 2015

CCE 2015: 4th International Conference & Exhibition on Clean Energy
More Info

Ottawa, ON, Canada

Nov 01-05, 2015

SETAC North America 36th Annual Meeting
More Info

Salt Lake City, UT, USA

Nov 13-15, 2015

13th International conference on the Atmospheric Sciences and Application to Air Quality (ASAAQ)
More Info

Kobe, Japan

Nov 17-18, 2015

International Petroleum Environmental Conference (IPEC)
More Info

Denver, CO, USA

Nov 18-19, 2015

Petroleum, Refining & Environmental Monitoring Technologies (PEFTEC) 2015
More Info

Antwerp, Belgium

Dec 07-08, 2015

Sustainable Innovation Forum (SIF15)
More Info

Paris, France

Feb 03-05, 2016

Energy, Utility & Environment Conference (EUEC) 2016
More Info

San Diego, CA, USA

Mar 02-04, 2016

GLOBE 2016
More Info

Vancouver, BC, Canada
About this Newsletter
This newsletter contains information gleaned from various sources on the web, with complete links to the sources cited. Organizations cited are in no way affiliated with Lakes Environmental Software.
Lakes Environmental Software is a leading environmental IT company that offers a complete line of air dispersion modeling, risk assessment, emissions inventory, and emergency release software as well as training and custom software services. With satisfied users located around the globe, Lakes Environmental Software will continue to revolutionize the environmental software field.
For more information please visit our web site at: www.webLakes.com. You may also contact us by phone at (519) 746-5995 or by fax at (519)746-0793.
All comments and suggestions are welcome. You can e-mail us at: support@webLakes.com.