Lakes Environmental e-Newsletter
Emissions Inventory - Atmospheric Science - IT Solutions


In this issue:
News & Events
Upcoming Courses
Modeling Tip: 5-Minute ASOS Data in AERMINUTE
Articles
Upcoming Conferences & Trade Shows
News & Events
Happy Holidays from Lakes Environmental!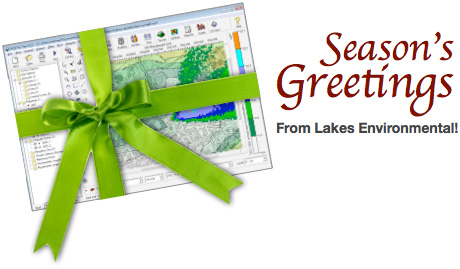 Lakes Environmental wishes you a Joyous Holiday Season and a Prosperous New Year!
With the holiday season upon us, we wish to take this opportunity to specially thank you, our subscribers and customers, for reading our newsletter throughout the year. Your continued feedback and suggestions enable us to provide you with the most relevant information in your field of expertise. Thank you once again and we look forward to working with you in 2016!
Please find below the holiday schedule for Lakes Environmental's offices:
| | |
| --- | --- |
| December 24 | Closed |
| December 25 | Closed |
| December 28-30 | Open |
| December 31 | Closed |
| January 1 | Closed |
If you have an urgent matter requiring assistance during the holidays, please e-mail us at support@webLakes.com.
CALPUFF View Version 8.1 Released!
Lakes Environmental is pleased to announce the release of CALPUFF View Version 8.1 on December 16, 2015. This release includes the following updates:
New Terrain Download Option: SRTM1 Version 3 terrain data (*.bil) with ~30m resolution and near-global coverage is now available for download via the WebGIS feature of the Geophysical Processor.*
New Terrain Format: Support for the Generic Terrain file format (GEN).
MMIF Terrain File Option: Specify a gridded terrain file (*.grd) to extract base elevations of sources, receptors, and buildings when CALPUFF-Ready meteorological data generated by MMIF are used.
*This feature is available only to CALPUFF View users in current maintenance.
For a detailed listing of updates available in CALPUFF View Version 8.1, please check our latest release notes.
If you are currently in maintenance for CALPUFF View and did not receive an email regarding this update, please contact us at support@webLakes.com.
If you are a CALPUFF View user but are no longer in maintenance, please contact sales@webLakes.com for pricing to get up and running on Version 8.1.
AERMOD View Version 9.1 Released!
On December 10, 2015, Lakes Environmental released AERMOD View Version 9.1. This release features several updates including:
New AERMINUTE: Incorporates the newest USEPA AERMINUTE executable 15272. This update includes the option to use 5-minute ASOS wind data to supplement 1-minute averages.
New Land Use Formats: AERMET View's Land Use Creator now supports automated import of EOSD (Canada, ~25m) and CORINE (Europe, 100m & 250m) land use formats.*
New Terrain Download Option: SRTM1 Version 3 terrain data (*.bil) with ~30m resolution and near-global coverage is now available for download via the WebGIS feature of the Terrain Processor.*
Met Parameters Time Series Graph: Added a new Graph display in Met View for creating line graphs of meteorological variables.
This feature is available only to AERMOD View users in current maintenance.
Check our latest release notes for a complete list of updates. Users with current maintenance can access this update from our Software Updates webpage.
If you are an AERMOD View user but are no longer in maintenance, please contact sales@webLakes.com for pricing to get up and running on Version 9.1.
Lakes Environmental Announces 2016 Training Courses
Lakes Environmental is ready to kick off another year of AERMOD and CALPUFF training courses. Our current plans include the following locations:




| | |
| --- | --- |
| February 1-4, 2016 | Toronto, ON |
| February 22-26, 2016 | Dallas, TX |
| March 7-10, 2016 | Singapore |
| May 2-6, 2016 | Las Vegas, NV |




Early registration discounts are available!




Starting making plans now to attend one of these outstanding courses! The latest information on all of our upcoming courses is available on our website.
Upcoming Courses
Date

Course

Location

Registration

Feb 1-2, 2016
Feb 3-4, 2016

Feb 22-23, 2016
Feb 24-26, 2016

Mar 7-8, 2016
Mar 9-10, 2016

May 2-3, 2016
May 4-6, 2016
For more information on the above courses, including registration information, location, and course outlines, please visit our web site: https://www.weblakes.com/courses.html.
Modeling Tip
5-Minute ASOS Data in AERMINUTE
AERMINUTE is the pre-processor program which reads wind data from Automated Surface Observing System (ASOS) stations in the United States and prepares hourly-averaged wind speed and direction values. Up to now, AERMINUTE only read 1-minute data records in a specific format (TD-6405).
The US EPA recently updated the AERMINUTE executable (dated 15272). This update now allows modelers to supplement the record with 5-minute ASOS wind data to fill in gaps in the 1-minute data records. Lakes Environmental has added this AERMINUTE update to the latest release of AERMET View (Version 9.1).
To incorporate 5-minute data into an existing AERMET View project, follow these simple steps:
Step 1. Open your AERMET View project by double-clicking the .amf file
Step 2. Select the ASOS 1-Minute tab from the Surface display. Select the AERMINUTE button to open the AERMINUTE Utility.

Step 3. In the Utility, select the Specify 5-Minute ASOS Wind Data (TD-6401 / DSI-6401) tab. AERMINUTE is now capable of reading 5-minute ASOS wind data in TD-6401 format from the U.S. National Centers for Environmental Information (NCEI, formerly NCDC). AERMET View includes a link to NCDC's data archive to retrieve the necessary files. Press the Download Files button to open the link to NCDC's FTP site.

Step 4. Select Load 5-Minute ASOS Files to begin downloading the files needed for your project. Files are named by station callsign, 4-digit year, and 2-digit month. This example uses data from Reno, NV (KRNO) for the full year 2010 (201001 – 201012).

Step 5. AERMINUTE will prepare comparison files for the 1-minute & 5-minute data. These files are enabled by default in the AERMINUTE Utility. Once complete, you can click the Preview icon to view these files and see where the 5-minute data is incorporated.

Step 6. You're ready to run! Click Process to run AERMINUTE. Once you're done reviewing the output, click OK to exit the Utility. The file will now indicate that 5-minute data was used.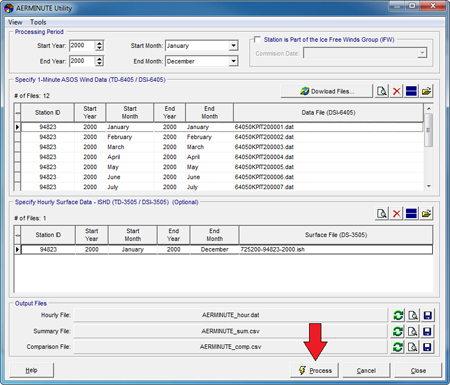 AERMINUTE produces an hourly data file which is automatically incorporated to your AERMET View project. You can also view a summary file of the hourly averages calculated in the program.
Submit Your Modeling Tips Today!
We are currently accepting submissions for the Monthly Modeling Tip section that appears in our newsletters. If you have a modeling tip that may benefit our readers, please send it to us at support@webLakes.com. Your name and the name of your organization will appear below the tip providing you with an opportunity for increased exposure.
Articles
Delhi Government's Formula to Check Pollution Level: Odd, Even Number Vehicles on Alternate days from January 1
December 5, 2015 - NEW DELHI - A day after the Delhi High Court observed that the current air pollution levels in the national capital were akin to "living in a gas chamber", the Aam Aadmi Party (AAP) government, Friday, announced stringent measures to bring the situation under control.
The biggest of the proposed measures is that vehicles with odd and even registration numbers will be allowed on alternate days from January 01, 2016.
While Paris Focuses on Climate Change, Air Pollution Kills 400,000 Europeans Per Year
December 5, 2015 - In Wieliczka, near Krakow, a handful of locals have gathered in a hotel conference room to bemoan air pollution. One woman complains of sinus problems caused by soot; another worries about her children playing outside. A man grumbles that police rarely prosecute residents for burning rubbish. It is a tiny gathering compared with the huge climate-change conference that kicked off in Paris on November 30th. But the issue is as big as the sky.
Europe's air is less corrosive than it once was, and much less foul than China's or India's. Industrial decline and clean-air policies since the 1950s have brought levels of many pollutants, such as sulphur dioxide, fine particulate matter (a dust that can irritate lungs), and nitrogen oxides down over the past few decades. Yet more than 400,000 Europeans still die prematurely each year because of air pollution, according to the European Environment Agency. In 2010 the health-related costs were thought to be between €330 billion ($437 billion) and €940 billion, or 3%-7% of GDP.
Congress Passes Resolutions to Block 'Crushing Regulations' Of EPA's CPP
December 2, 2015 - The U.S. House of Representatives has passed two resolutions to block the U.S. Environmental Protection Agency's (EPA) Clean Power Plan regulations for both newly constructed and existing power plants.
S.J. Res. 24, sponsored by Sens. Shelley Moore Capito, R-W.Va., and Heidi Heitkamp, D-N.D., covers existing power plants, and S.J. Res. 23, sponsored by Senate Majority Leader Mitch McConnell, R-Ky., and Sen. Joe Manchin, D-W.Va., covers new power plants.
Before moving to the House, these resolutions of disapproval passed the U.S. Senate in mid-November.
USEPA Bumps up US Renewable Fuel Standard Volumes for 2015-2016, in Final Ruling
November 30, 2015 - WASHINGTON - The U.S. Environmental Protection Agency announced final volume requirements under the Renewable Fuel Standard program today for the years 2014, 2015 and 2016, and final volume requirements for biomass-based diesel for 2014 to 2017. This rule finalizes higher volumes of renewable fuel than the levels EPA proposed in June, boosting renewable production and providing support for robust, achievable growth of the biofuels industry.
Taiwan EPA Announces Draft Bill Aimed at Poor Air Quality
November 18, 2015 - Taiwan's Environmental Protection Administration (EPA) yesterday announced a draft emergency response measure aimed at combating air pollution, which would limit the use of vehicles, prohibit some outdoor events and reduce factory emissions by 40 percent when pollution reaches hazardous levels.
The air pollution emergency response draft act concerns levels of PM2.5 — fine particulate matter under 25 micrometers in diameter.
Upcoming Conferences & Trade Shows
Date

Conference

Location

Jan 10-14, 2016

American Meteorological Society (AMS) 96th Annual Meeting
More Info

New Orleans, LA, USA

Jan 18-21, 2016

World Future Energy Summit
More Info

Abu Dhabi, UAE

Feb 03-05, 2016

Energy, Utility & Environment Conference (EUEC) 2016
More Info

San Diego, CA, USA

Mar 02-04, 2016

GLOBE 2016
More Info

Vancouver, BC, Canada

Mar 14-18, 2016

Air Quality 2016
More Info

Milan, Italy

Mar 20-25, 2016

40th Stationary Source Sampling & Analysis for Air Pollutants Conference 2016
More Info

Point Clear, AL, USA

Apr 25-27, 2016

CANECT 2016
More Info

Toronto, ON, Canada

May 24-26, 2016

21st International Transport and Air Pollution Conference (TAP 2016)
More Info

Lyon, France

May 25-27, 2016

Carbon Expo 2016
More Info

Cologne, Germany

Jun 20-23, 2016

A&WMA 109th Annual Conference & Exhibition
More Info
Lakes Environmental will be at booth #331

New Orleans, LA, USA
About this Newsletter
This newsletter contains information gleaned from various sources on the web, with complete links to the sources cited. Organizations cited are in no way affiliated with Lakes Environmental Software.
Lakes Environmental Software is a leading environmental IT company that offers a complete line of air dispersion modeling, risk assessment, emissions inventory, and emergency release software as well as training and custom software services. With satisfied users located around the globe, Lakes Environmental Software will continue to revolutionize the environmental software field.
For more information please visit our web site at: www.webLakes.com. You may also contact us by phone at (519) 746-5995 or by fax at (519)746-0793.
All comments and suggestions are welcome. You can e-mail us at: support@webLakes.com.