Lakes Environmental e-Newsletter
Emissions Inventory - Atmospheric Science - IT Solutions


In this issue:
News & Events
Upcoming Courses
Modeling Tip: Understanding AERMOD's Profile Met File
Articles
Upcoming Conferences & Trade Shows
News & Events
ENVIRONMENTAL NEWS NETWORK (ENN) – New Mobile App for your iPhone
Lakes Environmental is proud to announce the release, at the Apple Store, of our newest application. We partnered with ENN.COM, Web's largest Environmental news portal, to deliver news daily directly to your iPhone.




You can install this great app by one of the following methods:

Clicking on the direct link to the Apple store: https://itunes.apple.com/
Opening the App Store application in your iOS device and searching either for "ENN" or "environmental news network". It should be one of the top search results. Make sure it has the icon displayed below.
More about ENN.COM
The Environmental News Network (ENN) is recognized as the most comprehensive and dependable online environmental news source. With almost twenty years of experience aggregating and producing original content for environmental experts and novices alike, ENN's mission is to inform, educate, and inspire environmental discussion and action among its readers and contributors.
ENN recognizes that there is no lack of environmental news content, but rather an overabundance of it. Therefore, ENN gathers, filters, and streamlines environmental news from affiliate networks and other news streams so as to consolidate and support better environmental decisions for an ever changing world. ENN's core sources include major wire services, research institutions, and freelance and citizen journalists from around the world.
We also encourage you to join the conversation by checking out their Community Blog and by connecting with them on Facebook.
AERMOD Course in Dallas, Texas – Feb 23-24, 2015
Lakes & APAQ AERMOD & CALPUFF Courses in Singapore– March 24-27, 2015
Lakes Environmental and Asia Pacific Air Quality Group (APAQ) invite you to participate in four days of AERMOD and CALPUFF training taking place in Singapore from March 24 to 27, 2015.
AERMOD & CALPUFF Courses in Las Vegas, Nevada – May 4-8, 2015
Lakes Environmental will be hosting a full week of AERMOD and CALPUFF training in Las Vegas from May 4 to 8, 2015.
Lakes Environmental at EUEC 2015
Lakes Environmental will be in Phoenix, Arizona, from February 16 to 18, 2015 for the 18th Annual Energy, Utility & Environment Conference (EUEC).




We invite you to stop by booth #812 to meet Mr. Bryan Matthews. He would be happy to speak with you regarding our technologically advanced environmental software solutions and services.
Lakes Environmental Closed for Ontario's Family Day Holiday
Lakes Environmental's Waterloo office will be closed on Monday, February 16th, 2015 to observe Ontario's Family Day Holiday. Our Dallas office will remain open on this day. If you have any needs during that time, please e-mail us at support@webLakes.com and we will respond to your inquiry as soon as possible..
Upcoming Courses
Date

Course

Location

Registration

Feb 2-3, 2015

Feb 23-24, 2015

Mar 9-10, 2015
Mar 11-12, 2015

May 4-5, 2015
May 6-8, 2015

Jun 1-2, 2015
Jun 3-4, 2015

Edmonton, AB

Registration
Coming Soon
For more information on the above courses, including registration information, location, and course outlines, please visit our web site: https://www.weblakes.com/courses.html.
Modeling Tip
Understanding AERMOD's Profile Met File
The US EPA AERMOD air dispersion model requires two meteorological data files – a surface file (*.SFC) and a profile file (*.PFL). The profile met file is commonly misunderstood for a variety of reasons. That AERMET, the meteorological preprocessor for AERMOD, requires upper air data as input, implies that the profile file will contain some sort of record of this data for AERMOD to analyze. Some users may be confused to open a profile file only to find a limited amount of information from a single level of measurement.
The profile file was written by the United States Environmental Protection Agency (US EPA) to "[contain] one or more levels (a profile) of winds, temperature and the standard deviation of the fluctuating components of the wind." However, standard National Weather Service (NWS) hourly observations are only taken at the surface level (approximately 6 to 10 meters above ground). This results in a file which contains only a single level.
The image below is an example of a profile met file with data at multiple levels (2, 10, and 30 meters). Data were sourced from an onsite station with measurement equipment at different heights.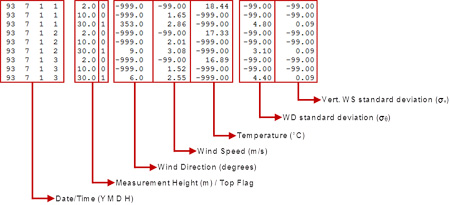 The second example shows a more standard profile met file; that is, a profile file containing data from a single-level NWS station.

Submit Your Modeling Tips Today!
We are currently accepting submissions for the Monthly Modeling Tip section that appears in our newsletters. If you have a modeling tip that may benefit our readers, please send it to us at support@webLakes.com. Your name and the name of your organization will appear below the tip providing you with an opportunity for increased exposure.
Articles
Air Pollution Down Thanks to California's Regulation of Diesel Trucks
December 11, 2014 – Ever wonder what's in the black cloud that emits from some semi-trucks that you pass on the freeway? Lawrence Berkeley National Laboratory (Berkeley Lab) scientist Thomas Kirchstetter knows very precisely what's in there, having conducted detailed measurements of thousands of heavy-duty trucks over months at a time at two San Francisco Bay Area locations.
With a specially outfitted research van equipped with sophisticated monitors for several pollutant types, he and his team are studying emissions levels from diesel trucks to understand and analyze the impact of new control technologies and California air pollution regulations.
Clean Air and Recycling Laws at Risk in EU
December 12, 2014 - The EU may scrap plans for legislation on air pollution and waste in a drive to boost the economy, according to a leaked document seen by BBC News.
In its draft workplan, the European Commission says the priorities are creating jobs, reducing public debt and increasing industrial competitiveness.
It says citizens do not want Europe interfering in issues that can be solved nationally.
NASA Maps CO2 Emissions Over the Entire Planet
December 25, 2014 - It's been a busy five months for NASA's newest carbon dioxide-monitoring satellite, snapping up to 1 million measurements a day of how carbon dioxide moves across the planet. Now NASA scientists have shared the first global maps created using that data, showing one of the most detailed views of CO2 ever created.
Biggest Cloud-Seeding Experiment Yet Only Sparks More Debate
December 29, 2014 - In the nearly 60 years since meteorologists first conceived of seeding clouds as a way to increase rainfall, it has remained unclear whether human attempts to make it snow actually work.
Now, the results of the most scientific study of cloud seeding done yet are in. Researchers found that seeding clouds with droplets of silver iodide does slightly increase precipitation, boosting levels by 5 to 15 percent. However, experts disagree about whether this small increase means cloud-seeding efforts should expand.
Montreal Air Quality Drops in 2014
December 30, 2014 - The air quality in Montreal was considerably worse in 2014 compared to previous years, according to city data compiled by Radio-Canada.
Overall, the number of days when the air was considered "poor" and dangerous to public health jumped 21 per cent from last year.
Upcoming Conferences & Trade Shows
Date

Conference

Location

Feb 14-15, 2015

6th International Conference on Environmental Science and Development
More Info

Amsterdam, Netherlands

Feb 16-18, 2015

EUEC 2015
More Info
Lakes Environmental will be at booth #812

San Diego, CA, USA

Mar 17-19, 2015

Americana 2015
More Info

Montréal, QC, Canada

Mar 29- Apr 3, 2015

38th Stationary Source Sampling & Analysis for Air Pollutants Conference
More Info

Tucson, AZ, USA

Apr 12-16, 2015

U.S. EPA 2015 International Emission Inventory Conference
More Info

San Diego, CA, USA

Apr 22-23, 2015

The Air Quality and Emissions Show 2015
More Info

Telford, United Kingdom

Apr 28-29, 2015

CANECT 2015
More Info
Lakes Environmental will be at booth #1438

Toronto, ON, Canada

May 4-8, 2015

ITM 2015 – 34th International Technical Meeting on Air Pollution Modelling and its Application
More Info

Montpelier, France

Jun 22-25, 2015

A&WMA 108th Annual Conference & Exhibition
More Info

Raleigh, NC, USA
About this Newsletter
This newsletter contains information gleaned from various sources on the web, with complete links to the sources cited. Organizations cited are in no way affiliated with Lakes Environmental Software.
Lakes Environmental Software is a leading environmental IT company that offers a complete line of air dispersion modeling, risk assessment, emissions inventory, and emergency release software as well as training and custom software services. With satisfied users located around the globe, Lakes Environmental Software will continue to revolutionize the environmental software field.
For more information please visit our web site at: www.webLakes.com. You may also contact us by phone at (519) 746-5995 or by fax at (519)746-0793.
All comments and suggestions are welcome. You can e-mail us at: support@webLakes.com.