Lakes Environmental e-Newsletter
Emissions Inventory - Atmospheric Science - IT Solutions


In this issue:
News & Events
Upcoming Courses
Modeling Tip: Automated Coastline Download in CALPUFF View
Articles
Upcoming Conferences & Trade Shows
News & Events
Lakes Environmental at A&WMA 2015 Conference & Exhibition
Lakes Environmental would like to thank everyone who stopped by our booth in Raleigh at A&WMA's 108th Annual Conference and Exhibition from June 22-25, 2015.
We trust that you enjoyed your time at this year's conference and look forward to assisting you in your endeavors through the coming year. See you in 2016 at A&WMA's Conference in New Orleans, Louisiana!
Those who visited our booth had the chance to participate in a draw for a complimentary copy of our AERMOD View or AERSCREEN View software packages.




We would like to take this opportunity to offer our congratulations to our software winners.




AERMOD View: Nguyen Thi Kim Oanh from Asian Institute of Technology - Pathumthani, Thailand




AERSCREEN View: Pamela F. Heckel - Ohio, USA




Congratulations Software Winners!
AERMOD Course in Toronto, Ontario – Sep 24-25, 2015
Lakes Environmental will hold two days of AERMOD training in Toronto from September 24-25, 2015.
Attending this course is the best way to stay current with recent regulatory and methodology changes. Lakes Environmental uses cutting edge tools that will revolutionize the way you do air dispersion modeling!




Spots fill quickly! Register today to take advantage of our early registration discount!




Early Registration Discount Ends: August 24, 2015




Course: AERMOD (September 24-25, 2015)
Location: Toronto, Ontario
Contact: training@webLakes.com
Registration: Register Now
AERMOD Course in Chicago, Illinois – Oct 15-16, 2015
Lakes Environmental will hold two days of AERMOD training in Chicago from October 15-16, 2015. This course will cover upcoming regulatory changes from the U.S. EPA.




Register today to take advantage of our early registration discount!




Early Registration Discount Ends: September 15, 2015




Course: AERMOD (October 15-16, 2015)
Location: Chicago, Illinois
Contact: training@webLakes.com
Registration: Register Now
AERMOD & CALPUFF Courses in London, UK – Oct 19-22, 2015
Lakes Environmental is pleased to be traveling to the United Kingdom for four days of AERMOD and CALPUFF training in London from October 19-22, 2015.
We encourage you to register soon in order to reserve your spot. Further details including course venue and registration form can be found on our website.




Register today to take advantage of our early registration discounts!!




Early Registration Discount Ends: September 19, 2015




Course: AERMOD (October 19-20, 2015)
Course: CALPUFF (October 21-22, 2015)
Location: London, UK
Contact: training@webLakes.com
Registration: Register Now
Lakes Environmental Closed for Ontario Civic Holiday
Lakes Environmental's Waterloo office will be closed on Monday, August 3, 2015 to observe the Ontario Civic holiday. Though our Waterloo sales office will be closed, our Dallas support office will remain open on this day. If you have any needs during that time, please e-mail us at support@webLakes.com and we will respond to your inquiry as soon as possible.
Upcoming Courses
Date

Course

Location

Registration

Sep 24-25, 2015

Oct 15-16, 2015

Oct 19-20, 2015
Oct 21-22, 2015

Nov 9-10, 2015
Nov 11-12, 2015
For more information on the above courses, including registration information, location, and course outlines, please visit our web site: https://www.weblakes.com/courses.html.
Modeling Tip
Automated Coastline Download in CALPUFF View
One feature of the CALPUFF model is the ability to depict coastal interaction effects. Since the land surface can heat more rapidly than adjoining water, a Thermal Internal Boundary Layer (TIBL) can form and bring elevated source plumes close to the ground. This sets up a potential coastal fumigation scenario.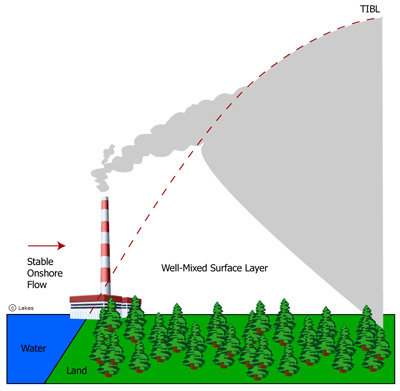 In order for the model to accurately depict the TIBL at a sub-grid scale (i.e., within a single grid cell), the user must define the line which divides the land and water surfaces. The coastline must reside in grid cells where overland and water land use categories border each other. Accurate depiction of the coastline is necessary for CALPUFF's internal mechanisms.
To this end, Lakes Environmental enhanced the CALPUFF View application to support automatic download of high-resolution coastline data from the WebGIS database. Data are downloaded in the National Oceanic and Atmospheric Administration GSHHG database format and converted to a CALPUFF-supported coastline file. To download the data, follow the steps below:
Step 1: Set up a CALPUFF View project or open an existing project.
Step 2: Select the Import | Coastlines | From WebGIS... menu option.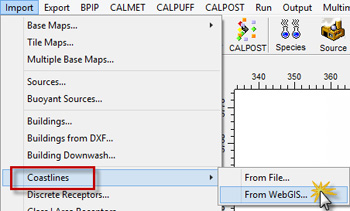 Step 3: Select the coastline extents. Choose between a user-defined radius extending from all sources or over the entire meteorological grid.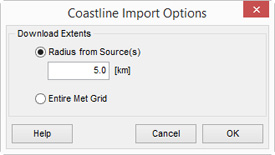 Step 4: Visually verify the downloaded coastline and click OK.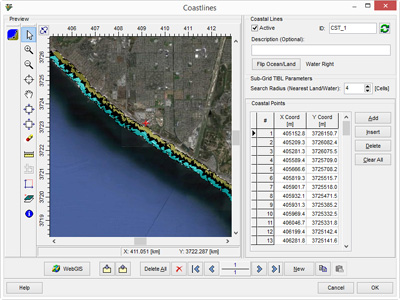 When the CALPUFF model is executed, the sub-grid TIBL processing routine will be automatically enabled.
Submit Your Modeling Tips Today!
We are currently accepting submissions for the Monthly Modeling Tip section that appears in our newsletters. If you have a modeling tip that may benefit our readers, please send it to us at support@webLakes.com. Your name and the name of your organization will appear below the tip providing you with an opportunity for increased exposure.
Articles
EPA Finalizes Rule to Reduce Climate-Damaging HFCs
July 2, 2015 - WASHINGTON- Today, the U. S. Environmental Protection Agency (EPA) is finalizing a rule to prohibit certain uses of chemicals that significantly contribute to climate change in favor of safer, more climate-friendly alternatives. This action responds to President Obama's Climate Action Plan by reducing emissions of hydrofluorocarbons (HFCs), a class of potent greenhouse gases used in air-conditioning, refrigeration, and other equipment.
New Canadian Air Quality Index Helps Those at Risk Understand Impacts
June 26, 2015 - A simplified air quality index will make it easier for local residents with health conditions that put them at risk in bad weather to understand what precautions should be taken to protect themselves.
"The scale really helps Canadians understand how the outdoor air affects their health," said Carly Warnock, public health planner for Region of Waterloo Public Health.
Emissions from Canada's Oil-Sand Crude Higher Than Those from U.S. Sources
June 25, 2015 - Gasoline and diesel fuel extracted and refined from Canadian oil sands will release about 20 percent more carbon into the atmosphere over the oil's lifetime than fuel from conventional crude sources in the United States, according to a study by the U.S. Department of Energy's Argonne National Laboratory; the University of California, Davis; and Stanford University.
The researchers used a life-cycle, or "well-to-wheels," approach, gathering publicly available data on 27 large Canadian oil sands production facilities. The study, published in the journal Environmental Science and Technology, found the additional carbon impact of Canadian oil sands was largely related to the energy required for extraction and refining.
EPA, DOT Propose Greenhouse Gas and Fuel Efficiency Standards for Heavy-Duty Trucks
June 19, 2015 - WASHINGTON - The U.S. Environmental Protection Agency (EPA) and the Department of Transportation's National Highway Traffic Safety Administration (NHTSA) are jointly proposing standards for medium- and heavy-duty vehicles that would improve fuel efficiency and cut carbon pollution to reduce the impacts of climate change, while bolstering energy security and spurring manufacturing innovation.
The proposed standards are expected to lower CO2 emissions by approximately 1 billion metric tons, cut fuel costs by about $170 billion, and reduce oil consumption by up to 1.8 billion barrels over the lifetime of the vehicles sold under the program. These reductions are nearly equal to the greenhouse gas (GHG) emissions associated with energy use by all U.S. residences in one year. The total oil savings under the program would be greater than a year's worth of U.S. imports from the Organization of the Petroleum Exporting Countries (OPEC).
EU Considering New Limitations on Diesel Engines in Non-Road Machinery
June 3, 2015 - As air pollution spikes in Europe's cities prompt car-free days and talk of banning diesel cars, it's easy to forget the other culprits behind the air quality crisis: diesel machines. Known in legislation by the innocuous term 'non-road mobile machinery', their air pollutant emission limits are now finally under revision.
The last directive dated back to 1997 and the new rules will set standards for decades to come. Air pollution is causing more than 450,000 premature deaths every year in Europe and a recent Eurobarometer survey confirmed that air pollution is now the biggest environmental concern of European citizens. Efficient regulation of emissions sources is therefore key to mitigating the exposure of citizens to air pollution.
Upcoming Conferences & Trade Shows
Date

Conference

Location

Jul 22-24, 2015

6th International Congress of Energy and Environment Engineering and Management (CIIEM15)
More Info

Paris, France

Sep 03-05, 2015

14th International Conference on Environmental Science and Technology
More Info

Rhodes, Greece

Sep 14-16, 2015

CCE 2015: 4th International Conference & Exhibition on Clean Energy
More Info

Ottawa, ON, Canada

Nov 01-05, 2015

SETAC North America 36th Annual Meeting
More Info

Salt Lake City, UT, USA

Nov 13-15, 2015

13th International conference on the Atmospheric Sciences and Application to Air Quality (ASAAQ)
More Info

Kobe, Japan

Nov 17-18, 2015

International Petroleum Environmental Conference (IPEC)
More Info

Denver, CO, USA

Nov 18-19, 2015

Petroleum, Refining & Environmental Monitoring Technologies (PEFTEC) 2015
More Info

Antwerp, Belgium

Dec 07-08, 2015

Sustainable Innovation Forum (SIF15)
More Info

Paris, France
About this Newsletter
This newsletter contains information gleaned from various sources on the web, with complete links to the sources cited. Organizations cited are in no way affiliated with Lakes Environmental Software.
Lakes Environmental Software is a leading environmental IT company that offers a complete line of air dispersion modeling, risk assessment, emissions inventory, and emergency release software as well as training and custom software services. With satisfied users located around the globe, Lakes Environmental Software will continue to revolutionize the environmental software field.
For more information please visit our web site at: www.webLakes.com. You may also contact us by phone at (519) 746-5995 or by fax at (519)746-0793.
All comments and suggestions are welcome. You can e-mail us at: support@webLakes.com.