Lakes Environmental e-Newsletter
Emissions Inventory - Atmospheric Science - IT Solutions


In this issue:
News & Events
Upcoming Courses
Modeling Tip: AERMOD Output: When Did a High Value Occur?
Articles
Upcoming Conferences & Trade Shows
News & Events
Order Custom WRF Meteorological Data Online!
Lakes Environmental is pleased to announce further expansion to our automated meteorological data services using WRF preprocessed modeled meteorological data. In addition to our standard 4-km and 12-km CALMET-ready offerings, users can submit requests for customized WRF data orders.
Available custom options include:




1-km resolution
User-defined domain sizes
CALPUFF-ready format via the US EPA's MMIF (Mesoscale Model Interface) program.
Custom model input via user-provided namelist files

Data is available for years 2008 to 2014 and can be processed and delivered via our secure FTP site in as little as 1 to 3 days!
To request custom WRF data, complete our convenient online quotation request form and include your request details in the Additional Comments field. Our friendly and knowledgeable Sales Staff will answer any questions that you might have regarding our WRF meteorological data.
AERMOD & CALPUFF Courses in Las Vegas – Early Registration Discount Ends Soon!
AERMOD and CALPUFF Courses in Edmonton, Alberta – June 1-4, 2015
Lakes Environmental will host 4 days of AERMOD and CALPUFF training in Edmonton from June 1 to 4, 2015. Further details including course outline and registration form can be found on our website.
CALPUFF course students will have the opportunity to complete a Do It Yourself Case Study using WRF processed met data for a location of their choice.




Early Registration Discount Ends May 1, 2015




Course: AERMOD (Jue 1-2, 2015)
Course: CALPUFF (Jue 3-4, 2015)
Location: Edmonton
Contact: training@webLakes.com
Registration: Register Now




Register early to to uarantee your spot!
Lakes Environmental at CANECT 2015
Lakes Environmental will once again be exhibiting at the Canadian Environmental Conference & Tradeshow, CANECT 2015, in Mississauga, Ontario, from April 27 to 29, 2015.
Come and visit Dr. Jesse Thé at booth 1438 for information about our software products, as well as your chance to win a FREE copy of our AERMOD View software! To obtain conference information, please visit the CANECT website.
Lakes Environmental Closed for Good Friday Holiday
Lakes Environmental's offices will be closed on Friday, April 3rd, 2015 to observe the Good Friday Holiday. If you have any needs during that time, please e-mail us at support@webLakes.com and we will contact you on Monday, April 6th, 2015 when our offices reopen.
Upcoming Courses
Date

Course

Location

Registration

Mar 24-25, 2015
Mar 26-27, 2015

Registration Closed

May 4-5, 2015
May 6-8, 2015

Jun 1-2, 2015
Jun 3-4, 2015

Oct 19-20, 2015
Oct 21-22, 2015

Registration
Coming Soon

Nov 9-10, 2015
Nov 11-12, 2015

Registration
Coming Soon
For more information on the above courses, including registration information, location, and course outlines, please visit our web site: https://www.weblakes.com/courses.html.
Modeling Tip
AERMOD Output: When Did a High Value Occur?
Contour plots are one of the most common forms of output from air dispersion models. They are useful in quickly identifying trends and maxima, but they also require a careful eye to ensure proper interpretation.
For example, output files generated by AERMOD and used by software programs like Lakes Environmental's AERMOD View application for contouring (nominally the Contour Plot File) report high values from each modeled receptor. For short-term averaging periods (i.e., 1-hour, 24-hour, Month, etc.), these high values may occur at different times during the modeled period. This means the short-term Contour Plot File are time-independent.
You can find when a high value occurred in the model run by reviewing the Contour Plot File. AERMOD View includes a utility called the Plot File Grid View to make this information easier to read. Here is how you can access the Plot File Grid View.
Step 1: After a successful model run, navigate to the Plots tree menu.
Step 2: Select the plot file of interest. Plot files are sorted by source group, high value, and averaging period.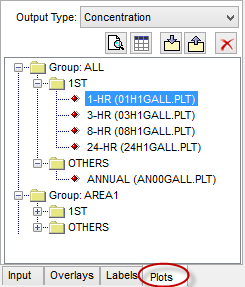 Step 3: Select the Grid View button from the tree menu to open the Plot File Grid View.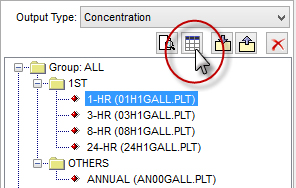 Step 4: Scroll to the right to locate the Date column. You can now verify the date and time at which the concentration was modeled.
Submit Your Modeling Tips Today!
We are currently accepting submissions for the Monthly Modeling Tip section that appears in our newsletters. If you have a modeling tip that may benefit our readers, please send it to us at support@webLakes.com. Your name and the name of your organization will appear below the tip providing you with an opportunity for increased exposure.
Articles
Taiwan EPA Tightening the Rules Surrounding Air Pollution
March 3, 2015 - TAIPEI -- Environmental regulations on the country's emissions of air pollutants will be stricter in light of deteriorating air quality, the Environmental Protection Administration (EPA) said Monday.
Starting next year, supervision of factories planning for expansions will be tighter, including demands for data on possible increases in particles 2.5 microns or smaller in diameter (PM2.5), according to the EPA.
Air Pollution Will Kill Thousands in Europe, EEA Warns
March 3, 2015 - Hundreds of thousands of Europeans will suffer a premature death in the next two decades as the result of governments' failure to act on air pollution, Europe's environmental watchdog has warned.
"In 2011, the latest year for which figures have been reliably collated, more than 400,000 are estimated to have died prematurely as a result of breathing toxic fumes, despite recent improvements in some countries
EPA Approves New Climate-Friendly Refrigerants
March 2, 2015 - WASHINGTON - As part of President Obama's Climate Action Plan, the U.S. Environmental Protection Agency (EPA) is increasing the options for refrigerants used in various kinds of refrigeration and air conditioning equipment in the United States that offer better climate protection without harming the ozone layer. This final action addresses refrigerants under the Climate Action Plan that calls on EPA's Significant New Alternatives Policy (SNAP) Program to identify and approve additional climate-friendly chemicals.
"Today's rule is an example of how we can turn the challenge of climate change into an opportunity to innovate our way to a better future," said EPA Administrator Gina McCarthy. "By working together, businesses and EPA are bringing new, climate-friendly refrigerants to market that better protect our health and the environment."
Despite New Standards, High Levels of Carcinogens Remain in Hamilton Air
February 27, 2015 - Hamiltonians are breathing air contaminated by two carcinogenic chemicals at levels significantly higher than the Ministry of Environment's incoming air standards – and it's going to stay that way for years.
These airborne culprits are well known in Hamilton: benzo[a]pyrene and benzene. Both can cause leukemia and other cancers.
South Africa Companies Guilty of Air Pollution Get a Five-year Reprieve
February 24, 2015 - TThe environmental department has given most of South Africa's polluters a reprieve of up to five years to comply with air quality legislation.
The department of environmental affairs today released a list of heavy polluters that would be given postponements for complying with air quality legislation. Environmental and social groups have said the exemption is tantamount to granting the polluters a "licence to pollute" and "making toxic air legal".
U.S. Embassies are Going to Measure Other Countries' Air Quality
February 19, 2015 – In 2008, American diplomats in Beijing quietly installed an electronic monitor outside the U.S. Embassy to test pollution levels in the Chinese capital's famously sooty air. The results, posted daily on the Internet, were mainly intended for U.S citizens and visitors, but soon ordinary Chinese were logging in for reliable information about health threats in the air they breathed.
Chinese officials complained, but the daily reports from the embassy's monitor added to the pressure that eventually led China to take dramatic steps to reduce smog. It worked so well, in fact, that the Obama administration has now decided on a major expansion — to U.S. diplomatic missions all around the world.
Upcoming Conferences & Trade Shows
Date

Conference

Location

Mar 29- Apr 3, 2015

38th Stationary Source Sampling & Analysis for Air Pollutants Conference
More Info

Tucson, AZ, USA

Apr 12-16, 2015

U.S. EPA 2015 International Emission Inventory Conference
More Info

San Diego, CA, USA

Apr 22-23, 2015

The Air Quality and Emissions Show 2015
More Info

Telford, United Kingdom

Apr 28-29, 2015

CANECT 2015
More Info
Lakes Environmental will be at booth #1438

Toronto, ON, Canada

May 4-8, 2015

ITM 2015 – 34th International Technical Meeting on Air Pollution Modelling and its Application
More Info

Montpelier, France

May 26-28, 2015

Carbon Expo 2015
More Info

Barcelona, Spain

Jun 15-19, 2015

Asia Clean Energy Forum
More Info

Manila, Philippines

Jun 22-25, 2015

A&WMA 108th Annual Conference & Exhibition
More Info
Lakes Environmental will be at booth #506

Raleigh, NC, USA

Jun 23-24, 2015

Emissions 2015
More Info

Troy, MI, USA
About this Newsletter
This newsletter contains information gleaned from various sources on the web, with complete links to the sources cited. Organizations cited are in no way affiliated with Lakes Environmental Software.
Lakes Environmental Software is a leading environmental IT company that offers a complete line of air dispersion modeling, risk assessment, emissions inventory, and emergency release software as well as training and custom software services. With satisfied users located around the globe, Lakes Environmental Software will continue to revolutionize the environmental software field.
For more information please visit our web site at: www.webLakes.com. You may also contact us by phone at (519) 746-5995 or by fax at (519)746-0793.
All comments and suggestions are welcome. You can e-mail us at: support@webLakes.com.