Lakes Environmental e-Newsletter
Emissions Inventory - Atmospheric Science - IT Solutions


In this issue:
News & Events
Upcoming Courses
Modeling Tip: Changing Executables in AERMOD View and AERMET View
Articles
Upcoming Conferences & Trade Shows
News & Events
Ontario MOECC Updates Approved Dispersion Models Under O.Reg. 419/05
On November 2, 2015, the Ontario Ministry of the Environment and Climate Change (MOECC) published a notice on the Environmental Registry of the adoption of updated approved air dispersion models under O.Reg. 419/05.
The approved models in O.Reg. 419/05 Section 6 are now the following:
US EPA AERMOD dispersion model version 14134 (dated May 14, 2014) used in conjunction with AERMET meteorological pre-processor version 14134, and
ASHRAE calculation method in Chapter 45 of the 2011 ASHRAE Handbook.
Click here to read the EBR Registry Number 012-5177 notice announcing the change. Ontario Regional Meteorological data sets have been reprocessed with AERMET 14134 by MOECC and can be found through the MOECC website.
The current releases of AERMOD View and AERMET View (Version 9.0) support the 14134 versions of AERMOD and AERMET. Refer to this month's Modeling Tip for details on how to use these model versions.
Lakes Environmental Announces 2016 Training Courses
Lakes Environmental has begun planning our AERMOD and CALPUFF training courses for next year. Our current plans include the following locations:




| | |
| --- | --- |
| February 1-4, 2016 | Toronto, ON |
| February 22-26, 2016 | Dallas, TX |
| March 7-10, 2016 | Singapore |
| May 2-6, 2016 | Las Vegas, NV |




Starting making plans now to attend one of these courses! The latest information on all of our upcoming courses is available on our website.
Lakes Environmental December Holiday Schedule
Please find below the holiday schedule for Lakes Environmental's offices:
| | |
| --- | --- |
| December 21-23 | Open |
| December 24 | Closed |
| December 25 | Closed |
| December 28-30 | Open |
| December 31 | Closed |
| January 1 | Closed |
If you have an urgent matter requiring assistance during the holidays please e-mail us at support@webLakes.com.
Upcoming Courses
Date

Course

Location

Registration

Feb 1-2, 2016
Feb 3-4, 2016

Toronto, ON

Registration
Coming Soon

Feb 22-23, 2016
Feb 24-26, 2016

Mar 7-8, 2016
Mar 9-10, 2016

Singapore

Registration
Coming Soon

May 2-3, 2016
May 4-6, 2016

Las Vegas, NV

Registration
Coming Soon
For more information on the above courses, including registration information, location, and course outlines, please visit our web site: https://www.weblakes.com/courses.html.
Modeling Tip
Changing Executables in AERMOD View and AERMET View
Since the AERMOD model was first promulgated by the U.S. EPA as the preferred regulatory model back in 2005, numerous versions of the model executable and its meteorological pre-processor, AERMET, have been published. The U.S. EPA periodically releases new versions of these models to fix bugs, include new features, and to account for recent changes in environmental regulations. While numerous versions of AERMOD and AERMET have been released, only the most recent version is maintained on the EPA's SCRAM website.
As of November 2015, the current releases of AERMOD and AERMET have the version number 15181 (released July 24, 2015). Lakes Environmental subsequently released AERMOD View Version 9.0 and AERMET View Version 9.0 on August 20, 2015 to incorporate the updated models. AERMOD View and AERMET View also contain multiple previous releases of the models to support modelers with backwards compatibility needs.
On November 2, 2015, Ontario Ministry of the Environment and Climate Change (MOECC) published notification of updated approved dispersion models under O.Reg. 419/05. Under the changes, the approved versions of AERMOD and AERMET under O.Reg. 419/05 are now 14134.
Modelers needing to comply with the O.Reg. 419/05 changes will find it easy to change the respective AERMOD and AERMET executable versions with AERMOD View and AERMET View. Complete the following steps to select a specific version.
AERMOD:
Step 1. Open AERMOD View.
Step 2. Open the File menu and select Preferences. Many different program settings can be set here.
Step 3. The various models available in AERMOD View are listed under the EPA Models/Limits section. Select AERMOD.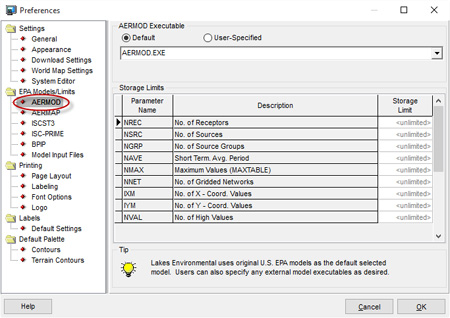 Step 4. AERMOD View defaults to the most recent U.S. EPA executable (currently 15181). By selecting the drop-down list, modelers can select different executables including previous U.S. EPA AERMOD releases. Each release has a corresponding parallelized version (MPI) for running projects more quickly.

Select AERMOD_14134.EXE or AERMOD_MPI_LAKES_14134.EXE to model the MOECC-approved version.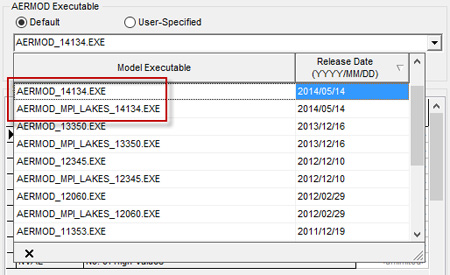 AERMOD View also makes it easy to change other executables including AERMAP, ISCST3, and ISC-PRIME by selecting the desired model from the EPA Models/Limits list. AERMOD records which executable was used to generate each output file so you never need to worry about forgetting which version was selected for a specific run.

AERMET
Step 1. Open AERMOD View.
Step 2. Open the File menu and select Preferences.
Step 3. Select AERMET under the EPA Models/Limits settings.
Step 4.The default executable (AERMET.EXE) corresponds to the 15181 model release. Expand the drop-down menu and select AERMET_14134.EXE to select the MOECC-approved version.

The version of AERMET used to create a dataset can be verified in the SFC file header.

Submit Your Modeling Tips Today!
We are currently accepting submissions for the Monthly Modeling Tip section that appears in our newsletters. If you have a modeling tip that may benefit our readers, please send it to us at support@webLakes.com. Your name and the name of your organization will appear below the tip providing you with an opportunity for increased exposure.
Articles
Canada's Sway at Paris Climate Talks Will Be Modest, Despite Trudeau's New Vigour
November 8, 2015- The new Canadian government may be more eager than its predecessor to influence the outcome of pivotal climate talks later this month, but the timing isn't working in its favour.
Just three weeks remain before world leaders gather in the French capital to try to hammer out the latest global agreement on cutting emissions.
US EPA Issues Final Rule to Clamp Down on Refinery Emissions
November 4, 2015 - On September 29, 2015, US EPA issued a final rule for the regulation of emissions from the nation's 142 petroleum refinery operations (the "Refinery Rule"). The regulatory structure underlying the rule is complex, but essentially includes both a "residual risk review" to assess the risk to public health, and a "technology review" where, as the name suggests, technology-based standards are reviewed for opportunities to impose further restrictions.
New York State Department of Environmental Conservation Revises Regulations Governing Bulk Storage Tanks
October 29, 2015 - The New York State Department of Environmental Conservation (NYSDEC) issued revised regulations, effective October 11, 2015, governing the management and bulk storage of petroleum and hazardous substances. Corresponding revisions to used oil management regulations will be effective on November 10, 2015, and operator training requirements must be implemented by October 11, 2016.
Air Quality: MEPs Approve New National Caps on Pollutants
October 28, 2015 - A sharp rise in cases of chest and throat disease in India is being blamed by doctors on worsening air pollution in the country, which is now home to 13 of the 20 most polluted cities in the world.
"Air pollution imposes enormous human and economic costs. It also damages the natural environment, through eutrophication and acid deposition, and it doesn't stop at EU member states' borders", said lead MEP Julie Girling (ECR, UK). Her report was approved by a show of hands.
China in Africa: Environmental Implications and the Law
October 25, 2015 - China's rapid economic development over the last three decades has led to significant environmental pollution and some poor policy choices. With more than 1.3 billion people, China has the world's largest population and has been the biggest energy consumer since 2010. As the world's largest producer and consumer of coal, China is also the highest emitter of carbon dioxide that contributes to global warming, although the United States remains the highest per capita emitter. China does understand, however belatedly, the seriousness of these challenges and is taking steps to address them.
EPA Proposes New Rules to Reduce Potent Greenhouse Gas Emissions
October 15, 2015 - WASHINGTON - Today, EPA Administrator Gina McCarthy joined private and public sector leaders for a second annual White House roundtable discussion about the progress made and new steps taken to curb emissions of hydrofluorocarbons (HFCs), potent greenhouse gases used in refrigeration and air conditioning. Administrator McCarthy announced several new actions the agency will take to help support a smooth transition to climate-friendly alternatives to HFCs.
Upcoming Conferences & Trade Shows
Date

Conference

Location

Dec 01-02, 2015

40th Annual A&WMA/EPA Information Exchange
More Info

RTP, NC, USA

Dec 07-08, 2015

Sustainable Innovation Forum (SIF15)
More Info

Paris, France

Jan 10-14, 2016

American Meteorological Society (AMS) 96th Annual Meeting
More Info

New Orleans, LA, USA

Feb 03-05, 2016

Energy, Utility & Environment Conference (EUEC) 2016
More Info

San Diego, CA, USA

Mar 02-04, 2016

GLOBE 2016
More Info

Vancouver, BC, Canada

Apr 25-27, 2016

CANECT 2016
More Info

Toronto, ON, Canada

May 24-26, 2016

21st International Transport and Air Pollution Conference (TAP 2016)
More Info

Lyon, France
About this Newsletter
This newsletter contains information gleaned from various sources on the web, with complete links to the sources cited. Organizations cited are in no way affiliated with Lakes Environmental Software.
Lakes Environmental Software is a leading environmental IT company that offers a complete line of air dispersion modeling, risk assessment, emissions inventory, and emergency release software as well as training and custom software services. With satisfied users located around the globe, Lakes Environmental Software will continue to revolutionize the environmental software field.
For more information please visit our web site at: www.webLakes.com. You may also contact us by phone at (519) 746-5995 or by fax at (519)746-0793.
All comments and suggestions are welcome. You can e-mail us at: support@webLakes.com.