Lakes Environmental e-Newsletter
Emissions Inventory - Atmospheric Science - IT Solutions


In this issue:
News & Events
Upcoming Courses
Modeling Tip: Modeling Fumigation with AERSCREEN View
Articles
Upcoming Conferences & Trade Shows
News & Events
AERSCREEN View Version 2.0 Released!
Lakes Environmental is pleased to announce the release of AERSCREEN View Version 2.0. This update includes new features such as:
The latest US EPA updates to the AERSCREEN, MAKEMET, and AERMOD models (version 15181)
New inversion break-up and shoreline fumigation options
The ability to create new debug output files for all concentration and fumigation calculations
If you are currently in maintenance for AERSCREEN View, login to our Software Updates webpage to download this update.
If your AERSCREEN View license is no longer in maintenance, please contact our sales team at sales@webLakes.com for pricing to update your software.
U.S. EPA Releases AERMINUTE Update
On October 8, 2015, the U.S. EPA published an update to the AERMINUTE ASOS wind data preprocessor on the SCRAM website. AERMINUTE Version 15272 includes the ability to read 5-minute ASOS data files.




Lakes Environmental will incorporate the new AERMINUTE in the next release of AERMET View. Users in current maintenance will be able to download this update from Lakes Environmental's Software Updates webpage upon its release.




If your AERMOD View license is no longer in maintenance, please contact our sales team at sales@webLakes.com for pricing to update your software as only users in current maintenance will be eligible to receive this new update.
AERMOD & CALPUFF Courses in São Paulo, Brazil – Nov 9-12, 2015
Lakes Environmental's Waterloo Office has Moved!
Lakes Environmental has moved offices! You'll now find our office located at:

170 Columbia St. W.
Waterloo, Ontario
N2L 3L3, Canada
Phone and Fax numbers remain the same:

P: 1-519-746-5995
F: 1-519-746-0793
Upcoming Courses
Date

Course

Location

Registration

Nov 9-10, 2015
Nov 11-12, 2015

Feb 2016
Feb 2016

Toronto, ON

Registration
Coming Soon

Feb 2016
Feb 2016

Dallas, TX

Registration
Coming Soon

Mar 2016
Mar 2016

Singapore

Registration
Coming Soon

May 2016
May 2016

Las Vegas, NV

Registration
Coming Soon
For more information on the above courses, including registration information, location, and course outlines, please visit our web site: https://www.weblakes.com/courses.html.
Modeling Tip
Modeling Fumigation with AERSCREEN View
The U.S. EPA's recent update to AERSCREEN (version 15181) saw the addition of fumigation calculations to the model. Users can now calculate potential impacts of inversion break-up and shoreline fumigation in their screening analyses. When fumigation is enabled, the model finds hours with stable meteorological conditions and low wind speeds and implements concentration equations found in the AERSCREEN User's Guide.
Lakes Environmental recently released AERSCREEN View Version 2.0 to include the new fumigation routines. The steps below describe how to enable these routines in existing projects.
Step 1. Open the Scenario Wizard. From the Data menu, choose to Edit Scenario.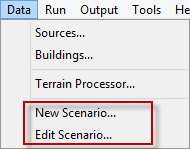 Step 2. Navigate to the new Fumigation Options screen.
Step 3. To model Inversion Break-up Fumigation, select Yes.

Step 4. To model Shoreline Fumigation, select Yes and supply the additional input parameters – minimum distance to shoreline and optional direction to shoreline. The distance value should be less than 3000 meters. To model without a specific direction value, select the No Specific Direction checkbox.
Step 5. Click Finish.
Step 6. Select the Run tool button to open the Modeling Batcher. Select the scenario you want to run and click the

icon.
After a successful model run, close the Scenario Output Results window and view the Scenarios Tree View. Under the scenario's Output folder are the model output files. Double-click the Output File to open the file in a text editor. The summary of fumigation output will be displayed in a chart at the bottom of the file.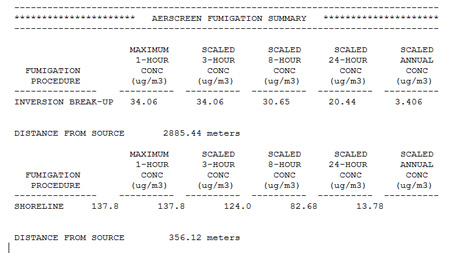 Submit Your Modeling Tips Today!
We are currently accepting submissions for the Monthly Modeling Tip section that appears in our newsletters. If you have a modeling tip that may benefit our readers, please send it to us at support@webLakes.com. Your name and the name of your organization will appear below the tip providing you with an opportunity for increased exposure.
Articles
Video of Pollution in Prairies Raises Air Quality Concerns
October 8, 2015- Scientists at Environment Canada created a computer-generated video that shows how industrial pollution spreads through the atmosphere across the Prairies.
The video was released Thursday by the Canadian Association of Physicians for the Environment and the Pembina Institute.
EPA Strengthens Ozone Standards to Protect Public Health
October 1, 2015 - WASHINGTON - Based on extensive scientific evidence on effects that ground-level ozone pollution, or smog, has on public health and welfare, the U.S. Environmental Protection Agency (EPA) has strengthened the National Ambient Air Quality Standards (NAAQS) for ground-level ozone to 70 parts per billion (ppb) from 75 ppb to protect public health. The updated standards will reduce Americans' exposure to ozone, improving public health protection, particularly for at risk groups including children, older adults, and people of all ages who have lung diseases such as asthma. Ground-level ozone forms when nitrogen oxides (NOx) and volatile organic compounds (VOCs) react in the air.
EPA Updates Emissions Standards for Petroleum Refineries
September 29, 2015 - EDMONTON - The U.S. Environmental Protection Agency (EPA) has updated air pollution standards to further control toxic air emissions from petroleum refineries. Exposure to toxic air pollutants, such as benzene, can cause respiratory problems and other serious health issues and can increase the risk of developing cancer. The rule requires first-of-its-kind fenceline monitoring to better protect and inform nearby communities, while also strengthening emission controls for flares, pressure relief devices, storage tanks, and delayed coker operations that will reduce thousands of tons of hazardous air pollutants.
India's Doctors Blame Air Pollution for Sharp Rise in Respiratory Diseases
September 23, 2015 - A sharp rise in cases of chest and throat disease in India is being blamed by doctors on worsening air pollution in the country, which is now home to 13 of the 20 most polluted cities in the world.
According to India's National Health Profile 2015, there were almost 3.5m reported cases of acute respiratory infection (ARI) last year, a 140,000 increase on the previous year and a 30% increase since 2010.
Diesel Cars in the EU Having Trouble Meeting Emissions Standards on the Road
September 14, 2015 - Every major car manufacturer is selling diesel cars that fail to meet EU air pollution limits on the road in Europe, according to data obtained by sustainable transport group Transport & Environment (T&E).
All new diesel cars should have met the Euro 6 auto emissions standard from 1 September – but just one in 10 tested complied with the legal limit.
Upcoming Conferences & Trade Shows
Date

Conference

Location

Nov 01-05, 2015

SETAC North America 36th Annual Meeting
More Info

Salt Lake City, UT, USA

Nov 13-15, 2015

13th International conference on the Atmospheric Sciences and Application to Air Quality (ASAAQ)
More Info

Kobe, Japan

Nov 17-18, 2015

International Petroleum Environmental Conference (IPEC)
More Info

Denver, CO, USA

Nov 18-19, 2015

Petroleum, Refining & Environmental Monitoring Technologies (PEFTEC) 2015
More Info

Antwerp, Belgium

Dec 01-02, 2015

40th Annual A&WMA/EPA Information Exchange
More Info

RTP, NC, USA

Dec 07-08, 2015

Sustainable Innovation Forum (SIF15)
More Info

Paris, France

Jan 10-14, 2016

American Meteorological Society (AMS) 96th Annual Meeting
More Info

New Orleans, LA, USA

Feb 03-05, 2016

Energy, Utility & Environment Conference (EUEC) 2016
More Info

San Diego, CA, USA

Mar 02-04, 2016

GLOBE 2016
More Info

Vancouver, BC, Canada

Apr 25-27, 2016

CANECT 2016
More Info

Toronto, ON, Canada
About this Newsletter
This newsletter contains information gleaned from various sources on the web, with complete links to the sources cited. Organizations cited are in no way affiliated with Lakes Environmental Software.
Lakes Environmental Software is a leading environmental IT company that offers a complete line of air dispersion modeling, risk assessment, emissions inventory, and emergency release software as well as training and custom software services. With satisfied users located around the globe, Lakes Environmental Software will continue to revolutionize the environmental software field.
For more information please visit our web site at: www.webLakes.com. You may also contact us by phone at (519) 746-5995 or by fax at (519)746-0793.
All comments and suggestions are welcome. You can e-mail us at: support@webLakes.com.