Lakes Environmental e-Newsletter
Emissions Inventory - Atmospheric Science - IT Solutions


In this issue:
News & Events
Upcoming Courses
Modeling Tip: Reporting Individual Annual Averages from a Multi-Year Run in AERMOD
Articles
Upcoming Conferences & Trade Shows
News & Events
U.S. EPA 11th Conference on Air Quality Modeling
On August 12th and 13th, the U.S. Environmental Protection Agency hosted the 11th Conference on Air Quality Modeling at its campus in Research Triangle Park, North Carolina. The conference served as the public hearing for proposed revisions to the Guideline on Air Quality Models (40 CFR Part 51 Appendix W). EPA staff presented an overview of the revisions and the public was afforded opportunity to give their own comments.




Audio recordings of conference proceedings, full transcripts, and copies of the presentations have been made available on the U.S. EPA's SCRAM website. The EPA will accept comments on the proposed rulemaking through October 27, 2015. Formal comments can be submitted through the Proposed Rule Docket.
AERMOD Course in Chicago – A Few Spots Still Available!
A few spots remain available for Lakes Environmental's upcoming two-day AERMOD training course in Chicago from October 15-16, 2015. This course will cover proposed regulatory changes from the U.S. EPA.




Register online today before the course is full!




Course: AERMOD (October 15-16, 2015)
Location: Chicago, Illinois
Contact: training@webLakes.com
Registration: Register Now
AERMOD & CALPUFF Courses in London, UK – Oct 19-22, 2015
AERMOD & CALPUFF Courses in São Paulo, Brazil – Nov 9-12, 2015
Lakes Environmental Closed on October 12th for Canadian Thanksgiving Holiday
Lakes Environmental's Waterloo office will be closed on Monday, October 12, 2015 to observe the Canadian Thanksgiving holiday. Though our Waterloo sales office will be closed, our Dallas support office will remain open on this day. If you have any needs during that time, please e-mail us at support@webLakes.com and we will respond to your inquiry as soon as possible.
Upcoming Courses
Date

Course

Location

Registration

Oct 15-16, 2015

Oct 19-20, 2015
Oct 21-22, 2015

Nov 9-10, 2015
Nov 11-12, 2015
For more information on the above courses, including registration information, location, and course outlines, please visit our web site: https://www.weblakes.com/courses.html.
Modeling Tip
Reporting Individual Annual Averages from a Multi-Year Run in AERMOD
We previously discussed how AERMOD calculates long-term averages. In order to find the maximum annual average over a certain number of years, AERMOD had to be run separately for each year. That is no longer the case with the U.S. EPA's recent update to AERMOD (version 15181). In the new version, modelers will find individual year annual average results in the Post-Processing Output File.
To enable this option in AERMOD View, follow the steps below:
Step 1. Open the Control Pathway window
Step 2. Select the Pollutant/Averaging options
Step 3. Enable the Annual averaging period
Step 4. Enable the Report Maximum Annual Average for Each Met Year option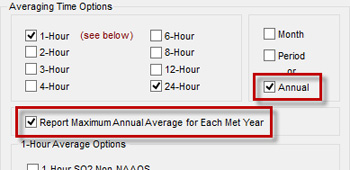 Step 5. Go to the Meteorology Pathway window
Step 6. Add your multi-year surface (*.SFC) and profile (*.PFL) files.

Step 7. Finish setting up your project and run the model
The Report Maximum Annual Average for Each Met Year option automatically generates an annual average Post-Processing file for your model run.
** Maximum Annual Average POST file for Each Met Year
POSTFILE ANNUAL ALL PLOT TEST-RUN.AD\ANNUAL_GALL.PLT 31
Upon successful model completion, the file will be displayed in the Plots Tree View under the Max Annual Average for Each Met Year heading. Use the Layer drop-down menu to choose which year you want contoured in the main display.
| | |
| --- | --- |
| | |
| Plots Tree View | Layer Selection for the Post-Processing File |
The file can also be opened in the Plot File Grid View to view the data in table format. The same Layer control allows the user to select which year is displayed.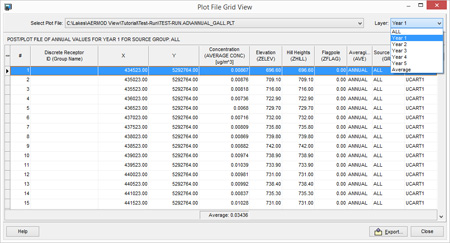 Submit Your Modeling Tips Today!
We are currently accepting submissions for the Monthly Modeling Tip section that appears in our newsletters. If you have a modeling tip that may benefit our readers, please send it to us at support@webLakes.com. Your name and the name of your organization will appear below the tip providing you with an opportunity for increased exposure.
Articles
From the Expat Blog, Decoding the Air Quality Index in Beijing
September 7, 2015- PWhen I moved to China in 2011, I was a pollution innocent. Sure, I had heard about China's air pollution. I had even tasted it, - literally, in the late 1990s, when the air was full of black coal particles.
During my first few weeks living there, Beijing was going through a clean-air snap. I joked to my wife, Deb, who was then back in Washington, D.C., that the sky looked like Vermont's. My apartment was so overheated that I left the window open to let in cool air.
EU Car Pollution Laws Have Improved UK's Air Quality, Say Carmakers
September 4, 2015 - Meeting strict new EU pollution standards has added £1,500 to the cost of every new vehicle, say carmakers who claim that because of European legislation to cut tailpipe pollution, Britain's air quality is better now than it has been for centuries.
"New European emission limits, which apply to all new cars sold from this week, have the potential to all but eliminate exhaust pollutants that impact air quality," said Mike Hawes, chief executive of the Society of Motor Manufacturers and Traders (SMMT).
Tests in Alberta Industrial Heartland Reveal Air Quality Concerns
August 30, 2015 - EDMONTON - New air-quality tests in one of Canada's largest petrochemical processing regions have revealed more evidence of short-lived but concentrated plumes of toxic chemicals.
The tests by a Nobel-prize-winning lab at University of California Irvine echo previous results scientists have recorded for known carcinogens in the area northeast of Edmonton.
MIT Analysis Improves Estimates of Global Mercury Pollution
August 21, 2015 - Once mercury is emitted into the atmosphere from the smokestacks of power plants, the pollutant has a complicated trajectory; even after it settles onto land and sinks into oceans, mercury can be re-emitted back into the atmosphere repeatedly. This so-called "grasshopper effect" keeps the highly toxic substance circulating as "legacy emissions" that, combined with new smokestack emissions, can extend the environmental effects of mercury for decades.
EPA Proposes New Measures to Cut Methane Emissions from the Oil and Gas Sector
August 18, 2015 - WASHINGTON - Continuing the Obama Administration's commitment to take action on climate change and protect public health, the U.S. Environmental Protection Agency (EPA) is announcing commonsense proposed standards today that would reduce emissions of greenhouse gases (GHG) and volatile organic compounds (VOC) from the oil and natural gas industry. The proposal is a part of the Administration's strategy under President Obama's Climate Action Plan to cut methane emissions from the oil and gas sector by 40 to 45 percent from 2012 levels by 2025.
Methane, the key constituent of natural gas, is a potent GHG with a global warming potential more than 25 times greater than that of carbon dioxide. Methane is the second most prevalent greenhouse gas emitted in the United States from human activities, and nearly 30 percent of those emissions come from oil production and the production, transmission and distribution of natural gas.
Upcoming Conferences & Trade Shows
Date

Conference

Location

Oct 12-16, 2015

AAAR (American Association for Aerosol Research) 34th Annual Conference
More Info

Minneapolis, MN, USA

Oct 13-15, 2015

Pollutec 2015
More Info

Paris, France

Nov 01-05, 2015

SETAC North America 36th Annual Meeting
More Info

Salt Lake City, UT, USA

Nov 13-15, 2015

13th International conference on the Atmospheric Sciences and Application to Air Quality (ASAAQ)
More Info

Kobe, Japan

Nov 17-18, 2015

International Petroleum Environmental Conference (IPEC)
More Info

Denver, CO, USA

Nov 18-19, 2015

Petroleum, Refining & Environmental Monitoring Technologies (PEFTEC) 2015
More Info

Antwerp, Belgium

Dec 07-08, 2015

Sustainable Innovation Forum (SIF15)
More Info

Paris, France

Jan 10-14, 2016

American Meteorological Society (AMS) 96th Annual Meeting
More Info

New Orleans, LA, USA

Feb 03-05, 2016

Energy, Utility & Environment Conference (EUEC) 2016
More Info

San Diego, CA, USA

Mar 02-04, 2016

GLOBE 2016
More Info

Vancouver, BC, Canada

Apr 25-27, 2016

CANECT 2016
More Info

Toronto, ON, Canada
About this Newsletter
This newsletter contains information gleaned from various sources on the web, with complete links to the sources cited. Organizations cited are in no way affiliated with Lakes Environmental Software.
Lakes Environmental Software is a leading environmental IT company that offers a complete line of air dispersion modeling, risk assessment, emissions inventory, and emergency release software as well as training and custom software services. With satisfied users located around the globe, Lakes Environmental Software will continue to revolutionize the environmental software field.
For more information please visit our web site at: www.webLakes.com. You may also contact us by phone at (519) 746-5995 or by fax at (519)746-0793.
All comments and suggestions are welcome. You can e-mail us at: support@webLakes.com.