Lakes Environmental e-Newsletter
Emissions Inventory - Atmospheric Science - IT Solutions


In this issue:
News & Events
Upcoming Courses
Modeling Tip: New Parameter Summary Reports in CALPUFF View
Articles
Upcoming Conferences & Trade Shows
News & Events
Order Custom Meteorological Data Online!
Lakes Environmental is pleased to announce the immediate availability of 2015 data in our automated meteorological data service for both MM5 and WRF preprocessed modeled met data.
As a reminder, the following are custom options available for our WRF preprocessed modeled met data:

1-km resolution
User-defined domain sizes
CALPUFF-ready format via the US EPA's MMIF (Mesoscale Model Interface) program

Data is available for years 2008 to 2015 and can be processed and delivered via our secure FTP site in as little as 1 to 3 days!
To request custom WRF data, complete our convenient online quotation request form and include your request details in the Additional Comments field. Our friendly and knowledgeable sales staff will answer any questions that you might have regarding our WRF meteorological data.
Just Announced! Exclusive Upgrade Promotion for AERMOD View
Lakes Environmental has released exclusive promotional pricing for upgrading your AERMOD View license.
If your license has been out of maintenance for over six months, you are missing out on some exciting new features! For a detailed listing of the new features implemented in the latest version of AERMOD View, check out our release notes.




If you did not receive our campaign e-mail and the maintenance on your AERMOD View license has been expired for over six months, contact us today.




Exclusive pricing offered is only available until April 16, 2016.
AERMOD & CALPUFF Courses in Dallas – Only A Few Spots Available!
The AERMOD and CALPUFF courses being held in Dallas from February 22 to 26, 2016 have just a few spots available.




Don't be left out! Register today!




For additional information please contact us at training@weblakes.com.
AERMOD & CALPUFF Courses in Las Vegas – Registration Discount Ending!
Lakes Environmental will be hosting a full week of AERMOD and CALPUFF training in Las Vegas from May 2 to 6, 2016.




Register now to guarantee your spot!




Early registration discounts are available until March 18, 2016!




Course: AERMOD (May 2-3, 2016)
Course: CALPUFF (May 4-6, 2016)
Location: Las Vegas
Contact: training@weblakes.com
Registration: Online Registration
Lakes Environmental Closed for Good Friday Holiday
Lakes Environmental's offices will be closed on Friday, March 25, 2016 to observe the Good Friday Holiday. If you have any needs during that time, please e-mail us at support@webLakes.com and we will contact you on Monday, March 28, 2016 when our offices reopen.
Upcoming Courses
Date

Course

Location

Registration

Feb 22-23, 2016
Feb 24-26, 2016

Mar 7-8, 2016
Mar 9-10, 2016

May 2-3, 2016
May 4-6, 2016
For more information on the above courses, including registration information, location, and course outlines, please visit our web site: https://www.weblakes.com/courses.html.
Modeling Tip
New Parameter Summary Reports in CALPUFF View
The CALPUFF modeling system includes hundreds of parameters for modelers to choose. Having a concise summary of which options were selected is extremely valuable and time-saving. To aid in this, CALPUFF View Version 8 includes a completely re-styled Reports tool and two new reports: CALMET Parameters and CALPUFF Parameters.
The Reports are still accessible via the same menus as before: using the Reports button on the main toolbar or selecting the Output | Reports menu option.
Each report contains a summary of every model parameter keyword listed in the input file, a description of the parameter, and the value specified in the project.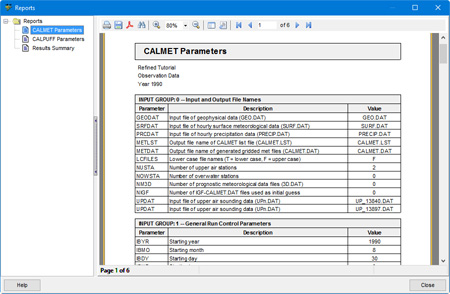 CALMET Parameters Example Report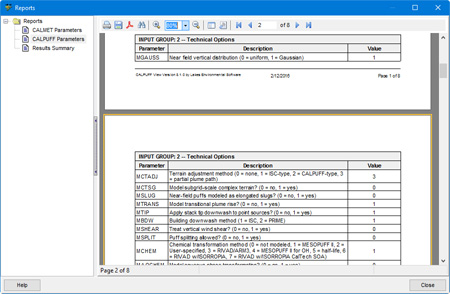 CALPUFF Parameters Example Report
The updated Reports utility has simpler output options:
Print to send the reports to your local printer
Save to PDF or one of two Excel formats (.XLSX or .XLS)
Export directly to PDF

Submit Your Modeling Tips Today!
We are currently accepting submissions for the Monthly Modeling Tip section that appears in our newsletters. If you have a modeling tip that may benefit our readers, please send it to us at support@webLakes.com. Your name and the name of your organization will appear below the tip providing you with an opportunity for increased exposure.
Articles
Delhi Air Dirtier Than What Jaguar Emits?
February 08, 2016 - New Delhi: In scathing criticism of the ban on sale of high-end diesel cars in Delhi, Tata-owned luxury carmaker Jaguar Land Rover has said the air sucked in by its latest technology vehicles on Delhi roads is "far dirtier" than what they emit.
"The latest EU VI regulation schemes have got technical features, which (can) clean the air in Delhi. These kind of vehicles drive like a hoover... The air they suck in is far dirtier than the air which comes out of it," CEO of the UK-based JLR Ralph Speth said.
EU Parliament Fails to Close Loopholes in Controversial Car Emission Tests
February 03, 2016 - MEPs have failed to veto loopholes in air pollution limits on new diesel cars, despite public anger in the wake of the Volkswagen emissions scandal.
Clean Air Advocates Applaud Online Portal for Pollution Data
January 27, 2016 - Air quality advocates say they are pleased with a provincial initiative to post data from air monitoring stations online in real time. Levels of key pollutants, such as particulate matter, carbon monoxide and ozone, at 13 air quality monitoring stations around the province have been available online since July. Visitors to the site can click on a type of pollutant, select one of the monitoring stations and a chart will show current levels as well as and levels over the previous several days.
U.S. EPA Announces 2014 Toxics Release Inventory Report
January 21, 2016 - In 2014, 84% of the 25 billion pounds of toxic chemical waste managed at the nation's industrial facilities was not released into the environment due to the use of preferred waste management practices like recycling, energy recovery and treatment, according to the U.S. Environmental Protection Agency's (EPA) annual Toxics Release Inventory (TRI) report. The remaining 16% was released to the air, water or placed in some type of land disposal. Most of these releases are subject to a variety of regulatory requirements designed to limit human and environmental harm.
U.S. Government Chooses UC Davis to Measure National Air Quality
January 14, 2016 - In late 2015, the U.S. government chose the UC Davis Crocker Nuclear Laboratory to be the main contractor for both of the nation's major federal fine particle air quality monitoring networks, the National Park Service's Interagency Monitoring of Protected Visual Environments (IMPROVE) network and the Environmental Protection Agency's (EPA) Chemical Speciation Network (CSN). Together, the networks monitor the urban air quality of over 250 sites nationwide, providing data that helps inform national air quality standards and regulations.
Upcoming Conferences & Trade Shows
Date

Conference

Location

Feb 22-23, 2016

ICAPC 2016: 18th International Conference on Air Pollution and Control
More Info

Paris, France

Mar 02-04, 2016

GLOBE 2016
More Info

Vancouver, BC, Canada

Mar 14-18, 2016

Air Quality 2016
More Info

Milan, Italy

Mar 20-25, 2016

40th Stationary Source Sampling & Analysis for Air Pollutants Conference 2016
More Info

Point Clear, AL, USA

Apr 12-14, 2016

A&WMA 6th Specialty Conference: Guideline on Air Quality Models – The New Path
More Info

Chapel Hill, NC, USA

Apr 25-27, 2016

CANECT 2016
More Info

Toronto, ON, Canada

May 17-18, 2016

Emissions 2016
More Info

Troy, MI, USA

May 24-26, 2016

21st International Transport and Air Pollution Conference (TAP 2016)
More Info

Lyon, France

May 25-27, 2016

Carbon Expo 2016
More Info

Cologne, Germany

Jun 20-23, 2016

A&WMA 109th Annual Conference & Exhibition
More Info
Lakes Environmental will be at booth #331

New Orleans, LA, USA

Aug 29 - Sep 2, 2016

IUAPPA 2016
More Info

Busan, South Korea
About this Newsletter
This newsletter contains information gleaned from various sources on the web, with complete links to the sources cited. Organizations cited are in no way affiliated with Lakes Environmental Software.
Lakes Environmental Software is a leading environmental IT company that offers a complete line of air dispersion modeling, risk assessment, emissions inventory, and emergency release software as well as training and custom software services. With satisfied users located around the globe, Lakes Environmental Software will continue to revolutionize the environmental software field.
For more information please visit our web site at: www.webLakes.com. You may also contact us by phone at (519) 746-5995 or by fax at (519)746-0793.
All comments and suggestions are welcome. You can e-mail us at: support@webLakes.com.