Lakes Environmental e-Newsletter
Emissions Inventory - Atmospheric Science - IT Solutions


In this issue:
News & Events
Upcoming Courses
Modeling Tip: Updates to SRTM Terrain Elevation Data
Articles
Upcoming Conferences & Trade Shows
News & Events
Just Announced! Exclusive Upgrade Promotion for CALPUFF View
Lakes Environmental has recently announced exclusive promotional pricing for upgrading your CALPUFF View license.
If your license has been out of maintenance for over six months, you are missing out on some exciting and powerful new features! For a detailed listing of the new features implemented in the latest version of CALPUFF View, please check out our release notes.




If you did not receive our campaign e-mail and the maintenance on your CALPUFF View license has been expired for over six months, contact us today.




Don't miss out on this unique offer! Exclusive pricing is only available until April 1, 2016.
AERMOD and CALPUFF Courses in Toronto - Only a Few Spots Left!
Lakes Environmental kicks off the 2016 training schedule with four days of AERMOD and CALPUFF training in Toronto from February 1-4, 2016.
The AERMOD portion of this course will feature a special section and case study regarding the dispersion modeling requirements of Ontario Regulation 419/05: Air Pollution - Local Air Quality.




Don't miss this opportunity to be trained by our dedicated senior level air quality experts!




Course: AERMOD (Feb 1-2, 2016)
Course: CALPUFF (Feb 3-4, 2016)
Location: Toronto, Ontario
Contact: training@weblakes.com
Registration: Online Registration
AERMOD and CALPUFF Courses in Dallas, Texas – Feb 22-26, 2016
Lakes Environmental will be in Dallas, to present a full week of AERMOD and CALPUFF training from February 22 to 26, 2016. This course will cover upcoming regulatory changes from the U.S. EPA.
CALPUFF course students will have the opportunity to complete a Do It Yourself Case Study using WRF processed data for a location of their choice making this course of great benefit to their modeling work.




There's still time to take advantage of our early registration discount! Register today!




Early Registration Discount Ends: January 22, 2016




Course: AERMOD (February 22-23, 2016)
Course: CALPUFF (February 24-26, 2016)
Location: Dallas, Texas
Contact: training@weblakes.com
Registration: Online Registration
Lakes & APAQ AERMOD & CALPUFF Courses in Singapore– March 7-10, 2016
Lakes Environmental Closed for Ontario's Family Day Holiday
Lakes Environmental's Waterloo office will be closed on Monday, February 15th, 2016 to observe Ontario's Family Day Holiday. Though our Waterloo sales office will be closed, our Dallas support office will remain open on this day. If you have any needs during that time, please e-mail us at support@webLakes.com and we will respond to your inquiry as soon as possible.
Upcoming Courses
Date

Course

Location

Registration

Feb 1-2, 2016
Feb 3-4, 2016

Feb 22-23, 2016
Feb 24-26, 2016

Mar 7-8, 2016
Mar 9-10, 2016

May 2-3, 2016
May 4-6, 2016
For more information on the above courses, including registration information, location, and course outlines, please visit our web site: https://www.weblakes.com/courses.html.
Modeling Tip
Updates to SRTM Terrain Elevation Data
Shuttle Radar Topography Mission (SRTM) data has long been a valuable source of terrain elevation data for modeling projects. The original data were collected using a specially modified radar system that flew onboard the Space Shuttle Endeavour during a mission in 2000.
Lakes Environmental has made this data available to AERMOD View and CALPUFF View users via the WebGIS feature built into each application. Data were available in the following resolutions:
SRTM1 (~30m resolution) – USA coverage
SRTM3 (~90m resolution) – Global coverage
SRTM30 (~900m resolution) – Global coverage
In September 2014, the United States released globally the highest-resolution data. What was previously limited to 90-meter resolution is now available at roughly 30-meter resolution. Extents cover most of the Earth, from 56° S to 60° N. This data has been added to the WebGIS database and is now accessible for AERMOD View and CALPUFF View users with a current maintenance agreement.
If you are currently out of maintenance and wish to renew your maintenance to access this feature, please contact sales@webLakes.com.
In AERMOD View:
Open the Terrain Processor
Select SRTM1/SRTM3 as the Map Type
Click the WebGIS button
Choose SRTM1 (Global ~30m) – Version 3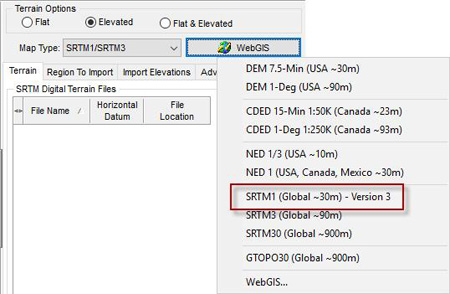 In CALPUFF View:
Open the Geophysical Processor
Go to the Map Files tab
Under the Terrain Files group, select the WebGIS button
Choose SRTM1 (Global ~30m) – Version 3
Submit Your Modeling Tips Today!
We are currently accepting submissions for the Monthly Modeling Tip section that appears in our newsletters. If you have a modeling tip that may benefit our readers, please send it to us at support@webLakes.com. Your name and the name of your organization will appear below the tip providing you with an opportunity for increased exposure.
Articles
Lawrence Livermore Laboratory Developing Underground Battery System to Store Energy and CO2
January 6, 2016 - Meeting the Paris Climate Agreement goal of limiting the increase in the global average temperature to well below two degrees Celsius compared to pre-industrial levels will require increased use of renewable energy and reducing the CO2 intensity of fossil energy use.
The intermittency of when the wind blows and when the sun shines is one of the biggest challenges impeding the widespread integration of renewable energy into electric grids, while the cost of capturing CO2 and storing it permanently underground is a big challenge for decarbonizing fossil energy.
Global Mercury Regulations to Have Major Economic Benefits for US
January 5, 2016 - Global action on reducing mercury emissions will lead to twice the economic benefits for the US, compared with domestic action, by 2050. However, those in the US who consume locally caught freshwater fish, rather than seafood from the global market, will benefit more from domestic rather than international mercury regulations.
Indian Capital Kicks Off Plan to Cut Air Pollution by Limiting Cars on the Road
January 1, 2016 - NEW DELHI - The Indian capital on Friday kicked off a sweeping plan to reduce its record-high air pollution by limiting the numbers of cars on the streets for two weeks.
New Delhi is testing a formula where private cars will be allowed on the roads only on alternate days from Jan. 1-15, depending on whether their license plates end in an even or an odd number.
Details of the Paris Climate Conference (COP21) Agreement in December 2015
December, 2015 - At the Paris climate conference (COP21) in December 2015, 195 countries adopted the first-ever universal, legally binding global climate deal.
The agreement sets out a global action plan to put the world on track to avoid dangerous climate change by limiting global warming to well below 2°C.
The agreement is due to enter into force in 2020.
Rome, Milan Clamp Down on Cars as Smog Smothers Italy
December 28, 2015 - MILAN - Cars were banished Monday from the streets of Milan while in Rome every second vehicle was forced off the road as Italian authorities battled a buildup of smog after a spell of unseasonably dry, calm weather.
In Milan and the nearby town of Pavia, no cars will be allowed onto the roads between 10:00 am and 4:00 pm for three days starting Monday, while in Rome owners of cars with odd-numbered plates were ordered to leave them at home for the day.
EPA Reports: Automakers Beat Greenhouse Gas Emissions Standards for Third Straight Year Fuel Economy Steady at Highest Level Ever Recorded
December 16, 2015 - The U.S. Environmental Protection Agency (EPA) today announced that manufacturers have surpassed the more stringent 2014 standards for greenhouse gas (GHG) emissions, while model year 2014 fuel economy remains steady at the highest level ever recorded.
The findings were included in two reports the agency released today: the annual report on fuel economy trends and a report on the auto industry's progress toward meeting greenhouse gas (GHG) emissions standards for cars and light trucks.
Upcoming Conferences & Trade Shows
Date

Conference

Location

Jan 18-21, 2016

World Future Energy Summit
More Info

Abu Dhabi, UAE

Feb 03-05, 2016

Energy, Utility & Environment Conference (EUEC) 2016
More Info

San Diego, CA, USA

Feb 22-23, 2016

ICAPC 2016: 18th International Conference on Air Pollution and Control
More Info

Paris, France

Mar 02-04, 2016

GLOBE 2016
More Info

Vancouver, BC, Canada

Mar 14-18, 2016

Air Quality 2016
More Info

Milan, Italy

Mar 20-25, 2016

40th Stationary Source Sampling & Analysis for Air Pollutants Conference 2016
More Info

Point Clear, AL, USA

Apr 12-14, 2016

A&WMA 6th Specialty Conference: Guideline on Air Quality Models – The New Path
More Info

Chapel Hill, NC, USA

Apr 25-27, 2016

CANECT 2016
More Info

Toronto, ON, Canada

May 24-26, 2016

21st International Transport and Air Pollution Conference (TAP 2016)
More Info

Lyon, France

May 25-27, 2016

Carbon Expo 2016
More Info

Cologne, Germany

Jun 20-23, 2016

A&WMA 109th Annual Conference & Exhibition
More Info
Lakes Environmental will be at booth #331

New Orleans, LA, USA

Aug 29 - Sep 2, 2016

IUAPPA 2016
More Info

Busan, South Korea
About this Newsletter
This newsletter contains information gleaned from various sources on the web, with complete links to the sources cited. Organizations cited are in no way affiliated with Lakes Environmental Software.
Lakes Environmental Software is a leading environmental IT company that offers a complete line of air dispersion modeling, risk assessment, emissions inventory, and emergency release software as well as training and custom software services. With satisfied users located around the globe, Lakes Environmental Software will continue to revolutionize the environmental software field.
For more information please visit our web site at: www.webLakes.com. You may also contact us by phone at (519) 746-5995 or by fax at (519)746-0793.
All comments and suggestions are welcome. You can e-mail us at: support@webLakes.com.