Lakes Environmental e-Newsletter
Emissions Inventory - Atmospheric Science - IT Solutions


In this issue:
News & Events
Upcoming Courses
Modeling Tip: Posting Concentrations in AERMOD View
Articles
Upcoming Conferences & Trade Shows
News & Events
Lakes Environmental at ECOTECH CHINA 2016 in Shanghai, China
Lakes Environmental will be in Shanghai, China from June 15-17, 2016 to take part as exhibitors at ECOTECH CHINA. We invite you to stop by our booth in the Canada Pavilion in hall 7.2 to meet Mr. Bryan Matthews. He would be happy to speak with you about our technologically advanced environmental software solutions and services.
Lakes Environmental at A&WMA Conference and Exhibition
Lakes Environmental will be in New Orleans from June 20-23, 2016 for the Annual Air & Waste Management Conference and Exhibition.




Drop by booth #331 to meet our friendly, knowledgeable staff and for your chance to win a FREE copy of our AERMOD View or AERSCREEN View air dispersion modeling software!
Visit the conference website to register for this annual event. You don't want to miss it!
AERMOD Course in Toronto, Ontario – Sep 26-27, 2016
Lakes Environmental will hold two days of AERMOD training in Toronto from September 26-27, 2016.




Attending this course is the best way to stay current with recent regulatory and methodology changes. Lakes Environmental uses cutting edge tools that will revolutionize the way you do air dispersion modeling!




Spots fill quickly! Register today to take advantage of our early registration discount!




Early Registration Discount Ends: August 26, 2016




Course: AERMOD (Sep 26-27, 2016)
Location: Toronto, Ontario
Contact: training@webLakes.com
Registration: Register Now
AERMOD & CALPUFF Courses in São Paulo, Brazil – Nov 7-10, 2016
Lakes Environmental Closed for Canada Day Holiday
Lakes Environmental's Waterloo office will be closed on Friday, July 1, 2016 to observe the Canada Day holiday. If you have any needs during that time, please e-mail us at support@webLakes.com and we will respond to your inquiry as soon as possible.
Upcoming Courses
Date

Course

Location

Registration

Jun 20, 2016

Sep 26-27, 2016

Nov 7-8, 2016
Nov 9-10, 2016

Registration
Coming Soon

Nov 17-18, 2016

Registration
Coming Soon
For more information on the above courses, including registration information, location, and course outlines, please visit our web site: https://www.weblakes.com/courses.html.
Modeling Tip
Posting Concentrations in AERMOD View
Displaying model output is an integral part of air dispersion modeling. Concentration contour plots help modelers quickly identify trends and high concentrations from modeling projects. AERMOD View includes numerous visualization options to make the modeler's job even easier.
One thing missing from a general concentration contour plot is the actual concentration value at each receptor. In AERMOD View, the Posting layer contains concentration values at each receptor. This can be enabled from the Contours Panel | Show Concentrations button or by checking the Posting layer in the Overlays Tree View.

Show Concentrations Button from Contours Panel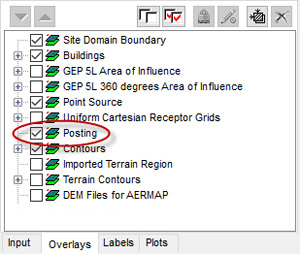 Posting Layer in the Overlays Tree View
If a project contains a lot of receptors, however, the Posting layer may be difficult to read without zooming in.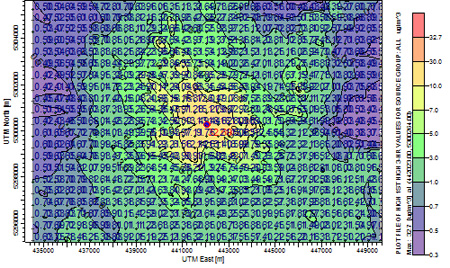 Contour Plot with Posting Enabled
The Posting display can be modified using the Graphical Options. From the main toolbar, select the Graphical Options button and then select the Posting options.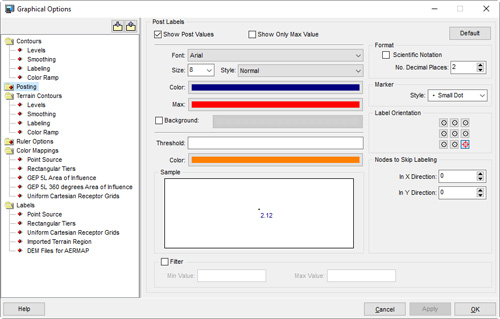 Some of the available options include:
Show Only Max Value: This option only posts the maximum concentration for the selected contour plot. Use the Max color field to make the value stand out (default color is red). The image below shows the same contour plot as above with the Show Only Max Value option enabled.

Threshold: Define a threshold and highlight color and AERMOD View will highlight those concentrations that exceed the threshold to make them easier to find.
Filter: Only display concentrations within the user-specified range. The image below uses the Filter (>5) and Threshold (12.5) options.

Other options such as font, label orientation, color, and more can be enabled. These options help users create great-looking graphics with minimal effort.
Submit Your Modeling Tips Today!
We are currently accepting submissions for the Monthly Modeling Tip section that appears in our newsletters. If you have a modeling tip that may benefit our readers, please send it to us at support@webLakes.com. Your name and the name of your organization will appear below the tip providing you with an opportunity for increased exposure.
Articles
Emissions Detected From Space Reveal Big Polluters
June 1, 2016 - Polluters can no longer hide their emissions of sulphur dioxide by failing to report them. Canadian researchers have found a way to detect that kind of pollution using satellites.
In doing so, they've uncovered some very big polluters: oil and gas plants in the Persian Gulf that hadn't been reporting their emissions.
Those polluters may be responsible for six to 12 per cent of man-made emissions worldwide of sulphur dioxide, reports the new study led by Chris McLinden, a research scientist at Environment and Climate Change Canada. The results were published this week in the journal Nature Geoscience.
Government of Canada and Industry Work Together to Produce Clean Air Measures
May 31, 2016 - The Government of Canada announced new measures to provide clean air and healthier communities for Canadians by limiting air pollution from a broad range of industries as part of the Air Quality Management System (AQMS).
In collaboration with key industries, Canada has established industrial emissions standards for hundreds of industrial facilities. The standards will be implemented through a variety of measures, including codes of practice, guidelines, performance agreements and pollution prevention planning notices.
EPA Proposes Increase in Renewable Fuel Levels
May 18, 2016- The U.S. Environmental Protection Agency (EPA) today proposed increases in renewable fuel volume requirements across all types of biofuels under the Renewable Fuel Standard (RFS) program. The proposed increases would boost renewable fuel production and provide for ambitious yet achievable growth.
"The Renewable Fuel Standards program is a success story that has driven biofuel production and use in the U.S. to levels higher than any other nation," said Janet McCabe, acting assistant administrator for EPA's Office of Air and Radiation. "This administration is committed to keeping the RFS program on track, spurring continued growth in biofuel production and use, and achieving the climate and energy independence benefits that Congress envisioned from this program."
EPA Releases First-Ever Standards to Cut Methane Emissions from the Oil and Gas Sector
May 12, 2016- As a further step in the Obama Administration's commitment to take action on climate change and protect public health, the U.S. Environmental Protection Agency (EPA) is announcing comprehensive steps to address methane emissions from both new and existing sources in the oil and gas sector. For new, modified and reconstructed sources, EPA is finalizing a set of standards that will reduce methane, volatile organic compounds (VOCs) and toxic air emissions in the oil and natural gas industry. EPA is also starting the process to control emissions from existing sources by issuing for public comment an Information Collection Request (ICR) that requires companies to provide the information that will be necessary for EPA to reduce methane emissions from existing oil and gas sources.
Europe Trails U.S. in Cutting Air Pollution, W.H.O. Says
May 12, 2016 - European countries, which rely heavily on diesel-fueled vehicles, remain far behind the United States in their efforts to reduce harmful air pollution, according to a report to be issued Thursday by the World Health Organization.
The report, which compiled air quality readings from 3,000 cities in 103 countries, found that more than 80 percent of people in those cities were exposed to pollution exceeding the limits set by W.H.O. guidelines, above which air quality is considered to be unhealthy. And in poorer countries, 98 percent of cities with more than 100,000 inhabitants were out of compliance with the health organization's guidelines.
Dutch Air Quality Breaks EU Standards in Some Cities
May 11, 2016 - The air quality in parts of Amsterdam, Maastricht and Rotterdam breaks EU standards, exposing the population to dangerous levels of pollution, environmental group Milieudefensie said on Tuesday. The Netherlands has been required to meet EU rules on the concentration of nitrogen dioxide in the atmosphere since January 2015 but fails to do this in at least 11 places, Milieudefensie said.
Upcoming Conferences & Trade Shows
Jun 15-17, 2016

EcoTech China 2016
Lakes Environmental will be in the Canada Pavilion
More Info

Shanghai, China

Jun 20-23, 2016

A&WMA 109th Annual Conference & Exhibition
More Info
Lakes Environmental will be at booth #331

New Orleans, LA, USA

Jul 07-10, 2016

The European Conference on Sustainability, Energy & the Environment
More Info

Brighton, UK

Aug 08-11, 2016

U.S. EPA National Ambient Air Monitoring Conference
More Info

St. Louis, MO, USA

Aug 18-19, 2016

6th International Conference on Environmental Pollution and Remediation (ICEPR 2016)
More Info

Budapest, Hungary

Aug 22-24, 2016

ICCE 2016: 5th International Conference & Exhibition on Clean Energy
More Info

Montréal, Québec, Canada

Aug 26-28, 2016

2016 International Conference on Clean Water, Air & Soil
More Info

Beijing, China

Aug 29 - Sep 02, 2016

IUAPPA 2016
More Info

Busan, South Korea

Nov 3-4, 2016

2016 EIANZ Annual Conference
More Info

Brisbane, QLD, Australia

Nov 6-10, 2016

SETAC World Congress and Annual Meeting
More Info

Orlando, FL, USA
About this Newsletter
This newsletter contains information gleaned from various sources on the web, with complete links to the sources cited. Organizations cited are in no way affiliated with Lakes Environmental Software.
Lakes Environmental Software is a leading environmental IT company that offers a complete line of air dispersion modeling, risk assessment, emissions inventory, and emergency release software as well as training and custom software services. With satisfied users located around the globe, Lakes Environmental Software will continue to revolutionize the environmental software field.
For more information please visit our web site at: www.webLakes.com. You may also contact us by phone at (519) 746-5995 or by fax at (519)746-0793.
All comments and suggestions are welcome. You can e-mail us at: support@webLakes.com.