Lakes Environmental e-Newsletter
Emissions Inventory - Atmospheric Science - IT Solutions


In this issue:
News & Events
Upcoming Courses
Modeling Tip: Modeling Roads in CALPUFF
Articles
Upcoming Conferences & Trade Shows
News & Events
A&WMA "Guideline on Air Quality Models: The New Path" Conference Wrap-Up
Last month, the Air & Waste Management Specialty Conference "Guideline on Air Quality Models: The New Path" was held by the A&WMA Technical Coordinating Committee for Atmospheric Modeling and Meteorology (APM). The conference was held from April 12-14, 2016 at the Sheraton Chapel Hill Hotel in Chapel Hill, NC. Approximately 150 people attended, and we enjoyed meeting many of the attendees!
Over 30 presentations were given with topics covering the AERMOD air dispersion model and its use, applications of existing dispersion models, advancements in dispersion modeling science, new models, and new modeling methodology.
The conference also featured an opening plenary session with staff from the U.S. Environmental Protection Agency, Office of Air Quality Planning and Standards who offered updates to rulemaking currently taking place in the United States.
Missed us at this conference? Look for Lakes Environmental at booth # 331 at the upcoming A&WMA Annual Conference and Exhibition taking place from June 20-23, 2016 in New Orleans, Louisiana!
Lakes Environmental at A&WMA Conference and Exhibition
Lakes Environmental will be in New Orleans from June 20-23, 2016 for the 109th Annual Air & Waste Management Conference and Exhibition.




Drop by booth #331 to meet our friendly, knowledgeable staff and for your chance to win a FREE copy of our AERMOD View or AERSCREEN View air dispersion modeling software!
Visit the conference website to register for this annual event. This year's conference offers excellent opportunities for the environmental professional. You don't want to miss it!
Lakes Environmental Teaching Professional Development Course at 2016 A&WMA Conference and Exhibition
The Air & Waste Management Association will be offering a variety of high quality professional development courses prior to the annual conference in New Orleans.




This year, Lakes Environmental will present a one-day introductory course on AERMOD air dispersion modeling. Please find below the details of this course.




AIR-299: AERMOD Air Dispersion Modeling – Monday, June 20 – 8:00am – 5:00pm




Advanced registration is only available until Monday, May 23, 2016.
Lakes Environmental Closed for Victoria Day Holiday
Lakes Environmental's Waterloo office will be closed on Monday, May 23, 2016 to observe the Victoria Day holiday. If you have any needs during that time, please e-mail us at support@webLakes.com and we will respond to your inquiry as soon as possible.
Upcoming Courses
Date

Course

Location

Registration

Jun 20, 2016

Sep 26-27, 2016

Toronto, ON

Registration
Coming Soon

Nov 7-8, 2016
Nov 9-10, 2016

São Paulo, Brazil

Registration
Coming Soon

Nov 17-18, 2016

Orlando, FL

Registration
Coming Soon
For more information on the above courses, including registration information, location, and course outlines, please visit our web site: https://www.weblakes.com/courses.html.
Modeling Tip
Modeling Roads in CALPUFF
The CALPUFF modeling system does not feature a native source type for mobile sources (e.g., vehicles). One way to treat these emissions in the model is to calculate the cumulative emissions of all vehicles which drive on a road and parameterize the road itself into the model as the source. With the introduction of CALPUFF's Version 7 Modeling System and the release of CALPUFF View Version 8.2.0, users have a few options as to how to model these sources in CALPUFF.
Haul Roads Source Calculator
Several years ago, the USEPA Haul Roads Workgroup issued recommendations for modeling haul roads within the AERMOD air dispersion model. Lakes Environmental used these recommendations to build a source parameterization wizard into AERMOD View – the Haul Roads Calculator. CALPUFF View Version 8.2.0 now features the same Haul Roads Calculator. This utility incorporates all recommendations from the Haul Road Workgroup final report. The user only needs to provide a few simple input values:
Vehicle height
Plume height factor (default of 1.7 per the Haul Road Workgroup report)
Lane type (single lane or two lanes)
Road width
Emission rate
The calculator uses the report recommendations to apply the appropriate source inputs to each source along the line.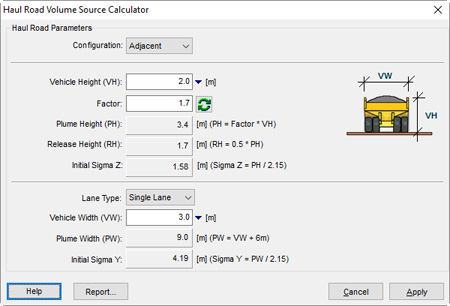 Haul Road Source Calculator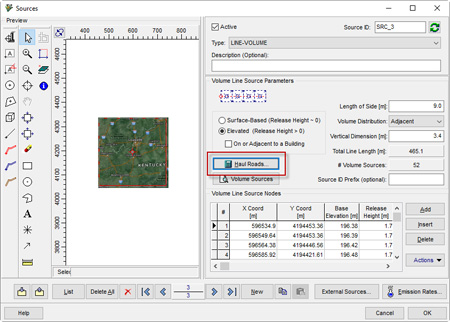 CALPUFF View Source Parameters – Line Volume Source
New Road Source Type
CALPUFF's Version 7 modeling system also features a native road source. Emissions from roads are generated from individual line segments defined by a sequence of coordinates provided for each road-link. Each link is entered as a discrete source and is defined as a section of the road for which emissions are uniform.
The road is defined as polyline sufficient to resolve curves without the need for uniform spacing. It could be as simple as two points for a straight flat segment, or a series of coordinate pairs can be used to trace a more winding path.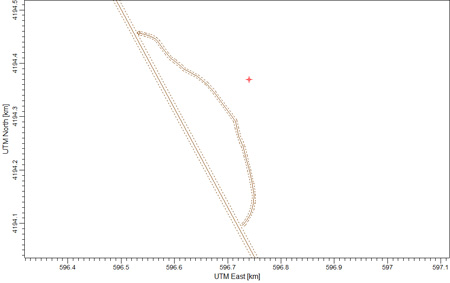 Example of Two Road Sources
The model automatically divides long line segments into shorter segments that are limited by the grid-cell boundaries as no segment may extend across multiple grid cells. One emission rate (g/s/m) for each species is used for the entire road. Near a congested intersection, many short links may be required to resolve the spatial and temporal distribution of emissions. Each is entered and modeled as a discrete source.
Roads can also be specified in the CALPUFF model as an external source file with varying emissions (RDEMARB.DAT). The specifications of this file can be found in CALPUFF View' Help file.
Submit Your Modeling Tips Today!
We are currently accepting submissions for the Monthly Modeling Tip section that appears in our newsletters. If you have a modeling tip that may benefit our readers, please send it to us at support@webLakes.com. Your name and the name of your organization will appear below the tip providing you with an opportunity for increased exposure.
Articles
MPs: UK Air Pollution is a 'Public Health Emergency'
April 27, 2016 - Air pollution in the UK is a "public health emergency", according to a cross-party committee of MPs, who say the government needs to do much more including introducing a scrappage scheme for old, dirty diesel vehicles.
The government's own data shows air pollution causes 40,000-50,000 early deaths a year and ministers were forced to produce a new action plan after losing a supreme court case in 2015.
But the MPs' heavily critical report, published on Wednesday, says even more action is required to tackle the crisis, such as giving dozens of cities which currently suffer illegal levels of air pollution stronger powers to deter polluting vehicles with charges.
U.S. National Parks Facing Stronger Air Pollution Regulations
April 26, 2016 - The Environmental Protection Agency (EPA) is proposing stronger air pollution rules at national parks, but climate activists and conservationists say it may be too little, too late for the great outdoors.
The views at national parks, and the air tourists breathe, are often distorted by air pollution, the EPA said.
But ClientEarth says those plans do not go far enough to tackle nitrogen dioxide emissions and has lodged papers at the High Court to seek an order to quash them and order new ones.
Greenhouse Gases in Canada Continued to Rise Through 2014: Environment Canada
April 18, 2016- A new government inventory report says Canada's greenhouse gas emissions continued their slow climb in 2014.
The national inventory released Monday by Environment Canada shows emissions were estimated to be 732 megatonnes of carbon dioxide and other equivalents — a 20 per cent increase over 1990 levels, when Canada first committed to cutting emissions growth.
Air Quality in Delhi Deteriorating: Study
April 17, 2016- For the first time, an authentic study report has come out indicating that air quality in the capital city is not satisfactory. As per the study conducted by state pollution control board (PCB) and National Transportation Planning and Research Centre (NATPAC), pollutants such as particulate matter is higher than the limit set by National Ambient Air Quality Standards (NAAQ). The presence of carbon monoxide and carbon dioxide too has been found to be above normal, while nitrogen dioxide falls within limits.
U.S. EPA Publishes 21st Annual U.S. Greenhouse Gas Inventory
April 15, 2016 - WASHINGTON - The U.S. Environmental Protection Agency (EPA) released its 21st annual Inventory of U.S. Greenhouse Gas Emissions and Sinks (GHG Inventory), today, which presents a national-level overview of annual greenhouse gas emissions since 1990. The inventory shows a nine percent drop in emissions since 2005, and a one percent increase in greenhouse gas emissions in 2014 from 2013 levels.
Upcoming Conferences & Trade Shows
Date

Conference

Location

May 24-26, 2016

21st International Transport and Air Pollution Conference (TAP 2016)
More Info

Lyon, France

May 25-27, 2016

Carbon Expo 2016
More Info

Cologne, Germany

Jun 06-10, 2016

Asia Clean Energy Forum
More Info

Manila, Philippines

Jun 10-12, 2016

2016 International Conference on Environmental Science and Technology (ICEST 2016)
More Info

Barcelona, Spain

Jun 20-23, 2016

A&WMA 109th Annual Conference & Exhibition
More Info
Lakes Environmental will be at booth #331

New Orleans, LA, USA

Aug 18-19, 2016

6th International Conference on Environmental Pollution and Remediation (ICEPR 2016)
More Info

Budapest, Hungary

Aug 22-24, 2016

ICCE 2016: 5th International Conference & Exhibition on Clean Energy
More Info

Montréal, Québec, Canada

Aug 29 - Sep 2, 2016

IUAPPA 2016
More Info

Busan, South Korea

Nov 6-10, 2016

SETAC World Congress and Annual Meeting
More Info

Orlando, FL, USA
About this Newsletter
This newsletter contains information gleaned from various sources on the web, with complete links to the sources cited. Organizations cited are in no way affiliated with Lakes Environmental Software.
Lakes Environmental Software is a leading environmental IT company that offers a complete line of air dispersion modeling, risk assessment, emissions inventory, and emergency release software as well as training and custom software services. With satisfied users located around the globe, Lakes Environmental Software will continue to revolutionize the environmental software field.
For more information please visit our web site at: www.webLakes.com. You may also contact us by phone at (519) 746-5995 or by fax at (519)746-0793.
All comments and suggestions are welcome. You can e-mail us at: support@webLakes.com.