Lakes Environmental e-Newsletter
Emissions Inventory - Atmospheric Science - IT Solutions


In this issue:
News & Events
Upcoming Courses
Modeling Tip: Defining Custom Sectors in WRPLOT View
Articles
Upcoming Conferences & Trade Shows
News & Events
New Freeware Versions of WRPLOT View and SCREEN View Released!
Lakes Environmental is pleased to announce the release of WRPLOT View Version 8.0.0 and SCREENView Version 4.0.0. Features available in these new versions include:

WRPLOT View Version 8.0.0

Wind Rose Sectors Definition - A new tool – Wind Rose Sectors – was added to allow users to define custom start and end angles for the sectors.
Stability Class Support for CALPUFF Time Series File – The Stability Class Display option is now available when reviewing CALPUFF Time Series files in addition to the existing Pre-Processed ISC met data file support.
For a complete list of the changes and new features available in WRPLOT View version 8.0.0, please see our latest Release Notes.
SCREEN View Version 4.0.0
Updated Model - US EPA SCREEN3 model version 13043 is now included in SCREEN View.
WRPLOT View and Screen View are provided by Lakes Environmental for FREE! Download your copy today!
Lakes Environmental & CASANZ AERMOD Course in Australia – One Space Left!
Lakes Environmental & APCAS CALPUFF Course in Montreal – Jan 23-24, 2017
Lakes Environmental is pleased to be travelling to Montreal, Quebec for two days of CALPUFF training from January 23-24, 2017.




This course will be hosted by APCAS (Association pour la prévention de la contamination de l'air et du sol). Presentation of the course as well as all course materials (presentation slides, course notes, etc) will be in English.




Pre-book your spot in this course today by contacting APCAS at apcas@apcas.qc.ca.




Course: CALPUFF (Jan 23-24, 2017)
Location: Montreal, Quebec
Registration: Pre-Book your spot in this course today by contacting APCAS.
Course Inquiries: JeanLuc.Allard@snclavalin.com
Lakes Environmental Announces 2017 AERMOD & CALPUFF Training Courses
Lakes Environmental is pleased to announce their 2017 Global AERMOD and CALPUFF Training Course Schedule.




Course dates and locations for the first half of the year are listed below and can also be found by visiting our website. Join us for training with our world class team of senior level air quality experts!




| | |
| --- | --- |
| Jan 23-24, 2017 | |
| Feb 27-Mar 2, 2017 | |
| Mar 20-24, 2017 | Dallas, TX *New Dates* |
| Apr 3-6, 2017 | |
| May 1-5, 2017 | |
Online registration is open! Start making plans now to attend one of these courses. Early registration discounts are available for a limited time!
Lakes Environmental December Holiday Schedule
Please find below the holiday schedule for Lakes Environmental's offices:
| | |
| --- | --- |
| December 23 | Open |
| December 26-27 | Closed |
| December 28-29 | Open |
| December 30 | Closed |
| January 2 | Open |
If you have an urgent matter requiring assistance during the holidays, please e-mail us at support@webLakes.com.
Upcoming Courses
Date

Course

Location

Registration

Nov 28-29, 2016

Melbourne, Australia
Sponsored by CASANZ

Jan 23-24, 2017

Montreal, QC
Sponsored by APCAS

Feb 27-28, 2017
Mar 1-2, 2017

Registration
Coming Soon

Mar 20-21, 2017
Mar 22-24, 2017

Register Now
New Dates

Apr 3-4, 2017
Apr 5-6, 2017

Registration
Coming Soon

May 1-2, 2017
May 3-5, 2017
For more information on the above courses, including registration information, location, and course outlines, please visit our web site: https://www.weblakes.com/courses.html.
Modeling Tip
Defining Custom Sectors in WRPLOT View
A wind rose depicts the wind frequency in specified wind direction sectors and wind speed classes for a given location and time. Over the years, thousands of people in need of wind roses have turned to Lakes Environmental's freeware application, WRPLOT View. Beginning with WRPLOT View Version 8.0, users now have the ability to define custom wind direction sectors. By changing the sector arcs and starting angles, users can analyze a wide variety of wind statistics.
To customize the wind direction sectors, open your met data file in WRPLOT View and select the Tools | Wind Rose Sectors menu option.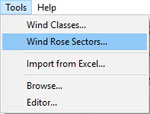 The application defaults to 16 sectors centered on 22.5-degree intervals (e.g., 0°, 22.5°, 45°, etc.). To modify the sector positions, edit the Start Angle field. For example, if I wanted to start the sectors at the North compass point, I could start at 0° and go up by 22.5° increments.
| | |
| --- | --- |
| | |
| Default wind sectors | Custom wind sectors |
Users can also define non-uniform arcs.
Wind rose plot with 4 non-uniform sectors and uniform petal width
To learn more, download WRPLOT View Version 8.0 today!
Submit Your Modeling Tips Today!
We are currently accepting submissions for the Monthly Modeling Tip section that appears in our newsletters. If you have a modeling tip that may benefit our readers, please send it to us at support@webLakes.com. Your name and the name of your organization will appear below the tip providing you with an opportunity for increased exposure.
Articles
Delhi Air Quality Remains 'Severe', Minister Calls for Emergency Meeting
November 6, 2016 - New Delhi, Nov 6: Delhi on Sunday remained covered in a thick cover of smog along with high pollutants which kept air quality in the 'severe' category. Cool temperature and nearly zero wind movement were the major factors responsible for pollution level continuing to be on the higher side. Air Quality Data on Particulate Matter (PM) for Delhi continued to be 'Severe'. At 9 AM PM showed Delhi's Air Quality Index (AQI) at 999 in RK Puram at 999, 436 at Indira Gandhi International Airport (IGI), 999 in Punjabi Bagh at 999 and 662 in Shanti Path area. Following the rise in pollution, Delhi chief minister Arvind Kejriwal has called for an emergency cabinet meeting at 12:30 PM. The condition in the national capital is believed to be the worst Delhi has witnessed in 17 years.
British Court Rules Government Failing to Tackle Air Pollution
November 2, 2016 - UK government measures to tackle air pollution still don't comply with European Union legislation to improve air quality and meet nitrogen dioxide limits, Britain's High Court ruled on Wednesday.
Nitrogen oxides reduce air quality and member states have been flouting EU limits on a range of pollutants associated with respiratory and other illnesses and more than 400,000 premature deaths per year, according to European Commission data.
Automakers Outperform Greenhouse Gas Emissions Standards for 4th Consecutive Year
November 2, 2016 - WASHINGTON - Passenger vehicles achieved record-high fuel economy while outperforming greenhouse gas emission standards in model year 2015, according to two reports released today by the U.S. Environmental Protection Agency (EPA).
The GHG Manufacturer Performance Report for 2015 Model Year finds automakers went beyond the model year (MY) 2015 standards by an average 7 grams of CO2 per mile, equivalent to 0.9 miles per gallon (mpg), even as the fleet-wide standard became more stringent by 13 grams of CO2 per mile. All large manufacturers have met the standards through MY 2015.
Wave of Environmental Regulation Heading for California Ports
November 1, 2016 - The tightrope that California ports must walk in balancing the commercial needs of their private-sector tenants with the demands of state and local environmental regulators played out last week at events in Oakland and Los Angeles-Long Beach.
On Thursday in Los Angeles, John McLaurin, president of the Pacific Merchant Shipping Association, warned a Propeller Club gathering that the environmental movement in California is moving inexorably from an emphasis on reducing health-risk pollutants, where the ports have achieved great success, to reducing greenhouse gas emissions.
Upcoming Conferences & Trade Shows
Jan 5-7, 2017

IAFOR International Conference on Sustainability, Energy & the Environment
More Info

Honolulu, HI, USA

Jan 16-19, 2017

World Future Energy Summit
More Info

Abu Dhabi, UAE

Jan 22-26, 2017

American Meteorological Society (AMS) 97th Annual Meeting
More Info

Seattle, WA, USA

Feb 8-10, 2017

Energy, Utility & Environment Conference (EUEC) 2017
More Info

San Diego, CA, USA

Feb 23-24, 2017

19th International Conference on Air Pollution and Control
More Info

Paris, France

Mar 21-23, 2017

Americana 2017
More Info

Montréal, QC, Canada

Apr 2-4, 2017

2nd International Conference on Air, Water, and Soil Pollution and Treatment (AWSPT'17)
More Info

Barcelona, Spain

May 2-3, 2017

CANECT 2017
More Info

Mississauga, ON, Canada

May 25-26, 2017

19th International Conference on Air Pollution and Control
More Info

London, UK

Jun 5-8, 2017

110th Air & Waste Management Association's Annual Conference & Exhibition (ACE)
More Info
Lakes Environmental will be at booth #607

Pittsburgh, PA, USA
About this Newsletter
This newsletter contains information gleaned from various sources on the web, with complete links to the sources cited. Organizations cited are in no way affiliated with Lakes Environmental Software.
Lakes Environmental Software is a leading environmental IT company that offers a complete line of air dispersion modeling, risk assessment, emissions inventory, and emergency release software as well as training and custom software services. With satisfied users located around the globe, Lakes Environmental Software will continue to revolutionize the environmental software field.
For more information please visit our web site at: www.webLakes.com. You may also contact us by phone at (519) 746-5995 or by fax at (519)746-0793.
All comments and suggestions are welcome. You can e-mail us at: support@webLakes.com.