Lakes Environmental Newsletter
Emissions Inventory - Atmospheric Science - IT Solutions


In this issue:
News & Events
Lakes Environmental AERMOD Course in Denver – Oct 2-3, 2017
Lakes Environmental AERMOD Course in Orlando – Nov 2-3, 2017
AERMOD & CALPUFF Courses in São Paulo, Brazil – Nov 6-9, 2017
AERMOD-CALPUFF Course in Kochi, India – Nov 27-30, 2017
Lakes Environmental Closed for Labour Day Holiday
Lakes Environmental's Waterloo and Dallas offices will be closed on Monday, September 4, 2017 to observe the Labour Day holiday. If you have any needs during that time, please e-mail us at support@webLakes.com and we will contact you on Tuesday September 5, 2017 when our offices reopen.
Upcoming Courses
Date

Course

Location

Registration

Oct 2-3, 2017

Nov 2-3, 2017

Nov 13, 2017

Nov 6-7, 2017
Nov 8-9, 2017

Nov 27-30, 2017
*A&WMA's Guideline on Air Quality Models Conference
For more information on the above courses, including registration information, location, and course outlines, please visit our web site: https://www.weblakes.com/courses.html.
Modeling Tip
Running AERMOD & AERMOD MPI on a Second Computer
Did you know AERMOD View gives you access to execute multiple AERMOD runs? Several utility programs are included with AERMOD View and one of these – Batcher – allows modelers to set up a queue of model runs. Batcher can be executed from any computer where AERMOD View is installed even if the full application is not licensed.
Batcher can conduct AERMOD, ISCST3, or ISC-PRIME runs. Users populate an executable list via the Browse icon

next to the executable drop-down list. All executables available to the main interface can be added to Batcher.

The standard EPA executables can be run on any copy of Batcher. If a user wants to model using Lakes' parallelized AERMOD MPI executable, a secondary web license is included with every copy of AERMOD View to allow for independent execution of AERMOD MPI via Batcher on a separate computer from wherever the main license is installed.
Activating the AERMOD MPI license only requires a few steps:
Step 1: Download and install AERMOD View and MPICH2 on the computer where you want to run AERMOD MPI.
Step 2: Open Batcher and select the menu option File | License Admin – AERMOD MPI.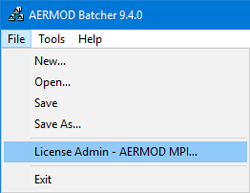 Step 3: The Web License Administration window is displayed. Specify the Serial # and Activation Key for AERMOD MPI you received by email and press the Activate button.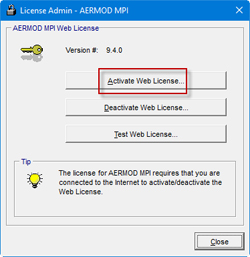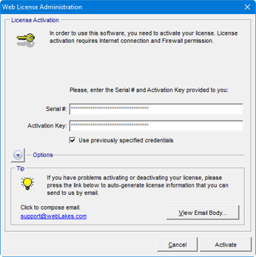 Step 4: A message is displayed stating that the license was successfully activated. Press OK and close the License Admin window.
Note: You do not have to activate the AERMOD MPI license in the computer where you already have AERMOD View activated (either via HASP key or Web License). The AERMOD MPI Web License is a second activation for another server or computer to run the AERMOD MPI executable using Batcher.
Once activated, you can add AERMOD MPI executables to your executable list, select the desired version, and identify how many processors you want to use (maximum of 8).

Submit Your Modeling Tips Today!
We are currently accepting submissions for the Monthly Modeling Tip section that appears in our newsletters. If you have a modeling tip that may benefit our readers, please send it to us at support@webLakes.com. Your name and the name of your organization will appear below the tip providing you with an opportunity for increased exposure.
Articles
Pollution in Delhi: Harsh Vardhan Says Air Quality Improving, Fewer 'Very Poor' Days This Year
August 1, 2017 - Delhi's air quality is gradually improving compared to what it was in the first half of 2016, Union environment minister Harsh Vardhan said in the Rajya Sabha on Monday.
The minister said that according to the city's Air Quality Index data for 2017, the national capital didn't experience a single day with severe level of air pollution this year. However between January and June in 2016 Delhi witnessed nine days with severely poor air quality.
Britain to Ban Sale of New Diesel and Gasoline Cars by 2040
July 26, 2017 - Sweeping new efforts to bring Britain's growing air pollution crisis under control were announced by the government Wednesday, including a ban on the sale of new diesel and gasoline vehicles beginning in 2040.
Environment Secretary Michael Gove said the changes are part of a $3.9-billion clean air strategy, adding there was no alternative to embracing new technology.
"We can't carry on with diesel and petrol [gasoline] cars," he said, "not just because of the health problems that they cause, but also because the emissions that they cause would mean that we would accelerate climate change, do damage to our planet and the next generation."
Jerry Brown, Lawmakers Announce California Climate Deal
July 11, 2017 - Gov. Jerry Brown and top lawmakers late Monday announced a proposal to extend through the next decade California's landmark program to regulate climate-warming greenhouse gases — known as cap and trade — which is set to expire in 2020.
Also unveiled late Monday was a separate bill to clean up the air in chronically polluted areas — to reduce harmful emissions from factories and plants as well as from cars and trucks.
"The Legislature is taking action to curb climate change and protect vulnerable communities from industrial poisons," Brown said in a statement released late Monday night.
NOAA's Greenhouse Gas Index up 40 Percent Since 1990
July 11, 2017 - NOAA's Annual Greenhouse Gas Index, which tracks the warming influence of long-lived greenhouse gases, has increased by 40 percent from 1990 to 2016 -- with most of that attributable to rising carbon dioxide levels, according to NOAA climate scientists.
The role of greenhouse gases on influencing global temperatures is well understood by scientists, but it's a complicated topic that can be difficult to communicate. In 2006, NOAA scientists introduced the Annual Greenhouse Gas Index as a way to help policymakers, educators and the public understand changes in the direct climate warming influence exerted by greenhouse gas levels over time.
Hong Kong Ship Regulation on Sulphur Dioxide Emissions Set to Align with National Level
July 6, 2017 - A two-year-old Hong Kong regulation requiring ships to switch to low-sulphur fuel at berth is to be replaced by one that will extend the standard to marine vessels operating in Hong Kong waters. The tweak in regulations is set to align with Pearl River Delta emissions control which will take effect on the national level in January 2019.
On Monday, authorities told the Advisory Council on the Environment the move would help cut harmful sulphur dioxide emissions from the marine sector by about 6,340 tonnes and respirable particulates – called PM10 – by about 710 tonnes by 2020.
Upcoming Conferences & Trade Shows
Aug 23-24, 2017

2017 International Conference on Air Quality and Environmental Sustainability (ICAQES 2017)
More Info

Terengganu, Malaysia

Aug 31 - Sep 2, 2017

15th International Conference on Environmental Science and Technology (CEST 2017)
More Info

Rhodes, Greece

Sep 13-15, 2017

18th GEIA (Global Emissions InitiAtive) Conference
More Info

Hamburg, Germany

Sep 16-17, 2017

3rd International Conference on Environment, Engineering & Energy 2017 (EEE 2017)
More Info

Toronto, ON, Canada

Oct 15-18, 2017

CASANZ 2017 (Clean Air Society of Australia and New Zealand)
More Info

Brisbane, QLD, Australia

Nov 1-2, 2017

Odor Management Conference 2017
More Info

Los Angeles, CA, USA

Nov 1-3, 2017

2017 International Conference on Renewable Energy and Environment (ICREE 2017)
More Info

Toronto, ON, Canada

Nov 12-16, 2017

SETAC North America 38th Annual Meeting
More Info

Minneapolis, MN, USA

Dec 14-16, 2017

2017 5th International Conference on Environment Pollution and Prevention (ICEPP 2017)
More Info

Singapore

Jan 4-6, 2018

IAFOR International Conference on Sustainability, Energy & the Environment
More Info

Honolulu, HI, USA

Jan 15-18, 2018

World Future Energy Summit
More Info

Abu Dhabi, UAE
About this Newsletter
This newsletter contains information gleaned from various sources on the web, with complete links to the sources cited. Organizations cited are in no way affiliated with Lakes Environmental Software.
Lakes Environmental Software is a leading environmental IT company that offers a complete line of air dispersion modeling, risk assessment, emissions inventory, and emergency release software as well as training and custom software services. With satisfied users located around the globe, Lakes Environmental Software will continue to revolutionize the environmental software field.
For more information please visit our web site at: www.webLakes.com. You may also contact us by phone at (519) 746-5995.
All comments and suggestions are welcome. You can e-mail us at: support@webLakes.com.