Lakes Environmental e-Newsletter
Emissions Inventory - Atmospheric Science - IT Solutions


In this issue:
News & Events
Lakes Environmental at A&WMA 2017 Conference & Exhibition
Lakes Environmental would like to thank everyone who stopped by our booth in Pittsburgh at A&WMA's Annual Conference and Exhibition from June 5-8, 2017.
We trust that you enjoyed your time at this year's conference and look forward to working with you throughout the coming year. See you in 2018 at A&WMA's next annual conference in Hartford, Connecticut!




Those who visited our booth had the chance to participate in a draw for a complimentary copy of our AERMOD View software package.




We would like to take this opportunity to offer our congratulations to our software winner, Kathy Moguel of SBHPP.




Congratulations Kathy!
Technical Papers Presented at Annual Conference
Dr. Jesse Thé, President of Lakes Environmental and Mr. Bryan Matthews, General Manager for Lakes Environmental's US Operations both presented during the Technical Sessions of this year's annual conference.
Papers focused on the following topics:
Mobile Toxics Human Health Risk Assessment Framework
Evaluation of SCIPUFF versus CALPUFF in Complex Terrain
Evaluation of Prognostic Windfields at Different Spatial Resolution
Regulatory Benefits of Investing in a State-of-the-Science Cumulative Human Health Risk Assessment Modeling System
The exceptional feedback received after these presentations is a definite recognition of the high level of research conducted at Lakes Environmental.
Lakes Environmental AERMOD & CALPUFF Course in Mexico City - Nearly Full!
Lakes Environmental AERMOD Course in Toronto – Sep 18-19, 2017
Lakes Environmental will hold two days of AERMOD training in Toronto from September 18 to 19, 2017.




This course will feature a special section and case study regarding the dispersion modeling requirements of Ontario Regulation 419/05: Air Pollution - Local Air Quality.




Register online now to guarantee your spot!




Early registration discounts available until August 18, 2017




Course: AERMOD (Sep 18-19, 2017)
Location: Toronto, Ontario
Contact: training@webLakes.com
Registration: Online Registration
Lakes Environmental AERMOD Course in Denver – Oct 2-3, 2017
Lakes Environmental Closed for Canada Day Holiday
Lakes Environmental's offices will be closed on Monday, July 3, 2017 to observe the Canada Day holiday. If you have any needs during that time, please e-mail us at support@webLakes.com and we will contact you on Tuesday, July 4, 2017 when our offices reopen.
Upcoming Courses
Date

Course

Location

Registration

Jul 24-27, 2017

Sep 18-19, 2017

Oct 2-3, 2017

Nov 2-3, 2017

Nov 13, 2017

Nov 6-7, 2017
Nov 8-9, 2017

Nov 27-30, 2017
*A&WMA's Guideline on Air Quality Models Conference
For more information on the above courses, including registration information, location, and course outlines, please visit our web site: https://www.weblakes.com/courses.html.
Modeling Tip
Working with External Source Files in CALPUFF View
When an air dispersion modeling project requires emission variations that do not follow a repeating schedule, it can be a challenge to input the data to the model. Both AERMOD and CALPUFF come equipped with variable emissions options, but the options for temporally-varying emissions are fixed to repeating schedules (e.g., same hours every day or season, whole months, etc.).
What happens when emissions change from one hour to the next? The CALPUFF modeling system allows modelers to input specially-formatted external source emission files, and CALPUFF View has a number of visualization options for these files.
File specifications for CALPUFF external source files can be found in the appropriate user guide for the CALPUFF modeling system being employed (i.e., EPA-Approved, Version 6 / 7).
In CALPUFF View, go to the CALPUFF | External Source Files menu option.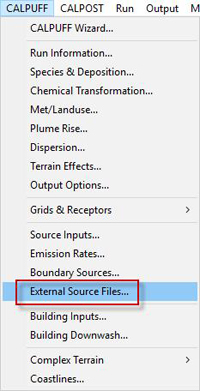 The External Source Files window will appear. Supported source types vary by model version as shown below.

EPA-Approved / Version 6 (top) and Version 7 (bottom) modeling system external source types
Click the Add File button to add the source-specific file to the project. The buttons on the right side of the window provide additional tools for analyzing this data:
Building Downwash (BPIP) can be processed for external point sources
The file can be opened in a text editor (View) for editing
Source data are summarized in tabular view (Grid) for quick verification
Graph view to depict emissions variations in both graph and tabular displays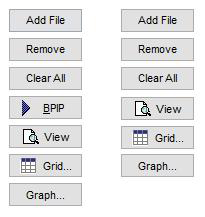 Window buttons for Point (left) and other (right) source types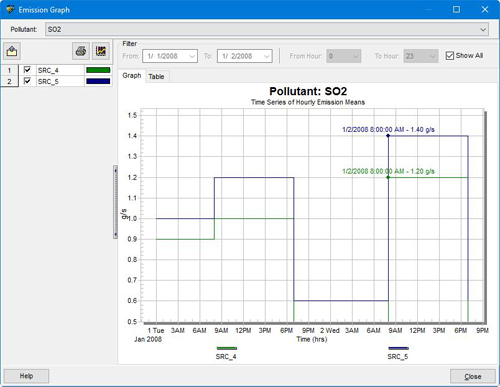 Emissions variation graph for point sources
Once the files have been added, the external sources will be depicted using different colors in CALPUFF View's main display. These colors can be customized using the Graphical Options Color Mapping settings.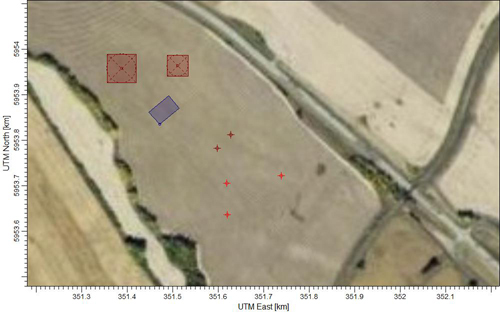 Submit Your Modeling Tips Today!
We are currently accepting submissions for the Monthly Modeling Tip section that appears in our newsletters. If you have a modeling tip that may benefit our readers, please send it to us at support@webLakes.com. Your name and the name of your organization will appear below the tip providing you with an opportunity for increased exposure.
Articles
EPA to Delay Enforcing Stricter Ozone Rules
June 8, 2017 - The Environmental Protection Agency will delay enforcing compliance with new ground-level ozone standards by one year.
The EPA, under President Barack Obama's administration, issued new ground-level ozone standards of 70 parts of ozone per billion parts of air in the fall of 2015, stricter than the previous standard of 75.
At the time, all of Arkansas was meeting both the standard of 75 and the new standard of 70, officials said, although Crittenden County had not been officially designated as in compliance. It was designated as in compliance in 2016, and the rest of Arkansas remains in compliance with the standard of 75, with average ozone readings below 70.
Trump's EPA Hit with Lawsuit Over Suspension of Oil- and Gas-Drilling Rules
June 5, 2017 - A group of conservation organizations sued the Environmental Protection Agency on Monday, saying the agency unlawfully suspended Obama-era rules to cut methane pollution.
The lawsuit is another sign that environmentalists intend to use the courts to block President Donald Trump's effort to roll back energy regulations and climate change initiatives pushed by his predecessor.
Air Pollution Fears See Demand for Diesel Cars Fall by Fifth
June 5, 2017 - Demand for new diesel cars plummeted by a fifth last month amid rising concerns over air pollution.
Approximately 81,500 new diesel cars were registered in the UK in May, down 20% on the same month last year, according to the Society of Motor Manufacturers and Traders. This represented a fall in market share from 50% to 43.7%.
The fall comes amid a flurry of negative publicity around the impact of diesel-fuelled vehicles on the environment and people's health
Pizza Oven Affected Montreal Air Quality Readings, Report Says
June 1, 2017 - Montrealers can breathe a sigh of relief to learn their air is less polluted than previously thought — due in part to a pizza oven that was skewing air quality readings.
An environmental report released this week shows the number of days with poor air quality plunged last year, right after the city closed a sampling station that was next to a pizzeria with a wood-burning oven.
Choked by Traffic, Bangkok Revs Up to Beat Air Pollution
May 18, 2017 - There are two pictures Thai air pollution expert Supat Wangwongwatana likes to show whenever he talks about Bangkok's transition, in a little over a decade, from a city blanketed in smog to one boasting clear blue skies.
The first, taken in the mid-1990s, shows the skyline of downtown Bangkok. Most buildings are in silhouette, shrouded in a thick layer of haze. The Baiyoke Tower, back then the city's tallest building, was still under construction.
Upcoming Conferences & Trade Shows
Aug 14-18, 2017

2017 International Emissions Inventory Conference
More Info

Baltimore, MD, USA

Aug 23-24, 2017

2017 International Conference on Air Quality and Environmental Sustainability (ICAQES 2017)
More Info

Terengganu, Malaysia

Aug 31 - Sep 2, 2017

15th International Conference on Environmental Science and Technology (CEST 2017)
More Info

Rhodes, Greece

Sep 13-15, 2017

18th GEIA (Global Emissions InitiAtive) Conference
More Info

Hamburg, Germany

Sep 16-17, 2017

3rd International Conference on Environment, Engineering & Energy 2017 (EEE 2017)
More Info

Toronto, ON, Canada

Oct 15-18, 2017

CASANZ 2017 (Clean Air Society of Australia and New Zealand)
More Info

Brisbane, QLD, Australia

Nov 1-3, 2017

2017 International Conference on Renewable Energy and Environment (ICREE 2017)
More Info

Toronto, ON, Canada

Nov 12-16, 2017

SETAC North America 38th Annual Meeting
More Info

Minneapolis, MN, USA

Dec 14-16, 2017

2017 5th International Conference on Environment Pollution and Prevention (ICEPP 2017)
More Info

Singapore
About this Newsletter
This newsletter contains information gleaned from various sources on the web, with complete links to the sources cited. Organizations cited are in no way affiliated with Lakes Environmental Software.
Lakes Environmental Software is a leading environmental IT company that offers a complete line of air dispersion modeling, risk assessment, emissions inventory, and emergency release software as well as training and custom software services. With satisfied users located around the globe, Lakes Environmental Software will continue to revolutionize the environmental software field.
For more information please visit our web site at: www.webLakes.com. You may also contact us by phone at (519) 746-5995.
All comments and suggestions are welcome. You can e-mail us at: support@webLakes.com.