Lakes Environmental Newsletter
Emissions Inventory - Atmospheric Science - IT Solutions


In this issue:
News & Events
Lakes Environmental Recognized as One of 50 Most Admired Companies of 2017
Lakes Environmental Software has been recognized by The Silicon Review as one of the 50 Most Admired Companies of the year. An article highlighting our exceptional work in the environmental industry can be found in the October special issue of The Silicon Review, a prestigious business and technology magazine. The full article can be read here.
| | | |
| --- | --- | --- |
| This honour highlights why so many consulting firms, regulatory agencies, universities, and industrial facilities around the world continue using our software and data products. Our clients have trusted in our expertise since Lakes Environmental was founded in 1995. | | |
For more information regarding the cloud-based emissions tracking and environmental management solutions discussed in the referenced article, please get in touch with us at sales@webLakes.com.
Lakes Environmental Announces 2018 Training Courses
Lakes Environmental is pleased to announce their 2018 Global Air Dispersion Modeling Training Course Schedule.
Course dates and locations for the first half of the year are listed below and can also be found by visiting our website. Join us for training with our world class team of senior level air quality experts!




| | |
| --- | --- |
| Feb 5-9 | |
| Feb 26 – Mar 1 | |
| Apr 9-13 | Las Vegas, Nevada |
| Apr 24-27 | Cancun, Mexico |
| May 14-17 | Sydney, Australia |
Online registration is already open for some courses! Start making plans now to attend. Early registration discounts will be available for a limited time only!
Lakes Environmental AERMOD Course in Orlando – Nov 2-3, 2017
Lakes Environmental Proud Sponsors of A&WMA Specialty Conference
Lakes Environmental is proudly sponsoring the upcoming Air & Waste Management Association specialty conference, Guideline on Air Quality Models being held in Chapel Hill, North Carolina from November 14 to 16, 2017.
As part of the conference, one of our senior subject matter specialists will present a one-day Introduction to AERMOD course. Additional details regarding this course can be found below.




Course:

Date:

Monday, November 13

Time:

8:00am – 4:30pm




Register online today!
AERMOD-CALPUFF Course in Kochi, India – Nov 27-30, 2017 – Space Filling Fast!
Upcoming Courses
Date

Course

Location

Registration

Nov 2-3, 2017

Nov 13, 2017

Nov 6-7, 2017
Nov 8-9, 2017

Nov 27-30, 2017

Feb 5-6, 2018
Feb 7-9, 2018

Feb 26-27, 2018
Feb 28 - Mar 1, 2018

Apr 9-10, 2018
Apr 11-13, 2018

Las Vegas, NV

Registration
Coming Soon

Apr 24-27, 2018

Cancun, Mexico

Registration
Coming Soon

May 14-15, 2018
May 16-17, 2018

AERMOD
Risk Assessment

Sydney, Australia**

Registration
Coming Soon
*A&WMA's Guideline on Air Quality Models Conference
**Sponsored by CASANZ
For more information on the above courses, including registration information, location, and course outlines, please visit our web site: https://www.weblakes.com/courses.html.
Modeling Tip
AERMOD's Potential Temperature Profile Elevation
The AERMOD air dispersion model generates a gridded vertical profile of potential temperatures. Since potential temperature is dependent on the elevation above mean sea level (MSL), the Meteorology Pathway (ME) in the model input file contains the required keyword PROFBASE.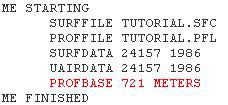 In AERMOD View, this is set as the Surface Station Primary Met Tower in the Meteorology Pathway:

It is often not well understood what exactly potential temperature is or how the model utilizes this information.
Potential Temperature
The concept of potential temperature is used by the AERMOD model to simplify calculations. Note that pressure, temperature, and air density are inversely proportional to height changes. Potential temperature allows air temperatures at different altitudes to be compared using a standard level, avoiding the complexity introduced by the change in altitude.
Potential temperature (?) is the temperature that a parcel of air would have if it was adiabatically (without adding or removing heat) brought to 1000 mbar of pressure, as shown in the figure below.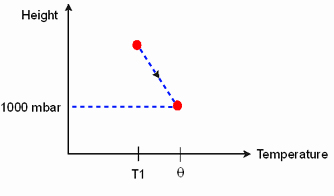 Reference Temperature
AERMOD calculates a vertical profile of potential temperatures, primarily for use in the calculation of plume rise. This profile is calculated from a reference temperature, measured at the primary tower, which is typically the surface station.
In order to use this reference temperature to calculate the profile, it must first be converted to a potential temperature. To convert the reference temperature into a potential temperature, it is necessary to know at what pressure the temperature was measured, which in turn is dependent on the elevation above mean seal level (MSL). This is why the base elevation of the primary meteorological tower above MSL is required by AERMOD.
Submit Your Modeling Tips Today!
We are currently accepting submissions for the Monthly Modeling Tip section that appears in our newsletters. If you have a modeling tip that may benefit our readers, please send it to us at support@webLakes.com. Your name and the name of your organization will appear below the tip providing you with an opportunity for increased exposure.
Articles
Every Londoner Breathing Dangerous Levels of Toxic Air Particle
October 4, 2017 - The scale of London's air pollution crisis was laid bare on Wednesday, with new figures showing that every person in the capital is breathing air that exceeds global guidelines for one of the most dangerous toxic particles.
The research, based on the latest updated London Atmospheric Emissions Inventory, shows that every area in the capital exceeds World Health Organisation (WHO) limits for a damaging type of particle known as PM2.5.
It also found that 7.9 million Londoners – nearly 95% of the capital's population – live in areas that exceed the limit by 50% or more. In central London the average annual levels are almost double the WHO limit of 10 µg/m3.
Maryland Sues EPA Over Interstate Air Pollution
September 27, 2017 - Maryland is suing the Environmental Protection Agency, demanding it address air pollution that blows in from upwind states.
The action against President Donald Trump's administration would press the EPA to apply stricter pollution controls to dozens of power plants in Indiana, Kentucky, Ohio, Pennsylvania and West Virginia, something state officials argue is required to uphold the Clean Air Act.
The plants contribute much of the smog that fouls Maryland's air on hot summer days.
In a Stunning Turnaround, Britain Moves to End the Burning of Coal
September 18, 2017 - Bigger than any medieval castle, with its 12 giant white cooling towers gleaming in the sun, the Drax Power Station dominates the horizon for tens of miles across the flat lands of eastern England. For four decades, it has been one of the world's largest coal power plants, often generating a tenth of the U.K.'s electricity. It has been the lodestar for the final phase of Britain's 250-year-long love affair with coal – the fuel that built the country's empire and industrialized the world.
But no more.
The coal-devouring behemoth, and the endless trains of railroad wagons feeding it with fuel from coastal ports, is suddenly a relic of the past. In one of the greatest and fastest energy turnarounds in the developed world, the country that brought the world the industrial revolution – a revolution founded and sustained by burning coal – has cut the cord.
New Climate Risk Classification Created to Account for Potential "Existential" Threats
September 14, 2017 - A new study evaluating models of future climate scenarios has led to the creation of the new risk categories "catastrophic" and "unknown" to characterize the range of threats posed by rapid global warming. Researchers propose that unknown risks imply existential threats to the survival of humanity.
These categories describe two low-probability but statistically significant scenarios that could play out by century's end, in a new study by Veerabhadran Ramanathan, a distinguished professor of climate and atmospheric sciences at Scripps Institution of Oceanography at the University of California San Diego, and his former Scripps graduate student Yangyang Xu, now an assistant professor at Texas A&M University.
Air Pollution Cuts Three Years Off Lifespans in Northern China
September 11, 2017 - There are currently an estimated 4.5 billion people around the world exposed to levels of particulate air pollution that are at least twice what the World Health Organization considers safe. Yet the impact of sustained exposure to pollution on a person's life expectancy has largely remained a vexingly unanswered question—until now.
A study published Sept. 11 in the Proceedings of the National Academy of Sciences finds that a Chinese policy is unintentionally causing people in northern China to live 3.1 years less than people in the south, due to air pollution concentrations that are 46 percent higher. These findings imply that every additional 10 micrograms per cubic meter of particulate matter pollution reduces life expectancy by 0.6 years. The elevated mortality is entirely due to an increase in cardiorespiratory deaths, indicating that air pollution is the cause of reduced life expectancies to the north.
China Streamlines Environmental Regulation on Construction Projects
August 1, 2017 - China has revised a regulation on environmental protection of construction projects, streamlining administrative procedures, according to a State Council decree signed by Premier Li Keqiang.
The revision removed qualification requirements on the undertakers of environmental impact evaluation.
The deadline for the approval of environmental impact evaluation documents will be extended from during the feasibility research period to until the construction begins.
For additional environmental news, visit the Environmental News Network (ENN), the most dependable online environmental news source!
Upcoming Conferences & Trade Shows
Oct 15-18, 2017

CASANZ 2017 (Clean Air Society of Australia and New Zealand)
More Info

Brisbane, QLD, Australia

Nov 1-2, 2017

Odor Management Conference 2017
More Info

Los Angeles, CA, USA

Nov 1-3, 2017

2017 International Conference on Renewable Energy and Environment (ICREE 2017)
More Info

Toronto, ON, Canada

Nov 12-16, 2017

SETAC North America 38th Annual Meeting
More Info

Minneapolis, MN, USA

Dec 14-16, 2017

2017 5th International Conference on Environment Pollution and Prevention (ICEPP 2017)
More Info

Singapore

Jan 4-6, 2018

IAFOR International Conference on Sustainability, Energy & the Environment
More Info

Honolulu, HI, USA

Jan 7-11, 2018

American Meteorological Society (AMS) 98th Annual Meeting
More Info

Austin, TX, USA

Jan 15-18, 2018

World Future Energy Summit
More Info

Abu Dhabi, UAE

Feb 7-9, 2018

2018 9th International Conference on Environmental Science and Development (ICESD 2018)
More Info

Paris, France

Feb 26 - Mar 2, 2018

2nd Pan-GASS Meeting - Understanding and Modelling Atmospheric Processes
More Info

Lorne, VIC, Australia

Mar 5-7, 2018

Energy, Utility & Environment Conference (EUEC) 2018
More Info

San Diego, CA, USA
About this Newsletter
This newsletter contains information gleaned from various sources on the web, with complete links to the sources cited. Organizations cited are in no way affiliated with Lakes Environmental Software.
Lakes Environmental Software is a leading environmental IT company that offers a complete line of air dispersion modeling, risk assessment, emissions inventory, and emergency release software as well as training and custom software services. With satisfied users located around the globe, Lakes Environmental Software will continue to revolutionize the environmental software field.
For more information please visit our web site at: www.webLakes.com. You may also contact us by phone at (519) 746-5995.
All comments and suggestions are welcome. You can e-mail us at: support@webLakes.com.