Lakes Environmental Newsletter
Emissions Inventory - Atmospheric Science - IT Solutions


In this issue:
News & Events
AQMIS Cloud Webinar – Save the Date!
On Tuesday, March 6th at 11:00AM EST and 4:00PM EST we will hold a FREE 30-minute webinar regarding AQMIS Cloud, Lakes Environmental's proven state-of-the-science cloud solution for emissions management and air quality.
| | | |
| --- | --- | --- |
| Due to the popularity of our webinars, we have opened two time slots so that everyone can participate! Please register for the time slot that best suits your schedule using the links below. | | |
AERMOD and CALPUFF Courses in Toronto – Feb 26 – Mar 1, 2018 - Almost Full!
AERMOD Course in London, UK – Apr 17-18, 2018
Lakes Environmental Sponsoring Dispersion Model Users Group (DMUG) 2018
Dispersion Model Users Group (DMUG) 2018 is a one-day annual conference for users of dispersion models being held in London, UK on April 19, 2018.
This technical conference remains the key annual event for experts in this field providing a platform for knowledge exchange, debate and discussion on topical issues.
Perfect for consultants engaged in air quality modeling, environmental regulators, local authority officers engaged in local air quality review and assessment, academics and researchers alike. This conference provides an excellent platform to hear from prominent speakers, network and gain valuable professional development.




Lakes Environmental Software is proudly sponsoring this annual event. Our President, Dr. Jesse Thé will be presenting "The New SCIPUFF Air Dispersion Model, With Comparison Against CALPUFF".
More information as well as registration forms, can be found on the IAQM website.
AERMOD & CALPUFF Courses in Las Vegas – April 30 – May 4, 2018
AERMOD and Risk Assessment Courses in Sydney, Australia – May 14-17, 2018
Lakes Environmental and the Clean Air Society of Australia & New Zealand (CASANZ) will hold 4 days of AERMOD and Air Toxics Human Health Risk Assessment training in Sydney from May 14 to 17, 2018.
Just Announced! AERMOD-CALPUFF Course in Dubai, UAE – Oct 15-18, 2018
Lakes Environmental Closed for Ontario's Family Day Holiday
Lakes Environmental's offices will be closed on Monday, February 19th, 2018 to observe Ontario's Family Day Holiday. If you have any needs during that time, please e-mail us at support@webLakes.com and we will contact you on Tuesday, February 20th, 2018 when our offices reopen.
Upcoming Courses
Date

Course

Location

Registration

Feb 26-27, 2018
Feb 28 - Mar 1, 2018

Register Now
Almost Full!

Apr 17-18, 2018

Apr 30-May 1, 2018
May 2-4, 2018

May 14-15, 2018

May 16-17, 2018

Jul 16-19, 2018

Oct 15-18, 2018

Nov 26-28, 2018

São Paulo, Brazil

Registration
Coming Soon
1Sponsored by CASANZ
2Sponsored by NACA
For more information on the above courses, including registration information, location, and course outlines, please visit our web site: https://www.weblakes.com/courses.html.
Modeling Tip
Choosing Pollutants in AERMOD
As the preferred air dispersion model for analysis of air pollutant concentrations in the ambient environment up to 50-km, AERMOD is used for a wide variety of buoyant and neutrally-buoyant releases. One recurring question about AERMOD is what pollutants it can (or cannot) model. Coded into the model is a list of pollutant types used to identify the pollutant being modeled for a particular run.
In AERMOD View, the Pollutant Type list is available in the Control Pathway's Pollutant / Averaging options.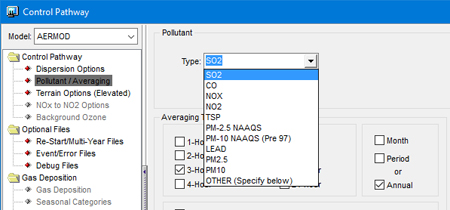 Pollutant ID List in AERMOD's Control Pathway
Many of the types are treated as labels with no special meaning as chemical transformations are generally not treated by AERMOD. Some pollutant names, by themselves or in combination with other model options, will affect how AERMOD computes final results.
SO2

Triggers the use of a 4-hour half-life decay when the Urban dispersion coefficient is used
Computes distribution of daily maximum 1-hour concentrations in accordance with the National Ambient Air Quality Standards (NAAQS) when the 1-hour period is the only short-term averaging period

NO2

Required when using Tier 3 screening techniques, OLM or PVMRM
Computes distribution of daily maximum 1-hour concentrations in accordance with the National Ambient Air Quality Standards (NAAQS) when the 1-hour period is the only short-term averaging period

PM-2.5 NAAQS (i.e., PM-2.5, PM2.5, PM25 or PM-25):

Restricts averaging periods to 24-hour and ANNUAL averages
Limits meteorological data to complete years

PM-10 NAAQS (Pre 97):

For generating the high-sixth-high in five years
Don't see the name of your specific pollutant or toxic in the list? Use the OTHER selection and define the name of your pollutant up to 8 characters.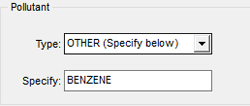 OTHER Pollutant Type
Submit Your Modeling Tips Today!
We are currently accepting submissions for the Monthly Modeling Tip section that appears in our newsletters. If you have a modeling tip that may benefit our readers, please send it to us at support@webLakes.com. Your name and the name of your organization will appear below the tip providing you with an opportunity for increased exposure.
Articles
Air Pollution from UK Shipping is Four Times Higher Than Previously Thought
February 4, 2018 - Toxic nitrogen dioxide emissions around major ports and sea routes in the UK are four times higher than previously suggested, according to a report for the Government.
Levels of sulphur dioxide, another harmful pollutant, are three times higher.
Experts say shipping pollutants, which are concentrated around major port cities such as Southampton, Grimsby and Liverpool, are a significant cause of concern for the health of local populations.
India Announces New Plan to Help Farmers Stem Air Pollution
February 1, 2018 - After another winter marred by soaring air pollution levels, India's government has announced new measures to help tackle the problem in the country's northern regions.
Many experts have highlighted crop burning in the northern states of Punjab and Haryana as a key cause of the pollution crisis, leading India's finance minister Arun Jaitley to use the budget, announced Thursday, to present a new subsidy for farmers aimed at curbing the practice.
Every winter, farmers in northern India burn the stubble left over after the autumn harvest in order to quickly and cheaply clear the fields in time for the next planting.
U.S. EPA Withdraws ''Once In Always In'' Policy for Major Sources Under Clean Air Act
January 31, 2018 - The U.S. Environmental Protection Agency (EPA) issued a guidance memorandum withdrawing the "once in always in" policy for the classification of major sources of hazardous air pollutants under section 112 of the Clean Air Act. With the new guidance, sources of hazardous air pollutants previously classified as "major sources" may be reclassified as "area" sources when the facility limits its potential to emit below major source thresholds.
"This guidance is based on a plain language reading of the statute that is in line with EPA's guidance for other provisions of the Clean Air Act," said Bill Wehrum, assistant administrator of EPA's Office of Air and Radiation. "It will reduce regulatory burden for industries and the states, while continuing to ensure stringent and effective controls on hazardous air pollutants."
U.S. EPA Modifies Initial List of Hazardous Air Pollutants
January 31, 2018 - The United States Environmental Protection Agency modified the original list of Hazardous Air Pollutants. The current list includes 187 hazardous air pollutants. Notable changes include:
-Delisting of Caprolactam
-Delisting of Hydrogen Sulfide (H2S)
-Delisting of Methyl Ethyl Ketone
-Delisting of Ethylene glycol monobutyl ether (EGBE) (2-Butoxyethanol)
-Delisting of Surfactant alcohol ethoxylates and their derivatives
Short-Term Exposure to Low Levels of Air Pollution Linked with Premature Death Among U.S. Seniors
December 28, 2017 - Short-term exposures to fine particulate air pollution and ozone—even at levels well below current national safety standards—were linked to higher risk of premature death among the elderly in the U.S. according to a new study from Harvard T.H. Chan School of Public Health.
The risk was even higher among elderly who were low-income, female, or Black.
The study was published December 26, 2017 in the Journal of the American Medical Association (JAMA).
Air Quality is Leading Environmental Threat to Public Health
January 23, 2018 - The 2018 Environmental Performance Index (EPI) finds that air quality is the leading environmental threat to public health. Now in its twentieth year, the biennial report is produced by researchers at Yale and Columbia Universities in collaboration with the World Economic Forum. The tenth EPI report ranks 180 countries on 24 performance indicators across 10 issue categories covering environmental health and ecosystem vitality. Switzerland leads the world in sustainability, followed by France, Denmark, Malta, and Sweden.
Switzerland's top ranking reflects strong performance across most issues, especially air quality and climate protection. In general, high scorers exhibit long-standing commitments to protecting public health, preserving natural resources, and decoupling greenhouse gas (GHG) emissions from economic activity.
India and Bangladesh come in near the bottom of the rankings, with Burundi, Democratic Republic of the Congo, and Nepal rounding out the bottom five. Low scores on the EPI are indicative of the need for national sustainability efforts on a number of fronts, especially cleaning up air quality, protecting biodiversity, and reducing GHG emissions, said the researchers. Some of the lowest-ranking nations face broader challenges, such as civil unrest, but the low scores for others can be attributed to weak governance, they note.
For additional environmental news, visit the Environmental News Network (ENN), the most
dependable online environmental news source!

Upcoming Conferences & Trade Shows
Feb 19-20, 2018

20th International Conference on Air Pollution and Control
More Info

Paris, France

Feb 26-Mar 2, 2018

2nd Pan-GASS Meeting - Understanding and Modelling Atmospheric Processes
More Info

Lorne, VIC, Australia

Mar 5-7, 2018

Energy, Utility & Environment Conference (EUEC) 2018
More Info

San Diego, CA, USA

Mar 14-16, 2018

GLOBE Leadership Summit for Sustainable Business and Innovation Expo
More Info

Vancouver, BC, Canada

Apr 8-10, 2018

3rd International Conference on Air, Water, and Soil Pollution and Treatment (AWSPT'18)
More Info

Budapest, Hungary

May 8-10, 2018

Canadian Environmental Conference and Tradeshow (CANECT) 2018
More Info

Vaughan, ON, Canada

May 15-16, 2018

Texas Commission on Environmental Quality Environmental Trade Fair & Conference
More Info
Lakes Environmental will be at booth #1242


Austin, TX, USA

Jun 4-8, 2018

Asia Clean Energy Forum 2018
More Info

Manila, Philippines

Jun 25-28, 2018

111th Air & Waste Management Association's Annual Conference & Exhibition (ACE)
More Info
Lakes Environmental will be at booth #100

Hartford, CT, USA
About this Newsletter
This newsletter contains information gleaned from various sources on the web, with complete links to the sources cited. Organizations cited are in no way affiliated with Lakes Environmental Software.
Lakes Environmental Software is a leading environmental IT company that offers a complete line of air dispersion modeling, risk assessment, emissions inventory, and emergency release software as well as training and custom software services. With satisfied users located around the globe, Lakes Environmental Software will continue to revolutionize the environmental software field.
For more information please visit our web site at: www.webLakes.com. You may also contact us by phone at (519) 746-5995.
All comments and suggestions are welcome. You can e-mail us at: support@webLakes.com.