Lakes Environmental Newsletter
Emissions Inventory - Atmospheric Science - IT Solutions


In this issue:
News & Events
AERMOD View Version 9.6 Released!
In May, Lakes Environmental released AERMOD View Version 9.6. This release includes the following updates:
Updated Models: New US EPA AERMOD, AERMET, and AERMAP models (version 18081) in both 32-bit & 64-bit compilations. Some older model executables removed to reflect state of science.
Updated Parallel Versions: New MPI (parallel) versions for AERMOD & AERMAP models 18081.
AERMET View Export: Enhanced the export to Google Earth function with updated land use layers.

Check out our latest release notes for a detailed listing of AERMOD View updates.
If you are currently in maintenance for AERMOD View and did not receive an email regarding this update, please contact us at support@webLakes.com.
If you are a user of AERMOD View but are no longer in maintenance, please contact our sales team at sales@webLakes.com for pricing to update your software and be eligible for this very important new release.
Just Announced! Exclusive Upgrade Promotion for AERMOD View
Lakes Environmental has released promotional pricing for upgrading your AERMOD View license.
If your license has been out of maintenance for more than six months, you are missing out on some important new updates! Check out the release notes from the latest version of AERMOD View.




Contact us today if you did not receive our campaign e-mail and your maintenance has been expired for over six months.




Promotional pricing is only available until June 29, 2018.
Lakes Environmental Named as One of the 50 Most Valuable Brands of the Year
| | | |
| --- | --- | --- |
| Lakes Environmental Software has been recognized by The Silicon Review as one of the 50 Most Valuable Brands of the year. The article can be found in the April special issue of The Silicon Review, a prominent magazine in the business and technology sector. The full article can be read here. | | |
AQMIS Real-Time and Forecasting Module Webinar – Register Today!
On Tuesday, July 10th at 11:00AM (EDT) and 4:00PM (EDT) we will hold a FREE 30-minute webinar regarding the AQMIS Cloud Real-Time and Forecasting module. This is the fourth webinar in our AQMIS series.




Please register below for the time slot that best suits your schedule.



Lakes Environmental at A&WMA Conference and Exhibition
Lakes Environmental will be in Hartford from June 25-28, 2018 for the Annual Air & Waste Management Conference and Exhibition.




Drop by booth #100 to meet our friendly, knowledgeable staff and for your chance to win a FREE copy of our AERMOD View air dispersion modeling software!




Visit the conference website to register for this annual event.
AERMOD-CALPUFF Course in Gauteng, South Africa – Jul 16-19, 2018 - Almost Full!
Lakes Environmental and the National Association for Clean Air (NACA) invite you to participate in a 4-day AERMOD-CALPUFF course taking place in Gauteng, South Africa from July 16 to 19, 2018.
Further details including course venue and registration form can be found on the NACA website.




Register today before space is gone!




| | |
| --- | --- |
| Course: | |
| Location: | |
| Contact: | |
| Registration: | |
AERMOD & CALPUFF Courses in San Francisco – Sep 17-21, 2018
Lakes Environmental will host a full week of AERMOD and CALPUFF training in San Francisco from September 17 to 21, 2018.




Register now to take advantage of our early registration discount ending August 6, 2018.




| | |
| --- | --- |
| Course: | AERMOD (Sep 17-18, 2018) |
| Course: | CALPUFF (Sep 19-21, 2018) |
| Location: | |
| Contact: | |
| Registration: | |
Lakes Environmental AERMOD Course in Toronto, Canada – Oct 4-5, 2018
Lakes Environmental will hold two days of AERMOD training in Toronto from October 4 to 5, 2018.




Our early registration discount is available until August 23, 2018. Register today!




| | |
| --- | --- |
| Course: | AERMOD (Oct 4-5, 2018) |
| Location: | |
| Contact: | |
| Registration: | |
AERMOD Course in São Paulo, Brazil – Oct 8-9, 2018
Lakes Environmental will present a 2-day AERMOD course in São Paulo, Brazil from October 8 to 9, 2018.




This course will be hosted by our Brazilian distributor, SECA. Presentation of the course will be in Portuguese with all course materials (presentation slides, course notes, etc) provided in English.




Register before August 24, 2018 and receive 10% off!




| | |
| --- | --- |
| Course: | AERMOD (Oct 8-9, 2018) |
| Location: | |
| Contact: | |
| Registration: | |
AERMOD-CALPUFF Course in Dubai, UAE – Oct 29 - Nov 1, 2018
Lakes Environmental will be traveling to Dubai, UAE to hold a 4-day AERMOD-CALPUFF course from October 29 to November 1, 2018.




Be sure to register early to take advantage of our early registration discount!




Discount ends: Aug 29, 2018




| | |
| --- | --- |
| Course: | |
| Location: | |
| Contact: | |
| Registration: | |
Distributor Spotlight – Ak-Tel Mühendislik Co., Ankara, Turkey
Ak-Tel Mühendislik Co., based in Ankara, Turkey became a distributor of Lakes Environmental Software in 2010. Since then our relationship with Ak-Tel remains very positive. Ak-Tel represents a wide range of Lakes Environmental's software including the following air quality disciplines:
Air Dispersion Modeling
Compliance Assurance
Emergency Release
Emissions Management
Risk Assessment
As another positive outcome, on April 24, 2018 Ak-Tel promoted our AERMOD View software at an environmental air quality meeting organized by the Chamber of Environmental Engineers. The meeting was well attended and covered a wide variety of AERMOD View features and capabilities as well as common regulatory applications.
We appreciate the continued support of Ak-Tel. Please contact Lakes Environmental for your software and meteorological data needs in Turkey and we will happily refer you to Ak-Tel.
Lakes Environmental Closed for Canada Day Holiday
Lakes Environmental will be closed on Monday, July 2, 2018 to observe the Canada Day holiday. If you have any needs during that time, please e-mail us at support@webLakes.com and we will contact you on Tuesday, July 3, 2018 when our offices reopen.
Upcoming Courses
Date

Course

Location

Registration

Jun 24, 2018

Hartford, CT1

Jul 16-19, 2018

Sep 17-18, 2018
Sep 19-21, 2018

Oct 4-5, 2018

Oct 8-9, 2018

Oct 29 - Nov 1, 2018

Nov 1-2, 2018

Nov 12-15, 2018
1Sponsored by A&WMA
2Sponsored by NACA
For more information on the above courses, including registration information, location, and course outlines, please visit our web site: https://www.weblakes.com/courses.html.
Modeling Tip
Modeling NO2 in AERMOD – ARM2
One of the biggest changes to the AERMOD modeling system in the 18081 model update was the removal of the original Ambient Ratio Method (ARM) for analyzing conversion of NOx to NO2. This option, based on Chu & Meyer's 1991 work presented at that year's Air & Waste Management Association's annual conference, used a single ratio to convert all NOx concentrations to NO2. The national default value was 75% for annual averages, and subsequent guidance recommended a value of 80% for the hourly standard.
The removal of ARM leaves the Ambient Ratio Method 2 (ARM2) as the only regulatory Tier 2 modeling demonstration. Let's take a closer look at this model option.
The Ambient Ratio Method 2 was added as a BETA option to AERMOD as part of the 13350 model update. It was based on work done by Podrez (Atmospheric Environment, 2015) in which a 10-year record of ambient data from the Air Quality System was analyzed to characterize typical NO2/NOx ambient ratios. When analyzing the 98th percentile values for the entire AQS data set, the resulting plot demonstrated a polynomial fit upon which the ARM2 conversion factor equation was developed.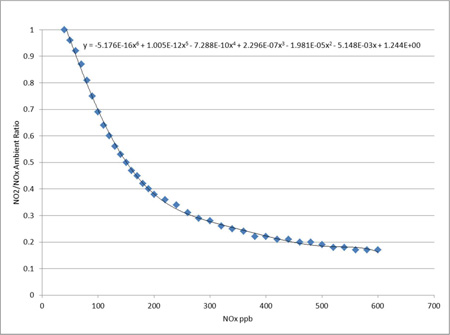 98th Percentile NO2/NOx Ambient Ratios as Calculated by ARM2
These calculated ratios were constrained to a maximum of 0.90 (based on the current EPA recommendation for maximum equilibrium ratio) and a minimum value of 0.20 (based on data analysis and consideration of typical in-stack ratios).
Current guidance from the U.S. EPA recommends a minimum ratio of 0.50 to maintain an appropriate level of conservatism in the results.
To enable ARM2 in AERMOD View™, proper option selection must be made on the Control Pathway.
On the Pollutant/Averaging options, select NO2 from the Type drop-down list.



On the NOx to NO2 Options, select the ARM2 option from the Tier 2 group. Options are available to modify the Minimum and Maximum NO2/NOx Ratios, but these values are constrained to an absolute minimum of 0.50.

Submit Your Modeling Tips Today!
We are currently accepting submissions for the Monthly Modeling Tip section that appears in our newsletters. If you have a modeling tip that may benefit our readers, please send it to us at support@webLakes.com. Your name and the name of your organization will appear below the tip providing you with an opportunity for increased exposure.
Articles
EPA Announces Effort to Update Wet Weather Regulations for Wastewater Treatment Plants
May 24, 2018 - The U.S. Environmental Protection Agency (EPA) announced it will be reaching out to states, local communities, and stakeholders as the Agency begins a new rulemaking process to provide certainty surrounding the use of "blending" by wastewater treatment plants.
"EPA is taking action on a new rule that will give municipalities much-needed clarity on blending at wastewater treatment plants," said EPA Administrator Scott Pruitt. "We look forward to engaging with partners at the state and local levels as we work to design a rule that offers a common-sense approach to protecting public health and safely managing our nation's wastewater."
What Does the Future of Energy Look Like? Stanford Scientists Weigh In
May 24, 2018 - Fossil fuels like coal, oil and natural gas supply 80 percent of the world's energy to warm homes, charge devices and power transportation. They are also the primary human source of greenhouse gas emissions. Stanford scientists broadly agree that curtailing our use of fossil fuels would have significant benefits – like improving health and reducing the number and severity of natural disasters – but it's not yet clear what can replace them.
Wind and solar are increasingly popular sources of energy, but the sun does not always shine, and the wind doesn't always blow. Batteries to store their intermittent energy are not yet cheap and powerful enough to fill the gaps. Nuclear energy produces no greenhouse gases directly, but the current generation of reactors has other problems. Solutions like storing carbon dioxide underground or turning it into clean fuel are promising, but they also need much development. None of the possible solutions is without challenges.
Most-Polluting Wood Burners Could be Banned in Effort to Improve UK Air Quality
May 22, 2018 - The government is planning to bring in tougher regulations on household wood burners and fires in a bit to cut UK air pollution.
New legislation will mean that only cleaner fuels and stoves will be sold for domestic heating, under the proposals being put out for consultation.
Councils will also be given new powers to bring in "clean air zones" by limiting what people can burn or bringing in "no-burn days".
Carbon Satellite to Serve as an Important Tool for Politicians and Climate Change Experts
May 8, 2018 - A new satellite that measures and provides detailed carbon balance information is one of the most important new tools in carbon measurement since infrared light, believe researchers from the University of Copenhagen. The researchers expect the satellite to be a valuable tool for the UN's work on climate change related to the Paris climate accord.
Carbon balance is important for climate and environment because whenever carbon is converted into carbon dioxide, CO2 emissions increase. On the other hand, carbon is an essential aspect of life on Earth: a felled tree releases carbon into the atmosphere whereas a planted one takes up carbon in vegetation and soil. A lack of carbon in vegetation and soil can create a carbon imbalance and have climate-related consequences.
Study: Health Benefits Will Offset Cost of China's Climate Policy
April 30, 2018 - A new MIT study reports that if China follows through with its international pledge to reduce carbon dioxide emissions, every one of its provinces will experience benefits to air quality and human health, with associated monetary savings that could offset the total cost of implementing the climate policy.
The study, published today in Nature Climate Change, estimates that by meeting its greenhouse gas-reduction goals, China would simultaneously improve its air quality, which would avoid a significant number of deaths due to air pollution, across every province. Fewer deaths from air pollution means a benefit for society that can be quantified — a $339 billion savings in 2030 that the researchers estimate could be about four times what it would cost China to meet its climate goals.
For additional environmental news, visit the Environmental News Network (ENN), the most
dependable online environmental news source!

Upcoming Conferences & Trade Shows
Jun 19-21, 2018

Air Pollution 2018: 26th International Conference on Modelling, Monitoring and Management of Air Pollution
More Info

Naples, Italy

Jun 20-22, 2018

2018 9th International Conference on Environmental Science and Technology
More Info

Prague, Czechia

Jun 25-28, 2018

111th Air & Waste Management Association's Annual Conference & Exhibition (ACE)
More Info
Lakes Environmental will be at booth #100

Hartford, CT, USA

Aug 6-7, 2018

4th World Congress on Climate Change and Global Warming
More Info

Osaka, Japan

Sep 21-22, 2018

6th International conference on Marine Science, Coastal Dynamics and Management
More Info

Dallas, TX, USA

Oct 29-30, 2018

20th International Conference on Earth Science and Climate Change (ICESCC 2018)
More Info

Paris, France

Oct 30-Nov 1, 2018

WHO's First Global Conference on Air Pollution and Health
More Info

Geneva, Switzerland

Nov 4-8, 2018

SETAC North America 39th Annual Meeting
More Info

Sacramento, CA, USA

Nov 14-16, 2018

10th Better Air Quality Conference (BAQ 2018)
More Info

Kuching, Malaysia

Nov 21-23, 2018

International Conference on Environmental Technology and Innovations (ICETI 2018)
More Info

Prague, Czechia

Dec 5-6, 2018

9th International Conference on Global Warming, Climate Change and Pollution Control
More Info

Vancouver, BC, Canada
About this Newsletter
This newsletter contains information gleaned from various sources on the web, with complete links to the sources cited. Organizations cited are in no way affiliated with Lakes Environmental Software.
Lakes Environmental Software is a leading environmental IT company that offers a complete line of air dispersion modeling, risk assessment, emissions inventory, and emergency release software as well as training and custom software services. With satisfied users located around the globe, Lakes Environmental Software will continue to revolutionize the environmental software field.
For more information please visit our web site at: www.webLakes.com. You may also contact us by phone at (519) 746-5995.
All comments and suggestions are welcome. You can e-mail us at: support@webLakes.com.