NEWS & EVENTS
Monthly Newsletter - April 2019 Edition
A&WMA "Guideline on Air Quality Models: Planning Ahead" Conference Wrap-Up
| | | |
| --- | --- | --- |
| | | Lakes Software was proud to sponsor last month's Air & Waste Management Specialty Conference: "Guideline on Air Quality Models: Planning Ahead". The conference was organized by the A&WMA Technical Coordinating Committee for Atmospheric Modeling and Meteorology (APM) and was held March 19-21, 2019 at the Marriott at Research Triangle Park in Durham, NC. Over 100 people attended, and we enjoyed meeting the attendees! |
Over 30 presentations were given on a wide range of topics such as aerodynamic downwash issues, meteorological data processing & analysis, ozone & PM2.5 analyses, air permitting case studies, and more. The conference also featured an opening plenary session with staff from the U.S. Environmental Protection Agency, Office of Air Quality Planning and Standards who offered updates on current model development and regulatory activities.
If you missed us at this conference, check the Upcoming Conferences & Trade Shows list below for other opportunities to meet Lakes Software including the A&WMA 112th Annual Conference and Exhibition taking place June 25-28, 2019 in Québec City, Québec!
A&WMA Annual Conference and Exhibition
We will be in Quebec City from June 25-28, 2019 for the Annual Air & Waste Management Association Conference and Exhibition.
Drop by booth #300 to meet our friendly, knowledgeable staff and for your chance to win a FREE copy of our AERMOD View air dispersion modeling software!
Visit the conference website to register for this annual event.
Lakes Environmental Teaching Professional Development Course at 2019 A&WMA Conference

The Air & Waste Management Association will be offering a variety of high-quality professional development courses on June 28, 2019 immediately following the annual conference in Quebec City.
As in previous years, we will present a one-day course on AERMOD Air Dispersion Modeling. Additional details regarding this course can be found below.
Course:

Discount:

Ends May 24, 2019

Location:

Quebec City, Quebec

Register

Contact:
AERMOD-CALPUFF Course in Mexico City – Aug 27-30, 2019

Together with our Mexican distributor, Modelos Ambientales, we will hold a 4-day AERMOD-CALPUFF course from August 27-30, 2019.
This course will include a do-it-yourself WRF case study for each student's desired location.
Course:

Discount:

Ends Jul 2, 2019

Location:

Register

Contact:
AERMOD Course in Denver, Colorado – Sep 9-10, 2019
Our senior subject matter specialists will be in Denver, Colorado to hold a 2-day AERMOD course from September 9 to 10, 2019.
Course attendees will have the opportunity to complete a Do It Yourself Case Study using WRF processed data for a location of their choice making this course of great benefit to their modeling work.
Course:

Discount:

Ends Jul 29, 2019

Location:

Register

Contact:
AERMOD and CALPUFF Courses in Toronto, Canada – Sep 23-26, 2019

Our team will present four days of AERMOD and CALPUFF training in Toronto from September 23-26, 2019.
The AERMOD portion of this course will feature a special section and case study regarding the dispersion modeling requirements of Ontario Regulation 419/05: Air Pollution - Local Air Quality.
Course:

Discount:

Ends Aug 9, 2019

Location:

Register

Contact:
ZEBU's All-in-One Business Solution
Lakes Software's sister company, ZEBU, has a new state of the art all-in-1 solution for your company. In one app, you can manage your team communication, scheduling, and cloud storage needs all with advanced military grade encryption. Most important of all you can use it for FREE!




Get your team on ZEBU for FREE today!





MODELING TIP
Using the Lakes Project Backup Utility
Most air dispersion modeling analyses will result in a large number of data files. Besides input and output files, projects can contain meteorological data, terrain data, digital base maps, and other external data files. Whether you're modeling a simple scenario in AERMOD or a complex regional study in CALPUFF, there will be many different file types to account for.
While working on your project, it may become necessary to back up your work. Lakes Environmental Software products include a convenient Backup option to gather your project files into a single archive.
To back up the files from any software program, go to the File menu and select the Backup | Save to ZIP option.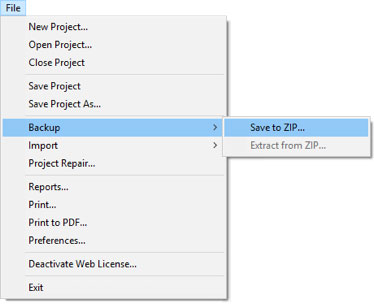 You will be prompted to specify the location where the backup should be saved. After assigning a name to the backup, the Backup Options form will appear. This form allows you to specify which files will be included in the archive. It is best to include as many files as possible, but you may wish to exclude large files such as terrain maps or large meteorological data files.
The Backup utility can include most any file from your project including Multi-Chemical Files from AERMOD View, Parallel CALMET files from CALPUFF View, and more.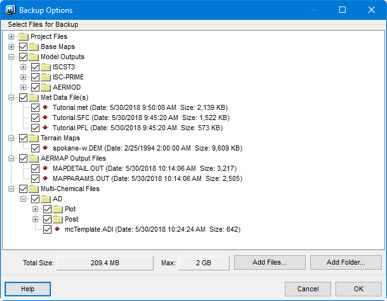 Backup Options in AERMOD View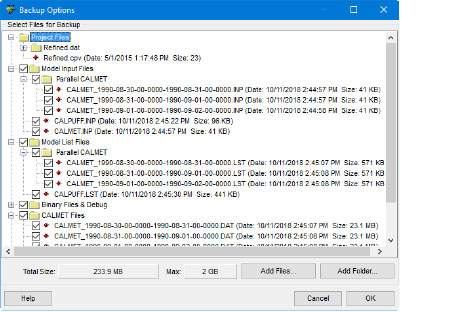 Backup Options in CALPUFF View
Additional files and folders can be included in the archive using the Add Files and Add Folder buttons, respectively. This could include documents such as modeling reports or additional data files.
The Backup option is also useful for sharing a project with others. Our technical support team will often request a backup of your project when troubleshooting questions. Emailing the backup files to technical support when you first contact the team (support@weblakes.com) will save time and result in an even quicker turnaround time on support requests.

ENVIRONMENTAL NEWS ARTICLES
Climate Plan for Germany and Europe: Economists Propose CO2 Price Reform
03 APRIL 2019 - A few days ago, the UN Environment Agency advocated an international green tax reform - now economists have presented a new concept for a CO2 price reform in Germany and Europe right before the start of the climate summit in Katowice, Poland.
Read more →
Air Quality Agencies Can Breathe Easier About Current Emissions Regulations
27 MARCH 2019- As air quality improves, the invisible chemistry happening in the air around us is changing. Skies should clear up as emissions drop, but recent results suggested that declining nitrogen oxides can create an environment where airborne carbon-containing compounds more easily convert into small particles that harm human health.
Read more →
UPCOMING CONFERENCES & TRADE SHOWS
2019 Conference Schedule
2019 National Tribal Forum on Air Quality (NTFAQ)
May 6-9, 2019 | Temecula, CA, USA
Learn more →
Environmental Trade Fair and Conference (ETFC) - Booth 1147
May 14-15, 2019 | Austin, TX, USA
Learn more →
AWMA 112th Annual Conference & Exhibition - Booth 300
June 25-28, 2019 | Québec City, QC, Canada
Learn more →
2019 International Emissions Inventory Conference
July 29 - August 2, 2019 | Dallas, TX, USA
Learn more →
Refinery And Chemical Industry Emissions Symposium
November 6-8, 2019 | Davis, CA USA
Learn more →
LAKES SOFTWARE GROUP OF COMPANIES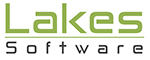 1-170 Columbia St. W.
Waterloo, ON N2L 3L3

View Online

This newsletter contains information gleaned from various sources on the web, with complete links
to the sources cited. Organizations cited are in no way affiliated with Lakes Environmental Software.

For more information please visit our web site at: www.webLakes.com.
All comments and suggestions are welcome. You can e-mail us at: support@webLakes.com.