Modeling Urban Sources in AERMOD requires consideration of the influence caused by the urban heat island effect, which causes the hours just after sunset to behave in a more convective and turbulent manner. AERMOD has capabilities to model this boundary layer by enabling the urban dispersion coefficient.
AERMOD uses population data to estimate the magnitude of the urban-rural temperature difference / urban heat island effect. In addition, the model allows users to define which sources are located in an urban region.
Guidance on defining an area as urban as well as calculating the population for input to the model can be found on the U.S. EPAís website:
Follow the steps below to define urban areas in AERMOD View.
Step 1: On the Control Pathway, go to the Pollutant/Averaging options. Under Dispersion Coefficient, select Urban.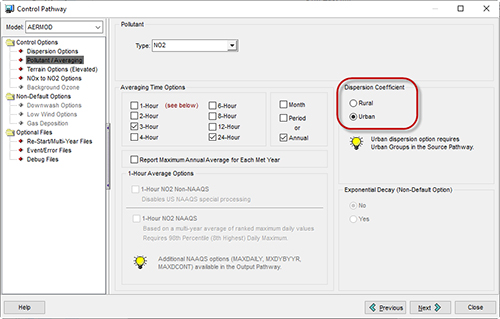 Step 2: Head to the Source Pathway and select the Urban Groups settings.
Step 3: Define the type of groups that will be defined. To specify all sources as urban, use the Single Urban Group (ALL Sources) option. If you want to specify some sources as urban and some as rural, select the User-Defined Urban Groups.

If using the User-Defined option, the group definition is similar to defining Source Groups. First, add a new group by selecting the

button. Then, select the source or sources and add them to the group using the

button.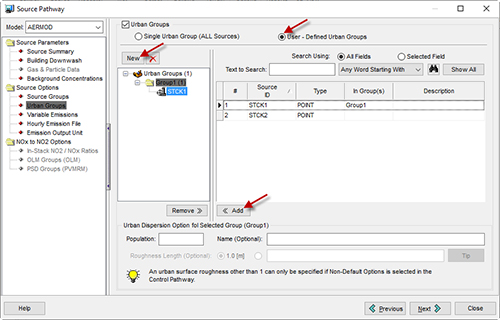 Defining Custom Urban Groups
Step 4: For every Urban Group, you must set a Population value. Section 5.2 of the AERMOD Implementation Guide defines the process for setting this value.

Step 5: Each group can also have an optional Roughness Length defined. Per the AERMOD Implementation Guide, modifying the default value of 1.0 meter requires justification as an alternative model.
Once the groups and populations are defined, you can run the model.