NEWS & EVENTS
Monthly Newsletter - May 2019 Edition
A&WMA Annual Conference and Exhibition
We will be in Quebec City from June 25-28, 2019, for the Annual Air & Waste Management Conference and Exhibition.




Drop by booth #300 to meet our friendly, knowledgeable staff and for your chance to win a 1-Year FREE subscription of our AERMOD View air dispersion modeling software!
Visit the conference website to register for this annual event.
Lakes Environmental Teaching Professional Development Course at 2019 A&WMA Conference

The Air & Waste Management Association will be offering a variety of high-quality professional development courses on June 28, 2019 immediately following the annual conference in Quebec City.
As in previous years, we will present a one-day course on AERMOD Air Dispersion Modeling. Additional details regarding this course can be found below.
Course:

Discount:

Ends May 24, 2019

Location:

Quebec City, Quebec

Register

Contact:
AERMOD-CALPUFF Course in Mexico City – Aug 27-30, 2019

Together with our Mexican distributor, Modelos Ambientales, we will hold a 4-day AERMOD-CALPUFF course from August 27-30, 2019.
This course will include a do-it-yourself WRF case study for each student's desired location.
Course:

Discount:

Ends Jul 2, 2019

Location:

Register

Contact:
AERMOD Course in Denver, Colorado – Sep 9-10, 2019
Our senior subject matter specialists will be in Denver, Colorado, to hold a 2-day AERMOD course from September 9 to 10, 2019.
Course attendees will have the opportunity to complete a Do It Yourself Case Study using WRF processed data for a location of their choice, making this course of great benefit to their modeling work.
Course:

Discount:

Ends Jul 29, 2019

Location:

Register

Contact:
AERMOD and CALPUFF Courses in Toronto, Canada – Sep 23-26, 2019

Our team will present four days of AERMOD and CALPUFF training in Toronto from September 23-26, 2019.
The AERMOD portion of this course will feature a special section and case study regarding the dispersion modeling requirements of Ontario Regulation 419/05: Air Pollution - Local Air Quality.
Course:

Discount:

Ends Aug 9, 2019

Location:

Register

Contact:
Just Announced! AERMOD & CALPUFF Courses in Los Angeles, CA – Nov 4-7, 2019

Our team will host 4 days of AERMOD and CALPUFF training in Los Angeles from November 4 to 7, 2019.
Both courses will include a WRF case study for each student's desired location, and the CALPUFF portion of this course will also include a special Class I Area Visibility case study.
Course:

Discount:

Ends Sep 20, 2019

Location:

Register

Contact:
Lakes Environmental Closed for Victoria Day Holiday
Lakes Environmental's Waterloo office will be closed on Monday, May 20, 2019 to observe the Victoria Day holiday. Our Dallas support office will remain open on this day. If you have any needs during that time, please e-mail us at support@webLakes.com and we will respond to your inquiry as soon as possible.
New Solution from the Lakes Family
Sign up today and get the entire secure 3 in 1 solution for free!




MODELING TIP
Defining Domain in AERMAP
AERMAP is the US EPA's terrain preprocessor for the AERMOD modeling system. AERMAP reads digital terrain data (e.g., USGS 3DEP [formerly NED] digital elevation models in GeoTIFF format) and calculates base elevations for sources and receptors and hill height scale factors for receptors. An integral part of executing AERMAP is identifying the files which will cover the modeling domain and satisfy these calculations.
The modeling domain is the geographic extent that includes all the sources and receptors specified in an AERMOD modeling project. At a minimum, modelers must include digital terrain files which cover the modeling domain. AERMAP will fail to run if any portion of the domain is not bounded by a digital terrain file. In addition, AERMAP expects the modeler to define a large enough terrain extent to properly calculate hill height scale.
Existing guidance from the US EPA is to set the terrain extents so that any terrain feature that is above a line extending out from any receptor with a 10% slope is included in the terrain extents. This is illustrated in the below figure. In that example, terrain feature 1 extends above the 10% slope and must be included in the terrain extents. This slope line would need to be considered for all receptors in all directions.

When modeling with AERMOD View, the Terrain Processor makes it easy to add and process terrain data. The Terrain Processor includes a Preview window for identifying the modeling domain (Model Extents) and terrain extents (Terrain Maps).
AERMAP allows the user to set the domain to be processed. In the Terrain Processor, this is handled via the AERMAP tab in the AERMAP Domain Options group box.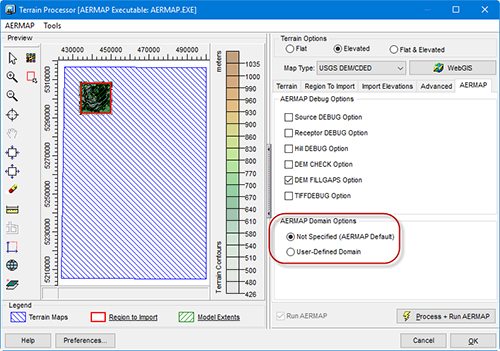 There are two options:
Not Specified: This is the default option and it reads the entire extents of the specified Terrain Maps
User-Defined: Limits AERMAP's calculations to domain extents defined by Region to Import
One way to utilize the User-Defined domain is to set the Region to Import (which can be done
graphically via the

button) to avoid prominent terrain features (e.g., tall mountain peaks) which would influence hill height scale values beyond a reasonable range of influence. It also serves to reduce AERMAP runtimes when processing very large terrain files.

ENVIRONMENTAL NEWS ARTICLES
New Studies Highlight Challenge of Meeting Paris Agreement Climate Goals
23 APRIL 2019 - New research highlights the "incredible challenge" of reaching the Paris Agreement without intense action and details the extreme temperatures parts of the planet will suffer if countries fail to reduce emissions.
Read more →
From Coal to Gas: How the Shift Can Help Stabilize Climate Change
22 APRIL 2019- A transition from coal-based energy to cleaner-burning gas has long been viewed as a staple of many climate action plans, despite concerns over leakage and possible harmful emissions. A recent study published in the journal Nature Climate Change finds that not only is such a shift central to meeting climate targets and stabilizing global temperature rise, but that the benefits of cleaner-burning gas outweigh its possible risks.
Read more →
UPCOMING CONFERENCES & TRADE SHOWS
2019 Conference Schedule
AWMA 112th Annual Conference & Exhibition - Booth 300
June 25-28, 2019 | Québec City, QC, Canada
Learn more →
2019 International Emissions Inventory Conference
July 29 - August 2, 2019 | Dallas, TX, USA
Learn more →
Refinery And Chemical Industry Emissions Symposium
November 6-8, 2019 | Davis, CA USA
Learn more →
LAKES SOFTWARE GROUP OF COMPANIES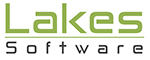 1-170 Columbia St. W.
Waterloo, ON N2L 3L3

View Online

This newsletter contains information gleaned from various sources on the web, with complete links
to the sources cited. Organizations cited are in no way affiliated with Lakes Environmental Software.

For more information, please visit our web site at: www.webLakes.com.
All comments and suggestions are welcome. You can e-mail us at: support@webLakes.com.