NEWS & EVENTS

Monthly Newsletter - April 2020 Edition
AERMOD View Version 9.9.0 Released

On April 28, we released AERMOD View Version 9.9.0. This release includes the following updates:
New AERSURFACE: Support for the US EPA's Version 20060 model update was added to AERMET View's AERSURFACE utility.
WebGIS: Additional National Land Cover Database products from 2016, 2011, 2006, & 2001 are available for download in the AERSURFACE utility.
Shapefile Land Use Support: Land use data in Shapefile format can now be input to the Land Use Creator to generate data compatible with AERSURFACE.
Additional Notes: Review the full release notes for a detailed list of all changes.
If you are currently in maintenance for AERMOD View and did not receive an email regarding this update, please contact us at support@webLakes.com.
If you are a user of AERMOD View but are no longer in maintenance, please contact our sales team at sales@webLakes.com for pricing to update your software and be eligible for this new release.
Exclusive Upgrade Promotion for AERMOD View
Lakes Environmental will be releasing promotional pricing for upgrading your AERMOD View license in conjunction with the release of AERMOD View Version 9.9.0.
If your license has been out of maintenance for more than six months, you are missing out on some important new updates! Keep an eye on your inbox for more details on this exciting offer in the coming days.
AERSURFACE Version 20060 Webinar

On Tuesday, May 5th, we will hold a FREE 30-minute webinar regarding the recent changes to the EPA's AERSURFACE land use data preprocessor (version 20060).
Register for this informative presentation using the link below.
Webinar:

AERSURFACE Version 20060 Update

Register

Date:

May 5, 2020

Time:

2pm EST
Online AERMOD Course with CASANZ – June 2020

Together with the Clean Air Society of Australia & New Zealand (CASANZ), we will hold an online AERMOD air dispersion modeling course. This training will take place in six 2.5-hour sessions on June 2, 3, 4 and 9, 10, 11, 2020.
Note: The above course will be based specifically on regulations for the Australia/New Zealand region.
A&WMA Annual Conference and Exhibition
Due to the evolving COVID-19 situation, this year's Annual Air & Waste Management Conference and Exhibition will move to a virtual only format. The event will kick off on June 30, 2020.
| | | |
| --- | --- | --- |
| | | The Air and Waste Management Association staff and leadership are actively working on a virtual solution to deliver conference content and networking opportunities for attendees. Further details regarding the special virtual edition of ACE 2020 will be distributed once available, and registration will open by the end of the month. |
Visit the conference website for regular updates as we lead up to the virtual event kick-off of June 30, 2020.
Lakes to make ZEBU 50% OFF and Free for 1 Month

As COVID-19 continues to have an impact around the globe, organizations continue to search for secure and easy to use communication solutions to support remote collaboration.
The search is over! Lakes is discounting its secure collaboration platform Zebu and making it completely free for 1 month to help teams transition to remote work without compromising their security.
Remote workers are at a higher risk of having their data and information exposed to cyber threats. Lakes built Zebu to help teams collaborate, send messages, share schedules and share files securely as they adjust to life working remotely.
Learn more about Zebu. Sign up for your free account today!
Lakes Environmental Closed for Victoria Day Holiday
Lakes Environmental's Waterloo office will be closed on Monday, May 18, 2020 to observe the Victoria Day holiday. Our Dallas support office will remain open on this day. If you have any needs during that time, please e-mail us at support@webLakes.com and we will respond to your inquiry as soon as possible.

MODELING TIP
Importing Hourly Surface Meteorological Data from Excel
Most users are aware of Lakes Environmental Software's Import from Excel utility which reads hourly meteorological data from an Excel spreadsheet and generates a text-based data file in SAMSON format. The generated file can be used in a variety of air modeling applications.
The utility is featured in several of our products:
In AERMET View and RAMMET View, it is found under the Tools | Hourly Surface Data | Import from Excel menu




In WRPLOT View, in the Tools | Import from Excel menu option


What some users may not realize is that there are two versions of the utility. Both versions work in the same way, but there is a fundamental difference between them: WRPLOT View is designed to import wind and precipitation data only.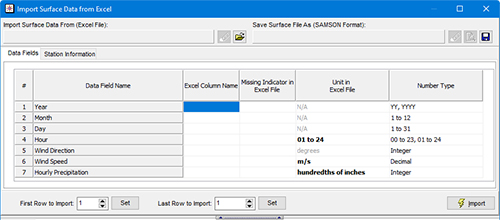 Import Surface Data from Excel in WRPLOT View
This way, users can quickly generate wind rose plots without worrying about unnecessary data variables.
In AERMET View and RAMMET View, the utility can read in all surface-level variables that would be required to run those preprocessors.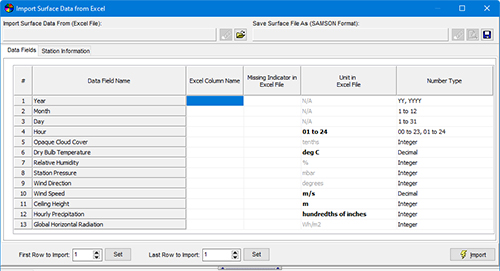 Import Surface Data from Excel in AERMET View
Here are some tips for using the utility:
To quickly set the Excel Column Name, right-click the columns in the Excel File tab and select from the variable list:


Not all variables are required. If your Excel sheet does not contain one of the listed parameters, just leave the Excel Column Name field blank and the utility will not attempt to read that data.
Pay attention to units. While some parameters – such as cloud cover, humidity, and wind direction – can only accept one unit, parameters like temperature, wind speed, and precipitation rate can accept different kinds of units.


The Station Information inputs are used to populate the header of the generated SAMSON file. Using the most accurate data possible will improve use of the file elsewhere – such as exporting to Google Earth or loading station information into AERMET View or RAMMET View.

ENVIRONMENTAL NEWS ARTICLES
Climate Smart Agricultural Policy Requires a Reform of Incentives to Minimize Emissions From Cultivated Peat Soils
April 7, 2020- Post-2020 Common Agricultural Policy (CAP) must safeguard and stimulate the preservation of carbon-rich soils through protection of peatlands. Functional peatlands are the most space efficient long-term carbon store and sink in our planet's biosphere.
Read more →
Japan Submits Unchanged National Climate Plan; Lowers the Bar for Other Big Emitters
April 1, 2020 - As part of the Paris Agreement countries must submit revised national climate plans in five year cycles.
Read more →
UPCOMING CONFERENCES & TRADE SHOWS
2020 Conference Schedule
Air & Waste Management Association's 113th Annual Conference & Exhibition
June 30, 2020 | Virtual Event
LAKES SOFTWARE GROUP OF COMPANIES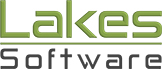 1-170 Columbia St. W.
Waterloo, ON N2L 3L3

View Online

This newsletter contains information gleaned from various sources on the web, with complete links
to the sources cited. Organizations cited are in no way affiliated with Lakes Environmental Software.

For more information, please visit our web site at: www.webLakes.com.
All comments and suggestions are welcome. You can e-mail us at: support@webLakes.com.
Privacy Policy